"Speculation is that already methane is a rather strong indicator life is probably present today on Mars. …Formaldehyde (also detected?) is destroyed in the Martian atmosphere within 7.5 hours. There is no way that formaldehyde can exist and remain for a long time in the Martian atmosphere. If (formaldehyde) confirmed (in addition to the confirmed methane, possibly life on Mars today, yes."
– Vittorio Formisano, Ph.D., Physicist , May 6, 2004
July 22, 2004 – Today I  was scheduled to interview physicist Vittorio Formisano at the COSPAR (Committee On Space Research) meeting in Paris where he was scheduled to hold a press conference to announce the final results of his Planetary Fourier Spectrometer mounted on the European Space Agency's (ESA) Mars Express Orbiter.Vittorio Formisano, Ph.D., is the Principal Investigator of the Planetary Fourier Spectrometer (PFS) which he built and designed to detect methane and other gaseous molecules. Dr. Formisano is based at the Institute of Physics and Interplanetary Science in Rome, Italy, and has been commuting to ESA offices in Darmstadt, Germany, to gather more data from the Planetary Fourier Spectrometer in hopes that he can confirm the location of one or more sources of the Martian methane, as well as molecular indications of formaldehyde, benzene and ammonia. The presence of those molecules in the Martian atmosphere, would most likely mean a life process of some kind, he told me in my previous May 6, 2004, interview with him while he was working in his Rome office. See: 05-06-04 Earthfiles.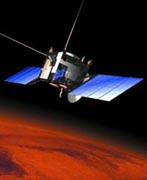 This morning, the cell phone number he gave me to call him has only a recorded message in Italian and his office number in Rome is not being answered at all. Then I learned that his originally scheduled press conference at the Paris COSPAR meeting today has allegedly been canceled by ESA's Guido De Marchi, an astronomer who also works as a Holland-based press officer for ESA. According to Britain's Globe and Mail.com this week:
"David Whitehouse, the science editor for the online version of the British broadcaster BBC, wrote an article headlined 'Ammonia on Mars could mean life' (distributed by internet) on Thursday, July 15, 2004. In it he described as yet unreported readings taken by an instrument aboard ESA's Mars Express spacecraft, a craft which has been orbiting the red planet since December.
"Mr. Whitehouse said the spectrometer had tentatively detected ammonia, a gas which would only survive in the thin Martian atmosphere for a few hours. He further wrote that there were only two possible sources for the ammonia – active volcanoes or microbes – and no Martian volcanoes have ever been seen.
"The piece then quoted an unnamed NASA scientist saying both that 'ammonia could be the key to finding life on Mars' and 'there are no known ways for ammonia to be present in the Martian atmosphere that do not involve life.'The BBC article further said that Vittorio Formisano, the lead scientist for the Mars Explorer instrument which supposedly found the ammonia, would present his findings at a conference in Paris this week.
Now finding any sign of anything life-like on Mars is to space science what a cure for cancer is in medical research. Not only is the discovery big news unto itself, it would also loose billions and billions of dollars of future research funding. Accordingly, hundreds of journalists began telephoning ESA for more information and were referred to Guido De Marchi, an astronomer who also works as a Holland-based press officer for ESA.
His corporate-approved response to the BBC report of microbe-produced ammonia was six degrees north of damning and 12 kilometres beyond dismissive. 'It is not true; it is a hoax. The instrument aboard the Mars Express has not looked for ammonia; ammonia has not been found, and the principal investigator for the instrument will not talk about it at a conference to be held in Paris next week.'"
When Dr. Formisano and I set today for my phone interview with him at the COSPAR Conference in Paris, he told me the original molecular data was firm from his point of view and he expected to announce that an organic source on Mars is producing the gases, probably from an underground source. By now, it was expected that Explorer's deep earth-penetrating radar would have been functioning in an exploration for underground water ice or even liquid water that might have helped pinpoint possible underground sites where organic processes could exist in conjunction with H2O. But the deployment of the radar has been delayed until this fall.
Now, has a major European physicist been silenced simply because he might be the first scientist on Earth with hard evidence of a life process beyond Earth? If so, is the suppression linked to an unstated political pecking order in the American and European bureaucracies? Who would control the suppression beyond astronomer Guido De Marchi in Amsterdam?
---
Websites:
ttp://www.esa.int/export/SPECIALS/Mars_Express/
http://www.esa.int/export/esaCP/index.html
http://www.psrd.hawaii.edu/Dec96/LifeUnderground.html
http://marsrovers.jpl.nasa.gov/home/index.html

© 1998 - 2019 by Linda Moulton Howe.
All Rights Reserved.