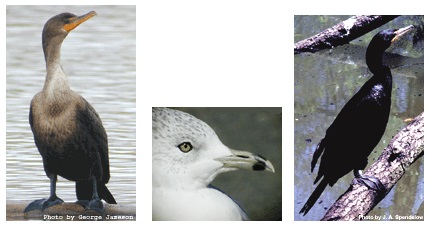 August 1, 2004 Madison, Wisconsin – The U. S. Fish and Wildlife Service confirms that more that 1500 ring-billed gulls and double-crested cormorants have died in the past month on an island at the Roestler Lake Waterfowl Protection Area near Lehr, in south central North Dakota, south of Chase Lake National Wildlife Refuge where 29,000 American White Pelicans disappeared in mid-June. This is the sixth straight year that wildlife officials have announced large numbers of bird deaths at Roestler Lake in the Kulm Wildlife Protection Area (WPA) of the Kulm Management District. Many of the dead have been young birds. This year the agency is blaming salmonella and fungal diseases. In its July 2002 to September 2002 Quarterly Wildlife Mortality Report, the USGS reported that 3,952 ring-billed gulls and double-crested cormorants died of "chlamydiosis and emaciation." About 10,000 birds have traditionally nested in the region each year.
Wildlife health officials say they have not conducted tests yet on the dead birds. There is concern that some might have been killed by avian chlamydiosis, which can be transmitted to humans who touch sick birds or the environment where the birds congregate. Fortunately, the flu-like disease in humans can be treated with antibiotics. But specialists at the U. S. Geological Survey's National Wildlife Health Center in Madison, Wisconsin, warn that people should avoid touching sick or dead birds, especially if it is a gull or cormorant.
---
Interview:
Kathryn Converse, Ph.D., Wildlife Disease Specialist for 20 years at the U. S. G. S. National Wildlife Health Center, Madison, Wisconsin: "We were just notified July 28th of this mortality. Roestler Lake is an area that has had mortality in gulls that we've got records back through 1999. Each year, it has been the same island, Roestler Island, which is a nesting colony for the gulls. These are all ring-billed. What's happened is that they have had mortality each year and it's usually in the young of the year birds, but deaths are also in some of the adults. Over that period of time (6 years) because mortality is occurring several years in a row, there is government surveillance. When they went out last week to check on young birds, they found the 1500 dead which had been dead for awhile and weren't suitable to examine. So, they weren't able to collect any birds to have a diagnostic evaluation. Investigators are going back out on Monday and Tuesday (August 2 and 3, 2004) to check again. At that time, if they find any sick birds or freshly dead birds, they will attempt to collect some samples to send to our center here for examination.
WHAT HAVE YOU SEEN OVER THE PAST SIX YEARS IN THE BIRDS YOU HAVE EXAMINED?
There have been six or seven different diseases we've identified, but two diseases we've seen a little more consistently have been salmonella and chlamydia infections. Both are bacterial diseases."
Editor's Note: Both diseases can be transmitted to humans.
1) Chlamydia psittaci – also referred to as Psittacosis, Parrot Fever or chlamydiosis.The word Psittacosis comes from the Greek word Psittakos, meaning parrot. Chlamydia are gram negative, spherical, (0.4-0.6 micron diameter), intracellular parasites that people sometimes referred to as "energy parasites" because they use ATP (a crucial energy containing metabolite) produced by the host cell, hence, the term "energy parasites.
In birds, C. psittaci may manifest itself as an upper respiratory infection with nasal, and or ocular discharge, diarrhea, or a combination of all three. In some cases, birds may be infected but show no signs. These cases are of concern because these birds may become carriers and shed the organism.
Transmission of this organism from one host to another is primarily through the air. The bacteria is shed from an infected bird in the nasal and or ocular secretions, fecal material, and feather dust. The organism remains remarkably stable outside the host body and dries as a dusty substance. This dust or aerosol contaminates the air that is then inhaled by another possible host. Susceptibility as well as the amount of contamination determine whether or not the new host becomes infected with the disease.
A major concern with C. psittaci is it can be a zoonotic disease, an infection which can be transmitted from animals to humans. C. psittaci is also one of the major causes of infectious abortion in sheep and cattle.
*C. psittaci is related to Chlamydia trachomatis, the most common human STD, and Chlamydia pneumonia, a cause of human pneumonia. Chlamydia pneumonia is also being investigated as possibly being associated with cardiovascular disease in humans.
2) Salmonellosis is a bacterial infection which affects birds, and is present at a low level in wild bird populations. The infection can be caused by any one of over 2,000 strains of salmonella bacteria, many of which tend to normally occur only in one group of animals, although they can spread to any other. Major salmonella outbreaks in the past have caused serious losses in wild birds and spread over wide areas of Britain. Flocking species, such as greenfinches and house sparrows, are most commonly affected.
The symptoms of the infection are a listless and lethargic appearance in the bird, which tends to stay close to feeders, fails to respond to danger and can be approached closely. The crop of an infected bird is often distended with ulcerous growths. These show up as swelling of the crop, and can be mistaken for a full crop or make the bird look puffed up. Many have diarrhoea. Even though the infected bird tends to continue to eat almost to the end, it will become weak and emaciated.
Salmonella bacteria pass out of the body in the droppings thus spreading contamination if they mix with food taken by other birds. The transmission of such disease is enhanced by large gatherings of birds at communal roosts or birdtables, and poor hygiene at feeding stations can fuel a local outbreak. While most infected birds die, some will recover, but can remain as carriers for quite some time. Outbreaks are best prevented by keeping all feeding areas and water containers clean and free from droppings. Some types of Salmonella are also responsible for food poisoning in man. Therefore, it is very important to exercise good personal hygiene when handling sick or dead birds, and when cleaning the feeders and water containers.
Could Immune Systems of Gulls and Cormorants
Be Weakened by Some Environmental Factor?
"DOES THAT SUGGEST THAT POSSIBLY SOMETHING IS AFFECTING THE IMMUNE SYSTEM IN THESE BIRDS TO CAUSE THEM IN SUCH LARGE QUANTITIES TO REPEATEDLY BE SUSCEPTIBLE TO THESE DISEASES?
When you have colony nesting birds, they like being in colonies and being in groups of birds. Many of those situations are very close together and then if you do have a disease outbreak occur, because their nests are almost next to each other and the birds are almost bill-to-bill, if a disease outbreak gets started, it can move through them rather quickly. So, it's not unusual to see quite a number of birds die when they are colony nesters.
BUT WOULD YOU SAY IT IS UNUSUAL TO HAVE THIS RUNNING FOR SIX YEARS WITH THIS MANY DEATHS EACH YEAR?
It's a little different in that it happens to be a gull nesting colony and it's occurring consistently. It's a little less usual to have gull colonies with these disease outbreaks.
IS IT COMMON TO SEE CORMORANTS NESTING WITH RING-BILLED GULLS?
Often you'll see cormorants nesting with pelicans or cormorants and gulls nesting together. If you get an island that is conducive to colony nesting, you can have several species taking their little corner of the island.
IS IT TYPICAL THAT THE CORMORANTS AND RING-BILLED GULLS WOULD BE SUSCEPTIBLE AND DIE FROM SAME DISEASES?
That depends on the disease. If it's a bacterial or viral disease that many bird species are susceptible to, then you can see it affect many back and forth. For example, salmonella which most birds are susceptible to, it would not be surprising to see multiple species get sick in the same place.
Contaminated Food and Water?
WHAT CAUSES A SALMONELLA OUTBREAK?
It's a bacteria and the way it's usually transmitted from one bird to the other is through the intestinal tract, through the feces. When you have an area where there are a lot of birds nesting in close proximity and sometimes you have a situation ­ particularly cormorants, where some are nesting in the trees and some on the ground ­ and there are tens of thousands of birds around, their fecal material gets pretty well distributed over everything. So if there is a bacteria being carried in the body fluids, then that's how it's transmitted.
THEY WOULD HAVE TO GET THE SALMONELLA FROM SOMETHING THEY ATE IN THE FIRST PLACE?
It's usually picked up from food or water that's been contaminated by fecal material from an infected animal.
Chase Lake Pelican Disappearance
In Same Region AS Roestler Lake Die-Offs
ROESTLER LAKE IS NOT TOO FAR FROM CHASE LAKE WHERE 29,000 PELICANS DISAPPEARED BY MID-JUNE. I WONDER IF THERE IS SOMETHING GOING ON IN THE ENVIRONMENT THAT IS AFFECTING BIRDS IN LARGE QUANTITIES?
Those two places aren't dependent upon the same body of water and food. They are separated. But Chase Lake has for the past two years they have had mortality there due to West Nile Virus, which is different than what has been going on at Roestler Lake.
IS IT POSSIBLE THAT THE AMERICAN WHITE PELICAN THAT WAS AT CHASE LAKE AND THEN DISAPPEARED IN THE 29,000 BIRD QUANTITY, THAT THERE MIGHT BE SOME GROUP FLOCK INTELLIGENCE ABOUT SOMETHING LIKE WEST NILE VIRUS SUDDENLY SHOWING UP AND THE BIRDS THEMSELVES HAVE SOME KIND OF INSTINCT TO FLEE IN NATURE'S WAY OF STOPPING DISEASE?
Chase Lake is one of our research areas. So, the birds taking off had personal impact on me, too! It was one of our three selected research areas. The other two the pelicans did not leave, where they have had the same impact from West Nile virus over the past two years. So, it doesn't appear in that situation that it was a conscious avoidance on their part. At the time that the pelicans left Chase Lake, there weren't any known West Nile virus losses.
ANY IDEA YOURSELF BASED ON YOUR 20 YEARS OF EXPERIENCE AT AN INTUITIVE LEVEL ABOUT WHAT MIGHT HAVE HAPPENED?
No. But we have had colonies of that size take off in other situations. People look to find them and occasionally what happens is that they as a group might move to another area, or they try to establish another nesting area and end up coming back the next year.
AND HUMANS HAVE NO IDEA WHY THEY ABANDONED THE PLACE ORIGINALLY?
There have been instances where the birds have left because of a disturbance. Maybe the pond or lake got drained. Or the water level was really down. Or some dredging or construction went on. Sometimes it can be related to predators which harass birds to the point that the birds take off.
I'VE INTERVIEWED MANAGEMENT AT U.S. FISH AND WILDLIFE WHO SAY IT IS STILL BAFFLING WHY 29,000 PELICANS DECIDED TO LEAVE FROM CHASE LAKE IN A SHORT PERIOD OF TIME IN MID-JUNE 2004. SO IT'S A LEGITIMATE QUESTION TO ASK: COULD THERE BE SOMETHING IN THE ENVIRONMENT ­ THE AIR OR WATER ­ THAT WOULD CAUSE THE PELICANS TO FLEE?
I think what's probably more likely with Roestler Lake is a high population of birds in the 8,000 to 10,000 range. So, you have one island that is packed with all these birds. The question is whether it's the soil or something on the island that holds bacteria? Or is it the population of the birds themselves and when they come back every year, are some of the birds shedding some of these disease agents? But the diseases we've found in these birds aren't going to be related to special environmental factors more than the fact that it's a crowded colony. Sometimes in large colonies you find birds that don't do as well because there's a lot of competition for space and food. That stress might predispose them more to disease than one other environmental factor.
HAVE YOU OR ANYONE DONE SOME TESTS ON THE IMMUNE SYSTEMS OF THE CHASE LAKE AND ROESTLER COLONY BIRDS TO SEE IF THEY ARE WEAKENED?
No, I don't know any immunologist who has done a study on their immune systems.
IT WOULD SEEM IF THIS KEEPS GOING ON NEXT YEAR, THAT MIGHT BE AN IMPORTANT THING TO FIND OUT.
It certainly would be! There have been situations where there have been explanations in disturbances. Sometimes it's a really long period of bad weather. And sometimes we've had birds disappear and we don't know why and lo and behold, the next year they were back. There have been people in the Dakotas and Minnesota that have reported areas that have a lot more pelicans than before, so it seems like the Chase Lake birds have probably broken up into smaller groups and are probably scattered over a few states.
DID YOU HEAR ABOUT THE PELICANS IN ARIZONA, MANY OF THEM DIVE BOMBING INTO THE FREEWAYS? TV THERE HAS DONE STORIES AND THE SPECULATION IS THE PELICANS THINK THE FREEWAYS ARE WATER.
I don't know about that. I've heard about birds diving into black parking lots when they are wet. Apparently the way the dark asphalt reflects light, particularly at night, birds think the asphalt is a body of water and have tried to land and have crashed.
DID YOU NOT HEAR ABOUT THE PELICAN PHENOMENON IN ARIZONA?
I did not specifically hear about that. Arizona is not one of my states to cover.
WILL YOU BE RECEIVING ANY BODIES FROM THE ROESTLER LAKE DEATHS?
Yes, we've been in contact with them and sent them some materials for collecting samples and they were going to out on Monday and Tuesday to check out what they can find on the island.
Earth's Weakening Magnetic Field Impact On Birds?
WHAT DO YOU PERSONALLY THINK ABOUT THE INCREASING ANOMALIES IN BIRD POPULATIONS AROUND THE WORLD NOW ­ INCLUDING SO MANY HOMING PIGEONS THAT AREN'T GOING BACK TO THEIR HOMES TO ROOST? WE KNOW THE EARTH'S MAGNETIC FIELD IS WEAKENING. COULD THIS ALREADY BE HAVING AN AFFECT ON BIRD POPULATIONS?
I honestly don't know. I haven't studied the impact of magnetic fields on the migration of bird populations. I know that one factor which does get mentioned frequently about where birds locate is related to general warming trends. Some birds are modifying their movements and patterns. They might not go as far south or as far north as they did before. They might not migrate at all. That all might be more linked to weather patterns. I know there are a lot of studies out there looking at the earth's magnetic field, but I can't comment as an expert.
IS THERE ANYBODY THAT YOU KNOW IN A UNIVERSITY WHO MIGHT BE TRYING TO LOOK AT THINGS LIKE REPEATING DEATHS OF ANIMALS AND ANOMALOUS EVENTS?
We do research here looking at disease patterns. Right now I'm involved with a study of the impact of West Nile virus on white pelican colonies in Montana, North and South Dakota. The reason we are doing this work is that they have losses due to West Nile virus in the past two years and they have had some pretty significant mortality. With West Nile being a new disease. It's affect on the White Pelican is different than we've seen in most bird populations. That's what triggered this research for a 2-year-long research project. We're in the first year (2004). So at this center, we do get involved in trend research of diseases and the environmental conditions that could affect animals."
---
More Information:
If you have significant bird anomalies to report in your area, please contact me at [email protected] and I will get in touch with scientists for comment and possible investigation.
Also see:
http://news.independent.co.uk/uk/environment/story.jsp?story=54613830 July 2004, "Disaster at sea: global warming hits UK birds"by Michael McCarthy, Environment Editor, Britain's Independent News Headlines
---
Websites:
http://www.mbr-pwrc.usgs.gov/id/framlst/i1200id.html
http://www.fws.govhttp://www.rspb.org.uk/birds/advice/diseases/salmonella.asp
http://www.avianbiotech.com/diseases/chlamydia.htm

© 1998 - 2023 by Linda Moulton Howe.
All Rights Reserved.