August 9, 2004 – Mlyny at Wylatowo, Poland – Robert K. Lesniakiewicz, Vice President of the CBUFOIZA (researchers in Poland who investigate unidentified aerial objects and crop formations) reports: "There have been two wheat pictograms that he calls "agrosymbols" in Mlyny near Wylatowo." He is waiting to hear about sizes of the patterns from the investigative IRG Torun team and I will update this Earthfiles report when I have the dimensions. One has five circles connected by pathways and the other is a triangular pattern of three circles connected by pathways.
I asked him if the pictograms could be manmade. His answer was, "No, these are not manmade. The IRG researchers are in 90% sure that the pictograms were not made by people."
Robert also reports that in 2004 there have been a total of 33 "agrosymbols," of which eight were manmade by people "who hoped to make money on them." In addition to those eight, there are five more that are questionable.
The majority of crop formations this year in Poland have been in the Wylatowo region, and I asked Robert why he thought that region was so focused upon.
"This is only a half of the truth that the phenomenon has focused on the Wylatowo region. Many crop circles appeared in different parts of Poland. For example, in 2004 we had a 'harvest of agrosymbols' in the Lozy village in the Dolny Slask Province of Poland. There, researchers found 26 agroformations! There have also been reports of crop formations in the Brody, Szreniawa and Rzezawa villages in the Malopolska Province of Poland."
Another consideration about the emphasis on Wylatowo, Robert says, might be because it is located on the site of the oldest Polanie tribe – the best organized tribe until 966 A.D."
[ Editor's Note: The name of Poland comes from the name of the Polanie tribe or people tilling land. That tribe settled down in the Warta River basin, an area which was later called Wielkopolska [Great Poland]. The center of authority was in Gniezno. Archaeological excavations permit an examination of the development of the Gniezno castle and its powerful fortifications, dating back to the 8th century. The tribal rulers of the Polanie who later resided in the castle were called the Piasts, from the name of their legendary ancestor. ]
---
Pictogram 1, Mlyny near Wylatowo, Poland
All photographs below are © 2004 by the IRG Torun Team.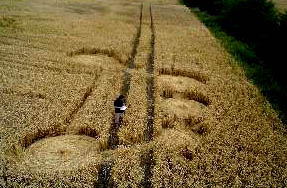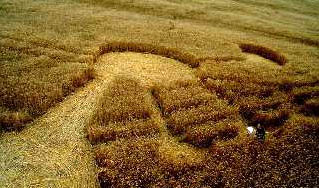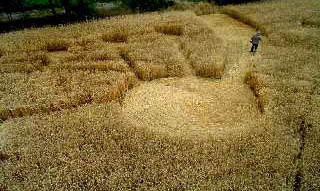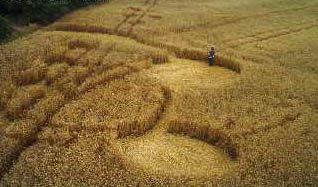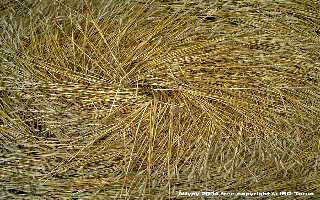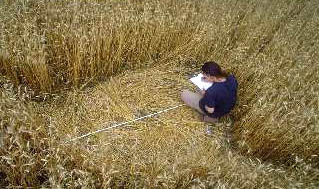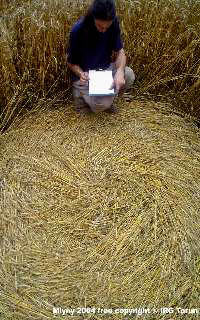 Pictogram 2, Mlyny near Wylatowo, Poland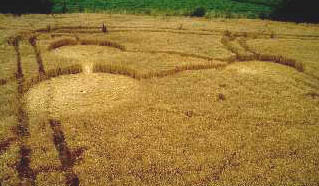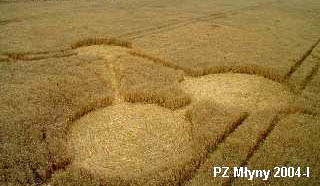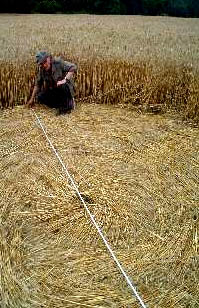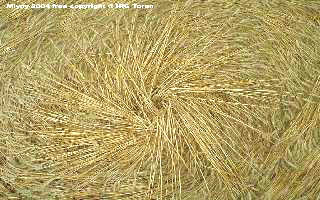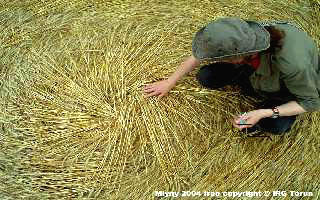 ---
More Information:
See Other 2004 Earthfiles Reports
08/09/2004 — Pictograms in Poland
08/03/2004 — Crop Formations: Fifteen in Southern England Since July 20, 2004.
07/26/2004 — Crop Circles in Tilden, Wisconsin Oats and 90-Degree Angles in Litchfield, Minnesota Barley
07/25/2004 — 2004 Canadian Crop Formations: Scorched Soybeans and "Dirt" Pattern in Barley
07/24/2004 — Part 3 – Crop Formations and Mysterious Lights in Wiltshire, England, July 2004
07/24/2004 — Part 2: Crop Formations and Mysterious Lights in Wiltshire, England, July 2004
07/15/2004 — Updated: Part 1-Beyond Hillsboro, Ohio, More Corn Down in New Milford, Connecticut
07/13/2004 — Updates on Spanish Fork, Utah Barley Formation
07/07/2004 — Fourth 2004 Crop Formation in Poland Has Multiple Parts
07/06/2004 — Additions to Spanish Fork, Utah Formation and Mysterious Lights Seen
07/06/2004 — Mysteriously Downed Oat Plants in Eagle Grove, Iowa, and Downed Corn in Hillsboro, Ohio
07/04/2004 — Crop Formation in Spanish Fork, Utah
06/17/2004 — More 2004 Holland and Poland Crop Formations
06/16/2004 — England: 2004 Crop Formations and 2003 Research
06/03/2004 — Updated – Second 2004 Pictogram Crop Formation in Poland
06/02/2004 — 2004 Peach Orchard, Arkansas Crop Formation
05/24/2004 — Biophysicist W. C. Levengood's Crop Circle Reports Available for First Time On Internet
05/22/2004 — 2004 Overview of Crop Formations in Five Countries
05/17/2004 — Updated – Crop Formation Reported in Zabno, Poland
05/11/2004 — An Extraordinary Photograph in A Dutch Home
05/09/2004 — 2003 English Crop Formations on Documentary DVDs
04/14/2004 — Light Anomalies in Photos of Conondale, Australia Grass Circles
---
Websites:
http://www.wylatowo.mogilno.pl/news.php?art=94http://www.wylatowo.mogilno.pl
http://www.cropcircleconnector.com
http://www.cropcircleresearch.com
http://www.temporarytemples.co.uk
http://thecropcirclewebsite.50megs.com
http://members.iinet.net.au/~bwratten/ccc.html
http://www.CropCircleAnswers.com
http://www.busty-taylor.com/cropper/98busty2.htm
http://www.cropcircleconnector.com/ilyes/ilyes.html

© 1998 - 2023 by Linda Moulton Howe.
All Rights Reserved.