August 12, 2004 – Since June 22, 2004, Belgium has had three reports of circles. Robert Boerman who produces the Dutch website, dcca.nl, e-mailed me the following comments in English about the Belgium incidents and talked with me by phone about two formations in Holland that he thinks are genuinely mysterious.
Belgium Crop Formations – Genuine and Hoaxes?
1) Heers, Limburg, Belgium – June 22, 2004
"Pictogram of three ring circles connected by arcing pathways in wheat. Dimensions unknown. Could be genuine."
2) Landen, Limburg, Belgium – July 14, 2004
"Circle about 30 meters in diameter reported in wheat, Landen, Limburg, Belgium. Probably a hoax."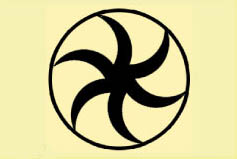 Nukerke, Oostflaanderen, Belgium
"July 28, 2004, pattern in barley, diameter unknown, Nukerke, Oostflaanderen, Belgium. Also, probably a hoax."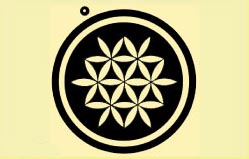 "Jan Loenders mailed me this information about the Nukerke formation: 'The lay was sloppy, a lot of broken stalks, traces of mechanical pressure. No swollen, blown or elongated nodes. Errors in the geometry (ring was at some places 2.40 meters wide and other places 2.20 meters wide). Construction lines under the laying crop – first a line to the center of the grape shot and then the crop lays over the line. (We saw the same in the Vlijmen hoax formation).' Jan Loenders thinks that Nukerke formation is a hoax, too."
Two Dutch Formations with Physical Anomalies
Valkenburg, Holland – Mid-June 2004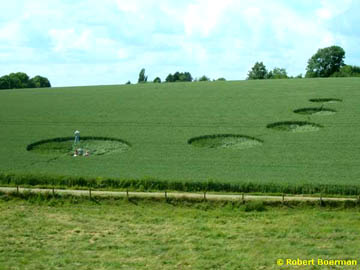 Maurice Paulsson discovered the wheat formation of five circles in mid-June, but Robert Boerman and his DCCA research team did not learn about the pattern and investigate it until June 27. "In spite of the age of the formation – it was approximately ten to fourteen days old when we visited – the formation was beautiful to see. As far as we could tell, there were not much visitors who had entered the formation."
Robert Boerman, Founder of PTAH Foundation and Webmaster, DCCA Archive, Brummen, Holland: "The five circles laying on the hill in wheat was a 'Wow!'
WERE THE CIRCLES CLOCKWISE OR COUNTERCLOCKWISE?
Counterclockwise in all of them.
WHAT IS IT ABOUT THIS PATTERN THAT CONVINCED YOU THAT IT'S SPECIAL?
That it's the real phenomenon?
RIGHT.
We found a lot of elongated and blown nodes.
WERE THE BLOWN NODES IN ALL 5 CIRCLES?
Yes.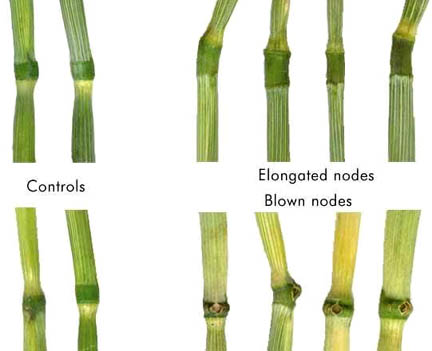 Also, one of our co-workers measured the Bovis scale and it was high, about 3 million. Also, we found a lot of ley lines connecting the pattern of the circles.
[ Editor's note: The intensity of the rays or vibrations, of a place, plant or object can be measured using a dowsing pendulum. The Bovis scale utilizes the knowledge of electromagnetic wavelengths and specifically the wavelength of red light which is in the region of 6,500 Ångström. An average value for a healthy abode and for a healthy person is 6,500 Bovis units. Values below 6,500 Bovis units indicate a qualitative energetic deficiency. Values above 6,500 Bovis units indicate a higher quality. ]
WHAT ABOUT MEASUREMENTS OF THE CIRCLES?
The first largest circle was about 13 meters.30 in diameter; the second about 9 meters. 80; the third about 8 meters.10; then the fourth was 7 meters.10; and the fifth was 5 meters.80. They are all not perfect circles, but a bit oval. The circles were about ten days old when we got there and probably appeared around June 17. The guy who reported the formation was in Belgium and we didn't know about his website report until late June.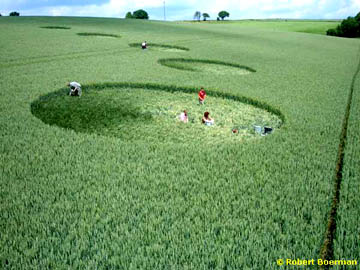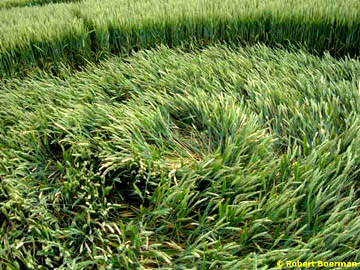 Hoeven, Holland – May 20, 2004
On July 20, 2004, I was called by Radio Brabant to drive to Eindhoven for a radio interview about Dutch crop formations. They had in the studio Robbert van den Broecke ­ a Dutch guy who has seen some crop circles appear before his eyes. And he's also seen the balls of light. See 05-22-04 Earthfiles.
In that interview we talked about a hoax formation at Mill , and then Robbert told about something which happened behind his house. Later on we found it was about May 20, 2004. That night, Robbert felt there was something going to happen that night. He went to bed, but around 1:30 a.m. he woke up and saw two beings with almond-shaped eyes in two corners of his room. The beings came to him in his bed and touched him with their fingertips and he felt a sort of click. The next thing he remembers he was waking up outside in a fresh circle formed behind his house. That's what he said in the interview.
So I and others went July 23 to Hoeven on our own and found the circle behind his house. It was an old circle by then.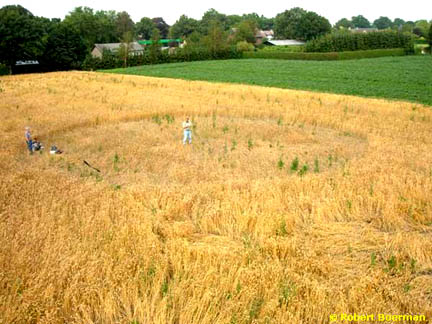 WHAT ARE THE STRANGE THINGS IN THE SKY FROM YOUR PHOTOGRAPHS THAT DAY?
The strange skies in the sky ­ we think are balls of light. My son, Bart, who is 10-years-old joined me. He said he wanted to try to photograph balls of light and I told him to go ahead and use my old digital camera and try. Then on the photographs, we saw what we think are balls of light.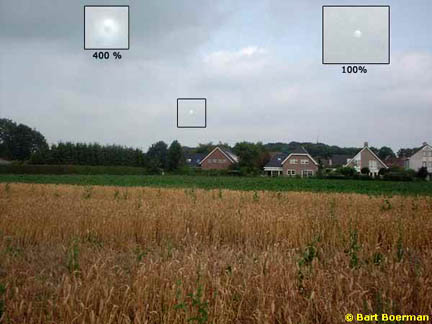 BUT YOU COULD NOT SEE THE LIGHTS WITH YOUR EYES?
No, I could not see them, but sometimes Bart says he can see balls of light.
WHAT DID YOU FIND IN THE CIRCLE ITSELF?
In the circle, we found the same as in the Valkenberg formation ­ a lot of elongated and blown nodes.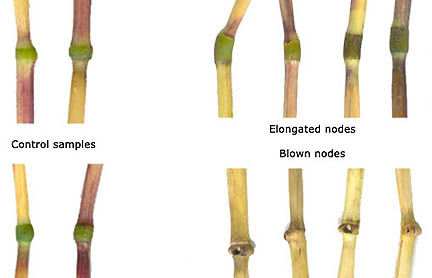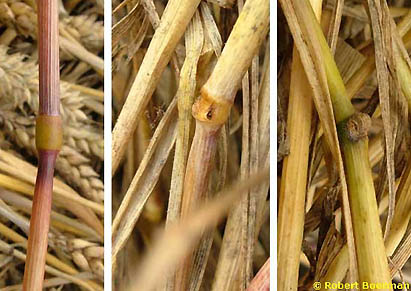 ANYTHING ON THE EDGES OR IN THE CENTER?
No, it was very difficult to investigate this circle because it was almost 6 weeks old. There was a lot of rain on it so it was a mess by then.
WHAT WAS THE DIAMETER?
20 meters by 21.80 meters, again not quite a perfect circle.
WHAT IS THE TOTAL OFFICIAL COUNT NOW THIS YEAR OF 2004 FOR REPORTED CROP FORMATIONS IN HOLLAND?
Reported to us and on our website are nine.
OF THOSE NINE, HOW MANY DO YOU THINK ARE NOT GENUINE?
The hoaxes are:
1) Wageningen, Gelderland, formation of June 12, 2004.
2) Mill, Noord Brabant, of July 18, 2004.
3) Vlijmen, Noord Brabant, formation from July 26.
LEAVING SIX IN THE GENUINELY MYSTERIOUS CATEGORY?
Yes.
ARE YOU COLLECTING PLANT AND SOIL SAMPLES FOR EXAMINATION?
We take soil samples in almost every formation. We have found a scientific way to do research on ground samples with a scientist in the Agricultural University of Wageningen. But we are waiting for the results of everything this year before reporting.
WHAT IS THE FOCUS IN YOUR SOIL INVESTIGATION?
We think the crop formations can heal the earth's soil.
WHAT IS THE DEFINITION OF "HEAL"?
Value of energy in the formation soil is higher than outside the formation."
---
Websites:
http://www.cropcircleconnector.com
http://www.cropcircleresearch.com
http://www.temporarytemples.co.uk
http://www.wylatowo.mogilno.pl/news.php?art=94
http://thecropcirclewebsite.50megs.com
http://members.iinet.net.au/~bwratten/ccc.html
http://www.CropCircleAnswers.com
http://www.busty-taylor.com/cropper/98busty2.htm
http://www.cropcircleconnector.com/ilyes/ilyes.html
http://www.wylatowo.mogilno.pl

© 1998 - 2023 by Linda Moulton Howe.
All Rights Reserved.