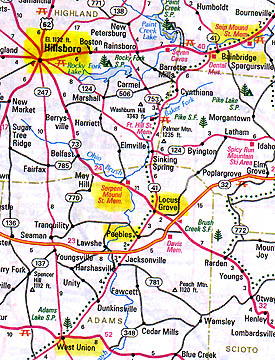 September 5, 2004  Cincinnati, Ohio – Continuing interview with Jeffrey Wilson, Director, Independent Crop Circle Researchers Association (ICCRA), Cincinnati, Ohio:
"HILLSBORO IS ANOTHER EXAMPLE IN WHICH THE PLANTS WERE LAID ALL IN ONE DIRECTION. COULD YOU SUMMARIZE AGAIN THE LIST OF ANOMALIES YOU'VE FOUND?
Hillsboro has become extraordinarily complicated because we first received the report in early July. We went out to visit the site and noticed right away that it's not in a large farmer's field. It's in a pretty small field that was planted almost like a garden by the landowners. It was a roughly circular shape that took up a pretty good chunk of this little garden plot which is about 40 feet by 40 feet.
We did our normal investigation and we did find some unusual things. Although primarily the plants were flattened in one direction, there were up to four layers swirled in different ways in different sections of that flattened area.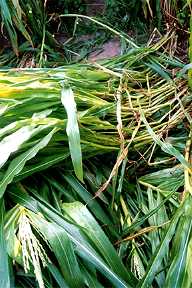 So, we ruled out hoax pretty quickly. There was not any mechanical damage to be seen. We measured the nodes using the L-NEAT (Levengood ­ Node Elongation Analysis Test), measuring the size of the nodes and they were statistically different from the crop that was still standing.
We also measured a higher increase of radioactivity. We measured higher electromagnetic field strength. So, pretty much every test we did the first time around, Hillsboro passed and said to us it was an authentic formation.
Ears of Corn Anomalies
The growth stage of those plants were such that there were no ears of corn that had developed to the point where we could do any kind of germination. So, after W. C. Levengood took a look at that, he said we ought to go back in a couple of months after the ears had developed more and then we could do a germination study.
In the meantime, we had looked at another crop circle in West Union, Ohio (possible hoax, but Levengood found anomalous soil particles. See 09-04-04 Earthfiles). One of our team members, Gene Thomas, on his return back home stopped at Hillsboro to see if the corn ears had developed. Gene noticed that the field had been hit (by an unknown energy source) a second time. So we returned to the Hillsboro site to do a second investigation. The second section that was affected overlapped the first affected section and is almost as amazing as the first in terms of the anomalies we found inside the plants ­ quite a bit different than the first time we looked.
LIKE WHAT?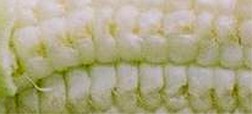 In this case, we found that the ears had developed in the field and that when we looked at the ears that were in the flattened sections, the kernels in the ears had blown, very similar to how growth nodes blow in wheat stalks and sometimes in corn and other crop varieties. Whatever energies affected the plants, because the kernels were at a tender stage, internal gas and moisture appears to have escaped where the corn silk was attached to the testa in the kernels. A few of the kernels actually expanded and did not explode. They are enlarged, but did not pop.
Then it stunted the growth, pretty much halted the growth of the plants that were flattened. You will be able to see the difference between the ears of corn that were left in the standing crop and the ears that were flattened a second time (by a second energy event) in the photos below.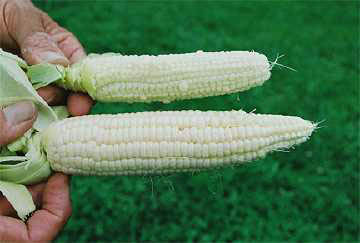 IS THIS UNIQUE? HAS THIS EVER HAPPENED IN MAIZE CORN BEFORE?
We know it happened in at least one other formation. We recorded that in an investigation a couple of years ago in Hemlock, Michigan. We looked at two circles in corn there and where the tops of the kernels were blown completely off, so that energy was even more intense. (Report by biophysicist W. C. Levengood to be reprinted at Earthfiles.com in the future.)
Another thing we found was that in one section of the field that was kind of at the crux of where both flattened sections overlapped, there was about a 12 foot section of the corn that was left standing, but had completely dried out and turned brown, whereas everything else in the field was still green ­ as if it had been subjected to heat and completely dried out. So, that was quite unusual.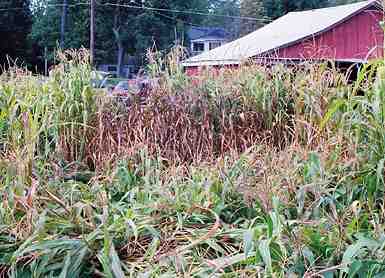 The third thing we noticed was that on one section of the field where the plants had been flattened ­ kind of at the start of where they had been flattened, the plants there on one side had been subjected to some energy that changed or destroyed the chlorophyll in the green plant and left them with this deep reddish-purple color (anthocyanin)."
Editor's Note: Anthocyanin is a pigment that reflects the red to blue range of the visible spectrum. It is often observed in the plant kingdom, where it serves to color anything from fruits to the autumn leaves. It can be used as pH indicator because it changes from red in acids to blue in bases.
"The reason we say it was directed from one side is that the color only appears on one side of the stalks, as if some of the plants shaded other plants and you can see where the exposure of the exposed part of the plant turned red, but the shaded part is still left green.
It's a little similar to the example of Close Encounters of the Third Kind when Richard Dreyfuss's character looks at the UFO and half of his face turns red and the other half is unaffected because it was in the shadow. That's essentially what has happened to the corn in this field in one section ­ the plants have turned a brilliant red, but there are shadow marks that leave no doubt that something shadowed them or protected them from turning red.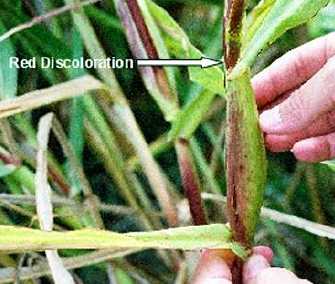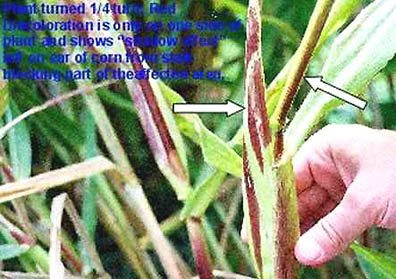 JEFFREY, WE'RE TALKING ABOUT FUNDAMENTAL BIOCHEMICAL AND BIOPHYSICAL CHANGES IN THESE PLANTS THAT NO ONE IS GOING TO DO WITH MECHANICAL STOMPING AROUND.
No, there was no mechanical damage that we noticed at all in that particular field.
SO, HILLSBORO RIGHT NOW IS PERHAPS ONE OF THE BEST FORMATIONS IN THE UNITED STATES THIS YEAR IN TERMS OF ANOMALIES?
Yeah, in terms of documented. I'm sure there have been other ones that have anomalies, but at least we have been documenting this process ­ unintentionally because we have had to repeatedly visit there.
I also have to say in this case we came across one particular stalk in the Hillsboro formation that had bending to it that no one has ever reported before. We had bending in a stair step motion where there were 5 separate almost 90-degree bends to this particular stalk.
THAT WOULD BE HARD TO DO IN CORN, WOULDN'T IT?
Yes, it would. I would say it was also not bent at the ground, but it was bent about 18 inches at least off the ground before the bending started. We've never seen anything that looked like that before and that came as a surprise.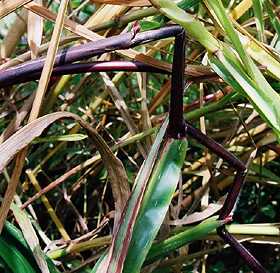 Biophysicist Levengood says, "This one stalk received a very high dose of the phenomenon energy that converts some of the natural sugars in the plants to anthocyanin. If you cut the stalk open, it's all in the aleurone layer which is a sub-epidermal layer. It's there because that's where anthocyanin forms in leaves and plants when the chlorophyll disintegrates. I don't ever remember seeing the anthocyanin so heavy in a stalk before."
Editor's Note: Aleurone Layer is the layer found in some plant seeds that excretes enzymes used to promote embryonic growth. Gibberellin, a family of growth hormones, enters the aleurone layer which induces the release of these enzymes. These promote the breakdown of starch into sugar that can be used by the embryo as energy.
I asked Levengood what would disintegrate the chlorophyll in that one stalk? "The microwave energy of the spinning plasma vortex that I think is involved can be so selective in crop formations. It can injure plants in one area and you move a few feet and the energy has enhance growth and vigor."
Measuring Force Necessary to Break Corn Stalk Fibers
Biophysicist W. C. Levengood, Grass Lake, Michigan: "On the plant nodes, I took the third node up from the soil and on the outside of the bend ­ I did some very rough experiments about a year ago to determine what force it would take to break the outer fibers in a wheat plant compared to those in corn. I did a cantilever beam test. It took 17 times more force to break a corn stalk than a wheat stalk. So, you are talking about very high energies here.
I looked at the outside of the expansion of the node and I took microscopic cross-sections of the cells and I found that the inner cells had expanded 5 to 10 times compared with the normal nodes. But very uniformly and directionally, as you would expect, since it's the longitudinal axis that bends.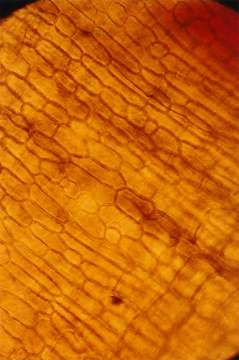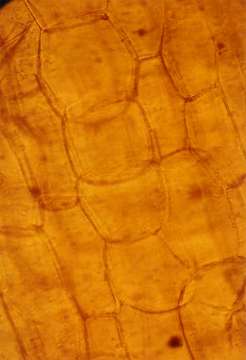 SO YOU HAVE BOTH CHANGES IN THE NODES OF THE CORN AND THE MAGNETITE/HEMATITE EGG-LIKE PARTICLES IN THE SOIL.
That's right.
SO WHATEVER HAPPENED TO THAT HILLSBORO CORN, IT WAS NOT NORMAL WIND ENERGY?
Oh, absolutely not."
Jeffrey Wilson: "The Hillsboro site is going to be one that people should be talking about for awhile because of how many anomalies we documented there. And for Levengood ­ even after he has looked at several hundred circles to be, in his words, "astounded and amazed" at some of the things we found there really speaks something to just what it is we're dealing with there at Hillsboro. It's really incredible stuff. It may be lost on some people because of the subtlety of it, but these are several things we have never seen before and Levengood's work may be taking this to something of a new level."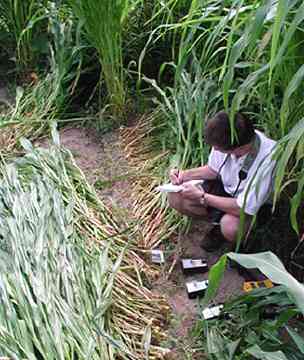 ---
Websites:
http://www.cropcircleconnector.com
http://thecropcirclewebsite.50megs.com
http://www.cropcircleresearch.com
http://www.temporarytemples.co.uk
http://members.iinet.net.au/~bwratten/ccc.html
http://www.CropCircleAnswers.com
http://www.busty-taylor.com/cropper/98busty2.htm
http://www.cropcircleconnector.com/ilyes/ilyes.html
http://www.wylatowo.mogilno.pl
http://www.wylatowo.mogilno.pl/news.php?art=94

© 1998 - 2023 by Linda Moulton Howe.
All Rights Reserved.