Click back to Part 1
September 10, 2004  Vancouver, B. C. Canada –
Paul Anderson: "The other problem is that you cannot see these formations from any of the roads because the cattle corn is too tall. The corn is 7 to 9 feet tall. That's the one thing about these ­ you can't just drive by the field and spot it because you can't see anything.
THAT'S AN IMPORTANT POINT ­ NOT ONLY ABOUT THESE IN CANADA, BUT EVEN MIAMISBURG IN OHIO. JEFFREY WILSON AND THE ICCRA TEAM WHO WENT WERE FRUSTRATED BECAUSE THEY COULD NOT SEE ANYTHING ON THE GROUND AND HAD TO GO UP IN AN AIRPLANE TO FIND IT.
That's right. We're pretty confident the ankh one is there because she did give a good description of it. She did say it was approximately the same size as the one with the circle and two crescents which turned out to be 174 feet in length. I am quite anxious to find the ankh one.
IT'S FASCINATING THAT A 'FULL MOON' AND TWO 'CRESCENT MOONS' ARE THE ASSOCIATED OTHER PATTERN AND I WOULD LIKE TO SEE IF THERE IS ANY EGYPTIAN HIEROGLYPHICS THAT RESEMBLE THE CRESCENT PATTERN."
(Editor's Note: In the history of using symbols for divination and magic, the circle is a symbol known worldwide to represent the woman, eternity, cycles, seasons. The circle is also a term used in ritual when someone "casts a circle" to work between worlds or dimensions. Protection is needed from above and below. The circle, or sphere, is equidistant in all directions that pass through its center, and therefore focuses energy into the center.
The crescent moon is a symbol of the Goddess. The crescent moon can be either growing (waxing) toward a full moon, or decreasing (waning) to become a new moon. The waxing moon is used in magic rituals for growth and creativity. The waning moon is used to banish negativity.
More universally, the circle represents infinite energy or spirit of the universe that can't be extinguished by the death of matter. The crescent represents the individualized soul or form created from the infinite energy, but brought into seeming duality or polar opposites, the yin and the yang.)
Matsqui Expulsion Cavities in Cattle Corn Growth Nodes
Shaped Like Diamonds and Triangles
Paul Anderson: "I don't know. A person mentioned to me they thought it was a pagan symbol of some kind, but I don't know specifically what it represents. we've come to expect the unexpected. You never know what's going to happen or where it's going to happen or what it's going to look like.
TO THAT VERY SPECIFIC POINT OF THE UNEXPECTED, COULD YOU PLEASE TALK ABOUT THE DIAMOND-AND-TRIANGLE-SHAPED GROWTH NODE EXPULSION CAVITIES YOU FOUND (AT MATSQUI)?
To me, this is the most interesting thing we have found so far this year in Canada. I'm lucky enough that these are not too far from Vancouver, so it's easy to get to these formations. I've been out there a couple of times so far. The plants are on average 7 to 8 feet tall. The ones last year at Abbotsford were about 9 to 10 feet tall. So, these are big plants! These are not spindly stems as you often see with wheat or barley. The corn stalks can be anywhere from 1/4 to 3/4's inch thick. What we found so far is the one thing that has me scratching my head. We found it last year as well close to this area.
We don't know for sure what they are, but BLT, Inc. (Cambridge, Massachusetts crop sampler Nancy Talbott) looked at the photos and thinks they are special growth node expulsions. The stalks are so long, so tall, you have seven or eight nodes on one stalk – like last year, we have found as many as five or six nodes or more per stalk will have these large expulsion cavities which in a lot of cases, as you described, are shaped like triangles or diamonds. (Editor's emphasis.) These are large cavities in the nodes, anywhere from 1/4 inch to 1/2 inch across. These are not small, tiny microscopic holes. You can't miss these if you are looking for them.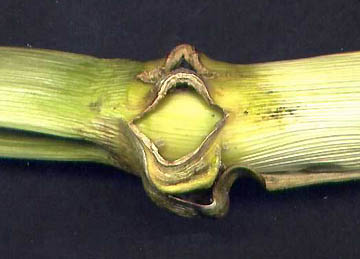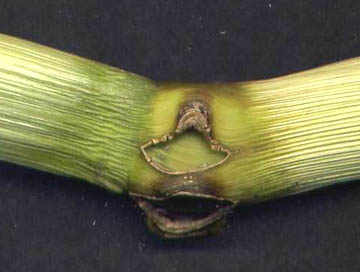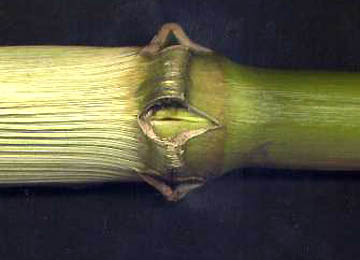 One thing I want to make clear with these Matsqui expulsion cavities is that we also did see a lot of bending of nodes in the upper part of the stalks, the upper two or three nodes, from phototropism because there is a lot of recovery in these plants happening by the time we got there now bending back up to the sun.
But in examining those (phototropism-bending) nodes, I haven't yet found any expulsion cavities ­ nothing like the diamond-shaped holes in the nodes. Some of the phototropism causes severe bending, a severe angle, up to 30 to 40 degrees, just from bending toward the sun. Yet, no node expulsions there.
But at the same time, we have other samples where you have nodes along the length of the stalk where there has been no bending at all. That's one point I want to make clear: a lot of these nodes are not bent. There is no bending of the stalk at the deformed node expulsions. Yet, the node itself is still highly blown out, highly deformed with the large cavities. That's what we are trying to figure out. Could simply flattening the plants by whatever means cause these kind of effects? That's what I have a hard time with ­ I don't see it happening.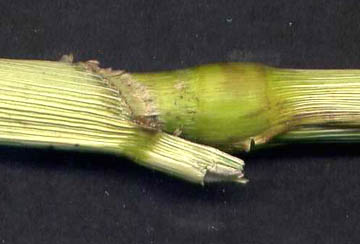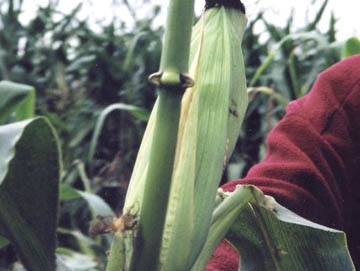 Paul Anderson: "The question it all comes down to: What has caused them? It was interesting in the cases two years ago in Mission, B. C. (See: 10-01-02 Earthfiles; 10-03-02 Earthfiles; 10-11-02 Earthfiles) which is not too far from this location in the same kind of cattle corn again, we did not find these kinds of cavities in the nodes. There are two formations again in the Mission location and we did not find any expulsion cavities. But last year we did find them in the formation at Abbotsford and the one farther east at Agassiz. The pattern at Abbotsford is what we called the large 'Trident' formation which was 300 feet long and quite impressive. In both of those and at Matsqui this year, we have found the same growth node anomalies.
Growth Nodes Sliced Off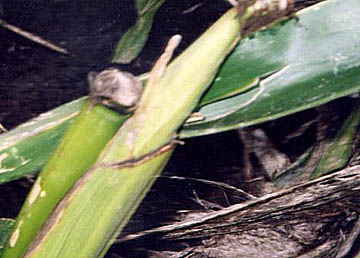 The other thing that we found was not just the expulsion cavities, but also a lot of stalks which have been cut off or sliced off ­ usually at the first or second node above the ground. It always seems to be through the node. It's not through the stalk between nodes, but where you have a clean cut right through the center of a node and the stalk is simply cut off. Sometimes it's laying on the ground beside what's remaining of the standing plant. Sometimes it's not. The thing that gets me is that there are so many of these. We found quite a few of them just scattered all through the Matsqui formation, right close to the center of the central circle where there was one stalk in particular that was bent, not at a node, but just bent in the stalk several inches above the ground.
Then at the first node past that bend, it was cut off just like all the other ones. You have this stalk that is sticking straight up out of the ground and then bent 90 degrees and then it's just lobbed off. There were many others similar to that scattered randomly throughout the formation that are cut off at the first node.
THIS IS MATSQUI THAT HAS THE CIRCLE AND TWO CRESCENTS ON EITHER SIDE.
That's right. Again, that's a formation we haven't seen in Canada before, not just in B. C., but any place. Crescents have never been a common feature, so again that makes this formation unusual in that regard. But it's the growth node anomalies that we have found for at least the past two years now that have yet to be explained.
Could Triangle and Diamond Cavities Be
Produced by Mechanically Flattening Cattle Corn?
A crop specialist with Agriculture Canada in Ontario has been examining samples of the similar node anomalies from Abbotsford and Agassiz in 2003, with no conclusions yet other than that they do not appear to be 'normal' insect, disease or physical stress damage to the plants, in his opinion.
Laurel Leaman-Konrad and Jo Slingerland with CCCRN British Columbia have done a great job collecting plant samples and what we're doing next is a test of manually flattening other paths in this same cattle corn crop in the same field, but a long distance from the formation. We wanted to do that test to see what would happen because there is quite a bit of debate about whether manually flattening the corn plants like that could produce those kinds of affects. I should add that it isn't just openings in the nodes, but if you look at the photographs, you can see that the outer casing of the node has swollen out and expanded and become distorted and quite deformed.
IF THIS DIAMOND PATTERN IN THE GROWTH NODES IS THIS DISTORTED, THAT WOULD SUGGEST THAT PERHAPS THE ENERGY WHICH INTERACTED WITH THE MATSQUI, B. C. FORMATION IN CATTLE CORN IS EVEN GREATER THAN THERE HAVE BEEN IN OTHER PARTS OF THE WORLD.
Maybe. But it could turn out there is a prosaic explanation for this which is why we are doing our field test (to flatten corn manually) and we're going to keep track of the crop over the next few weeks to see if any type of effects like this do some how happen. The problem is I'm having a hard time working out how this would occur.
PAUL, WE HAVE BEEN SEEING EXPULSIONS IN GROWTH NODES IN ENGLAND, THE UNITED STATES, CANADA AND OTHER PARTS OF THE WORLD FOR MORE THAN A DECADE.
That's right.
IF THESE DIAMOND-SHAPED EXPLODED NODES WERE NATURALLY OCCURRING, DON'T YOU SUPPOSE WE WOULD HAVE SEEN THEM BEFORE NOW IN CANADA AT MATSQUI?
If this was simply a naturally occurring after-effect of the plants being flattened down, I would tend to expect to see these a lot more often. And yet we have not. And we've had them in corn in particular.
One thing I forgot to mention is previously regarding the expulsion cavities and these diamond nodes is that we did find a few along the outside edge of one of the crescents in the circle and two crescent formation. These are plants that were still standing and never flattened. So, of course this is something biophysicist Levengood has said for a long time could be a spill over of energy into the standing crop and I had looked at other standing crop outside the formation as well. I couldn't find any except on that one edge of the crescent, there are a few standing plants that have these same kind of cavities in them. Exactly what that means, we don't know yet, but it would suggest to me at the very least that this is not an affect caused by a flattening process because these are standing stalks. They were never touched. Again, as you know, these have been found in other formations as well.
I THINK IT IS AN IMPORTANT POINT TO STRESS YOU ARE GOING TO DO AN EXERCISE TO SEE IF YOU CAN PRODUCE THESE DIAMOND NODES IN PLANTS MECHANICALLY. BUT RIGHT NOW YOU HAVE JUST MADE THE ARGUMENT THAT YOU HAVE FOUND THE SAME KIND OF DIAMOND DISTORTED NODE EXPLOSIONS IN PLANTS THAT WERE STANDING.
That's right. And as far as we know right now, just along the outside edge of the crescent formation ­ not farther out. I do want to go back again and take a longer look at more plants outside the formation. That's where it stand at the moment, but it's another piece of the puzzle."
---
More Information:
Other Earthfiles Reports About Canadian Crop Formations
07/25/2004 —  2004 Canadian Crop Formations: Scorched Soybeans and "Dirt" Pattern in Barley
05/24/2004 —  Biophysicist W. C. Levengood's Crop Circle Reports Available for First Time On Internet
08/29/2003 —  Part 2 – After August 10, No Crop Formations Except in Canada?
08/23/2003 —  Fourteen Crop Formations in Canada
11/05/2002 —  Canadian Crop Circles and Mysterious Lights in Saskatchewan
10/11/2002 —  Mission, British Columbia, Canada Seed Corn Formation Has Changed Shape
10/03/2002 —  Part 3 – 2002 Crop Formations In Canada
10/01/2002 —  Part 2 – September 2002 Maize Circles Update: Canada
08/24/2002 —  Crop Formation Update: Canada
08/27/2000 —  Crop Circle Reports from Whitefish, Montana – Updated Photos
09/21/1999 —  1999 Summary of Crop Formations in Canada and Latest 9/21/99 Edmonton Circles
---
Websites:
http://www.cropcircleconnector.com
http://thecropcirclewebsite.50megs.com
http://www.cropcircleresearch.com
http://www.temporarytemples.co.uk
http://members.iinet.net.au/~bwratten/ccc.html
http://www.CropCircleAnswers.com
http://www.busty-taylor.com/cropper/98busty2.htm
http://www.cropcircleconnector.com/ilyes/ilyes.html
http://www.wylatowo.mogilno.pl
http://www.wylatowo.mogilno.pl/news.php?art=94

© 1998 - 2023 by Linda Moulton Howe.
All Rights Reserved.