"(The law officer) explained to me that they knew what the mutilations were and they had known for some time. They only report one out of four and in this county alone, there had been over 400 reports by that time. It was being done by extraterrestrials and they had spoken to the FBI about it."
- 1978 Clearview Report, APRO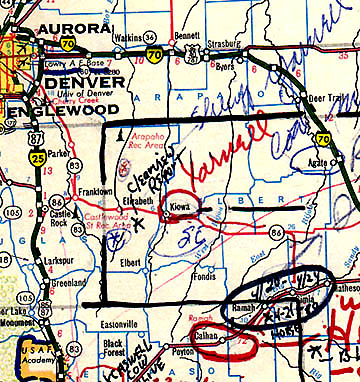 September 13, 2004  Elbert County, Colorado - While I was working as Director of Special Projects producing documentaries at KMGH-TV, Channel 7 (then CBS) in Denver, Colorado, I began an investigation in the fall of 1979 into the mystery of bloodless animal mutilations. Hundreds of animals around the world in 1979 had been found dead with the same pattern of tissue removed from the head, belly and rectal area without blood, tracks or signs of struggle. The phenomenon was not new. The first mutiltion reports went back to at least the early 1960s. But in 1979, there was an increase in the number of reports in the Northern and Southern Hemispheres. Law enforcement, ranchers and even fellow journalists had seen unidentified lights in the sky over pastures. In addition to unidentified lights, there were silent, black helicopters often associated with regions of ongoing mutilation reports. Sometimes those black helicopters dissolved into mist, according to eyewitnesses. Other times, there were loud sounds of what seemed to be a helicopter or low-flying jet over ranches, but no source of the sound could be seen.
Click here to subscribe and get instant access to read this report.
Click here to check your existing subscription status.
Existing members, login below:

© 1998 - 2023 by Linda Moulton Howe.
All Rights Reserved.