"The Nuclear Regulatory commission (NRC) tracks radioactive materials at more than 21,000 sites through routine applications for license renewals that those sites must file with the government (NRC). …Documents for one well-known Northeastern university included a floor plan of the building showing the office and vault where the (radioactive) materials are kept."
– The Patriot-News, October 3, 2004

October 6, 2004  Harrisburg, Pennsylvania – Today the State Department offered a $5 million reward for Al Qaeda leader, Adnan El Shukrijumah, who last year allegedly posed as a student at McMaster University in Hamilton, Ontario, Canada, in an effort to steal radioactive materials from the university's five-megawatt nuclear research reactor. The terrorist's goal: to cause another "9/11" by constructing and blowing up a dirty radioactive bomb in the United States. American authorities also think El Shukrijumah directed Al Qaeda surveillance efforts of the financial districts in New York City, Washington, D. C., and Newark, New Jersey this summer that provoked Homeland Security to increase terror alerts for those cities to Code Orange. 
On October 4 in London, British police arrested three men under the British Terrorism Act 2000 for allegedly trying to obtain radioactive material to make a dirty bomb. According to the News of the World newspaper, the men were in a gang trying to buy a kilogram of "red mercury," a radioactive substance made in the old Soviet Union to create hand-held dirty bombs.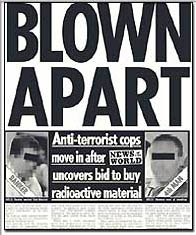 Time magazine also reports this week that an Islamic terrorist cell tried to build a dirty bomb in England before interruption by intelligence authorities in August 2004. The radioactive sources for this dirty bomb effort were the americium 241 substances taken out of several dozen household smoke alarms.
On Sunday, October 3, 2004, The Patriot-News in Harrisburg headlined, "Finding dirty-bomb materials is mouse click away" by Garry Lenton. The story was based on an interview with Scott Portzline, Security Consultant, Three Mile Island Alert, in Harrisburg, Pennsylvania.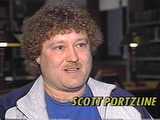 Garry Lenton wrote, "The Nuclear Regulatory commission (NRC) tracks radioactive materials at more than 21,000 sites through routine applications for license renewals that those sites must file with the government (NRC). …Documents for one well-known Northeastern university included a floor plan of the building showing the office and vault where the (radioactive) materials are kept."
I talked with Scott Portzline about the strange post-9/11 irony that the American Nuclear Regulatory Commission (NRC) would publicly expose locations of radioactive materials which terrorists could access. Scott also emphasized missing and stolen radioactive materials in the United States. In fact, The Washington Post reported on May 4, 2002: "The Nuclear Regulatory Commission (NRC) regulates the commercial use of radioactive material. It acknowledged receiving reports of 1,495 lost or stolen radioactive 'sources' between October 1996 and September 2001; about 660 of the missing items — 44 percent — were recovered, but the rest (56 percent) remain missing, the agency said."
Scott Portzline helped the volunteer civilian Three Mile Island Alert group in Harrisburg, Pennsylvania, monitor radiation and security near that nuclear power plant. He has testified before the U. S. Senate, the U. S. Nuclear Regulatory Commission, the Advisory Committee on Reactor Safeguards and other governmental bodies in an effort to close security gaps that he has found. His research has been cited by the U. S. Department of Energy and various military branches. Scott worries that dirty bombs and attacks on nuclear power plants are high on the Al Qaeda terrorist To Do list in the United States.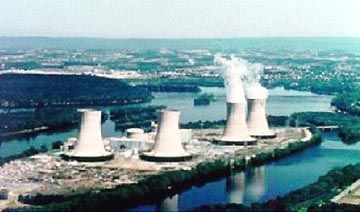 ---
Interview:
Scott Portzline, Security Consultant, Three Mile Island Alert, Harrisburg, Pennsylvania: "The biggest concern right now is how easy it is for anyone to use a computer to discover the floor plans of where weapons-grade uranium and plutonium are stored and also other materials that could be very harmful in dirty bombs. The information can be found using the Nuclear Regulatory Commissions (NRC) data base.
CAN YOU GIVE AN EXAMPLE OF WHERE SOMETHING HAS BEEN PUT ON THE INTERNET THAT WOULD HAVE MADE US VULNERABLE?
The NRC has a document retrieval system from their website. What one can do is use their program that is downloadable for free in less than a minute and actually connect directly into their document retrieval computers. From there, one can search the records to find universities, hospitals, any licensee, any industry, or entity, that owns radioactive materials. In many of these reports is given the floor plan down to the address of the building, what floor the material is stored on, what room, what cabinet, what vault, even what drawer in some cases!
WHY WOULD THERE BE SUCH DETAIL PUT ON THE NUCLEAR REGULATORY COMMISSION WEBSITE?
It's a mistake. Post 9/11, the NRC does not want this type of material to be made public. There is a 2-fold problem here:
1) one is that licensees themselves include in their applications or re-licensing applications drawings that the NRC does not necessarily need.
2) The NRC is not analyzing and purging from the licensee files (sensitive material) before they attach it to their (NRC) document retrieval system. Now, if the NRC had enough money and resources, they could scour these documents ­ which would literally be tens of thousands of pages each day ­ to get rid of these drawings. So, part of the problem is the sheer number of pieces of paper showing the floor plans. Another part of the problem is that the licensees are providing too much information in some cases.
WE HAVE THE MORE INNOCENT PRE-9/11 UNITED STATES WITH ALL THESE RECORDS FROM UNIVERSITIES, HOSPITALS AND OTHER PLACES WHERE THERE MAY BE RADIOACTIVE MATERIAL STILL IN THE NRC SYSTEM WHICH IRONICALLY CAN MAKE US MORE VULNERABLE POST-9/11.
That's right. It's a serious problem and the NRC agrees with me that they are slow to act and they don't even have the capability right now to handle the matter properly. It's only been activists who have gone to the NRC and said, 'Hey, this document needs to have this page or these pages removed because I don't think you want people to know this.' Sometimes the NRC has disagreed!
PART OF THE CHALLENGE FOR THE TERRORISTS WOULD BE THAT THEY WOULD HAVE TO GO TO MULTIPLE SITES WITH THEFT TO GET ENOUGH TO MAKE A DIRTY BOMB. BUT WHAT YOU ARE SAYING IS THAT THE INTERNET ITSELF THROUGH THE NRC WOULD MAKE IT EASIER FOR TERRORISTS.
No question about that. There are certain sources of radioactivity in which one single theft of one source could devastate a city. One example would be a document I just saw for the first time last week as it was posted where a source of strontium-90 with 125,000 curies of radiation ­ if that were ground up and dispersed – as a 'radioactive dispersal device' is what the government calls it and we know it as a 'dirty bomb' ­ that could devastate a city with contamination and cause some harm to people, especially if they inhale the material. They could end up with cancer.
SCOTT, WHAT WAS THE SOURCE?
It did not say what the source would be used for and I think it was actually in raw form. It's a company that handles radioactive materials and probably uses them to sell to other industries who manufacture gauges or medical devices. But I'll give you an example of what that type of radioactive source could be used for: to power a lighthouse. The Soviet Union has a problem where people are breaking into lighthouses to steal any type of wire, metal or anything they can get for scrap. In some cases, they have killed themselves handling the Strontium-90. In fact, there was a story in the news a few years ago, where some lumberjacks in Soviet, Georgia, were exposed to strontium-90. And I've seen video of the recovery of strontium-90 where there was a 20-foot-circle around the source of strontium-90 where there was no snow because of the heat generated. To recover a small source that could fit in a gallon bucket took the effort of about 30 men, each working for only one minute, to move the source closer to a lead container in the back of a truck. What that would be used for in the United States would be a similar application where it would probably use it as a battery, so to speak.
What Can NRC Do?
WHAT DO YOU THINK PRACTICALLY CAN BE DONE, GIVEN THE FACT THAT IF THERE ARE THOUSANDS OF PAGES FROM ALL OF THESE DIFFERENT SITES AND SOME PEOPLE HAVE TO BE ASSIGNED TO GO THROUGH EVERYTHING TO FIND THE SPECIFIC DETAILS, IS THAT ECONOMICALLY FEASIBLE?
Probably not, at this point. The NRC is already short at many of its staff levels. They've decreased their inspections at nuclear power plants. There are literally several million radioactive sources in the United States. So, just searching through those documents from the licensees that own the industrial and medical sources would take years to do.
But there is something that could be done temporarily and that is for every document that comes in from a licensee who is re-submitting for their application ­ that can be spot checked by some of the NRC staff to pull the sensitive pages, or pull the whole report so they have time to purge it and put it back on the internet. Because the public does have a right to know who has these materials and whether it's safe or not. But I don't think the public needs to know exactly what cabinet the material is stored in, complete with floor plans and in some cases, security measures that are quite lacking, actually.
Is Homeland Security Solving the Radioactive Materials Problem?
I'm very critical about the education process. If I were Tom Ridge, if I were the Homeland Security czar, I would have a program once a month on television lasting an hour covering all the different topics until all are covered and updating people on the things they can do. If you can educate people with the responses and preparations they need to make, then you have people who are not totally reliant upon emergency responders. You will have people who will not panic as quickly as they would and it would give them more a sense of control. Therefore, there would not be the need for martial law, possibly, if people aren't panicking and making runs on stores for water and things like that.
I think that Homeland Security fell far short the day they announced that people should get duct tape and plastic. The reason that tape and plastic is a good shield against radioactivity is that it prevents the particulate matter from entering your home. Many radioactive sources from a dirty bomb won't harm you a great deal unless you inhale them, ingest them or they enter an open wound. So, if you can temporarily shield yourself with the plastic sheeting, you'll be in good shape. But see, Homeland Security failed to give the details about why this works and to do this in only one room in your house and don't enclose your whole house like one fellow did ­ which is a hazard.
To this day, the American public thinks now that plastic sheeting offers no protection against dirty bombs. It does not offer protection against gamma ray radiation, but that would be a special event that is possible. Homeland Security did not educate us there. In fact, I was the first person to get the Ready.Gov website to change their advice to have people to cover their mouth and nose with a damp cloth following any explosion or building collapse because you don't want to inhale what might be in the air.
Kyrgyzstan Man Tried to Sell Bomb-Grade
Plutonium on Black Market in September 2004
AT THE END OF SEPTEMBER 2004, REUTERS NEWS SERVICE REPORTED THAT POLICE IN THE EX-SOVIET STATE OF KRYGYZSTAN DETAINED A MAN WHO TRIED TO SELL BOMB GRADE PLUTONIUM ON THE BLACK MARKET. IN THE UNITED STATES, HOW VULNERABLE DO YOU THINK WE ARE TO A TERRORIST PLANTING A DIRTY BOMB OR A SUITCASE NUKE IN MANHATTAN OR LOS ANGELES OR SOME CITY?
We're incredibly vulnerable! I really see no difference between terrorists having an ability to gather those materials in a Soviet Union or anywhere else in the world and smuggle them into the U. S., as compared to just stealing them in this country because it happens here every day. In fact today, the Nuclear Regulatory Commission reported the theft of two nuclear gauges, each containing small amounts of cesium and americium which nevertheless, could be harmful.
Radioactive Thefts in U. S.
About ten days ago, the NRC reported that there were five thefts in California on a single day of these types of gauges. Four of them were from one single theft. In that case for the first time ever, the event text published by the NRC said this material could possibly have been stolen for use in a dirty bomb, but they believe not because some of the other materials at this engineering site had been stolen. So they thought it was just for the monetary value.
But nonetheless, that showed to me in cut and dried NRC Event reports, the NRC is putting some publicity ­ they are putting a little spin in trying to express they are concerned about dirty bombs and it's a real concern. Terrorists will have an easy time finding nuclear materials right here in this country, formulating a plan to collect them in large or small amounts. Hopefully, if there are multiple thefts, the terrorist plots can be foiled by arresting the terrorist and discovering where they accumulated a cache of materials. But in some instances, a single theft of something like a radiographic camera containing iridium-192 could contain 300 to 600 curies of deadly radiation that if ground up and dispersed in downtown Harrisburg, for example, would cause that area to be uninhabitable for several weeks. The clean up would be quite expensive.
Overwhelming Cost of Cleaning Up
After Dirty Bomb Explosion
This brings me to another issue. Last week we saw for the first time that the government said there are going to be new standards following a dirty bomb. There is a real question: Do you want to close down the port of New York or Philadelphia if a dirty bomb were to explode there and shut down a major part of the economy of the United States ­ if the level of radiation is only slightly harmful rather than deadly?
It's a valid question because if workers are exposed to say 10 rems in a year which is beyond the limit the government wants you to receive, but has not been proven by all scientists to be harmful ­ then they just might allow these workers to be exposed to it. Now, especially with pregnant women, that's a problem. Even a man's semen can become defective. So, our government is not necessarily going to watch out for individuals, but rather the survival economically of the United States.
WHAT YOU ARE SUGGESTING IS THAT IF A SUITCASE OR DIRTY BOMB WENT OFF, OUR GOVERNMENT IS GOING TO MAKE DECISIONS BASED ON COST ABOUT HOW MUCH CAN BE CLEANED UP?
That's right, because economically if they did a total clean up ­ let's say, nasty dirty bombs went off in three cities and were dispersed by the wind. Economically clean up could be equal to the national debt we now have. So, there will be tremendous pressure and lobbying to allow an acceptable level of contamination that can be agreed upon by some scientists, but not all scientists. There will be an announcement to the public, 'We believe these levels are safe.' But, there is no absolute proof on what levels are harmful.
Let's face it, everyone's immune system is not equal. That is a problem. Our immune systems are pretty good at countering the effects of radiation on our DNA and cellular replication. Cancer, of course, is the result of damaged replication. Not everyone's immune system can counteract the effects of radiation. So, dirty bombs can kill people.
I'm hearing a lot of things in the news recently saying there will be a lot more deaths from the explosion than from the dirty bomb itself. Well, I have the manuals written by very intelligent people about how to prepare for dirty bombs and nuclear plant emergencies. All this stuff was written years ago. In these manuals, they describe how some of these materials will be so radioactive that the victims will need to be laid 30 feet apart from each other on the ground so they don't irradiate each other.
WHAT YOU ARE SAYING, SCOTT, IS IF THE POST-9/11 SUITCASE NUKE OR DIRTY BOMB POLICIES HAVE TO DO WITH HOW MUCH MONEY IT'S GOING TO TAKE TO COPE WITH PEOPLE AND ENVIRONMENTAL CONTAMINATION, YOU COULD END UP WITH WHOLE SECTIONS OF CITIES IN WHICH THE SIDEWALKS AND BUILDINGS ARE RADIOACTIVE AND SIMPLY WALLED OFF AS NOT USABLE AND THE GOVERNMENT SAYS, 'WE'RE SORRY, WE CAN'T HELP EVERYONE.'
Yeah, and I'm saying even worse than that. In some instances possibly, the radioactivity will be beyond what has been deemed acceptable limits and the government will say, 'We can't afford to clean this up, so we'll announce to the people that it is now safe, it is now cleaned up, to the extent that we can assure you of good health.' And that won't be the fact. We have an example of this with the World Trade Center collapse where the Bush Administration seems to have given orders not to announce that the asbestos levels and other chemicals such as chromium were in the air and people have inhaled things that have ruined their health probably for life. This was done to get Wall Street back open as soon as possible.
I KNOW FIRST HAND FROM A MANHATTAN ATTORNEY WHO WOULD NOT WANT TO BE NAMED THAT HE WAS CALLED WITHIN ONE MONTH OF 9/11 AND ASKED TO REPRESENT PEOPLE IN THE POLICE AND FIRE FORCES BECAUSE THEY WERE ALL GETTING SO SICK AND HAVING TROUBLE BREATHING. I'M TALKING ABOUT FOUR WEEKS AFTER 9/11. HE WAS TOLD IT WAS TOP SECRET AND CLASSIFIED AND NO ONE WAS TO KNOW TO AVOID PANIC.
That's the problem because the bottom line for the people running the United States is: the continued survival and economic gain of the United States, rather than the safety of every individual.
Why No Bomb Attacks in United States Since 9/11?
SCOTT, WHY DO YOU THINK THAT WE HAVE NOT HAD A SUITCASE NUKE OR DIRTY BOMB IN THE UNITED STATES SINCE SEPTEMBER 11, 2001?
I don't believe that terrorists have suitcase nukes. I believe that if terrorists had a suitcase nuke, they would detonate it within a week or two of having it. Why would they delay and wait if they had their dream weapon?
As far as dirty bombs are concerned, there have been plots discovered and foiled, even in the United States, in the planning stages. I can't really give you a good answer about why terrorists do things, or why they don't do certain things. But, I know it would be easier for terrorists to steal materials in the United States than try to smuggle them in, which is what many experts think is going to happen. If it happens, it's going to be with our own stolen radioactive materials.
One Attempt to Steal One Ton of Cobalt-60 and Beryllium
There was an example of this in Texas in 1996 where a truck had a false bottom hauling a ton of cobalt-60 and beryllium. It was detected at the border crossing into Mexico and seized. The U. S. Army was called in along with the FBI and other authorities. I spoke with three of the men who were named in this report from the Nuclear Regulatory Commission. I called them within days and all three of them said, 'I don't know what you are talking about.' That clearly told me that National Security had just been breached and that in fact this did happen and their names were in that report. Nobody made up that report!
Terrorist Extortion
ANOTHER IMPORTANT ISSUE YOU BROUGHT UP IN THAT INTERVIEW WITH PATRIOT NEWS WAS THE ISSUE OF EXTORTION WHEN IT COMES TO TERRORISTS. COULD YOU EXPLAIN THAT?
If terrorists are able to locate the plutonium and uranium that is weapon-grade material on the internet, even though these are small amounts in terms of 30 grams or 160 grams which isn't enough to make a nuclear bomb. But they could still send a small sample of that material to the government and make blackmail demands and the government would not know how much they actually had. That happened in 1979 with some low enriched uranium from a man working at an enrichment plant in North Carolina. During his extortion attempt, he was able to circumvent security, moved in with security shift change and left some doors open for himself and stole several 5-gallon buckets of these materials. The man was able to steal the uranium from the premises without being caught. He was arrested 6 days later during the extortion attempt.
These types of attempts have occurred around the world and will continue to occur. Now, we in the United States might not cave into the extortion attempts. But look what has happened to other countries with their hostages in Iraq. So it's possible that somebody who steals weapons-grade uranium right here in the United States can have their political will during an extortion attempt and we're likely to see that tried in the future.
Tests of American Security Around
Radioactive Substances Often Fail
We have to secure these materials. At universities, they basically have only a night watchman and an alarm on a door. But it's easy to break in a room and exit before one is caught. In fact, at the Rocky Flats facility in Denver, Colorado, a team testing security with plutonium were able to enter in the facility, set off the alarms, guards started responding. But in the meantime, using lacrosse sticks, the test team passed the plutonium out over the fence on the other side who were also part of the test team who caught the plutonium in a lacrosse stick and made off with it. The guards who responded did not see anybody. After a few minutes, they started high fiving each other like, 'Oh, wow, we defeated this attack!' The truth was they were so slow showing up that the plutonium had already left the facility (in the lacrosse stick exchange).
THIS WAS A TEST OF THE SECURITY AND IT FAILED?
Right. And this was within the last 5 years. In 1996, the weapons testing that was done about the security of the nuclear weapons by a U. S. Army Red Team went to Air Force bases where nuclear bombs were stored above ground. In 75% of the tests, the teams were able to get access to the weapons and 33% of the tests, they were actually able to make off with the nuclear weapons.
WHY IS IT THAT WE DON'T HAVE A POLICY IN THE U. S. IN WHICH EVERYTHING RADIOACTIVE WOULD BE TREATED EXACTLY THE SAME AS GOLD. WE HAVE FORT KNOX. WE HAVE ALL KINDS OF VAULTS FOR JEWELRY AND GOLD. WHY CAN'T WE HAVE A 'FORT KNOX FOR RADIOACTIVE MATERIAL?'
That is economically impractical. It would hurt the economy. It would hurt industry. It would hurt medical treatments. So, there are two types of devices the NRC has in its licensing program. One is called 'generic.' The other is called 'specific.'
The specific licensed materials are the most harmful materials. Even there, there is not good follow-up or inspection done by the Nuclear Regulatory Commission (NRC) and many of these have disappeared or been stolen or disposed of improperly. The cost of disposing of them properly is as much as $20,000. In previous years, the fine for illegally disposing of them was only $1,000. So, people just pitched them wherever they wanted to.
To keep an eye and tight lock and key on every single radioactive device in the United States would bankrupt the country, so it's not possible. Therefore, the emphasis by the NRC is on the specific materials.
SUCH AS WEAPONS-GRADE PLUTONIUM AND AMERICIUM AND STRONTIUM ­ THE BIGGER GUNS RADIOACTIVELY.
Yes, weapons-grade material is actually a different category altogether called 'special nuclear materials.' There again, the security is lacking. So, one method the government has used to subvert any attempts to turn these into nuclear weapons is to place a cap on the amount that any one university or facility can have on hand, unless it's a Dept. of Energy facility.
How Could Security for Radioactive
Sites and Substances Be Improved?
If I were in charge, I think I would come up with a different commission other than the Nuclear Regulatory Commission and I would divide it into three sectors. One would be just focusing on the nuclear power industry. I think the NRC is broken. It's the second worst regulator, second only to the Federal Aviation Administration (FAA). I think I would have another regulatory commission that focused on industrial nuclear materials and a third section focused on the medical field.
All three have special applications and different needs and requirements. To staff these sectors of such a new commission, I would increase the staffing by two or three times.
Then I would certainly get these documents off the internet, the specific pages with the floor plans.
And I would immediately increase the security at nuclear power plants. If we are to believe that Al Qaeda is going to do a spectacular attack, the most spectacular that I can think of is an attack on a nuclear plant. I would have a Phalanx close-in weapons system located at every plant to be able to shoot down aircraft in the final seconds of approach. Computers can determine the flight path and whether that vector is terminating as a crash at the nuclear power plant, or whether the plane is just passing nearby.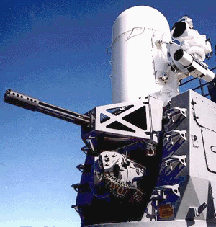 WHY DO YOU THINK THAT STEP ALONE HASN'T BEEN INSTIGATED SINCE 9/11?
Expense is one. The second concern is fear that such weapons generate, not only to people who live near a nuclear power plant, but to people who fly near nuclear power plants. There have been some friendly fire incidents within the military, so that is a possibility. But once an attack would occur in the United States, I'm very certain that there will be deployment of these type weapons around nuclear power plants. But do we want to wait until another disaster to finally put adequate prevention and protection where it should have been in the first place?"
---
More Information:
Please see previous Earthfiles reports:
04/12/2004 —  Part 2:  25 Years After Three Mile Island, Is Another Nuclear Power Plant Disaster Inevitable?

04/06/2004 —  Part 1:  25 Years After Three Mile Island, Is Another Nuclear Power Plant Disaster Inevitable?

05/23/2003 —  Memorial Weekend Terrorist Threats – What Happens If A Dirty Bomb Goes Off?

06/29/2002 —  Missing and Stolen U. S. Radioactive Materials

05/25/2002 —  U. S. Nuclear Power Plants On Heightened Alert After NRC Warning

02/04/2002 —  United States Nuclear Power Plant Security – Is It Effective Against Terrorists?

12/25/1999 —  Y2K Nuclear Concern and Global Warming Update
---
Websites:
Union of Concerned Scientists NRC Fact Sheet on Dirty Bombs
NRC Event Notification Reports 2004 http://www.nrc.gov/materials.html U. S. Navy's Phalanx Weapon

© 1998 - 2023 by Linda Moulton Howe.
All Rights Reserved.