October 7, 2004  Baltimore, Maryland – Supernovas are stars that explode. Those exploding stars are either small, very dense white dwarfs or massive red giants. The star literally blows apart and unleashes a spherical shock wave that expands outward at more than 22 million miles per hour (10,000 kilometers per second.) Modern astronomers can usually determine which stars caused specific known supernovas. But there is one that still baffles astronomers. 
October 9, 1604 "Kepler Supernova" 
The light from it flared into human consciousness four hundred years ago on October 9, 1604. Astronomer Johannes Kepler reported the sudden appearance of a bright "new star" in the western sky. Since then, it has been known as "Kepler's supernova." Of the six known supernovas in our Milky Way galaxy over the last 1,000 years, Kepler's supernova is the only one that astronomers are uncertain of the star type that exploded.
Today a team of astronomers led by Ravi Sankrit and William Blair of Johns Hopkins University in Baltimore, Maryland are using the Spitzer Space Telescope (infrared), the Chandra X-Ray Observatory (x-rays) and the Hubble Space Telescope (visible light) to analyze the Kepler supernova remains in infrared radiation, x-rays and visible light.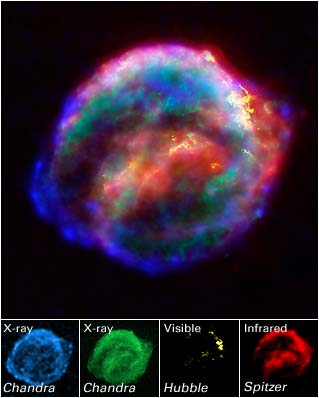 The Hubble website reports, "Bringing data from all three telescopes together shows "a bubble-shaped shroud of gas and dust that is 14 light-years wide and is expanding at 4 million miles per hour (2,000 kilometers per second). Observations from each telescope highlight distinct features of the supernova remnant, a fast-moving shell of iron-rich material from the exploded star, surrounded by an expanding shock wave that is sweeping up interstellar gas and dust.
"Visible-light images from the Hubble telescope's Advanced Camera for Surveys reveal where the supernova shock wave is slamming into the densest regions of surrounding gas. …The Spitzer infrared data is sensitive enough to detect the entire expanding shock wave, a spherical cloud of material. This dust is similar to dust that was part of the cloud of dust and gas that condensed to form the sun and planets in our solar system. …The Chandra X-ray data shows the hottest gas is located primarily in the regions directly behind the shock front."
February 23, 1987 Supernova SN 1987A 
The brightest cosmic explosion seen since Kepler's Supernova in 1604 was discovered on February 23, 1987, by astronomers. The exploding star flared with the brightness of 100 million suns.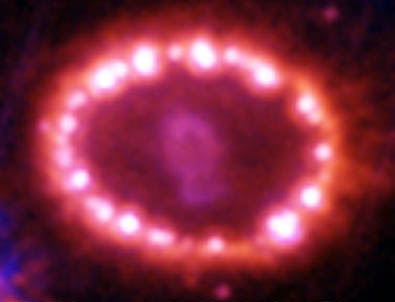 Finally on November 28, 2003, the Advanced Camera for Surveys aboard NASA's Hubble Space Telescope, got a clear image that is startling. The object "shows many bright spots along a ring of gas, like pearls on a necklace. These cosmic 'pearls' are being produced as a supersonic shock wave unleashed during the explosion slams into the ring at more than a million miles per hour. The collision is heating the gas ring, causing its innermost regions to glow. Curiously, one of thebright spots on the ring at 4 o'clock position is a star that happens to lie along the telescope's line of sight."
---
Websites:
http://hubblesite.org/newscenter/ http://chandra.harvard.edu/ http://www.spitzer.caltech.edu/

© 1998 - 2019 by Linda Moulton Howe.
All Rights Reserved.