October 13, 2004  Tromso, Norway – Today in London at the annual Greenpeace business lecture, disturbing recent greenhouse data from America's Mauna Loa Observatory in Hawaii, Britain's Hadley Center and the Norwegian Institute for Air Research will be discussed. In 2002 and 2003, the average rise in the amount of CO2 in the Earth's atmosphere rose from about 1.5 parts per million by volume to as much as 2.54 ppm. Some atmospheric scientists worry that such a sudden and rapid increase in greenhouse CO2 is linked to rising global temperatures. If the CO2 continues to increase rapidly for the next five to ten years, it could mean that even the soil of our planet is warming to the point that it more easily releases carbon dioxide to the atmosphere. 
A scientist who has been studying the release of greenhouse gases to the Earth's atmosphere and their sources for nearly two decades is Kim Holmen, Ph.D., Senior Scientist at the Polar Environmental Center in the Norwegian Institute for Air Research in Tromso, Norway. Dr. Holmen told me this week, "In the Northern Hemisphere, there is a storage of carbon in soils (that can oxidize to CO2 gas) which is at least three times as large as the total atmospheric content of CO2."
---
Interview:
Kim Holmen, Ph.D., Senior Scientist, Norwegian Institute for Air Research (NIAR), Polar Environmental Center, Tromso, Norway: "I have been measuring carbon dioxide and methane and other climatically active species (of gases) on Svalbard (Spitsbergen) in the Arctic. Scientists around the world have been measuring CO2 in the atmosphere since 1957. From this, we know that the increase rate has been around just above 1 part per million per year for most of this time period. There are some fluctuations around this value, some due to changes in man's habits. For example, the oil crisis in the early 1970s gave a slight decrease in the CO2 increase rate.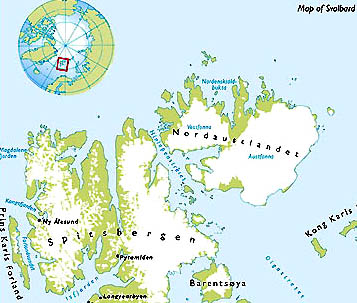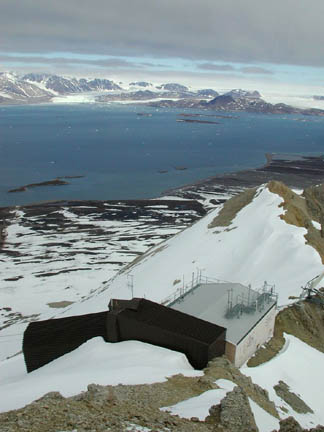 What we have been seeing during the past two years is still a matter of research and debate. We've had unusually high increased rate of CO2 the past two years and it is likely due to changes in the biosphere (plants, trees and soil) in northern Russia and Europe and probably also Canada, but we don't know the exact reason for the changes.
WHAT'S THE HYPOTHESIZED REASONS FOR THIS CHANGE?
We have several mixed phenomena occurring. One is as simple that some of the releases of CO2, fossil fuel carbon dioxide, have gone up. For example, we have a dramatic expansion of fossil fuel use in China at the moment. But more importantly are changes in temperature and precipitation over Russia, Siberia and possibly also the unusually warm summer in Europe during last summer.
DOES THAT MEAN THIS INCREASE IN C02 THAT YOU ARE MEASURING IS DIRECTLY LINKED TO AN INCREASE IN GLOBAL TEMPERATURE?
The hypothesis is that there is such a tie, yes. This is my personal main line of thinking that there is a clear link. We know from ice cores that there is a link between the atmospheric CO2 concentration and temperature. One of the reasons for concern is that if man then increases the Earth's temperature through our release of fossil fuels, Nature might respond by releasing more CO2 yet again into the atmosphere, thus causing an accelerating phenomenon. ("Runaway Greenhouse.")
MEANING THAT THE EARTH WOULD SOME HOW START RELEASING EVEN MORE CO2 IN RESPONSE TO…?
A temperature increase.
THE WARMER IT GETS, THE MORE CO2 THE EARTH COULD RELEASE. WHAT WOULD HAPPEN?
What would happen? The atmospheric CO2 content depends upon the balance between photosynthesis and respiration. Every summer, plants take up a lot of carbon dioxide which is then released during the fall and winter back to the atmosphere. That natural flux back and forth between biosphere and atmosphere is much larger than man's consumption of fossil fuel. However, they balance each other and it's changes contributed by human use of fossil fuels in this intricate balance that can be seen in the atmosphere.
Soils of Earth Can Also Release CO2
There is a lot of carbon stored in soils. In the Northern Hemisphere, there is a storage of carbon in soils (that can oxidize to CO2 gas) which is at least three times as large as the total atmospheric content of CO2. And so, there is potential to release quite a bit of carbon if the soils get warmer and some of this carbon in the soil expires, is oxidized, into CO2. The potential to change the atmosphere quite a lot is clearly there and this is something that we are researching in order to understand how available is the soil carbon and how rapidly it can enter the atmosphere.
HOW MUCH MORE RAPID HAS BEEN THE INCREASE IN CO2 IN 2003-2004 COMPARED TO PREVIOUS YEARS?
The short answer is almost doubled. The long answer is that we have variations. These two years might – and we have seen this behavior before ­ a rapid increase is followed by less rapid increase. To really say we have had a change, this present situation must go on for prolonged period of time, 5 to 10 years. But clearly the data indicates that the soil carbon is more mobile than we previously thought.
MEANING COULD RELEASE MORE CARBON DIOXIDE.
Is available for release from the carbon. We now have cases where it has occurred for a year or two. We certainly can see that the increase rate can rise quite a lot compared to the average over the past 20 to 30 years."
---
Websites:
Norwegian Institute for Air Research
Mauna Loa Observatory, Hawaii (NOAA)

© 1998 - 2023 by Linda Moulton Howe.
All Rights Reserved.