"At first glance, you would think of a deer's head
on a kangaroo's body."
– Stacey Womack, Dog Breeder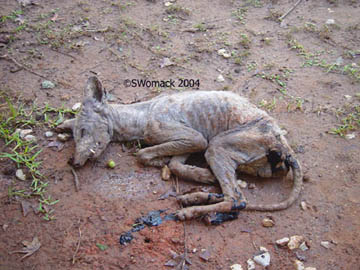 October 14, 2004  Pollok, Texas – What are the grey, hairless, animals that people have seen – and shot ­ in Texas? Back in May this year, Elmendorf, Texas farmer, Devin McAnally, shot an animal eating mulberries that he also thought was killing his chickens. Devin was amazed that his bullets did not cause bleeding on the strange, grey body. See photo at end of this report and 07-31-04 Earthfiles. I was interested in the odd body because I had investigated the "chupacabra" mystery in 1996 in both Puerto Rico and the southern United States. Many locals described a grey-colored kangaroo-like creature with long teeth which was blamed for hundreds of punctures in chickens, rabbits and other farm animals, including some goats and dogs that were still alive after bloodless holes in their forehead bone or neck. Chupa = sucker and cabra = goat.
I talked about the Elmendorf photographs with a San Antonio Zoo spokesman who said he did not think it was a coyote, but he did not know what it was. Some of the Elmendorf tissue was shipped to the University of California-Davis Veterinarian Genetics Laboratory for DNA analysis and results are still pending.
Now there is another dead animal, shot with a 22-rifle on October 8, that closely resembles the Elmendorf body. It was at the Pollok, Texas, home of the Womack family. Mrs. Womack's daughter, Stacey Womack, lives twenty miles away in Lufkin where she worked for 20 years as a vet technician and three years in the early 1990s as a zoo keeper at the Ellen Trout Zoo in Lufkin. Today she is a dog breeder. Stacey has a lot of experience with animals around Lufkin and Pollok and could not understand what her mother meant when she called Tracey in a very emotional state on Friday afternoon, October 8, asking her daughter to come help because there was a strange animal under the house.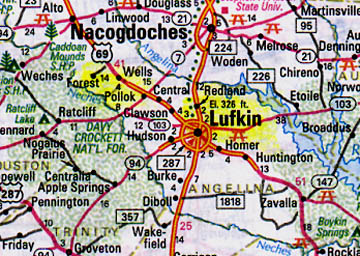 ---
Interview:
Stacey Womack, dog breeder and former veterinarian tech assistant, Lufkin, Texas: "My mother was just sort of hysterical because they had killed something under the house and they did not know what it was. I thought, 'This is the most ridiculous thing I've ever heard.' They don't know whether it's a coyote or a dog?!
I told my mother I would come out there and bring my digital camera. About one-quarter mile from my mother's house, I had to hit my breaks because an animal crossed the road in front of me and it was running with its head down and its tail down and it did not have any hair. It was a strange looking sight and my daughter-in-law was with me and she wanted to know if it was a wolf. I told her it wasn't a wolf and it was too large for a fox.
So, we went on to my mother's house and went around to the back and there was the same animal ­ an animal identical to what ran across the road. It was on the ground after they had just killed it and there was almost no blood. It was just red where the shot had went in (the eye). I was just totally dumbfounded when I saw it. At first glance, you would think of a deer's head on a kangaroo's body. The ears were real thick and large. It did not have any hair on it. The skin tissue was necrotic. It was just awful. I did not know what it was.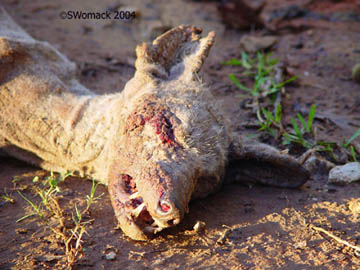 I started investigating. It had huge canines that were in excellent condition. The animal was young because you could tell by its canines and teeth that it was young. In the front where there should be five, six or seven teeth, there were only like two small teeth in between the long canines. The canines were probably close to two inches long. They were more like tusks. They did not fit inside its mouth. It had an over-bite maybe an inch or longer and it had also had canine tusks coming from the top.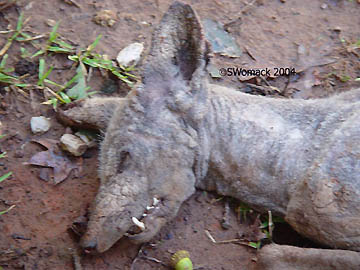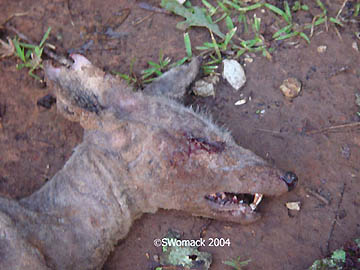 I put on some gloves and picked the animal up by its ears so I could take some better pictures of it and when they did, its ear broke off like a cookie, a piece of a cookie. It just snapped and broke off. This animal had been alive only an hour or so earlier. So, there's no plausible excuse for it being in this condition. No blood again where the ear broke off, I guess because the animal was dead. I took a lot of pictures of it and am still totally dumbfounded.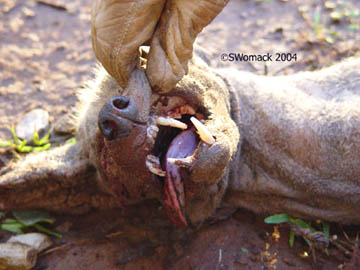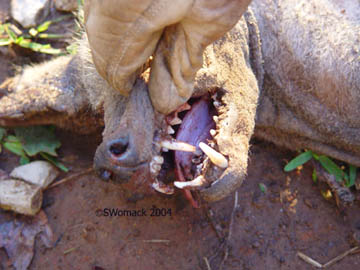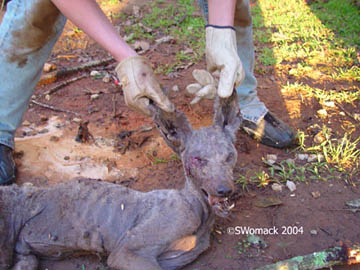 I took a stick and scraped its skin. The skin was like powder. It had no elasticity to it. The skin was just dead. It was real emaciated. I mean, really starved. It had claws instead of toenails because a dog or canine has a quick. You can see the quick when you go to clip their toenails. This had no quick. Its claws were probably an inch and a half to two inches long and in very excellent condition ­ not worn down from walking on the ground or rocks or anything like that. They were just perfect.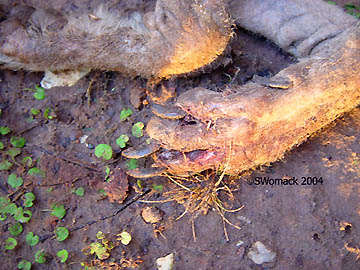 DO I UNDERSTAND THAT IT IS YOUR BROTHER WHO SHOT IT?
Yes.
CAN YOU DESCRIBE THAT SCENE IN THAT MOMENT WHEN THE BULLET APPARENTLY WENT INTO THE ANIMAL.
He said it just fell over. It was under the house, laying down. They would shine the light under there because it was dark under the house. It would raise its head up and look at the light and then it would lay its head back down. So he tried three or four times to get its attention and it would only raise its head. They were wary about going under the house to get it because when they looked at it, at first they thought it was a calf because its ears were so big. And then they realized it was not and they knew it was in bad shape whatever it was, so he got his 22-rifle and shot it. When he shot it, its head just laid down and died.
HOW DID HE GET THE ANIMAL FROM OUT UNDER THE HOUSE?
He took a lariat because they are good and stiff and he put it around its neck and pulled it out. It was only 45 minutes later that I got there and it was still laying where they put it.
COULD YOU SEE THE BULLET HOLE?
Not really, I couldn't. The only place I could see where the bullet went in was its eye, but I didn't see an exit.
Stacey Womack Tried to Find Out What the Animal Is
So, I took the pictures and dragged the carcass to some trees. On Monday morning (October 11), I worried about the other alive animal I had seen because it had to be in the same condition. So I went to Fish and Wildlife where the game wardens were and they had no clue what it was. They just sort of freaked out and called their biologist.
They took me to their biologist. He said it was a coyote with mange, but he could not explain the shape of the jaws and the overbite and the condition of the head and the skin. I knew better (that it was not). So he got his book out and couldn't find it anywhere in his book. He could not find the skull or anything to match it. So, he sent me to the Texas Animal Health Commission.
I went there and their vet was out and he was supposed to contact me the next day and he hasn't contacted me yet. I went to two vets and they really didn't know what it was, but their speculation was that it was a coyote with some kind of genetic problems with its skin and with its overbite.
DID YOU ASK THEM ABOUT THE FACT THAT THE EAR BROKE OFF LIKE A COOKIE?
I asked them about that and nobody ever gave me a possible excuse for that ­ neither one of them.
Then somebody ­ I believe it was the television station here ­ emailed some pictures to our local zoo ­ and they went over it and came up with the theory that it was a Mexican hairless dog. But there is no way it was a dog. I've been in this (animal) business too long.
From there, I went to the news office (Lufkin Daily News) and I told them I needed help with it because someone needed to get this other (live) animal out of the population and whatever it had that might be contagious. Or, if it is some different kind of species, someone needs to be aware of it.
So, Lynn Winthrop at the newspaper helped me get it publicized. Then yesterday the TV news talked to me. Now, I've got people calling me constantly with sightings, but you know how that is.
WHAT HAS HAPPENED TO THE BODY?
The body was put in the woods, but so many people have been down there to see it that yesterday (Wednesday, Oct. 13), we moved it and there are no vultures at all eating this body. I noticed that yesterday. It's been five days, six days, and there's not a vulture that touched it. So, I moved the body yesterday because people keep wanting to get pieces of it ­ so they couldn't get it. And I'm going back this afternoon to get the head.
HAVE YOU HEARD FROM PEOPLE WHO HAVE COME OUT TO GET SAMPLES?
Yes, that's what I'm getting the head for. It's going to go to a university laboratory for DNA tests.
HAS ANYBODY ELSE IN YOUR COMMUNITY DESCRIBED SEEING ANY ANIMAL LIKE THIS BEFORE?
I had a man call me last night and he said he killed one several years ago that looked almost identical to it and he has some pictures of it and he wanted me to have them and I had a message on my machine just a few minutes ago that he has the pictures. He says he's seen them in groups of three.
Setting Humane Society Live Trap
IT WOULD BE NICE IF PEOPLE WOULD TRY TO TRAP INSTEAD OF KILL ONE OF THESE SO THE ANIMAL COULD BE EXAMINED BY VETERINARIANS AND ZOOLOGISTS.
That's what we're going to try to do today. We're going to set some traps. I'm going to go to the Human Society and get some live traps and see if I can't catch it. I think it would be really interesting to catch the other one, get it trapped and see ­ it had to be its mate being that close and that proximity.
I just couldn't stand the thought of the animal is suffering ­ no matter if it is a coyote with genetic problems. It still does not need to suffer in any form or fashion. And I can't get anybody to help me. Everybody seems to want to speculate, but nobody wants to commit because they are professional people and they don't want to be wrong.
Pollok and Elmendorf Creatures
Another thing, my brother said they had been noticing the last two or three days that the pear trees behind the house that something had been eating the pears on the ground ­ something with a larger mouth than squirrels or something like that. I heard the one in Elmendorf was eating mulberries. And this one was eating the pears. We noticed them and wondered what was eating the pears?
ISN'T POLLOK A LONG WAY FROM ELMENDORF?
Pollok is probably 300 miles east of Elmendorf, which is a little south of San Antonio.
SO THIS MEANS THERE WOULD BE A WIDE RANGE OF WHATEVER THIS ANIMAL IS.
Yes, if you look at the pictures of the Elmendorf one and you see mine, you're just going to totally freak. It's the same, just in worse condition. This animal, the inside, the palate of its mouth was peeling. The top of its mouth was peeling, but yet his gums and canines were in totally perfect condition."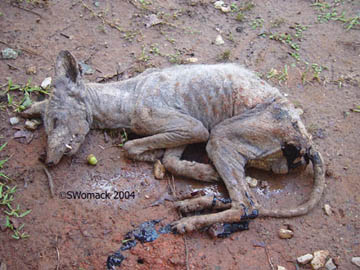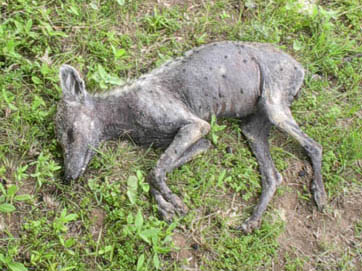 ---
If any one has more information about this animal, please contact:

© 1998 - 2023 by Linda Moulton Howe.
All Rights Reserved.