"In the early part of the record around 1958 on, the average annual rate of carbon dioxide growth was something like 0.7 parts per million (ppm) per year, whereas in the past five or six years, the average rate of growth has been more like 1.8 ppm per year ­ two and a half times faster. And up to 2.54 ppm in 2002-2003."
– Pieter Tans, Ph.D., NOAA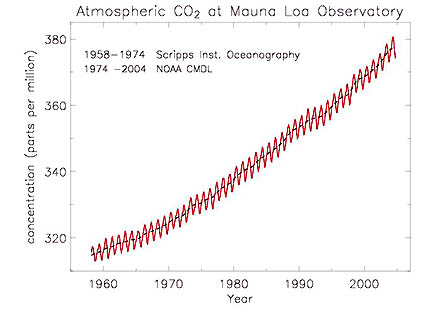 October 15, 2004  Boulder, Colorado – This week in London at the annual Greenpeace business lecture, disturbing recent greenhouse data from America's Mauna Loa Observatory in Hawaii, Britain's Hadley Center and the Norwegian Institute for Air Research was discussed. In 2002 and 2003, the average rise in the amount of CO2 in the Earth's atmosphere rose from about 1.5 parts per million by volume to as much as 2.54 ppm. Some atmospheric scientists worry that such a sudden and rapid increase in greenhouse CO2 is linked to rising global temperatures. If the CO2 continues to increase rapidly for the next five to ten years, it could mean that even the soil of our planet is warming to the point that it more easily releases carbon dioxide to the atmosphere. A Norwegian scientist, Dr. Kim Holmen, has been studying soil and permafrost oxidation to carbon dioxide in the Northern Hemisphere. See: 10-13-04 Earthfiles. He told me this week: "There is a storage of carbon in soils that can oxidize to CO2 which is at least three times as large as the total atmospheric content of CO2." If the soil and permafrost warmed up enough to release a lot more carbon dioxide, that would increase global warming which releases more CO2 from soils and on and on – which might lead to a "runaway greenhouse" of ever-increasing temperatures.
I talked about that possibility with Dr. Pieter Tans, Chief Scientist at the Climate Monitoring and Diagnostics Laboratory for the National Oceanic and Atmospheric Administration (NOAA) in Boulder, Colorado. Dr. Tans and the Boulder lab receive soil and atmosphere samples from all over the planet to analyze in an effort to accurately monitor greenhouse gas changes. He said the rapid 2002 to 2003 CO2 increase in two consecutive years is unusual, but could go back to a lower level in 2004. What impresses him the most is the entire CO2 measurement record since it began at the Mauna Loa, Hawaii Observatory in 1958.
---
Interview:
Pieter Tans, Chief Scientist, Climate Monitoring and Diagnostics Laboratory, National Oceanic and Atmospheric Administration (NOAA), Boulder, Colorado: "What strikes me is that in every single year that these measurements have been done, the CO2 in the atmosphere went up.
In the early part of the record, say from 1958 to 1965 or so, the average annual rate of carbon dioxide growth was something like 0.7 parts per million (ppm) per year, whereas in the past five or six years, the average rate of growth has been more like 1.8 ppm per year ­ two and a half times faster. And up to 2.54 ppm in 2002-2003.
Now, you contrast that with the rate of fossil fuel burning in the world ­ let's say you look at the rate of fossil fuel burning in 1960, it was 2.5 billion tons of carbon per year. Now, it's 6.5 billion tons of carbon per year. That's also a factor of 2.5. That's very suggestive.
YOU MEAN THE BURNING OF FOSSIL FUELS BY CIVILIZATION IS WHAT IS CONTRIBUTING MORE THAN ANYTHING ELSE TO THE ACCELERATING CO2 BUILDUP.
I'd say it's another nail in the coffin proving that indeed it's us. We humans are causing the rate of increase in CO2. We have to take responsibility for this if we are worried about climate change. It's not some kind of natural fluctuation. We are driving climate change.
FROM YOUR PERSPECTIVE AS AN ATMOSPHERIC PHYSICIST, WHAT DO YOU THINK THE OUTCOME WOULD BE IN ANOTHER 25 YEARS OR SO IF WE CONTINUE TO SEE THIS KIND OF INCREASE IN CO2 AROUND THE PLANET?
I am confident that by then, there will be no more scientific discussion about, 'Is it humans really that are causing climate change?' I think by then ­ There is already widespread agreement about that, incidentally, among the great majority of scientists studying that. There are a few people holding out. But in 25 years, I am pretty confident that that debate is over so we can move into what are we going to do?
WHAT DO YOU THINK THE PLANET WILL BE LIKE IN 25 YEARS WITH THIS CONTINUAL INCREASE OF CO2?
That is a much harder question. What I'm talking about is that the forcing of climate will be a lot stronger 25 years from now than it is now. The extra forcing caused by humans. When we put these greenhouse gases in the atmosphere, infrared radiation is absorbed by the atmosphere. Therefore, the Earth has to change its heat budget to accommodate that to a first order that will mean surface warming. But it will mean a lot of other things. They are actually very hard to predict. What will climate change look like? We're not just talking about climate forcing, but climate effects.
Is There A 'Runaway Greenhouse' Accelerated
Warming in Earth's Future?
I WOULD LIKE TO ASK YOU ABOUT SOMETHING THAT DR. HOLMEN SAID. HE HAS CONCERN THAT THE POPULAR PHRASE, 'RUNAWAY GREENHOUSE,' COULD BE KICKED INTO GEAR IF THE TEMPERATURE REACHES A POINT AT WHICH THE RELEASE OF OXIDIZED CARBON DIOXIDE FROM THE SOILS OF THE PLANET REALLY DOES START GOING BECAUSE THERE IS THREE TIMES THE VOLUME OF POTENTIAL CARBON DIOXIDE IN THE SOILS THAN THERE IS IN THE ATMOSPHERE RIGHT NOW.
That is definitely not an implausible scenario, especially at high northern latitudes. There is an enormous amount of organic carbon locked up in soils and if these soils warmed ­ it's locked up in permafrost! So, it's frozen. Therefore, it does not decay. When you thaw that and it dries out, it can begin oxidizing. It can decay and add additional CO2 to the atmosphere, thereby increasing the climate forces. So it would be triggering further warming. It's like melting of Arctic sea ice would be the same thing. The Arctic Ocean would then absorb more solar radiation and so if Arctic sea ice melts because of an onset of warming, it could actually trigger again further warming. It's possible. It's not implausible.
BUT THE CONCEPT OF RUNAWAY GREENHOUSE AFTER A CERTAIN THRESHOLD IS PASSED, IS FEASIBLE?
Yes. It's conceivable. And it's probably not unprecedented either. Not a full runaway where temperatures go to boiling temperature ­ no way! But we could have, what could happen is that we might trigger a very serious planet change in a relatively short period of time. That is definitely possible. This appears to have happened in the geologic past a number of times. We have ice core records of Greenland, for example, and you can see in that record ­ you can see the temperature changed dramatically five or ten degrees in a short period of time.
THE PUZZLE IS: IF WE WEREN'T THERE WITH CIVILIZATION TO TRIGGER IT, WHAT TRIGGERED IT THEN THAT WE SEEM TO BE DUPLICATING NOW WITH CIVILIZATION?
We are moving now in a different regime because that was in the last Ice Age in which there seemed to be some instabilities that made the climate at high latitudes at least go up and down in a relative short period of time.
Would Scientists Have Advance Warning Before
North Atlantic Drift Stopped?
WHAT WOULD HAVE CAUSED THE INSTABILITY?
There are theories about this. It could be that the North Atlantic Drift, or what is called the 'Thermalhaline Circulation' especially in the North Atlantic Ocean, is somewhat unstable. You either have the Gulf Stream or you shut if off. That's not certain because there are also arguments against this being the mechanism, but it has played a role ­ this whole North Atlantic sinking of salty water when it cools at high northern latitudes, thereby pulling in replacement water through the Gulf Stream which is warm and brings warmer temperatures to western Europe as well as rain. If that is unstable, then maybe minor changes could shut if off or turn it on again, you could trigger tremendous regional climate changes in very short periods of time. That is possible.
WHAT KIND OF ADVANCE WARNING DO YOU THINK WE WOULD HAVE IF THE EARTH WAS SUDDENLY GOING TO SEE THE NORTH ATLANTIC DRIFT STOP?
That would have tremendous implications for society, I think, if the North Atlantic, the Gulf Stream, were to weaken and disappear for some period of time. Western Europe would get a lot colder. Certain types of agriculture just would have to stop in Europe. A lot of other places would get a lot warmer probably. So what you would have is tremendous shifts in economic activity, what is viable and not viable economically, creating a lot of unrest and unhappiness. Society has to adjust in a very short time.
WHAT KIND OF WARNING DO YOU THINK SCIENTISTS WOULD BE ABLE TO GIVE THE POLITICAL AND CIVILIZATION WORLD IF THE NORTH ATLANTIC DRIFT WERE HEADING IN THE DIRECTION OF STOPPING?
How much advance warning would we be able to give? Probably not long in advance, probably not, at least at this stage of knowledge. I can tell you that, of course, the Gulf Stream is measured, its salt content is measured continuously in different places, the salt content and the temperature of the North Atlantic Ocean are being monitored and there has been a trend recently that it has become less salty ­ a little bit, very subtle changes.
You could say, 'Ah, that's a harbinger of the North Atlantic, or the Gulf Stream, weakening or stopping. But that's still too early to say, but it's being monitored. How much further that freshening would have to go before someone raises alarm bells ­ I don't know. Probably significantly further. How long it would then take before something dramatic happens? I cannot tell you.
Humans Need to Prepare Now to Survive
Major Climate Change
The climate system is so complicated. We do still need significant advances before we can make relatively hard predictions about things like that. But you could compare it to earthquake predictions at this point, in some sense. Seismologists, people studying plate tectonics, are not able to predict, 'Oh, yeah, we're going to have an earthquake in the San Francisco region say the first week of November this year. They can't possibly do that. So they don't want to put out warnings of that nature because people are going to react to it. Later, they get blamed. 'Hey, you guys, you were just crying wolf.'
On the other hand, sensible things are being done to prevent the worst damage of earthquakes when they happen, even though nobody can predict when they will happen. Like structural improvements in buildings, for example, and in bridges. You can do those things. So, I think that's the kind of thing we should be thinking about in terms of climate change.
WHAT CAN WE DO?
We should be thinking of measures that would give us some insurance at this point that we can handle problems when they occur. For example, if the U. S. Midwest were to become significantly drier in the climate change…
WHICH IT ALREADY IS.
Yes. What would be the proper, good measures we could take right now? I say we can invest ­ these are just off the top of my head that might be prudent. We would have to invest in developing crops that can still grow well under conditions when the summer, especially, gets significantly drier than it is now. Or invest in perhaps irrigation projects. Maybe crop genetics is the first thing I would think about. It wouldn't cost that much from a society standpoint. It would be a minor investment.
WHAT WOULD IT TAKE POLITICALLY TO GET THIS COUNTRY AND OTHER COUNTRIES IN THE WORLD TO SAY WE HAVE TO PREPARE FOR OUR FUTURE AND STOP ARGUING ABOUT GLOBAL WARMING AND SAY WE HAVE TO PREPARE FOR IT BY GENETICALLY ALTERING CROPS?
That is just one example. Other sensible things we ought to do is to invest in improved energy efficiency alternative forms of energy. We should invest in ways to move away from carbon-containing fuels to another source of energy. We should be thinking about sea levels continuing to rise. I was born in The Netherlands and half of that country is below sea level, for example. I know they have thought about continuing sea level rise and what to do and can they afford it, especially to keep making the dikes higher. Their answer was, 'Yes, we can afford it.' Partially because the population density is very high and so the value of land and infrastructure in Holland is so enormous that keeping efforts, making the dikes higher, as a fraction of Gross National Product is relatively small. But if you have an area say like Florida, the area is certainly 15 times as large as The Netherlands, so the investment per capita now is considerably larger.
If Rapid Rate of CO2 Increase Persists, What Happens?
LET ME ASK YOU A QUESTION THAT IF THE INCREASE IN THE AVERAGE CO2 IN THE ATMOSPHERE SAY OVER THE NEXT 5 YEARS CONTINUED THE TREND AS IT DID IN 2002-2003, IN FIVE OR SIX YEARS OF THAT KIND OF INCREASING CO2, WHAT WOULD THE IMPACT BE ON OUR CLIMATE?
If the rate of the increase that we saw in those two years is maintained for five years, then CO2 would increase by more than 10 parts per million in five years, which is relatively large. But in terms of climate forcing, it's still a relatively small amount.
I mean the real threat is if we continue on the upward path, eventually climate forcing becomes very large in eventually decades. So, the additional climate forcing from five years of increasing CO2 is still relatively small amount. But the issue is that the next five years it will keep going. And the next ten years, it will keep going. And another ten years. By then, it's getting to be really large! So, by 2040 or 2050, there will be no doubt that anybody seriously protests the fact that humans are changing climate and we've got to do something.
BUT WOULDN'T THAT BE TOO LATE?
You have a point. What is too late? It will be more costly and painful if we wait longer, probably. The climate forcing changes very slowly, every year by little bit ­ but always in the same direction (upward). That doesn't mean that the climate change itself will be gradual, as we just talked about earlier. It could be relatively sudden, catastrophic change in climate.
Probably the greatest danger that we face is that the climate system would suddenly change in a short time to a different state and that would greatly change the pressures on who can live where, what kind of economic activity can be carried out where, which will probably lead to conflicts and migrations. Even the Pentagon is worried about this from a national security point of view.
ESPECIALLY IF IT HAPPENS RAPIDLY WITHOUT MUCH WARNING AND THAT'S WHAT SCIENTISTS CANNOT GUARANTEE.
Yeah, you're right. We cannot predict at this point in time whether or where or when this might happen."
1000 Years of Atmospheric Carbon Dioxide History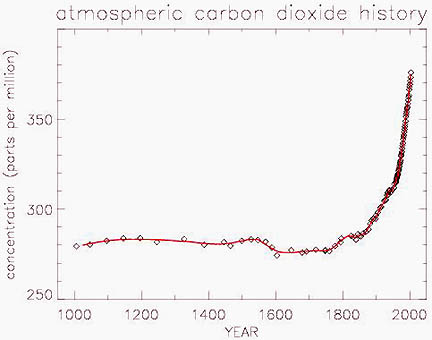 ---
Websites:
Mauna Loa Observatory, Hawaii (NOAA)
Norwegian Institute for Air Research

© 1998 - 2023 by Linda Moulton Howe.
All Rights Reserved.