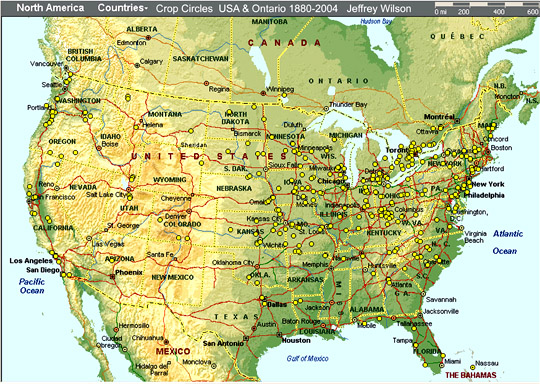 October 17, 2004  Cincinnati, Ohio – Jeffrey Wilson, Director, Independent Crop Circle Research Association (ICCRA), has gathered 368 reports related to crop formation events in the United States and Ontario, Canada, from 1880 to 2004. The majority of American crop formations have occurred east of the Mississippi River and Ohio has had the most – at least 25 crop formations. The first reported Ohio crop formation was near Middletown in 1941, which is only about eight miles south of Miamisburg, Ohio, and its ancient cone-shaped earth mound. 
Canada's Saskatchewan province has had the most crop formations over the years, but currently Jeff Wilson has detailed information only for Ontario. In the future, Jeff and Canadian investigator, Paul Anderson, hope to combine efforts to produce a detailed Canadian map. All of the archives and maps will be made public on Cropcirclenews.com some time in 2005.
I asked Jeff to explain what happened back in 1880.
---
Interview:
Jeffrey Wilson, Director, Independent Crop Circle Association (ICCRA), Cleveland, Ohio: "I came across an early reference to a story of a family in Oskaloosa, Iowa. The story is that a farm family was headed to their cyclone cellar behind their house. Storms were coming. They saw an object in the sky that was "lit up like a birthday cake.' It was flying in the air. The family was amazed by retreated into their cellar for the night. The next day they came out after the storm had passed. In the grassy field right behind their cellar, they found a large circle that had been flattened down in the grass. They described several burned areas. This made the Oskaloosa newspaper and subsequently, several other neighbors also reported seeing this object near there. So, multiple witnesses saw the object fly over the area where the circle emerged.
THE GRASS WAS LITERALLY SCORCHED, BURNED?
There were areas that were burned, but they also described a circle that was flattened. That's pretty interesting for that early time period.
WAS THIS IN PASTURE GRASS OR CEREAL CROP?
Pasture grass.
TELL ME HOW YOU DID THIS SEARCH TO CREATE THIS MAP OF CROP FORMATIONS FROM 1880 TO 2004? WHAT RESOURCES DID YOU USE?
I was reading everything I could that had any reference to circles in grass or crops. The references range from crop circle literature to newspaper reports to TV reports, to UFO magazines and UFO publications.
ONE OF THE IRONIES IS THAT EVEN THOUGH WE DON'T HAVE HARD STRUCTURED CRAFT LINKED TO CROP FORMATIONS VERY SIGNIFICANTLY, WHAT YOU HAVE DONE IS GO TO THE HISTORY BOOKS ABOUT THE UFO PHENOMENON AND HAVE FOUND A LOT OF CROP FORMATION REPORTS?
That's right.
ANY REPORTS IN THIS ARCHIVE AND RELATED TO THIS MAP THAT CAME TO YOU SPECIFICALLY FROM PEOPLE WHO PRIVATELY KNEW YOU WERE DOING THIS RESEARCH AND TALKED TO YOU INDEPENDENTLY?
Yes, quite a number of them. There is an excellent case from last year in 2003. It was soon after I investigated the eyewitness report of three crop circles forming before a man's eyes in Mayville, Wisconsin. See: 09-12-03 Earthfiles. I was contacted by another gentleman in Prince William County, Virginia, who saw what he described as crop circles forming. He said he was in his house and saw lights coming from quite a distance and saw several balls of lights 'tumbling' in the air. They came to a stop above the field adjacent to his house. He watched them shoot blue beams into the field ­ blue pulses of light ­ and the next day, he went out there and found flattened crop all over the place.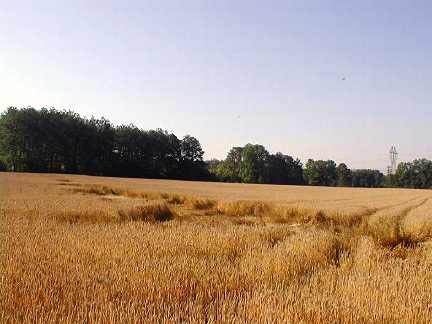 He is also an amateur ghost hunter and he had an EM field meter ­ the same one that I, Ted Robertson, Roger Sugden and other ICCRA field investigators use when we go out to investigate crop formations. He took his meter out there and it pegged right to the edge. He then took three or four photographs of what he said he saw with his eyes that were 'silver spheres spinning in the field.'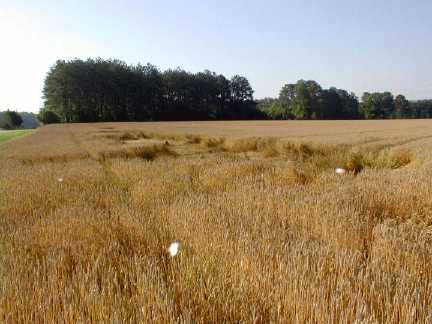 But when his photographs were developed, they turned out to be white on his film. I have three or four photographs he sent to me of white spheres of light, three in one photograph. These are not from flash photography. This is daytime stuff with balls of light kind of floating over the top of the wheat. It's a fascinating case. What I wrote down here from him is:
"Eyewitness (name withheld) reported seeing multiple balls of light tumbling and circling over the wheat field, down the hill across the street from his second story window on June 12, 2003. Mostly cloudy and drizzling at the time and eyewitness watched as the lights stopped over the field and began circling it. Eyewitness saw a blast of pale blue light shoot down from the lights to the field below. The blue light blast lasted for approximately a second or so and this action was repeated two more times as the lights continued to circle the field. The lights then shot straight up at an incredible speed and then disappeared from view.
"The next morning randomly downed areas of the field were spotted. An amateur ghost hunter, eyewitness took his Tri-field EMF meter into the formation and in his words, 'pegged the meter.' That would be over 1,000 volts per meter of electric field strength; over 100 micro-Teslas magnetic field strength.
"He tested it several hours later in the afternoon. The meter readings were still exceeding upper thresholds. Small chrome spheres were spotted by multiple witnesses. I guess someone from MUFON also went out there and a couple of neighbors. They watched these chrome spheres flying over the field while the investigators were there. They were photographed, but when the photographs came back, they showed only the white."
WHAT ABOUT OTHER MYSTERIOUS LIGHTS GOING BACK INTO THE ARCHIVES?
There have been a number of reports that came from UFO investigator, Ted Phillips, in Missouri. Back in the 1970s, he was looking for physical trace UFO reports that had some tangible physical evidence. He cataloged hundreds of cases. But this was before people were looking at crop formations. But if you go back through his early reports, you find many of them describe flattened swirled circles in cereal grain crop of which there is no doubt those people were reporting what would be known today as a crop circle.
BESIDES TED PHILLIPS, DO ANY OF THE OLDER REPORTS TALK ABOUT ANYONE SEEING MYSTERIOUS LIGHTS?
Quite a number do. There is a report I have from 1920. It was in November in North Carolina. They don't have the city. The report talked about a brilliant ball of light that came down out of the sky into an oat field and exploded, leaving flattened and lightly scorched areas in the oats.
Before 1880, I probably have references for at least ten or fifteen reports in which balls of light, buzzing and humming noises were reported by eyewitnesses in association with flattened grass or crop fields.
1952 – Scoutmaster Followed Mysterious Lights in Florida
ANY REPORT THAT STICKS OUT IN OUR MIND AS BEING PARTICULARLY MYSTERIOUS?
There are two fascinating reports in which people were found inside or adjacent to crop circles after interacting with a ball of light and the people were found near a crop circle. One of the famous cases was in West Palm Beach, Florida in 1952. On August 19, there was a group of Boy Scouts and Scoutmaster driving home from a scout meeting. They saw some lights along the ground in an area thick with bushes. They thought perhaps a car had gone off the road. So, they stopped to investigate. The Scoutmaster left three scouts in the cars and told them, 'If you don't hear back from me in a short while, I want you to go get help.' He took his machete and started hacking into the brush. There was no car. He reported smelling a really odd odor that was so strong he almost blacked out. He began to feel electrical effects on his skin. He had a flashlight and pointed it up in the sky where he saw a large, dark sphere hovering just above him. Then he lost consciousness.
The Scouts went and got help and the police came back and found him incoherent on the ground with burns on his face and arms and singed hair. They took him to the local hospital which was a U. S Air Force hospital. The doctor there examined him and said the burns he received were pretty much like flash radiation exposure.
But the most interesting part of the story, in addition to the crop circle, is that he was found just outside a swirled, flattened circle of grass.
There's another similar case in Florida from just a few years after that which was very similar. A person blacked out and was found adjacent to a flattened, swirled circle. That was in Fort Myers in 1965. The witness was out hunting and saw a ball of light about 90 feet in diameter and it made a humming sound. The ball of light came about eight feet close to him and he blacked out. When he was found, the man was laying inside a 72-foot-diameter swirled circle of saw grass. He was taken to the hospital where he stayed for about five days.
DID THE BOY SCOUT LEADER OR ANYONE ELSE GET PHOTOGRAPHS OF THAT CIRCLE? OR THE MAN IN FORT MYERS?
I don't know. We don't have any in either files by Ted Phillips or MUFON.
1849 – Earliest Known American Crop Formation
The earliest known report in the United States that I've come across is from 1849. But I don't have a location, so that's why it's not placed on this new map.
WHAT WERE THE DETAILS?
There was a report written and submitted to the federal government in 1849 by a man named Henry Schoolcraft, of which later on there was a college named after him: Schoolcraft College. Henry Schoolcraft was working for the Bureau of Indian Affairs and he was going through the Midwest, meeting up with Indian tribes and doing early documentation, tracking and writing down their mythology, their culture. He did this study being paid by the federal government.
He submitted a report to Congress in 1849. One chapter in his report was entitled, 'The Magic Circle in the Prairie.' It is a story told to him by a Native American who was walking through one of the prairies in the Midwest and came across a flattened, swirled circle in prairie grass and had a strange adventure inside it. There is no doubt that what he described was a crop circle. But we don't have a location.
2003-2004 Alignments of Ohio Crop Formations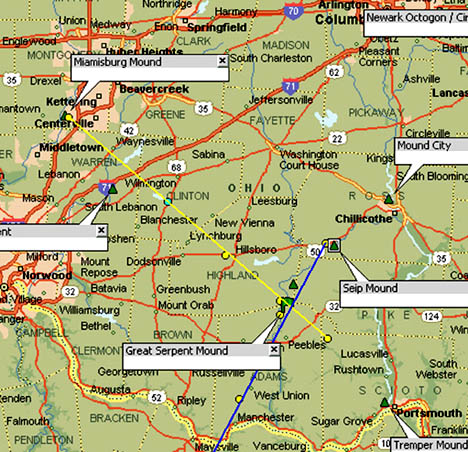 My Ohio Crop Formation Alignments Map is for the last two seasons of 2003 to 2004 of crop formations reported in Ohio and Kentucky. That map with the two alignments of crop formations, and not earth mounds, from the past two years got started last year because we went to several crop circles in Ohio, beginning with a formation that appeared near the Great Serpent Mound (Locust Grove and Peebles). See: 09-05-03 Earthfiles. There were several formations ­ one in West Union (Adams County) and one near Bainbridge (Ross County, Ohio). So, yellow line represents 2004 formations from Miamisburg through Cuba, Ohio (blue circle above Blanchester) through Hillsboro and ends on the map near Peebles at the last 2004 formation which was in Scioto County. (See other 2004 Earthfiles reports below.)
Before in 2003, we received a report from a place called Hilltop, Kentucky, which is southwest of Flemmingsburg, Kentucky. It appeared that all of the 2003 formations from Kentucky to Ohio fell along a pretty straight line if you connected the dots from Maysville to the Seip Mound. That struck us as being unusual. So, the blue line on the map connects the 2003 crop formations in Hilltop, Kentucky; West Union, Ohio; Serpent Mound formation in Locust Grove near Peebles; to the last formation in Bainbridge near the Seip Mound. The blue line does not go directly through the Seip mound.
We held a meeting earlier this year with several members of the ICCRA and one of those members, Roger Sugden, was looking on the map at where we had held that meeting, which was near Cuba, Ohio. That is the blue dot on your map above Blanchester. He noticed that there was also an alignment between the Miamisburg Mound and the Tremper Mound to the southeast in Portsmouth, Ohio.
2003 and 2004 Alignments Cross Near
Ohio's Great Serpent Mound
He had drawn a line on his paper map that only those of us at that small 12-person meeting looked at. Subsequently, all of the crop circle formations in 2004 have fallen pretty much on that line from the Tremper Mound to Miamisburg Mound. If you connect a line between the two, it would not fall exactly on the line, but if you connect all the crop formations that came down this year, they do fall on a line that crosses the 2003 line near the Great Serpent Mound.
HAVE YOU TRIED TO EXTEND THE LINES TO SEE WHAT HAPPENS IF THEY GO UP FURTHER THROUGH THE UNITED STATES AND INTO CANADA TO SEE IF THERE ARE SIMILAR ALIGNMENTS FOLLOWING ALONG THOSE TWO ALIGNMENTS?
Yes, I did. I blew the line out to the southeast, all the way to the Atlantic Ocean. And I drew the line going to the northwest all the way to the Pacific Ocean. My mapping program follows the curvature of the Earth so you get a nice smooth line. It goes all the way from coast to coast. I don't have all of Paul Anderson's data base map yet, so I can't tell if his Canadian formations are connected on my U. S. line. But I will tell you that in drawing that specific line, there are about fifteen crop circles from the historical data in the United States falls upon."
---
More Information:
Other Earthfiles Reports About Crop Formations, 1999 to 2004
09/22/2004 —  Miamisburg and Serpent Mound, Ohio Crop Formations: Geometries Compared

09/17/2004 —  Updated: Part 1 – High Strangeness in Canadian Cattle Corn

09/12/2004 —  Part 2 – High Strangeness in Canadian Cattle Corn

09/10/2004 —  Update on Miamisburg, Ohio, Corn Pictogram – Balls of Light?
09/05/2004 —  Part 2 – Hillsboro, Ohio Corn Plant Anomalies

09/04/2004 —  Hillsboro, Ohio Corn Formation – High Strangeness in Soil and Plants

09/02/2004 —  Updated Photos: Big, Impressive New Corn Formation in Miamisburg, Ohio

08/12/2004 —  Circles in Belgium and Holland

08/09/2004 —  Pictograms in Poland

07/26/2004 —  Crop Circles in Tilden, Wisconsin Oats and 90-Degree Angles in Litchfield, Minnesota Barley

07/25/2004 —  2004 Canadian Crop Formations: Scorched Soybeans and "Dirt" Pattern in Barley

07/15/2004 —  Updated: Part 1-Beyond Hillsboro, Ohio, More Corn Down in New Milford, Connecticut

07/06/2004 —  Mysteriously Downed Oat Plants in Eagle Grove, Iowa, and Downed Corn in Hillsboro, Ohio
07/06/2004 —  Additions to Spanish Fork, Utah Formation and Mysterious Lights Seen

07/04/2004 —  Crop Formation in Spanish Fork, Utah

06/17/2004 —  More 2004 Holland and Poland Crop Formations

06/16/2004 —  England: 2004 Crop Formations and 2003 Research

06/02/2004 —  2004 Peach Orchard, Arkansas Crop Formation

05/24/2004 —  Biophysicist W. C. Levengood's Crop Circle Reports Available for First Time On Internet

05/22/2004 —  2004 Overview of Crop Formations in Five Countries

05/11/2004 —  An Extraordinary Photograph in A Dutch Home

05/09/2004 —  2003 English Crop Formations on Documentary DVDs

04/14/2004 —  Light Anomalies in Photos of Conondale, Australia Grass Circles

04/07/2004 —  Four "Combed" Grass Circles in Conondale, Australia
12/05/2003 —  Diatonic Ratios and Seed Changes in 2003 California Wheat Circles Rule Out Hoax?

11/07/2003 —  British UFO Crash Retrievals

11/01/2003 —  Another Soybean Formation in Ohio

·10/17/2003 —  2003 "UFO Flap" in Ohio

10/10/2003 —  Updated – Ohio Hunter's "Deer Camera" Photographs Mysterious Glowing Disk

10/02/2003 —  Part 1 – Another Soybean Formation Near Seip Mound in Ohio

09/12/2003 —  Second Soybean Crop Formation in Ohio is Manmade. USAF Investigation Unit Involved?

09/06/2003 —  Part 3 – Unusual Soybean Formation Near Serpent Mound, Ohio
08/29/2003 —  Part 2 – After August 10, No Crop Formations Except in Canada?

08/23/2003 —  Fourteen Crop Formations in Canada
08/11/2003 —  Field Notes from Wiltshire, England Crop Circles

07/31/2003 —  Field Notes from English Crop Circles

07/16/2003 —  Unusual Details in Dutch Crop Formations

07/11/2003 —  Part 2 – Unusual Cylindar-Shaped Cloud Seen Night Before Dutch Crop Circles Discovered

07/08/2003 —  Mysterious Lights Videotaped Emerging from Ogbourne St. George, England Crop Formation

06/27/2003 —  Part 1 – Mysterious Lights and Fourteen Crop Formations in Italy

06/13/2003 —  Updated: Fractal Crop Formation in Knobel, Arkansas

05/10/2003 —  Tree Formation in Defiance, Missouri
05/02/2003 —  First 2003 English Crop Formations

04/29/2003 —  Comparison Between First 2003 and 2002 U. K. Crop Formations

04/26/2003 —  First 2003 U.K. Crop Formation Near Petersfield, Hampshire

11/05/2002 —  Canadian Crop Circles and Mysterious Lights in Saskatchewan

10/19/2002 —  Shifting Time Lines and Earth's Destiny?

10/11/2002 —  Mission, British Columbia, Canada Seed Corn Formation Has Changed Shape

10/03/2002 —  Part 3 – 2002 Crop Formations In Canada

10/01/2002 —  Part 2 – September 2002 Maize Circles Update: Canada

09/28/2002 —  Part 1 – September 2002 Maize Circles Update: England
08/24/2002 —  Crop Formation Update: United States

08/24/2002 —  Crop Formation Update: Canada
08/18/2002 —  Another Face and Code Appears in Hampshire, England – UPDATED

07/25/2002 —  Strange Stem Anomalies in New Dutch Crop Circles

07/20/2002 —  Mysterious Lights Seen Above Field Where Nautilus Formation Emerged

07/06/2002 —  Stonehenge 4th of July Formation Echoes Hackpen Hill 1999 4th of July Spiral

06/26/2002 —  Part 1 – New Crop Formations in England, Holland and Germany

06/04/2002 —  New 2002 Crop Formations in Wiltshire and Sussex, England

05/11/2002 —  First 2002 Crop Formation In Wiltshire, England
10/10/2001 —  Update On Unique British Crop Formations

09/22/2001 —  Huge Hexagram Crop Formation in Red Deer, Alberta, Canada
08/30/2001 —  Chilbolton Observatory – What Does It Do?

08/29/2001 —  Part 1 – Ground Details of Chilbolton "Face"

08/25/2001 —  Are Crop Formations at Chilbolton Observatory A Response to 1974 Earth Transmission?

08/22/2001 —  Milk Hill 2001 – 409 Circles, Most For Any Crop Formation So Far

08/09/2001 —  Crop Formation in Holland Changes with Researchers Present

06/16/2001 —  Beyond Stonehenge with Astronomer Gerald Hawkins

06/08/2001 —  Another Crop Formation Near Kassel, Germany

05/19/2001 —  Part 1 – New Crop Formations in Holland, Germany and England

03/02/2001 —  Mysterious Lights and Crop Circles – A Book Excerpt
12/13/2000 —  Mysterious Clouds of Light in English Crop Formation

09/30/2000 —  Unidentified Moving Spiral of Light Photographed in Crop Formation

08/29/2000 —  Black Triangle, Red Lights and Spinning Disc Over Wiltshire, England Crops

08/29/2000 —  Crop Formation Near Woodburn, Oregon Photographed from Hot Air Balloon

08/27/2000 —  Crop Circle Reports from Whitefish, Montana – Updated Photos

08/23/2000 —  Intelligence Sensed In Mysterious Lights Associated With Crop Formations

08/19/2000 —  White Balls of Light and Helicopter Videotaped in Woodborough Hill Field

07/16/2000 —  Multiple Crop Formations Same Day in Wiltshire and Hampshire, U. K., July 16, 2000

07/09/2000 —  New Book about Ancient Sites of Wiltshire, England

06/11/2000 —  Two New Crop Formations at Silbury Hill

05/30/2000 —  Crop Formations In Germany, May 2000

01/16/2000 —  Crop Circle Mysteries – A New Book

01/05/2000 —  Crop Circle Year Book 1999

11/30/1999 —  A New Crop Formation In Marion, New York and Crop Research Updates

11/18/1999 —  Short Environmental Updates
10/29/1999 —  A New Book About Crop Circles

09/29/1999 —  Crop Formations Continue in Canada

09/21/1999 —  1999 Summary of Crop Formations in Canada and Latest 9/21/99 Edmonton Circles

06/09/1999 —  Dutch Eyewitness SaysTwo Crop Circles Created By Pink-Purple Light

06/07/1999 —  1999 U.K. Crop Circle Update with Photographer Peter Sorensen
---
Websites:
http://www.cropcircleconnector.com
http://thecropcirclewebsite.50megs.com
http://www.cropcircleresearch.com
http://www.temporarytemples.co.uk
http://members.iinet.net.au/~bwratten/ccc.html
http://www.CropCircleAnswers.com
http://www.busty-taylor.com/cropper/98busty2.htm
http://www.cropcircleconnector.com/ilyes/ilyes.html
http://www.wylatowo.mogilno.pl
http://www.wylatowo.mogilno.pl/news.php?art=94



© 1998 - 2023 by Linda Moulton Howe.
All Rights Reserved.