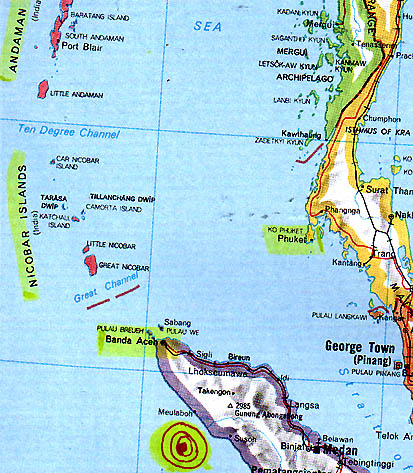 January 7, 2005  Pasadena, California – The 9.0 Indian Ocean earthquake that hit Sumatra, Indonesia, at 8 o'clock Christmas morning was caused by big rocky plates moving over each other more than five miles down at the bottom of the Indian Ocean. Those big chunks of rock were at least 500 kilometers by 150 kilometers wide. That is 311 miles by 93 miles. The Burma Plate slid fifty feet closer to India. Normally the Indian plate has moved only 2.4 inches a year.
When hundreds of miles of the Earth's rocky plates move against each other like that, the planet changes shape slightly. That provoked some scientists to calculate what might have happened to the Earth's spin rate. That huge change in rock position also moved a trillion cubic meters of water outward from the epicenter southeast of Banda Aceh, creating a tsunami that swamped beaches from Sumatra to Thailand, Burma, Bangladesh, Sri Lanka, India, the Maldives, Somalia, Kenya and Tanzania. So far, the death toll is over 160,000 (as of 1/8/05), with thousands more missing. According to the U. S. State Department, at least 4,000 Americans have not yet been located. (As this Earthfiles is posted, the government is revising the number down to 2,500.)
But on islands and land not far from the gigantic earthquake's epicenter, animals survived – and even some tribesmen on the remote Andaman and Nicobar Islands where several thousand others died. The Scotsman National Newspaper reported January 5, 2005, that when an East Indian coast guard helicopter flew low over Sentinel Island in the Andaman and Nicobar region, tribesmen attacked with bows and arrows. What did the surviving animals and those extremely isolated natives feel, hear or see that made them move to higher ground before the mass of water rolled in?
This week I talked with several scientists about what might have happened to the Earth's spin, why the massive but deep Indian Ocean rock slip created such a huge tsunami, and what animals might sense that people don't. First, the Earth's spin calculation and analysis of how much rock and water were moved has been done at the United States Geological Survey. Seismologist Lucy Jones, Ph.D., heads the USGS office for Southern California where earthquakes are a constant worry. I asked Dr. Jones to explain why the Sumatra earthquake could affect our planet's spin rate?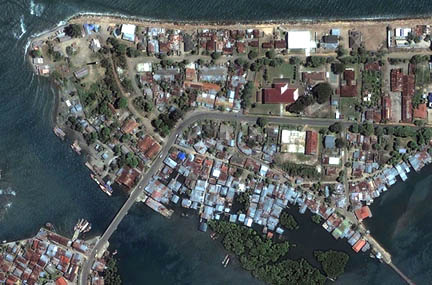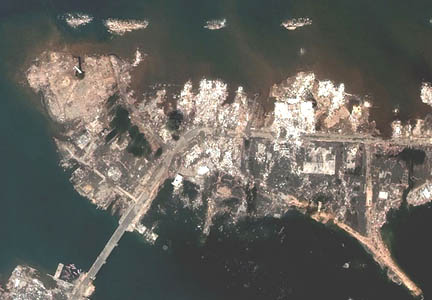 ---
Interview:
Lucy Jones, Ph.D., Seismologist-In-Charge, U. S. Geological Survey in Southern California, Pasadena, California: "When earthquakes happen, they don't happen at an epicenter. They happen over a fault surface. And it's one block of rock moving up and across another block of rock that releases shaking as one of its effects. In fact, it's a lot like snapping your fingers. When you snap your fingers, you have two surfaces in frictional contact. Because of the friction pushing them together, they don't slip sideways until you push hard enough you overcome friction. You slip suddenly and release energy in the form of a sound wave. The same thing goes on in an earthquake, except now instead of fingers, we have two big blocks of the Earth's crust. One of them moving over the other one. And every point on that surface where they come together releases energy, the shaking.
The bigger that area is, the bigger the earthquake because you have more spots releasing energy. To be a magnitude 9, it needs to be a very large fault. The first reports were suggesting like 1,000 kilometers. Some of the modeling going on now, maybe it's about 500 kilometers long and about 150 kilometers wide. That big block of rock moved an average of about 10 to 15 meters during the earthquake.
WOULD YOU CLARIFY IF I UNDERSTOOD CORRECTLY THAT IT WAS THE INDIAN OCEAN PLATE THAT SLID UNDERNEATH THE BURMA PLATE?
Yes, that's correct. The Indian Ocean plate went underneath the Burma plate. Burma rose up and over the Indian plate and moved something like 10 to 15 meters, 30 to 45 feet, closer to India than it was before. Now, that's a pretty big mass that's moving around because it's over 500 kilometers long. That's a pretty big chunk of real estate ­ not compared to the whole Earth, but even there, you start to notice it.
9.0 Earthquake Changed Earth's Shape – and Perhaps Earth's Spin Rate?
So people began speculating about how it might have effected the Earth's spin. The Earth spinning around is just gravitational forces and if you really change the shape of the Earth, you're going to change the way in which its rotating. You don't change the shape very much compared to the whole Earth, but you do a little bit. Some calculations were made and it came out to be a couple of microseconds change in the length of the day.
SO IT GOT LONGER, MEANING THAT THE EARTH SLOWED DOWN A TINY BIT?
No, I think it got faster. But it's two microseconds out of a whole day. One millionth of a second. So, it's not something that's actually been detected. It's something that people theoretically thought could happen and that was a calculation of what it should be given the redistribution of mass. The mass of rock changed its position on the sphere of the Earth.
IF SOMETHING LIKE THIS 9.0 WHERE THESE TWO PLATES INTERACTED OVER SUCH A LARGE AREA COULD AFFECT THE SPIN OF THE EARTH, COULD IT HAVE IMPACTED THE INTERIOR OF THE EARTH WHERE WE THINK THE IRON CORE HAS IMPACT ON OUR MAGNETIC FIELDS?
We would not expect it to have an impact because that's at the center of the Earth. The mass shift all happened out at the surface and it should not have had any affect on the core of the Earth.
Other Seismic Activity Before and After 9.0 Sumatra Quake
IS THERE ANY RESEARCH NOW GOING ON TO DETERMINE IF THERE HAVE BEEN OTHER AREAS OF THE PLANET OR LET'S SAY, THE RING OF THE FIRE, THAT MAY HAVE BEEN JARRED LOOSE AND THIS BIG 9.0 MIGHT SET OFF IN THE FORESEEABLE FUTURE BECAUSE SO MUCH ROCK WAS MOVED?
OK, it's a reasonable concept to see if you might get some triggered earthquakes within a distance of 1,000 kilometers (621 miles) or 2,000 kilometers (1,243 miles). On a global scale, we have never seen global changes in earthquake rates because of a big earthquake, even in the 9.5 ­ the much bigger earthquake that happened back in 1960 in Chile.
On a closer scale, it's possible. I know there was an earthquake in Myanmar, Burma, just a few days after this big earthquake, undoubtedly triggered by the big 9.0. Another interesting phenomenon was that three days before this earthquake, there was a magnitude 8 down on the boundary south of New Zealand, on the edge of the Indian Ocean plate. There's been some discussion about whether that would have triggered the magnitude. 9 or whether there is any relationship. At this point, there is not enough data to say yes or no. One just says, 'Isn't that interesting.'
There are calculations that have been made to look at how the stress changed in that area. For instance, there is a great Sumatra fault that runs down through the islands of Sumatra that might be closer to having an earthquake now than before this other event. Our big problem is that we can always say that the stress change would have put it closer to an earthquake, but since we don't know how long it was going to be until the next earthquake anyway, that doesn't tell us when the earthquake will happen. That's always one of our limitations. Earthquakes are basically a chaotic process. We could look at some shifts and it still doesn't give us a confident pattern.
IS IT TRUE THAT SOME CHINESE SEISMOLOGISTS HAD BEEN REPORTING WITHIN THE LAST FOUR OR FIVE MONTHS AN INCREASE IN LARGER EARTHQUAKE ACTIVITY AND SWARMS IN THE SOUTHERN HEMISPHERE?
I have not heard anything like that. The Chinese don't run a network in the Southern Hemisphere. So, I don't know. That might be related to this idea there was this 8 down near Antarctica that happened just a few days before the 9. But I haven't heard anything over a longer time scale.
YOU HEAD THAT SOUTHERN CALIFORNIA SEISMIC OFFICE AND YOU HAD NOT HEARD ABOUT ANY INCREASED SEISMIC ACTIVITY IN THE SOUTHERN HEMISPHERE?
No.
PRIOR TO DECEMBER 26, 2004?
No.
Tsunami Size Relates to Size of Rock Displacement in Undersea Earthquake
I WONDER IF YOU COULD EXPLAIN FOR LISTENERS THE RELATIONSHIP BETWEEN THE SIZE OF THE ROCK THAT MOVES AND THE WAVES AS THEY OCCUR IN THE OCEAN THAT CREATES THE TSUNAMIS?
What happens is that when you move that block of rock. We might have 500 by 150 kilometers and it moves over 20 meters ­ it also moves up a certain amount and it displaces a piece, a section, of water. We did a bit of a calculation as to how much water was displaced and it's almost 1 trillion cubic meters, which is so large it's difficult to comprehend. That's equal to about 20 times the volume of the Great Salt Lake (Utah) ­ that's the amount of water that got moved by the motion of this fault on the Indian Ocean bottom.
So when the fault moved on the ocean bottom and it moves the floor of the ocean, that water ­ twenty times the Great Salt Lake ­ had to go somewhere else. And that's what moved out as the tsunami. So it's not a wave in the same sense as a seismic wave or a sound wave. It's a big piece of water that's been displaced and swashes out and then it vibrates back and forth a bit.
SO ESSENTIALLY, THEN, THAT BIG DISPLACEMENT OF WATER AS IT MOVES IS DEEPER AND DEEPER AS IT APPROACHES THE COASTLINE.
It's a big piece of water that moves out and as the coast line gets more shallow, you get a massing up of the water. Even a big tsunami when it passes by a big ship out in the deep ocean often won't even be noticeable. It's when it interacts with the coastline that you get the really large affect.
BECAUSE A TSUNAMI IS NOT A BREAKING WAVE; IT'S AN EXPANDING, MOVING RAPIDLY, BLOCK OF WATER.
Yes, it's a big wedge of water that used to be at the ocean floor and now there's a piece of rock where it used to be and it has to go somewhere else. When you look at Indonesia where the earthquake happened, the tsunami also rolled over there. That's where most of the deaths would be. And we should not forget that they had a magnitude 9.0 earthquake. Probably a lot of the damage in Indonesia came directly from the earthquake rather than the tsunami. Then the tsunami would have been arriving very soon thereafter because that's close to where it was generated (5.5 miles below Sumatra). Maybe five, ten, twenty, thirty minutes to hit all the places along Indonesia. I heard then 1.5 hours up to Thailand and longer periods as you go further away.
NO ONE WAS AWARE OF ANY EARTHQUAKE, SEISMIC ACTIVITY. IT ALL SEEMED SUDDENLY TO BE THE WATER RISING THAT SUNDAY MORNING.
It does sound like in Thailand people felt the earthquake, but it would have been early in the morning. A lot of people would have been asleep. When you are a long way from an earthquake, all the sharp motions have already died off and you're left with more of a rolling motion. Then it's more likely that people sleep through that.
Seismologist Surprised by Indonesian Tsunami's Vast Devastation
AS A PERSON WHO IS AN EXPERT IN SEISMOLOGY, WHAT HAS SURPRISED YOU THE MOST ABOUT THIS EVENT?
I guess I was surprised at the way the tsunami really wrapped around islands and struck in areas I would have thought would be sheltered. I study earthquakes more than tsunamis, so I wasn't aware of that.
RIGHT. I THINK IT WAS ALSO THE BBC REPORTER WHO SAID IT WAS SHOCKING TO FLY AND REALIZE THAT THE WATER HAD EXTENDED FOR NEARLY TWO KILOMETERS INLAND IN SOME PLACES TAKING EVERYTHING WITH IT. THOSE ARE THE BARE, ALMOST MOONSCAPE LOOKS.
I think the worst devastation was in places where the tsunami came in on top of the earthquake. The earthquake had already shaken the buildings down and made it much easier to carry away.
YOU THINK THAT HAPPENED MORE LIKELY IN WHICH AREA?
That's Indonesia because along the whole coast of Sumatra, that's where the fault is. They were on top of the magnitude 9.0 The ground was shaking at a very high level for five minutes.
THAT'S BASED ON YOUR MEASUREMENT TECHNOLOGY?
Yes, we can see those waves ­ they proceeded out around the world, set off all our sensors here across America as well as everywhere else in the world.
AND IT LASTED FOR FIVE FULL MINUTES.
Yes.
I SEE FROM THE SCIENCE POINT OF VIEW THAT BUILDINGS IN INDONESIA AND ON THE ISLANDS WOULD HAVE BEEN RATTLED ROYALLY THROUGH THOSE FIVE MINUTES.
Right.
AND THE TSUNAMI THAT HAS OVERWHELMED THE NEWS THAT CAME AN HOUR TO TWO HOURS LATER…
Well, the tsunami in Indonesia ­ the places that had the shaking also had the tsunami right away.
I SEE, BECAUSE…
Because it would have been close by. So, they are shaken for five minutes, the buildings fall down and then five or ten minutes later, in comes the tsunami and washes away the rubble. It's not surprising in that level of devastation ­ you have to build very strong buildings to not fall down in that sort of situation.
IT WOULD ALSO EXPLAIN HOW THE TSUNAMI COULD TAKE BACK OUT TO SEA SO MUCH RUBBLE LEAVING THE VAST MOONSCAPES.
Yes, it was not pulling down the whole building. It was picking up rubble that had already been shaken down.
American East Coast – Tsunami Danger? (More about Canary Island volcano in future Earthfiles.)
WHAT DO YOU THINK THIS COUNTRY COULD DO IF THERE WAS A TSUNAMI WARNING ON THE EAST COAST TO MOVE SO MANY PEOPLE?
You don't need to move people very far. You've got to get people not to be on the beach. One simple thing that should be done is to educate children in school: If you are on the beach and either feel an earthquake or the water starts behaving oddly, go for high ground. People died because they went to look at the waves instead of moving away from them.
HUMAN CURIOSITY.
Yeah. I've seen a horrible set of pictures from there where people had all run down to the sea wall to see the waves and then a horrid sequence of pictures as the wave came up over the sea wall.. Tsunamis happen so infrequently in the lives of most people that people just don't think about do we need to educate people about what to do in a tsunami. I think that is probably the most important thing: if the water is behaving oddly, go away from the beach.
Most Animals Survived the Indonesian Tsunami
Wildlife officials in Sri Lanka reported their surprise that they did not find many dead animals, even where so many humans had lost their lives. An Associated Press photographer who flew over Sri Lanka's Yala National Park in a helicopters said he saw lots of elephants, buffalo and deer, but no dead animals. Yet floodwaters from the tsunami uprooted trees in the park, knocked cars over and killed at least 29,000 people. How did the animals escape?
In the United States at the University of California-Davis's School of Veterinary Medicine, animal behavior professors Benjamin and Lynette Hart, husband and wife, have done research projects that give insight about animal survival in the face of huge seismic events. First, Dr. Benjamin Hart did a study for the U. S. Geological Survey to see if unusual animal behavior in seismically active California regions might be a reliable early warning system. The answer was no because animal behavior before earthquakes was not consistent ­ which might relate to differences in quake intensities. However, Dr. Hart described for me what might be happening when many animals do react before seismic events such as Indonesia's.
Benjamin Hart, D.V.M. and Ph.D., Professor of Physiology and Behavior, University of California ­ Davis, School of Veterinary Medicine, Department of Anatomy, Physiology and Cell Biology, Davis, California: "In many cases, we had three to four hours, or even ten hours, prior to earthquakes in which unusual animal behavior was reported. And when we talked with our geophysical colleagues about what animals could be responding to ­ if it is not the foreshocks, it could be when the plates rub against each other. Then they produce subsonic emissions. Those can travel a long ways, subsonic vibrations can travel quite far. Animals can pick that up. They might also produce electrostatically charged particles that maybe animals can pick up on. There is release of radon gas in some instances. So, those are examples of the kind of stimuli that animals could be perceiving. Of course, we don't have any idea which one it would be.
THE 9.0 LEVEL OF THE SUMATRA AND INDIAN PLATE COMING TOGETHER, THAT MIGHT BE LARGE ENOUGH TO SET OFF THE SUBSONIC FREQUENCIES THAT MAYBE ELEPHANTS AND OTHER ANIMALS IN THE ISLANDS RESPONDED TO?
Oh, that's exactly right. So if you get 9.0, it's logical to me at least, an earthquake of that magnitude, prior to the earthquake, the stress on the plates is going to be much greater than a magnitude. 6.0 would be. It's the stress, the plates coming against each other and pushing that produces the precursor stimuli. It's logical to think the precursor stimuli will be stronger.
One of the things we learned on our study is that the behavior of the animals, irrespective of species, is not bizarre or abnormal. It's normal behavior to a frightening stimulus. The precursor would be a frightening stimulus for which there is no explanation. That's what they do. For many animals, it's fleeing to escape. Some it's freezing (in place). Some it's what instincts say it needs to go for protection. If it's elephants, it's 'Let's move out of here!'"
Do Elephants Perceive Subsonic Frequencies?
The intelligence and highly sensitive nature of elephants has intrigued Dr. Lynette Hart, who is Professor of Animal Behavior and Human Animal Interaction in the Department of Population Health and Reproduction at the UC-Davis School of Veterinary Medicine. She has studied the way elephants vocalize through the air. Not only can elephants trumpet loudly and run quickly, Dr. Hart thinks the animals perceive sound frequencies from seismic events that humans cannot hear ­ frequencies that are subsonic.
Lynette Hart, Ph.D., Professor of Animal Behavior and Human Animal Interaction, Department of Population Health and Reproduction, School of Veterinary Medicine, Davis, California: "One of the questions that we have pursued is the fact that such a large sound as an elephant makes when it vocalizes is going to also create a seismic wave in the Earth. A question that we are very interested in is to what extent are elephants cueing on seismic propagation on things that are going on in the Earth, in addition to acoustic responses propagated through the air.
SO, A RESPONSE THAT MIGHT COME FROM AN ELEPHANT AT A LONG DISTANCE AND ELEPHANTS MAY HAVE WIRED IN THEIR PHYSIOGNOMY AND THEIR BRAIN THE ABILITY TO PICK UP SUBSONIC FREQUENCIES.
That's right. They might be able to integrate both information they would receive through the Earth and information they would receive through the air. By combining that information, might be able to make a better judgment about the direction of the sound or the intensity of it or how far away the source of the sound would be.
WOULD THE ELEPHANTS BE PERCEIVING THE SUBSONIC FREQUENCIES THROUGH THEIR FEET?
This is one question ­ their feet, they have large fat pads on the surfaces. The bottom of an elephant's foot feels quite a bit like a water bed if you push on it. So it makes a very good compact seal with the Earth. In work that's still unpublished, we have started looking at the anatomy of the foot and we see that there are some fine pressure receptors in the foot. It's also been published by Beth Rathmussen that the trunk has extensive pressure receptors in it, so they have the capability of resting the trunk on the ground and they would be able to feel vibrations on the Earth.
If you think about this 9.0 earthquake ­ which is really off the scale of usual earthquakes ­ it would create a huge seismic wave that will go a vast distance.
AND THAT THE ANIMALS WOULD HAVE ESCAPED BEFORE THE TSUNAMIS HIT BECAUSE THEY MIGHT HAVE PICKED UP ON THOSE FREQUENCIES FROM SUCH A LARGE ROCK SLIP.
Exactly."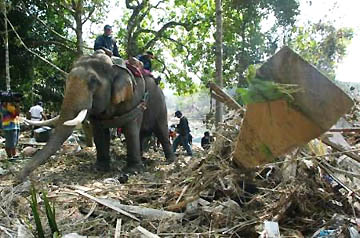 Sunday January 2, 2005, 11:30 AM, An elephant works to find tsunami victims in Takuapa,
about 130 km (81 miles) north of the Thai resort island of Phuket, January 2, 2005. Elephants, Thailand's
ancient war vehicles, have been brought in to help disaster workers retrieve and transport bloated bodies
from the tsunami-hit beaches and islands. Photograph © 2005 by Reuters/Chaiwat Subprasom.
---
More Information:
Elephants Warned Humans in Thailand
Reuters reported on January 2, 2005, from Thailand:
"Agitated elephants felt the tsunami coming, and their sensitivity saved about a dozen foreign tourists from the fate of thousands killed by the giant waves.
"I was surprised because the elephants had never cried before," mahout Dang Salangam said on Sunday on Khao Lak beach at the eight-elephant business offering rides to tourists.
"The elephants started trumpeting – in a way Dang, 36, and his wife Kuluda, 24, said could only be described as crying – at first light, about the time an earthquake measured at a magnitude of 9.0 cracked open the sea bed off Indonesia's Sumatra island.
"The elephants soon calmed down. But they started wailing again about an hour later and this time they could not be comforted, despite their mahouts' attempts at reassurance.
'The elephants didn't believe the mahouts. They just kept running for the hill,' said Wit Aniwat, 24, who takes the money from tourists and helps them on to the back of elephants from a sturdy wooden platform. Those elephants with tourists aboard headed for the jungle-clad hill behind the resort beach where at least 3,800 people, more than half of them foreigners, would soon be killed. The elephants that were not working broke their hefty chains.
'Then we saw the big wave coming and we started running,' Wit said. Around a dozen tourists were also running towards the hill from the Khao Lak Merlin Resort, one of a line of hotels strung along the 6-mile beach especially popular with Scandinavians and Germans. 'The mahouts managed to turn the elephants to lift the tourists onto their backs,' Kulada said.
"The elephants charged up the hill through the jungle, then stopped. The tsunami drove up to 1,000 yards inshore from the gently sloping beach which had been so safe for children it made Khao Lak an ideal place for a family holiday. But it stopped short of where the elephants stood."
---
Websites:
http://www.animalsandearthquakes.com

© 1998 - 2019 by Linda Moulton Howe.
All Rights Reserved.