January 13, 2005  Cape Canaveral, Florida – Yesterday, scientists were gathered at the Cape Canaveral Air Force Station in Florida to watch the lift off of humankind's very first effort to physically look inside a comet in our solar system. The spacecraft is called "Deep Impact." It's goal is to create some icy fireworks on July 4th this year when it literally blows a hole in a 5-mile-diameter comet named Tempel 1.
Twelve scientists began working on the Deep Impact project back in 1995 and one has been in charge of making that hole in the comet ­ without explosives. He is Jay Melosh, Ph.D., Regent's Professor of Planetary Science in the Lunar and Planetary Laboratory at the University of Arizona in Tucson. He was at Cape Canaveral watching the orange fire ball lift Deep Impact up into a clear blue sky with an enormous, rattling roar. At last, nearly ten years of work was becoming real. While Dr. Melosh was still at Cape Canaveral , I talked with him by cell phone about what is going to happen on July 4th.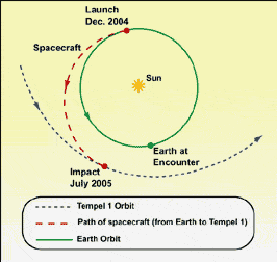 Jay Melosh, Ph.D., Regent's Professor of Planetary Science, Lunar and Planetary Laboratory, University of Arizona, Tucson, Arizona: "What happens on July 4th, twenty-four hours before the actual encounter, the spacecraft separates. It's a double spacecraft. There are two pieces to it. One is the 'impactor' that will actually strike the comet and the other is the fly-by instrument that will stand off at a safe distance and film what happens. That first separation takes place about 24 hours in advance. There are four big springs that push the impactor out of where it's docked right now and send it on its way toward the comet.
The entire impactor is on a collision course at that stage and after we separate from the impactor, we do a short burn to make sure that the larger spacecraft with cameras ­ the 'mother ship' we call it ­ flies by at a safe distance. In fact, it will get no closer than about 500 kilometers to the comet.
They are both traveling toward the comets at 10 kilometers per second. So, although we pass by the comet, we are still speeding along going by. It's a little like passing an 18-wheeler in a sports car. You come up behind it with the sun behind you, you toss out a snowball and film what happens when the snowball collides with the back of the truck. We'll get about 800 seconds of good observation of the comet after we impact it and then we zoom on by and turn around and do some back imaging. We expect to see some material blasted off the comet lit by the sun, but we won't see the lit surface of the comet any more.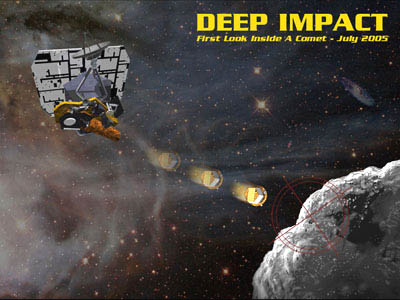 Hole In Comet Made By Kinetic Energy, Not Explosives
WHAT EXACTLY IS IMPACTING THE COMET?
The impactor is a spacecraft that looks a little like a snub-nosed bullet except that it's 3 feet in diameter. It has its own propulsion system and its own imaging system that looks out through the front. We will be taking images as we approach the comet and just before impact. We hope to get the highest resolutions of the comet's surface through that. The fly-by spacecraft (mother ship) won't have the same high degree of resolution as the impactor that actually strikes the surface.
Now, the impactor is constructed with a big copper plate up front and that's our mass that's going to blow the hole in the comet, as well as shielding against dust particles we might encounter on the way in.
Impactor Will Hit Comet At 23,000 MPH
I've been asked by a number of people: Why don't you pack the spacecraft with explosives and blow a big hole that way? In fact, we don't have to do that. The spacecraft is moving so fast, traveling at 23,000 mph, that the amount of kinetic energy for the 820 pound mass of the projectile, that it contains TEN TIMES MORE energy than an equal mass of TNT would contain. We could pack the spacecraft with explosives and it would not add very much at all to the explosion that we plan to make in the comet.
THAT IMPACTOR IS GOING TO STAY ON THAT COMET IN WHATEVER HOLE IT MAKES?
The spacecraft will actually vaporize at that stage. Moving at that speed when it runs into the comet, the kinetic energy will be turned into heat in a couple of milliseconds. We'll essentially make a ball of plasma, superheated gas at a temperature exceeding 10,000 degrees F. And in addition to the spacecraft vaporizing, we plan to vaporize about a thousand pounds of the comet's surface itself. That hot gas expanding out of the crater will give us a great flash we will be imaging even from ground and that flash will tell us what elements are there and the abundances of elements there.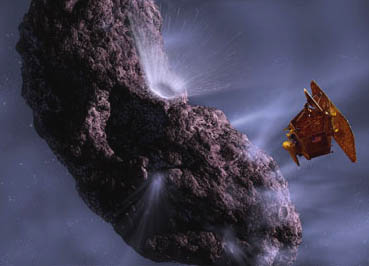 HOW BIG A CRATER DO YOU THINK THAT WILL MAKE ON COMET TEMPEL 1?
We think the crater will be at most about 300 feet in diameter and about 100 feet deep. We were very uncertain about the actual crater size because at present we know nothing about comets. That's what this mission is all about. If the comet surface is dense and strong, we'll make a small crater. If it's fluffy and very weak, we'll make a big crater. We've designed the projectile so it will couple in the maximum amount of energy in either case.
We don't know whether we are impacting solid, frozen ice, or we are impacting snow. We had to make the impactor designed such that it could penetrate and make a big crater in either material. That was quite a challenge in the design which we think we have successfully addressed by making the impactor kind of in two sections. The snub-nosed part of the bullet as I described it is a hemisphere of copper that weighs about 317 pounds and it's 20 inches in diameter.
If we hit a hard comet, that dense slug of material will penetrate deep into it and deposit a lot of the energy of the impactor deep down inside the comet and blow out a big hole. On the other hand, if it is really soft, fluffy stuff like snow or Cornflakes or something like that, what will happen is that the hemisphere by itself would penetrate too deeply. But that's attached to a plate about the shape and size of a manhole cover, also made of copper. In the case of a fluffy comet, that will slow the impactor down in the outer ten feet or so of the surface, but still couple enough energy to blow out a big crater. That's our kind of 2-step design to making a pretty big crater no matter what the comet is made of.
Is This How We Might Deflect A Comet Headed Toward Earth?
IS THE MAIN REASON FOR TRYING TO DO THIS TO SEE IF WE HAD A COMET THAT WAS HEADED TOWARD THE EARTH COULD WE GO OUT AND DEFLECT IT OR DO SOMETHING TO KEEP IT FROM IMPACTING THE EARTH?
The prime reason for the mission is actually scientific. The goal is to find out what is deep inside a comet because that contains records of what was going on in our solar system before the Earth existed as the planets were forming.
As a serendipitous consequence, we will be learning about the mechanical properties of a comet ­ how strong it is, how dense it is and should we ever have to deflect a comet that is threatening us, these are exactly the kinds of properties we need to know to do an effective deflection scenario.
COULD THIS DEEP IMPACT CHANGE THE COURSE OF TEMPEL 1 IN ANY WAY?
In theory, it changes it in a tiny, tiny amount. But even though the spacecraft sounds pretty big and we're delivering a lot of energy. The comet itself is about 4 to 5 miles in diameter. Just working out the ratio of masses, if you think of the impactor as a mosquito, the comet's mass is equal to the mass of a fully loaded 747. The impactor won't deflect the comet any more than the impact of a mosquito on the windshield of a 747 would deflect it in flight.
Learning What Comet Tempel 1 Is Made Of
WHAT IS IT YOU ARE EXPECTING TO FIND IN THE ANALYSIS OF THAT BRIGHT GLOW WHICH WILL BE AN EVAPORATION OF PART OF THAT COMET?
We would expect mainly to see elements that are present in ices in the interior of the comet. We know from observing many other comets that comets are composed both of ices ­ and when I say ices, I mean not just water ice, but dry ice, methane ice, ices of many different elements that only exist at much lower temperatures than we are comfortable with on Earth. But also, there is a dust component. You can see that in the tails of comets.
What we anticipate doing by blasting a hole in the comet is exposing the pristine ices that have never been disturbed since the beginning of the solar system and ejecting those into space so we can measure the abundance of the different elements. We will measure those elemental abundances by what is called spectroscopy, that is looking at the wavelengths of light emitted by the glowing plasmas. The different elements each have their own fingerprints of the frequency of light they emit. By looking at the frequencies of light, we determine which elements are there. And by looking at the brightness of each of those spectral bands, we can tell how much of the elements are there.
SINCE THE IMPACTOR IS GOING TO EVAPORATE, HOW DO YOU SEPARATE OUT WHAT IT'S MADE OF FROM WHAT THE COMET'S MADE OF?
Ah, that is a good question.
That's in fact why the impactor is made of copper. Copper is not a very common or important element in understanding the evolution of the solar system, so we chose that element instead of aluminum, for example, because it won't interfere with our measurements of the other elements. We also asked Ball Aerospace, our contractor who built the spacecraft, to do something they've never done before. That was to give us a list of the amount of each different element that is in the spacecraft and we compare that to what we are expecting to find based on meteorites, carbonaceous chondrites, that we believe derive from comets. And we insisted that for a certain suite of critical elements that the abundances in the impactor be less than the amounts we expect to see in the comet. So, we avoid that very problem of swamping the things we are interested in.
Deep Impact "Mother Ship" –
highest resolution imaging system that's
ever been flown on a spacecraft. Where else could it go?
WHAT HAPPENS TO THE DEEP IMPACTOR MOTHER SHIP AS IT FLIES BY? WHERE WILL IT END UP GOING AFTER IT HAS PHOTOGRAPHED THE COMET?
There are a couple of things that happen with the flyby spacecraft. The first thing it faces is kind of a dangerous passage. After it images the crater, it passes through the orbital plane of the comet where most of the dust from the comet accumulates. We have to get through that with a live spacecraft. So what we've done is armor one side of the spacecraft and we couldn't afford weight-wise to armor the entire thing. So, we go into what we call shield mode and turn the cameras away from the direction of motion, we turn the shielded side of the spacecraft into the direction of motion. We have shields on one end of the solar panels which are critical and for a period of about 20 minutes, we stay in that shield mode as we pass through this band of dust near the comet. We believe we will survive that. But in case we don't, we will have radioed back as many of the images as we can possibly do ­ something like 10% of them in real time. The rest will be stored aboard the spacecraft. Assuming that we come out of the shield mode just fine, and we have every reason to think we will, then we will radio the rest of the images back down. We will have most of the data from the passage on the ground within a couple of days of the encounter.
After that, there are some interesting possibilities. If everything goes as we expect, we'll have a healthy spacecraft with plenty of fuel, plenty of power and the highest resolution imaging system that's ever been flown on a spacecraft. There are a number of other comets we could reach in a period of a couple of years. There are some asteroids we could reach and image as well. That's something we can't plan on before the mission because NASA would not allow us to commit resources to the so-called follow on mission. But if we come out as we expect in good health, we will have a number of other targets we could go to. Of course, we won't be able to hit anything again. We only get one shot with an impactor. But we will have a wonderful flyby imaging system that we can make good pictures of a lot of different objects."
---
Websites:
Comet Tempel 1: http://deepimpact.jpl.nasa.gov/science/tempel1.html
http://deepimpact.umd.edu/amateur/where_is.shtml
http://spaceplace.jpl.nasa.gov/en/kids/deepimpact/deepimpact.shtml


© 1998 - 2019 by Linda Moulton Howe.
All Rights Reserved.