"The kind of really severe wet, warm and windy winter that happened less frequently in the past, now the odds are that it will begin to happen more and more often."
– Drew Shindell, Ph.D., NASA's GISS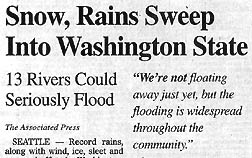 January 22, 2005  New York City, N. Y. – This New Year was only a week old when strong, wet, windy storms began moving across the West Coast with an intensity that broke many weather records in California, Nevada, Utah, Washington, Idaho and other parts of the northwest. Thirteen rivers in the western half of Washington State were near flood level. More than ten feet of snow piled in the Sierra's, blown by 60 mph winds. Nearly 200 people had to be rescued from deep snow in the San Bernardino Mountains near Los Angeles. In the valley below the snow level, more than a half-inch of rain was recorded every hour, while homeowners worked desperately piling sand bags to keep waterlogged ground from sliding away. In the Los Angeles area, dozens of houses collapsed on water-soaked hillsides, including one mud slide in Ventura County that killed ten people. The intense rainfall that swept through Ventura County, California, destroyed at least $38 million worth of crops ranging from dates and carrots to strawberries, oranges and avocados. California's Governor Arnold Schwarzenegger declared the county a disaster area.
In Nevada, Amtrak train passengers were delayed for at least eight hours, Las Vegas streets were filled with water and planes were grounded at the Reno-Tahoe International Airport. At the same time in the Ohio River valley of the central to eastern United States, heavy rains and snows caused flooding in West Virginia, Ohio, Indiana and Kentucky. The wild weather from coast to coast knocked out power for more than 100,000 homes and killed a dozen people.
Where did all the moisture come from to produce so much nearly unprecedented rain and snow fall in such a short time? One physicist at the NASA Goddard Institute for Space Studies and the Center for Climate Systems Research at Columbia University says global warming computer models have long predicted a trend toward increased moisture and wind speeds on the West Coast of the United States. Dr. Drew Shindell studies the big climate picture of the Earth from the stratosphere down to the low, warm air we live and move around in. This week I asked him if the intense January storms are a harbinger of the kind of weather that will occur more frequently as our planet continues to be warmed by increasing greenhouse gases.
---
Interview:
Drew Shindell, Ph.D., Research Physicist, NASA Goddard Institute for Space Studies (GISS) and Center for Climate Systems Research, Columbia University, New York, New York: "Global warming makes a certain kind of weather more likely. That's the kind of thing we've been looking at for several years now in our climate models.
YOUR COMPUTER MODELS HAVE PROJECTED FOR A LONG TIME THAT WITH INCREASING TEMPERATURES AND GLOBAL WARMING THAT THERE WOULD BE INCREASED WIND SPEED AND MORE WATER DROPPED ON THE WEST COAST OF THE UNITED STATES, CORRECT?
That's right. So we have been projecting in our simulations that especially during the winter you would really start to see a difference in both Western Europe and the western portion of North America where we would see more warm and wet maritime air coming in and causing warmer temperatures and increased rainfall and increased snow at higher elevations. That does seem to be quite consistent with what we are seeing this year.
WITH EVEN GREATER POTENTIAL WIND POTENTIAL DAMAGE. I KNOW THAT EUROPE HAS HAD A TERRIBLE TIME WITH WINDS AND RAIN AND IT'S MY UNDERSTANDING THAT ON THE WEST COAST OF THE UNITED STATES THE FIRST HALF OF JANUARY THAT HISTORIC WEATHER RECORDS WERE BROKEN.
Yes. Again, it's this whole issue like the big summer heat wave that happened in Europe last year. The heat wave is not directly caused by global warming. So, these enormous extremes in winds are not directly a result of global warming. But if global warming is pushing the kind of mean behavior up a little bit, then when you have a particularly hot summer or wet and windy winter, you are already starting from a position that's higher up on the scale. So in the summer you are starting from warmer temperatures and if you have a heat wave, it becomes extremely severe. The heat wave in Europe last year changed from something like one in 500 year odds to one in 100 year odds. And our projections are that it will become a much more common occurrence ­ a 1 in 10 odds or so over the next several decades.
That's the same kind of behavior you see in the winter with the odds changing. So you might have very extreme winds in the past, but they might have happened only once every century. The kind of really severe wet, warm and windy winter that happened less frequently in the past, now the odds are that it will begin to happen more and more often.
It's difficult to say what will happen in any particular year. But over say 2005 to 2015, the coming decade versus the last decade, I would expect largely warmer temperatures nationwide ­ not guaranteed to happen everywhere, but the nation as a whole. The west coast will likely see warmer and wetter winters as we have been discussing.
Polar Night Jet Stream Near Record Strength in 2005
JUST LIKE THIS ONE FROM 2004 TO 2005.
Yes, this might turn out to be a more extreme than normal, but we'll see what happened. When we look up at the polar night jet ­ the wind stream that flows around 60 degrees north and up at the boundary between the troposphere and stratosphere ­ say 15 kilometers up. When we look up at that, this year is exceptionally strong and near record strength from past 40 years or so. So, I would not expect that to be the norm for the next decade. But we might see this kind of very strong westerly, very strong Pacific air, being brought to the West Coast and warm, wet, windy year much more frequently.
How Do Communities Prepare for More Chronic Flooding?
THAT POTENTIALLY MEANS THERE COULD BE MORE FLOODING PROBLEMS?
More flooding problems and also flooding problems when all this snow begins to melt out West. In the very long run, if it gets too warm for the snow to keep falling and it falls more as rain which has been happening more on the East Coast where the mountains aren't as high and we're only in a few degrees of freezing point, so a couple of degrees warmer means we get rain instead of snow. Then, it's actually a water supply issue. When it comes spring, there is not a lot of snow out to melt and fill up the reservoirs.
So, there are a lot of water issues that I think planners would do well to start considering how to deal with, given the long time required for changes in water infrastructure."
---
More Information:
Arctic Warming Twice the Rate of Rest of Earth
November 2004 Arctic Climate Impact Assessment (ACIA)
Report by 250 Scientists from 8 Nations: 
"The Arctic will warm by 7 to 13 degrees Fahrenheit this century, twice the rate of the rest of the world." Among many new travelers to the rapidly warming Arctic now are robins, thrushes, barn owls, salmon and hornets. Polar bears might face extinction as the North Pole ice disappears. Arctic natives have seen and heard thunderstorms for the first time in their lives.
January 20, 2005 E-mail to Earthfiles.com:
"…I live in Bozeman, Montana, but was has happened here in the past few days has demonstrated a huge temperature swing that has already begun to deplete snowpack in the mountains. For two weeks we have had very cold (sub zero temps) that were accompanied by a pretty decent amount of snow. I had actually hoped that we were going to enjoy a 'normal"'winter. 
"Suddenly yesterday (01/19/05), we had a huge temperature shift that resulted in temps in the 50's. For two days now the weather has melted a huge amount of snow in town, and the snow at Bridger Bowl ski area is melting, slushy, and the skiing has deteriorated badly. I do not recall this occurring in the ten years we have lived here. Strangely enough, last year we had a high level of snowpack in the mountains, but the temps increased so dramatically in March, and the snow melted so quickly that it was rapidly absorbed and provided very little run off. Now, it would appear that what happened last March has happened again, only in January, and the two-week-forecast does not seem to offer much relief."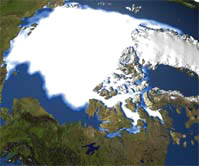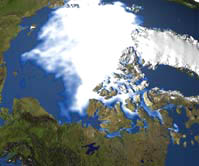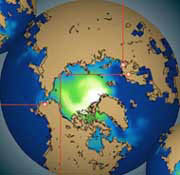 Polar Bear Survival Threatened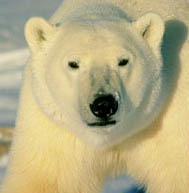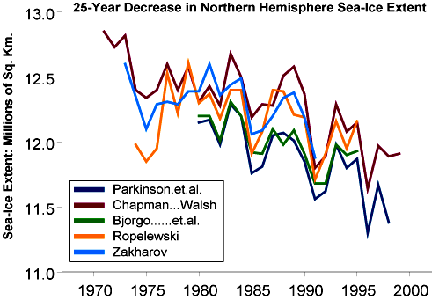 Climate changes on prey species will have a negative effect on polar bears because: increased snow can result reduced success in successfully entering seal birth lairs



Decreased snow or increased seasonal rain patterns could effect seal pupping by not providing adequate snow for construction of birth lairs or if rain fall by collapsing birth lairs thus reducing seal productivity
Prey reductions could effect polar bear condition and ultimately cub production and survival
Changes that alter the period of ice coverage could affect distribution and impact polar bears
Bears may spend greater amounts of time on land
Extended use of terrestrial areas would ultimately effect physical condition of bears when forced to rely on fat stores
Decreased physical condition could effect production and survival
Bears using deteriorating pack ice may experience increased energetic costs associated with movements and swimming
Denning could be impacted by unusual warm spells
Access to high quality denning areas may be limited or restricted
Use of less desirable denning habitat could have impacts on reproduction and survival
Rain or warming could directly cause snow dens could collapse or be opened to ambient conditions
Loss of thermal insulative properties in opened dens could effect litter survival
---
Websites:
Global Temperature Trends: http://www.giss.nasa.gov/data/update/gistemp/2004/
Changing Global Climate: http://www.giss.nasa.gov/research/news/20050110b/
Changing Arctic Climate: http://vitalgraphics.grida.no/arctic/go/showPage/chapterid/38
Polar Bear Survival Threatened: http://www.arctic.noaa.gov/essay_schliebe.html

© 1998 - 2023 by Linda Moulton Howe.
All Rights Reserved.