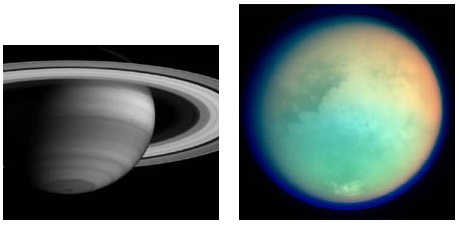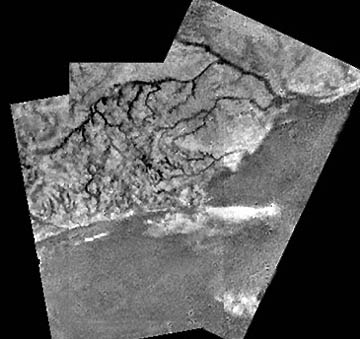 January 21, 2005  Tucson, Arizona – On January 14, 2005, the European Space Agency's (ESA) Huygens probe finally landed on the surface of Saturn's mysterious and cloud-covered moon, Titan. ESA engineers said Huygens is "the furthest human-made object that has touched down on an alien world, the only moon in the solar system with a thick atmosphere." Titan is Saturn's largest moon of at least 33 moons counted so far and is larger than the planets, Mercury and Pluto. As the Huygens probe fell by parachute through the strange moon's atmosphere at speeds ranging from 150 meters per second down to 5 meters per second, earth scientists were surprised that the probe kept losing orientation lock on the sun. Later it was decided that the lock problem and whooshing sounds from the probe's microphone were caused by winds on the moon that buffeted Huygens as it descended. That means Titan even has weather.
Huygens batteries lasted only a few hours, but it was able to send back to Earth 350 images and spectra of the bizarre dark and light surface. That spectrum reached scientists on January 17th. The Deputy Principal Investigator for the Descent Imager Spectral Radiometer (DISR) experiments on the Huygens probe is astronomer, Lyn Doose, in Space Sciences at the University of Arizona in Tucson. I asked Dr. Doose this week what the spectra showed so far.
---
Interview:
Lyn Doose, Ph.D., Deputy Principal Investigator, DISR Experiments on the Huygens Probe (Descent Imager Spectral Radiometer), Space Sciences, University of Arizona, Tucson, Arizona: "It's being analyzed by our French colleagues and they basically see a signature in the spectrum of water ice. So there is definitely water ice on the surface of Titan. But they also say it looks unlike anything they've seen before. They have a library of spectral signatures of different molecules, different elements. So, they are busy interpreting it, but we think it's consistent with a layer of complex hydrocarbons. That remains to be confirmed, but that would kind of fit in the picture overall of hydrocarbons falling out of the atmosphere of Titan, perhaps collecting on the mountains all over the surface of Titan.
There is also new evidence for weather on Titan. We saw the spin rate of the probe increase at various times during the descent which it would not have done unless there were updrafts in the atmosphere. Updrafts imply weather systems.
Methane Rain on Titan
So, the picture that is emerging is one of possible infrequent rainfall. Methane rain falls down on the surface, washes these hydrocarbons which are constantly falling out of the atmosphere down into the lower regions. That's why we see this stuff collecting in the stream beds and river beds. Some of it gets washed out into the lowest regions and those are the areas that look like big, dark lakes. We now think we landed in one of those lakes and it's actually not liquid. But there is evidence from another experiment from the surface science package that the lake really consists of an area a couple of inches of hard material. Underneath that, it's much softer and much squishier and circumstantial evidence for liquid underneath the surface.
IS THAT WHY ONE OF THE SCIENTISTS COMPARED IT TO A CREME BRULEE THAT WOULD HAVE A HARD SUGAR CRUST AND VERY SOFT UNDERNEATH?
That's exactly right. That's right. It certainly made the news, that analogy certainly made the news.
WELL, IT SEEMS LIKE A GOOD ONE. I'M CURIOUS IN THIS NEW DATA ANALYSIS WHERE THEY ARE SAYING THEY'VE NEVER SEEN ANYTHING LIKE THIS BEFORE, CAN YOU ELABORATE ON THAT A LITTLE BIT MORE ABOUT WHAT IS SO UNUSUAL?
We have these colleagues in France and what they do is make surfaces at very low temperatures, Titan-like temperatures. They take spectra of those surfaces in the laboratory. But usually, they make spectra with just one molecule involved. They'll freeze some methane and make a spectra of that. Or freeze some ethane and there are signatures in those spectra which we don't see. So, we are thinking that because we don't see these specific signatures, maybe we are seeing a combination of many different types of hydrocarbons.
Orange "Smog" of Titan Added to Water Makes Amino Acids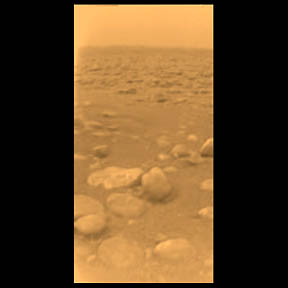 The atmosphere of Titan is orange because of aerosols, almost smog-like particles that form because of the interaction of methane ­ which is unique on Titan compared to any moon in the solar system. There is no other moon in our solar system that has an atmosphere like Titan does. This methane is hit by sunlight where it's broken apart and then it recombines with other pieces of methane atoms and forms a substance which Carl Sagan called 20 years ago 'tholins.'
[Editor's Note: Many experiments have been carried out in order to mimic the chemistry of Titan's atmosphere, most notably the aerosols analogs named "tholins" by Carl Sagan's group. It seems that tholins could be involved in the origin of life. Indeed, hydrolysis of these Titan aerosol analogs gives rise to the formation of amino acids, the precursors of life.]
In fact, Carl took some methane, put it in a tube and put sunlight on it for a long time and lo' and behold, it started making this orange material. So, it's basically made of hydrocarbons and nitriles. Some examples of nitriles are methyl cyanide, ethyl cyanide, propyl cyanide and isopropyl cyanide.
[Editor's Note: Nitriles contain a carbon – nitrogen triple bond (R-CºN or R-CN). They are indirectly related to amides (by the loss of H2O from a primary amide), and react similar to carboxylic acids and their derivatives.
They are two different chemical species. They include things like benzene. There are many other species. Some of them are quite interesting because they are thought to be pre-biotic molecules. You can actually take some of this "tholen" material that Carl Sagan made, drop it in water, and lo and behold, after a short time, you get amino acids which are sort of precursors to life.
Could There Be Life on Titan?
DOES THAT MEAN THAT ON TITAN RIGHT NOW THAT THE PRECURSORS ARE THERE? OR THAT LIFE OF SOME SORT COULD BE THERE?
It's really very cold on Titan. It's a couple of hundred degrees below zero. It's probably too cold for life to really live. So, we talk about Titan as kind of an Earth-like place that got frozen in time. I don't think there is life there now, but there are clues perhaps to how life formed on the Earth. We also have some evidence that we might be seeing ground fog. This is pretty much speculation at this point.
YOU'RE SAYING GROUND FOG?
Yeah, ground fog and it would be methane condensed into a cloud that is kind of hanging around the surface. So, there is this picture emerging of methane gas perhaps leaking out of the surface of Titan.
WHY WOULD THERE BE SO MUCH METHANE ON THIS MOON?
It's a bit of a mystery. Titan is unlike any other moon in the solar system. It doesn't have enough gravity to hold an atmosphere. Yet, it has one. That means there has to be a reservoir, probably of methane and nitrogen, underneath the surface. We don't know right now why that is. What makes it unique?
SINCE ON THE EARTH WE HAVE FOUND LIFE AT THE REALLY FAR EXTREMES OF TEMPERATURE, BOTH IN THE VERY COLD AND VERY HOT, IS IT POSSIBLE THERE ARE SOME KIND OF LIFE FORMS EVEN THOUGH THIS IS A COLD MOON WITH A LOT OF METHANE IN IT?
It would be tough. There is virtually no free oxygen. There is a lot of water there that's really frozen hard. Underneath the surface, it gets warmer and it's possible that something is happening there. But I would say on the surface, it's unlikely that it's ever warm enough for the chemistry of life to get going.
AND SO IN A WAY, YOU'RE SAYING THIS IS LIKE A FREEZE-DRIED PLACE, MAYBE SIMILAR TO THE BEGINNING OF OUR EARTH WHERE IF IT DID HAVE WARMTH, IT HAS ALL THE INGREDIENTS TO MAKE AMINO ACIDS AND LIFE?
I think so, yeah. The Earth once did not have free oxygen, or at least not much free oxygen in the atmosphere. When life started ­ or the precursors to life started ­ photosynthesis started up and that started to produce oxygen. That's basically why we have an oxygen-rich atmosphere today.
Methane Drainage Channels and Seas
WHAT IS THE ONE THING THAT HAS SURPRISED YOU THE MOST?
I think the biggest thing are the drainage channels. We really did not expect to see things that looked like stream beds, river beds. Titan looks completely unlike any other moon in the solar system. It looks a whole lot like the Earth. There is apparently some kind of liquid that is either flowing now or flows occasionally or flowed in the past. That's not present on any other moon in the solar system. In fact, no other moon has an atmosphere. Titan is just a very unique place in our solar system.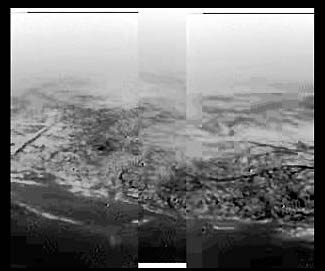 WHAT DO WE KNOW ABOUT LIQUID METHANE?
Liquid methane ­ it freezes a little bit below the 93 degrees Kelvin. In fact, there is a place in the atmosphere (of Titan) where the temperature gets to about 70 degrees Kelvin and it's possible ­ in fact, may be likely ­ that methane is freezing out into cloud particles, or at least forming into liquid cloud particles somewhere around 18 to 20 kilometers above the surface.
We started taking pictures looking downward trying to see the surface from an altitude of about 148 kilometers. For a long time, we saw nothing. Finally, we got down to about 17 kilometers, and all of a sudden, everything cleared up and there was the surface. So we fell out of the haze, we fell out of any cloud that was there, and got to see the surface. Thank goodness!
We're not exactly sure where the methane is coming from. It seems to be kind of seeping out of the ground. It would then go up in the atmosphere. Perhaps it would get cold enough to form droplets, some of which would rain back on Titan, some of which would remain suspended around this 18-20 kilometers altitude. Above that, we have the photochemical haze, the hydrocarbons and nitrile haze.
THE RAIN- WHAT WOULD A METHANE RAIN BE LIKE?
Certainly very cold. One interesting thing about methane rain is it doesn't really require the formation of a cloud. I believe the droplets can form so fast that basically even without a cloud of methane, you can get methane falling from the sky. It would be kind of an odd thing on Earth if we saw rain and there were no clouds in the sky.
What Keeps Titan's Flammable Surface From Catching Fire?
IF SOMETHING FIERY FROM OUTER SPACE CAME AND HIT TITAN WITH ALL OF THE METHANE AND OTHER HYDROCARBONS, COULD IT CATCH FIRE?
Yes. We could get a big meteorite impact, hits the surface of Titan, melts the ice, makes liquid water, combines with the hydrocarbons. Maybe there are some amino acids on the surface of Titan, but after a relatively short time I think it would get very cold again and everything freezes up.
COULD THE WHOLE METHANE-SATURATED MOON TURN INTO A FIERY SURFACE?
Well, there is no free oxygen. For combustion to occur, there has to be free oxygen. There is oxygen tied up as part of water, H2O. But for just O2, oxygen, it's essentially not on Titan.
SO, TITAN SITS OUT THERE A WONDERFUL ENERGY DEPOSIT TO BE USED FOR WHO KNOWS WHAT AS WE MOVE OUT INTO THE SOLAR SYSTEM?
Yes. Certainly there is plenty of methane on Titan. But the gas giant planets ­ Jupiter, Saturn, Neptune ­ have much more methane in them. If we could find a way to tap that, we could burn methane. I guess one thing your question is leading to is if we landed on Titan, could we use methane as an energy source. And if we brought some oxygen, we certainly could."
---
More Information:
European Space Agency scientists celebrated ton January 14, 2005, after the first raw images of the Cassini/Huygen space probe sent back the first images of Saturn's moon, Titan, which has been shrouded by thick atmosphere until now.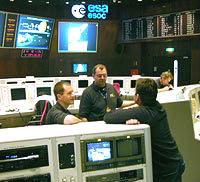 Huygens at Titan 3 – 16.2 Kilometers Above Titan's Surface January 14, 2005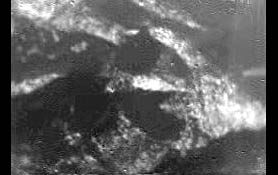 Raw image returned at 16.2 kilometers from Titan's surface, with a resolution of approximately 40 meters per pixel. ESA said, "It apparently shows short, stubby drainage channels leading to a shoreline." It was taken with the Descent Imager/Spectral Radiometer, one of two NASA instruments on the probe.
The Cassini-Huygens mission is a cooperative project of NASA, the European Space Agency and the Italian Space Agency. The Jet Propulsion Laboratory, a division of the California Institute of Technology in Pasadena, manages the Cassini-Huygens mission for NASA's Science Mission Directorate, Washington, D.C. The Cassini orbiter and its two onboard cameras were designed, developed and assembled at JPL. The Descent Imager/Spectral team is based at the University of Arizona, Tucson, Arizona.
Huygens at Titan 2 – 8 Kilometers Above Titan's Surface. January 14, 2005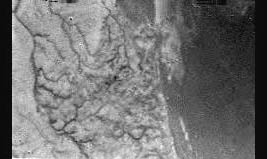 Raw image returned by the European Space Agency's Huygens probe at 8 kilometers from Titan's surface, with a resolution of 20 meters per pixel. ESA said, "It shows what could be the landing site, with shorelines and boundaries between raised ground and flooded plains." It was taken with the Descent Imager/Spectral Radiometer, one of two NASA instruments on the probe.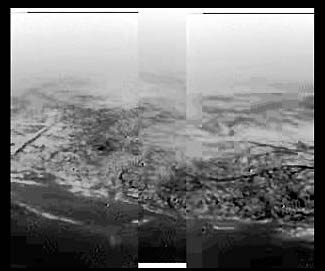 Huygens at Titan 1 – On Titan's Icy Surface January 14, 2005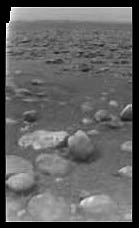 ESA reports: "This raw image was returned by the Descent Imager/Spectral Radiometer camera onboard the European Space Agency's Huygens probe after the probe descended through the atmosphere of Titan. It shows the surface of Titan with ice blocks strewn around. The size and distance of the blocks will be determined when the image is properly processed."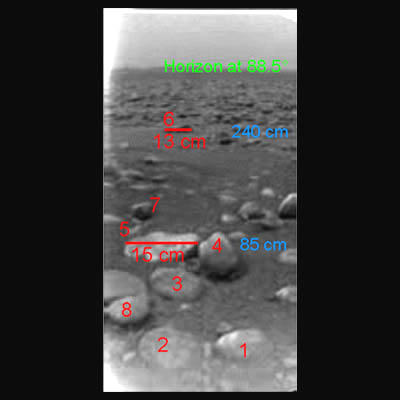 ---
Websites:
http://www.esa.int/esaCP/index.html

© 1998 - 2019 by Linda Moulton Howe.
All Rights Reserved.