"In the early part of the record around 1958 on, the average annual rate of carbon dioxide growth was something like 0.7 parts per million (ppm) per year, whereas in the past five or six years, the average rate of growth has been more like 1.8 ppm per year ­ two and a half times faster. And up to 2.54 ppm in 2002-2003."
– Pieter Tans, Ph.D., NOAA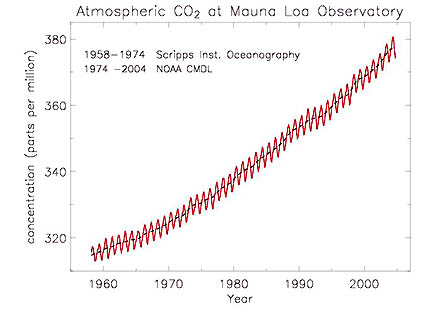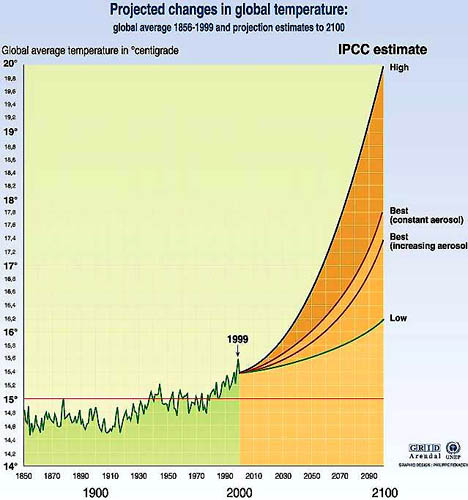 February 3, 2005  Washington, D. C. – While the world has a new consciousness about the danger of tsunamis in the oceans and the need for better warning systems, above us in the atmosphere, another danger increases and warnings grow more loudly than ever. That danger is the ever-increasing amount of carbon dioxide and other greenhouse gases surrounding our planet and making it warmer. Yet, the warnings seem to be ignored by the United States, Australia, China, India and Brazil.
In the last week of January, scientists at Oxford University in England announced that their climate modeling experiment indicates that greenhouse gas emissions could cause global temperatures to rise by as much as 11 degrees Celsius ( 20 degrees Fahrenheit ) by the end of this century. That would double previous computer model estimates about temperature rise as atmospheric CO2 increases. The Oxford University experiment uses Climateprediction.net, which was launched in 2003 to utilize as many individual PC computers as possible around the world to increase analysis power to crunch all the satellite and other data.
Dr. Myles Allen in Britain's Meteorological Office said about the latest Climateprediction.net analysis, "The danger zone is not something we are going to reach in the middle of this century. We are in it now."
This U.K. warning came just before the Kyoto Protocol to the United Nations Framework Convention on Climate Change is supposed to go into effect on February 16, 2005. The treaty needed ratification by 55 industrialized countries, but five of the biggest polluters and potential polluters – the United States, Australia, China, India and Brazil ­ have refused to sign. Finally on October 22, 2004, Russian President Vladimir Putin signed up as the 55th industrialized nation. According to the treaty, ratifying nations are supposed to start limiting greenhouse gas emissions in 2008.
But the United States accounts for nearly 40% of the world's carbon dioxide emissions. If it does not lead the effort to reduce industrial and automobile carbon dioxide emissions, what practical hope is there that global warming can be slowed?
This week, that question provoked the U.K.'s Environmental Minister to ask the United States to join Great Britain in trying to limit CO2 emissions. At the same time this week, three think tank institutes released yet another proposal to the United States, Australia, China, India and Brazil. This new "Recommendations of the International Climate Change Taskforce" has been lead by British Member of Parliament, Stephen Byers, the U.K.'s Institute for Public Policy Research, and England's Prime Minister Tony Blair. Contributing to the taskforce recommendations is the Australian Institute; and Center for American Progress in Washington, D.C. The Center has existed for only about eighteen months. Its president and CEO is John Podesta, former Chief of Staff for the Bill Clinton administration.
Mr. Podesta has apparently reached out to Maine's U.S. Senator, Olympia Snow, to ask her to personally brief the White House on the Climate Change Taskforce's goal: "to prevent global average temperature from rising more than 2 degrees Celsius (3.6 degrees Fahrenheit) above the pre-industrial level."
Three Technology Changes Could Slow Down CO2 Emissions
The Climate Change Taskforce recommends three technological changes that could be adopted by all industrial nations to start slowing CO2 build-up. Those three are:
1) Getting the world to use more efficient cars, trucks and planes.
2) Subsidizing farmers to grow more "bio-fuel energy production crops" such as canola, also known as oilseed rape. Canola oil can be transformed into gas for vehicles.
3) Building more IGCC coal plants, ("integrated gasification combined cycles"). Those have the best chance to capture carbon dioxide and other greenhouse gases so the gases are not released to the atmosphere.
These and a longer list of CO2 restriction measures (See More Information below) will be presented by Tony Blair in June when England hosts the G8 conference. But none of it means anything if the United States does not aggressively work at reducing greenhouse emissions. This week I asked Ana Unruh Cohen, Associate Director for Environmental Policy at John Podesta's newly formed Center for American Progress, how the Taskforce planned to approach the Bush Administration.
---
Interview:
Ana Unruh Cohen, Ph.D., Associate Director for Environmental Policy, Center for American Progress, Washington, D. C.: "We felt that politically the Bush Administration might feel more comfortable working within the auspices of the G8 and so the idea is to form a small working group of the G8 countries, the major economies of the world, and invite in to work on this climate group India, China, Brazil and possibly some other developing world economies.
HAVE YOU GOTTEN ANY SIGNAL FROM THE BUSH ADMINISTRATION THAT THEY WOULD BE WILLING TO TRY TO JOIN IN THIS EFFORT TO LIMIT CO2?
The Bush Administration has not made any comments as far as I know about the report. We think some of the technology partnerships they might be interested in. They've obviously been supportive of clean coal research and development here in the U. S.
I'm sure Tony Blair as he prepares for the G8 which is going to happen this June and early July in Scotland will be talking with the Bush Admin. to help lay the groundwork for some of these recommendations to possibly be undertaken at the G8.
DOES AMERICAN PROGRESS SUBMIT THIS 'MEETING THE CLIMATE CHALLENGE' RECOMMENDATION LIST TO ANY PARTICULAR PERSON IN THE ADMINISTRATION?
I believe Sen. Snow has plans to brief the White House on the recommendations. We've also, in conjunction with Sen. Snow's office, sent the report and recommendations to the Senate and House of Representatives. Some of the recommendations are already ­ legislation exists which could implement some of the recommendations. So we hope the report will help facilitate that.
In areas where there is not current legislation along the same line, hopefully we might inspire senators and members of Congress to take up that challenge.
Is It Too Late For CO2 Cutback to Slow Global Warming?
WHAT IF IT IS TOO LATE? WHAT IF THE CO2 BUILD UP IS SLIGHTLY OUT OF CONTROL AND WILL GET WORSE?
I think the task force members already recognize that we are already seeing impacts of climate change. They felt in setting the 2 degrees Celsius target that above that the impacts could become significantly more serious and the risk of abrupt climate change increases.
So, I think they were trying to stay positive. I think the over arching message of the report is that climate change is a serious issue. We need to take action now. But there are actions we can take that will address the problem and are economically viable.
WELL, WE'RE AT 380 PPM PER VOLUME CO2 IN THE EARTH'S ATMOSPHERE RIGHT NOW.
That's right.
AND IT IS EXPECTED TO KEEP INCREASING ­ IN FACT, THERE IS EVIDENCE THAT IT HAS BEEN EXPONENTIALLY INCREASING, OR ON A TREND TO EXPONENTIAL INCREASE. THAT MEANS IN THE NEXT 20 YEARS, THERE IS A DISTINCT POSSIBILITY THAT THE CO2 COULD INTERACT WITH THE EARTH'S CLIMATE IN A WAY THAT COULD TRIGGER ABRUPT CLIMATE CHANGE ­ EITHER TOWARD GLACIATING OR SOMETHING ELSE.
There is a real possibility that we can limit the human contribution to greenhouse gases in the atmosphere and we'll have to keep our fingers crossed that we haven't done too little too late. But I think that inaction is not an option, even in the face of uncertainties about what we've already put into the atmosphere.
WHICH COMES BACK FULL CIRCLE ABOUT WHY THE UNITED STATES IS NOT LEADING IN THE EFFORT TO TRY TO CONTROL AND REDUCE CO2 EMISSIONS?
Yeah ­ ideally, America would be leading the charge. The fact of the matter is that we aren't. I think opinions are changing in America. I think people are realizing it is a serious problem that will have definite impacts in America, if we're not having them already. I mean, the severe droughts in the West; breaking the tornado record in 2004; having four hurricanes hit Florida in the space of 6 weeks; all of these things are making your average American think about the impact of climate change. Maybe they will come around to the idea that we do have some influence on the planet and we should be taking precautions."
Large Companies Already Saving Money By Cutting Back CO2
After February 16 when the Kyoto Protocol goes into effect ­ even without the United States, Australia, China, India and Brazil ­ American companies that have international subsidiaries will be under pressure to reduce greenhouse emissions. Already major companies such as British Petroleum, Alcoa, and 3M have begun reducing CO 2 from their industries. What they found was that the new efficiency saved them money. The Climate Change Taskforce hopes more profits from reducing greenhouse pollution will lead to a global political movement that might change the planet's warming, stormy future.
1000 Years of Atmospheric Carbon Dioxide History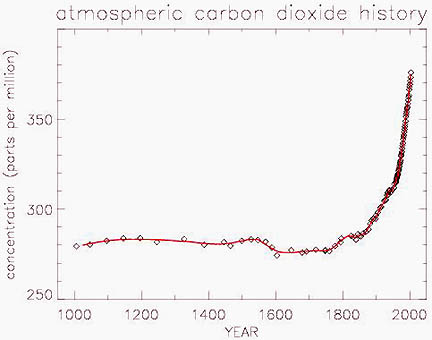 ---
More Information:
Center for American Progress Summary 
"January 25, 2005
Meeting the Climate Challenge
Recommendations of the International Climate Change Taskforce
There can be few greater challenges in the twenty-first century than addressing the threat of climate change. Left unmitigated, the impacts are expected to be devastating. Urgent action is needed. As a global problem, it requires global solutions. In this report, a high level taskforce, brought together from across the globe by three of the world's leading think tanks, set out their conclusions on how to move forward. The recommendations of the International Climate Change Taskforce are a blueprint for action and offer a strong foundation for meeting the climate challenge.
1.
A long-term objective be established to prevent global average temperature from rising more than 2°C (3.6°F) above the pre-industrial level, to limit the extent and magnitude of climate-change impacts.
2.
A global framework be adopted that builds on the UNFCCC and the Kyoto Protocol, and enables all countries to be part of concerted action on climate change at the global level in the post-2012 period, on the basis of equity and common but differentiated responsibilities.
3.
G8 governments establish national renewable portfolio standards to generate at least 25% of electricity from renewable energy sources by 2025, with higher targets needed for some G8 governments.
4.
G8 governments increase their spending on research, development, and demonstration of advanced technologies for energy-efficient and low- and zero-carbon energy supply by two-fold or more by 2010, at the same time as adopting near-term strategies for the large-scale deployment of existing low- and no-carbon technologies.
5.
The G8 and other major economies, including from the developing world, form a G8+ Climate Group, to pursue technology agreements and related initiatives that will lead to large emissions reductions.
6.
The G8+ Climate Group agree to shift their agricultural subsidies from food crops to biofuels, especially those derived from cellulosic materials, while implementing appropriate safeguards to ensure sustainable farming methods are encouraged, culturally and ecologically sensitive land preserved, and biodiversity protected.
7.
All developed countries introduce national mandatory cap-and-trade systems for carbon emissions, and construct them to allow for their future integration into a single global market.
8.
Governments remove barriers to and increase investment in renewable energy and energy efficient technologies and practices through such measures as the phase-out of fossil fuel subsidies and requiring Export Credit Agencies and Multilateral Development Banks to adopt minimum efficiency or carbon intensity standards for projects they support.
9.
Developed countries honour existing commitments to provide greater financial and technical assistance to help vulnerable countries adapt to climate change, including the commitments made at the seventh conference of the parties to the UNFCCC in 2001, and pursue the establishment of an international compensation fund to support disaster mitigation and preparedness.
10.
Governments committed to action on climate change raise public awareness of the problem and build public support for climate policies by pledging to provide substantial long-term investment in effective climate communication activities."
 Previous Earthfiles.com Reports About Global Warming (See Archive):
12/31/2004 —  Abrupt Climate Change Occurred Worldwide 5,200 Years Ago

11/02/2004 —  North Pole Summers Without Ice?

10/15/2004 —  Ever-Increasing Carbon Dioxide Build-Up in Atmosphere Since 1958

10/13/2004 —  Rapid Increase of Greenhouse Carbon Dioxide in 2002-2003
08/27/2004 —  Global Warming Impact On Birds – More Extinctions Expected

08/14/2004 —  Oceans Are Absorbing A Lot of CO2. As Chemistry Changes, What Happens to Sea Life?

02/27/2004 —  Abrupt Climate Change: Scenario from A Pentagon-Commissioned Report

05/30/2003 —  Scientists Surprised by Common House Fly Fossils in Antarctica

12/14/2002 —  Arctic Rivers' Fresh Water Flows Could Change Atlantic Ocean Current

10/21/2002 —  Mt. Kilimanjaro's Ice Cap Is Melting Fast

06/04/2002 —  EPA Admits Humans Burning Fossil Fuels A Big Factor in Global Warming

02/13/2002 —  January 2002 Warmest On Record For Whole World

01/05/2002 —  Global Warming Update – Could Increasing CO2 Gas Be Transformed Into Limestone?

12/22/2001 —  Scientists Warn That Climate and Earth Life Can Change Rapidly

04/18/2001 —  April Environmental Updates

03/21/2001 —  Earth Hasn't Been This Warm Since the Pliocene 3 Million Years Ago

03/04/2001 —  Disappearing Glaciers – Evidence of A Rapidly Warming Earth

02/18/2001 —  Environmental Updates and Mysterious Deaths of 2000 Atlantic Brant Geese

01/07/2001 —  Dinosaur-Killing Asteroid Punched 22 Miles Through Earth's Entire Crust

01/13/2000 —  Computer Projections About Earth Weather 2000-2100

01/24/1999 —  Nuclear Sabotage in Maryland; Bull Mutilation in Colorado; and Global Warming
---
Websites:
Oxford University's Experiment: http://www.climateprediction.net/
Center for American Progress: http://www.americanprogress.org/site/pp.asp?c=biJRJ8OVF&b=306503
Australia Institute: http://www.tai.org.au/
Kyoto Protocol United Nations Framework Convention on Climate Change
Intergovernmental Panel on Climate Change (IPCC) http://www.ipcc.ch
National Oceanic and Atmospheric Administration (NOAA)
http://www.ncdc.noaa.gov/oa/climate/globalwarming.html
NOAA Paleoclimatology http://www.ncdc.noaa.gov/paleo/paleo.html
NOAA Mauna Loa Observatory, Hawaii
U.S. Global Change Research Program http://www.usgcrp.gov
U. S. Environmental Protection Agency http://yosemite.epa.gov/oar/globalwarming.nsf/content/index.html
Pew Center on Global Climate Change http://www.pewclimate.org
Antarctica http://www.wbur.org/special/antarctica/photogallery/multimedia.asp
National Snow and Ice Data Center http://nsidc.org/index.html
NIAR Norwegian Institute for Air Research



© 1998 - 2023 by Linda Moulton Howe.
All Rights Reserved.