"On January 27th, seismometers around the world were recording a quake every 20 minutes. … I don't think we have ever seen this many magnitude 5 earthquakes concentrated in one location on the surface of the Earth, at least not in modern times." ­
Goran Ekstrom, Harvard Geophysicist
February 4, 2005  Cambridge, Massachusetts – Intense swarms of earthquakes, generally between 5 and 6 on the Richter Scale, began shaking the Nicobar and Andaman Islands north of Sumatra on January 26th. The next day, January 27th, seismometers around the world were recording an earthquake every 20 minutes. Indian Ocean residents and geophysicists began to wonder if it all was leading up to another large seismic event ­ even if the quakes were aftershocks of the huge 9.0 that occurred off the coast of Banda Aceh, Sumatra in Indonesia, on the morning of December 26, 2004.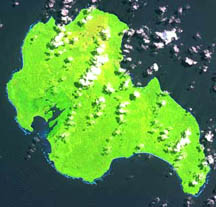 Also in late January, half way around the world on Ecuador's Pacific coast, dozens of earthquakes also in magnitudes of 5 to 6, were scaring residents. Ecuador's Director of the Geophysics Institute announced he did not think all the quakes were building up to a monster that could cause a devastating tsunami as had happened in the Indian Ocean. But there were no guarantees.
So I went to two of the world's leading seismic authorities to ask about the quake swarms in the Nicobar and Andaman Islands and the simultaneous quake activity in Ecuador. I was surprised to learn there actually might be a connection.
First, about the late January seismic swarm in Indonesia, I talked this week with Goran Ekstrom, Ph.D., Professor of Geology and Geophysics at the Department of Earth and Planetary Sciences in Harvard University, Cambridge, Massachusetts.
---
Interviews:
Goran Ekstrom, Ph.D., Professor of Geology and Geophysics, Department of Earth and Planetary Sciences, Harvard University, Cambridge, Massachusetts: "The swarm that we're seeing just east of Nicobar Islands is extremely unusual. It started on January 26, and since that time as you mentioned, we've had approximately 150 magnitude 5 earthquakes. There are many more than are actually on the USGS web page that they are trying to locate right now. It is occurring to the east of the very large December 26, 2004 earthquake. They could be labeled 'aftershocks.' They are certainly related to that very large earthquake. But the activity is very much focused a few hundred kilometers east of where the December 26 earthquake occurred.
This is a very complicated area geologically and there are many faults to the east of the Nicobar and Andaman Islands further north that generate earthquakes occasionally ­ not very large earthquakes. So, there would be a few every year of this size, even if there had not been a large earthquake.
MEANING SOMEWHERE AROUND 5 TO 6 ON THE RICHTER SCALE?
That's right. So, even though it's a very unusual phenomenon. I don't think we have ever seen this many magnitude 5 earthquakes concentrated in one location on the surface of the Earth, at least not in modern times.
The swarm really peaked on January 27. Started on Jan. 26th and on Jan. 27th, we had I think 50 earthquakes. It must have been ­ if anyone felt these, it's a bit out in the ocean, so I'm not sure that they were felt by people on the Nicobar Islands which are very remote islands. They basically had a magnitude 5 earthquake every 20 minutes for the whole day. Then on January 28, we had about 30 earthquakes of this size. since that time, it has declined.
And the reason for these quakes happening in such a concentrated fashion is that the area has been affected by the extremely large earthquake in December ­ meaning that things have moved and all of these blocks of rock and crust in this area is responding to this very large earthquake by moving a little bit faster and releasing the stresses building up in the rock a little bit faster than normal.
COULD IT LEAD TO ANOTHER LARGE EARTHQUAKE AND LARGE TSUNAMI IN THE REGION?
In order for there to be a tsunami that goes out into the ocean and causes destruction far away from where the earthquake occurred, generally we need there has to be a very large earthquake ­ maybe bigger than 8.5, maybe magnitude 9.0. Smaller earthquakes can cause what we call 'local tsunamis' ­ that is very close to the earthquake, you can have massive water waves affecting the local region which has happened in the past. I can think of places like in Nicaragua ­ we had one 10 years ago. We've had some in New Guinea. These cause local waves, but the earthquakes are not large enough to create the very massive tsunami waves that were generated by the Dec. 26th earthquake."
7.0 Earthquake in Nicaragua Generated
Locally Destructive Tsunami on September 1, 1992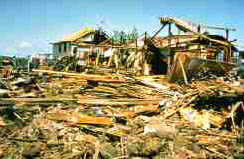 The Antipode Theory
But the December 26, 2004, earthquake that measured a magnitude 9.0 on the Richter scale off the Banda Aceh, Sumatra, coast was so big it might have set in motion what geophysicists refer to as a theoretical "antipode effect." Antipode means any two places on the Earth that are directly opposite each other.
So, it is not surprising to seismologist John Derr, Ph.D., that the Nicobar and Andaman Islands in the Indian Ocean are precisely 180 degrees opposite Ecuador in South America. Dr. Derr is a research geophysicist at the U. S. Geological Survey's Global Seismological Observatories and the Albuquerque Seismological Laboratory in Albuquerque, New Mexico. When I asked him if there could be any connection between the Nicobar and Andaman Islands intense seismic swarm and the earthquakes in Ecuador, I was surprised to hear about the antipode theory.
John Derr, Ph.D., Geophysicist, Albuquerque Seismological Laboratory and Global Seismological Observatories, U. S. Geological Survey, Albuquerque, New Mexico: "It's very clear that this swarm has been triggered by the main earthquake and it looks to me as if we have a major stress-relieving process going on on this strike slip fault.
Half a world away in Ecuador, we have something that I'm speculating is going to be very interesting and something that should be looked at very closely. Because Ecuador is precisely at the antipode for these earthquakes ­ that is precisely half way around the world. The body waves that go deep into the Earth are going to go straight through the middle of the center of the core on their way to the antipode. But the surface waves radiate out from the epicenter and converge at the antipode. And it's entirely conceivable that that might trigger some sort of motion on the faults under Ecuador.
Now, the earthquake activity that's happening in Ecuador is off the coast, but the subduction zone dips steeply under Ecuador and actually as far east as western Brazil. So, there are places on that fault zone that are at the antipode from these earthquakes happening in Indonesia (Andaman and Nicobar Islands, India) ­ precisely at the antipode.
IS IT POSSIBLE THAT ECUADOR COULD BE SHAKEN UP ENOUGH FOR A LARGE EARTHQUAKE TO OCCUR AND CAUSE A TSUNAMI IN THAT REGION?
I don't think the earthquake risk is measurably greater than it was 3 or 6 months ago. But that is not to say that the risk is not there. In fact, the risk from tsunamis all along the west coast of South America is very, very great. We know from past history, there have been devastating tsunamis in various sections of that coastline when the subduction zone breaks.
People need to take precautions. The first thing people need to learn is if you see the sea receding, don't run out to grab a fish. Run for high ground! You may have ten or fifteen minutes, if you are lucky, to get to high ground before the sea comes back with a vengeance. That's the first thing to teach people to mitigate loss of life.
The next thing is to try to get these fishing villages to move to higher ground, if it's at all possible. Everything built along the beach is subject to being washed away. In fact, it WILL be washed away. We just don't know when.
THAT LEADS TO THE WORK YOU ARE DOING NOW IN TERMS OF INCREASING THE GLOBAL SEISMIC NETWORKING AS WELL AS WHAT IS GOING ON IN THE UNITED STATES. COULD YOU EXPLAIN YOUR CURRENT WORK?
Here at the Albuquerque Seismological Laboratory U. S. Geological Survey, we install and maintain a global network of seismograph stations in cooperation with the Univ. of California-San Diego. Our two institutions work under the umbrella of the IRIS consortium ­ IRIS being an acronym for Incorporated Research Institutions for Seismology. It's a university consortium that is funded primarily by the National Science Foundation to establish these state-of-the-art observatories all over the world, trying to get them about 2000 kilometers apart.
There are plenty of areas in the oceans where there is no land to do that. The IRIS is beginning to look at ocean bottom seismographs to try to cover those areas. But at the moment, we're looking at a network of perhaps 150 stations around the world at that density to send data in real time back to the National Earthquake Information Center in Golden, Colorado.
The nature of digital transmission over the internet is such that it is not just Golden that gets it in real time. We see it here and we look at the data and do quality control on these stations and try to keep them operating just as efficiently and competently as possible.
WHY IN THIS INDONESIAN EVENT, WHY DID IT TAKE SO LONG FOR THERE TO BE ANY KIND OF WARNING? IN FACT, THE TSUNAMIS HITTING THE BEACHES IS WHAT ALERTED THE WORLD THAT SOMETHING MAJOR WAS OCCURRING.
There are fundamental problems. If you have an alarm on your seismograph that triggers with the first arrivals; it's the middle of the night and you're living next to the instruments, the alarm rings, you jump out of bed, you run to the instruments, the computer has located something by that time and you trigger a watch for a tsunami. That takes minutes and under the best of circumstances, maybe you have 15 minutes. By that time, the first wave has hit the beach closest to the epicenter. A little bit farther away, you have time to get some warning out. But since you don't know how close to the epicenter any particular section of the beach is going to be, everyone needs to learn what to do. If you're on the beach and you feel strong shaking and it lasts for more than 30 seconds, don't worry about looking at the ocean to see what it's going to do. Head for high ground!
RIGHT, AND IS IT TRUE THAT BECAUSE IT WAS CHRISTMAS NIGHT OF DECEMBER 25 IN NORTH AMERICA AND OTHER PARTS OF THE PLANET IN VARIOUS TIME ZONES BUT STILL CHRISTMAS THAT NO ONE WAS PAYING MUCH ATTENTION OR GOT WARNINGS OUT?
In fact, the folks in Honolulu at the Pacific Tsunami Warning Center live pretty close to the beach.
DID THEY TRY TO WARN INDIA AND ALL?
They did. They saw it was a very big earthquake. They saw it was not going to affect the Pacific basin with a tsunami that would be measurable enough to cause damage. They knew it was possible in the Indian Ocean. They knew that by the time they located the earthquake that things were going on the coast of Sumatra. But there is no mechanism at the moment for disseminating that kind of warning.
HOW LONG DO YOU THINK IT WOULD BE BEFORE SUCH A NETWORK IS WORKING IN THE INDIAN OCEAN AND THAT AREA?
As a rough guess, it could be anywhere from one to 3 or 4 years or longer, depending upon the priority that nations give to this thing."
NOAA Proposes Global Network of Deep Water Pressure Sensor Buoys
Currently, NOAA has proposed a network of tide deep water pressure sensor buoys to be distributed all around the Atlantic, Caribbean and Pacific coasts of the U. S. Dr. Derr said the government is concerned not only about earthquakes but the tsunamis that could be generated by asteroid impacts as well. If Congress funds the NOAA network, it could be in place as early as 2007.
---
More Information:
John Derr, Ph.D.: "Tide deep water type gauges: these are buoys that can be anchored in deep water up to 10,000 to 15,000 feet deep. They have pressure sensors on the bottom of the ocean which are so sensitive that they can tell if a tsunami is passing over them. When the buoys sense that, they send a signal by acoustic telemetry through the water to the buoy above them. That buoy then reads that signal and re-transmits it to a satellite and the satellite data then go back to the tsunami warning centers. Currently, there are only six of these buoys anchored off of Alaska and the west coast of the United States.
NOAA has proposed a network of these all around the Pacific Ocean and along the Atlantic and Caribbean coasts of the United States. These should also be installed around the Indian Ocean, we know now. For that matter, there ought to be some of these all over the world because tsunamis are not generated only by earthquakes. They can be generated by asteroid impacts as well. Asteroid impacts are no respecter of seismic reactive zones.
It's entirely possible the network could be distributed on or about 2007 if money is appropriated, and if there is a will to do it and if there is international cooperation. When you have a network of gauges around the world, it's like having a network of seismograph stations around the world. You need a number of field engineers who are maintaining them. That means regular preventative maintenance visits to every single site and on-call maintenance when something fails."
Richter Magnitude Range (USGS)
Richter Magnitudes
Earthquake Effects
Frequency of
Occurrence
Less than 2.0 ("Micro")
Not felt.
About 8,000 per day.
2.0-2.9 ("Very minor")
Usually not felt, but recorded.
About 1,000 per day.
3.0-3.9 ("Minor ")
 Often felt, but rarely damage.
Est. 49,000 per year.
4.0-4.9 ("Light")
Shaking; rattling noises; damage unlikely.
6,200 (estimated) per year. Events with magnitudes of about 4.5 or greater are strong enough to be recorded by seismographs all over the world.
5.0-5.9 ("Moderate")
Major damage to poorly constructed buildings.
800 per year.
At most, slight damage to well-designed buildings in local area.
6.0-6.9 ("Strong")
Can be destructive for 100 miles.
120 per year.
7.0-7.9 ("Major ")
Can cause serious damage over larger areas.
18 per year.
8.0-8.9 ("Great")
Serious damage for several hundred miles.
1 per year.
9.0 +     ("Rare Great")
Devastating locally and huge area of severe damage.
1 per 20 years.
Equivalent in energy release to 32 gigatons of TNT.
---
Websites:
USGS Worldwide Seismic Activity List : http://wwwneic.cr.usgs.gov/neis/bulletin
Harvard University Seismology: http://www.seismology.harvard.edu/Projects.html
U. S. Geological Survey: http://earthquake.usgs.gov/activity/world.html



© 1998 - 2019 by Linda Moulton Howe.
All Rights Reserved.