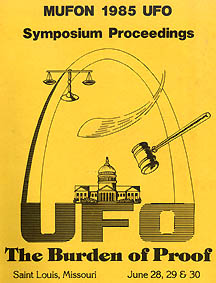 To be more computer-friendly, the reprint has been divided into parts. Here begins Part 1 of Status Report IV, written for the June 28-30, 1985, MUFON 1985 UFO Symposium Proceedings in conjunction with the national MUFON conference held in Saint Louis, Missouri. The series of status reports, I through VII, were written by Leonard H. Stringfield from 1978 to 1994. Previous Status Report V begins at Earthfiles 012805. Leonard Stringfield died on December 18, 1994.
"ABSTRACT
Leonard H. Stringfield: New testimonial evidence and a document are bared in Status Report IV, following the re-emergence in 1983 of the informant whose experience, as a witness, was first disclosed three years earlier and published as Case A3 in Status Report III, 1982. The source, a sergeant in the U. S. Air Force Security Police at McGuire AFB, adds substantive information relative to the reported fatal encounter on January 18, 1978, between an alleged alien entity and a Ft. Dix MP and relates his firsthand observation, while on duty, when the slain entity was found on an abandoned runway at McGuire AFB. The source also reveals his sensitive involvement with authorities in various agencies following his discharge from service because of his disclosures to this writer. Also reported are the communications with the source since 1980 and an arranged meeting between the source and a colleague to lend back-up credibility to the case. Investigation continues.
Click here to subscribe and get instant access to read this report.
Click here to check your existing subscription status.
Existing members, login below:

© 1998 - 2023 by Linda Moulton Howe.
All Rights Reserved.