"If even a very small fraction of the hundred billion stars in the galaxy are home to technological civilizations which colonize over interstellar distances, the entire galaxy could be completely colonized in a few million years. The absence of such extraterrestrial civilizations visiting Earth is the Fermi Paradox."
– Geoffrey Landis, Ph.D., Aerospace Engineer, NASA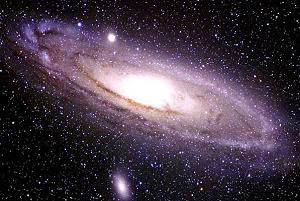 February 11, 2005  Corvallis, Oregon – If Someone Else is out there in the Milky Way galaxy, Andromeda galaxy or elsewhere in the vast cosmos, why aren't they more evident to Earthlings? That question is at the heart of the Fermi Paradox which four Ph.D. scientists recently addressed in the mainstream scientific Journal of the British Interplanetary Society. (JBIS, Vol. 58, pages 43-50.) To review entire paper, see Website below.
The four scientists are:
James Deardorff, Ph.D., Research Professor emeritus, retired in 1986 from the Department of Atmospheric Science at Oregon State University; also worked as senior scientist at the National Center for Atmospheric Research (NCAR) for sixteen years. Now Dr. Deardorff lives in Corvallis, Oregon;
Bernard Haisch, Ph.D., former Director of the California Institute for Physics and Astrophysics in Palo Alto, California;
Bruce S. Maccabee, Ph.D., Research Physicist, Naval Surface Warfare Center (NSWC), in Dahlgren, Virginia; author; and Fund for UFO Research;
Hal Puthoff, Ph.D., a pioneer in the physics of zero point energy research and Director of the Institute for Advanced Studies in Austin, Texas.
Their JBIS journal article is entitled "Inflation-Theory Implications for Extraterrestrial Visitation." Inflation Theory has replaced "Big Bang" as the latest general term for models of the very early universe which involve extremely rapid expansion from something perhaps the size of a grapefruit to the entire observable cosmos – in only the fraction of a second. Joining inflation is Quantum Super String Theory that postulates there are at least eleven dimensions.
Faster-Than-Light Travel?
In addition, modern quantum physicists seriously discuss faster-than-light travel that could use small black holes called "worm holes" to make short cuts through space-time, an idea illustrated in the January 2000 Scientific American article, "Negative Energy, Wormholes and Warp Drive" © 2000 by Lawrence H. Ford and Thomas A. Roman.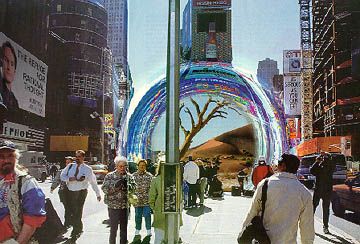 Another approach to faster-than-light travel would not move the traveler, but would stretch and bend space-time around the traveler. That is known as the "Alcubierre Warp Drive."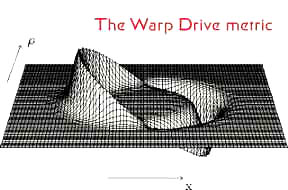 [Editor's Note: Edward Halerewicz, Jr. describes the warp drive: "In fact what Alcubierre is proposing is using a form of bipolar (or "dual") gravitational waves as a method of propulsion.  Gravitational waves in general relativity are planar and hence, each wave expands and contracts. However, the Alcubierre metric, in principle, suggests that such an effect could be bipolar, possibly explaining the necessity for a 'negative energy' requirement. (However, this is purely speculation on my part). What this metric truly suggests is that such a manipulation of space would cause spacetime to propel a localized region of space (referred to as a warp bubble) by expanding and contracting the metric field. Since gravitational radiation is believed to propagate at the speed of light, the propulsion of this space is similar in principle to how electric and magnetic fields cause electromagnetic radiation to propagate." See Alcubierre Warp Drive website below.]
If human physicists today are contemplating faster-than-light travel in our ever-inflating universe, why couldn't there be other, older intelligences out there which have already solved the problems of jumping around great distances in and around galaxies? Finally, could the UFO phenomenon be evidence of such advanced technologies visiting Earth?
The journal article begins with a discussion of what is called "the Fermi Paradox." This week I talked with meteorologist Jim Deardorff, who originally began the JBIS paper and asked the other three to join him in the goal of getting the taboo subject of researching extraterrestrial visitation published in a mainstream scientific journal. First, I asked Dr. Deardorff to explain the Fermi Paradox. (See More Information at end of this article.)
---
Interview:
James Deardorff, Ph.D., Research Professor Emeritus, retired Meteorologist from the National Center for Atmospheric Research (NCAR), Boulder, Colorado, who now lives, researches and writes in Corvallis, Oregon: "Enrico Fermi is a pretty well known physicist. He is no longer alive, but back in the 1940s, he was one of the first ­ about 1950 ­ the first to open up the idea of extraterrestrials perhaps being around in the galaxy. Over lunch one day at Los Alamos, he discussed with his colleagues this problem: since they (ETs) could be so far advanced over us, why don't we see them? Why aren't they around?
This made the topic a little more respectable for other scientists to start debating, which they did. Some papers came out talking about how it would take only a few million years if one extraterrestrial race were even only a few centuries ahead of us in their technology for them to start exploring from their planet and go to other stellar systems, even if they could only travel at 5 to 10 percent of the speed of light. Then when they found a habitable planet to colonize it, or to exploit it. After maybe giving them a thousand years or more to settle around on that planet, the idea is they would go out and explore the next star from them. And the idea is that eventually the whole galaxy should be colonized by the ETs who would not be all that far ahead of us. The whole process, they figured, would take only about 10 to 20 million years if you calculate that out.
HOW DID THE EMERGENCE OF THE INFLATION THEORY IN THE 1980S CHANGE OR IMPACT THE DISCUSSIONS THAT THE FERMI PARADOX HAD PROVOKED?
I think it was basically a more recent paper that came out just a year ago by Ken Olum of Tufts University in the Dept. of Astronomy. He's an astrophysicist. He suggested that Fermi's Paradox is stronger than you would think. The question that Fermi proposed – Why aren't they here? – is even worse now in modern physics for a galaxy, or universe, that underwent inflation – which most astrophysicists think our universe did in an early phase of terrific expansion that makes the universe almost infinite in size. There should be so many chances for ETs to be around that we should find ourselves immersed in galactic civilizations all over the place. So again: why aren't they around?
How The JBIS Paper Survived First Rejections
WHAT PROVOKED YOU AND BERNIE HAISCH AND BRUCE MACCABEE AND HAL PUTHOFF TO PRODUCE THAT VERY INTERESTING PAPER, "INFLATION-THEORY IMPLICATIONS FOR EXTRATERRESTRIAL VISITATION?"
That's a nice question because those, like myself, are scientists who have looked into the UFO phenomenon over the years. We realized how tough it is to get any good paper into scientific journals telling about what has really been going on with the UFO phenomenon into journals that mainstream scientists typically read. That's because most science journal editors have not been considering any received papers which involve the UFO topic even worthwhile to send out for review.
I felt that every few years – every 5, 10 or 20 years – we really ought to keep testing the journal editors and find maybe attitudes are changing a little bit. Maybe journal editors are now more reasonable or slightly more open-minded. So, we should not just give up because the curtain of ridicule against the UFO phenomenon has been so strong over the years.
So, we decided we would give it another try, even though all of the authors ­ including myself ­ realized we had scarcely any chance of getting the paper into the most prominent science journals. In the U. S., there is one called Science and in Britain, it's the one called Nature. We did indeed submit our paper to those two journals first, just to test them out, and they would not even send them out for review. If they had sent them out for review, it's quite likely they would have found some good reviewers. But in this business, everything depends on who the editor wants to send the paper out to for review. So, I think fear of ridicule is the big thing. We (four) want to help science overcome that so the subject can be discussed seriously in the scientific literature.
SO, WHAT HAPPENED? WHERE DID YOU GET PUBLISHED AND HOW DID THAT OCCUR?
Yeah, well, Hal Puthoff, one of the co-authors, has been publishing quite a few of his theoretical papers in physics in the last few years in this journal called the Journal of the British Interplanetary Society, JBIS. So, he suggested we try that journal next. So we did. I once published an article in it myself and knew they were more open-minded than some of the other journals. It has a small readership- it's the more narrow topic for people who are interested in space travel and what's the best way to do it. So, we gave that a try and we were fortunate that we had a responsible and rather open-minded editor at the journal who in fact encouraged us a bit to delve more into the Condon Report that came out around 1968 to 1969, which was sort of considered the last word by the scientific establishment on the UFO phenomenon. So, we went over that again. As you and many people know, that report did not reflect the true status of what even the scientists on that committee found.
Seems like Edward Condon, under the influence of one of his associates there, had decided, had his mind pretty well made up in advance, that they were not going to come out with anything seriously truthful about the UFO phenomenon. They did not want to receive ridicule by the scientific community. So, Condon wrote the summary of this great big, long report. It was a 6 or 8 page summary at the very front of the book. That's the main thing that the reporters read and they did not bother to read further into the report and study all the cases that the Condon Committee had considered. And the reporters did not learn that about one-third of the cases were cases that could not be dismissed as any known objects. That never came out in the report.
WHICH MEANT THAT FOR THE PUBLIC AND WHAT THE U.S. AIR FORCE WAS THAT THE CONDON REPORT, THE BLUE BOOK REPORT, WAS CLOSED AT THE END OF THE 1960S BECAUSE THERE WAS NOTHING TO THE UFO PHENOMENON ­ THAT ALL OF THAT WAS BASICALLY NOT TRUE BECAUSE EVEN THE CONDON REPORT WAS NOT HONEST.
Yeah. Actually he was somewhat in his summary. He was somewhat cautious. I think the main thing he said against it was that there was nothing that science could learn from studying UFO reports. That does not really say they are not real. It's a very strange attitude to have for a phenomenon that everyone who has had UFO sightings can see that these unknown vehicles that have been spotted in the skies every so often since World War II can perform maneuvers that science can't explain. So, we would hope that science could learn something from it.
Inferring An ET Strategy About Planet Earth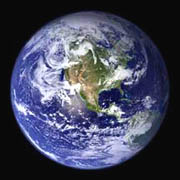 IN YOUR PAPER, IN SECTION 6., IT SAYS 'INFERRING AN ET STRATEGY.' COULD YOU EXPLAIN THAT MORE?
There have been quite a few papers in the past, scientific papers, inferring an ET strategy of 'Why don't we see them around?' in trying to explain Fermi's Paradox. So, we kind of built on that. In science you have to really ­ if you propose anything new, you have to first say, 'What's wrong with the accepted conclusions of the past? Then you go on to give your new proposals or theories.
There had been proposals that the solar system and Earth were a wildlife preserve or zoo for extraterrestrials to keep any bad ETs away from Earth so we can just evolve on our own. There have been other proposals in the scientific literature that ETs could be having a hands off attitude toward Earth because humans are not prepared for them. There is also the laboratory hypothesis that we're sort of a laboratory for ETs to observe us covertly without us knowing about it and they can see how we develop without having open interference by the ETs themselves. And there is the embargo theory that the ETs have hands off because it would be just too traumatic if the ETs were to suddenly have open contact with us. Governments would topple and the stock market would collapse.
So, earlier in a paper I mentioned how many of these theories lack one thing: if the ETs had a total hands off attitude towards Earth, then some day we would nevertheless run into them. Then the culture shock would be just as great as it would have been thirty years ago, so that you would still have governments collapsing and civilization might come to a halt. So, I proposed that there was a leak in the embargo against Earth and this leak takes various forms. But in this JBIS paper, I didn't talk about the UFO phenomenon itself being a 'leak in the embargo' because if I used the word 'UFO' I felt the paper would have been rejected, which probably would have been the case.
So, we go on here to say how it looks like they are remaining covert for the reason of not shocking society into any abrupt knowledge of their presence, but presenting themselves to selected witnesses here and there over a very long time scale, ever since World War II.
AND THAT WOULD EXPLAIN THE FERMI PARADOX QUESTION – IF THE UNIVERSE WAS FILLED WITH LIFE, WHY AREN'T THEY HERE?
Yes, exactly. There is no excuse for other scientists wondering why ETs aren't here not to include the UFO phenomenon in their analysis. We just can't anticipate how much the evolved science of an extraterrestrial civilization that is 10,000 years ahead of us, or 10 million years ahead of us, or even a billion years ahead of us ­ what could that mean in terms of what they could do? All we know is what Carl Sagan once wrote in a paper with William Newman: What ETs should be able to do should be indistinguishable from magic for us.
He was parroting Arthur C. Clark, the science fiction writer, in saying that. I think almost all scientists would agree on that. But when it comes to any particular UFO case where, for example, we see a UFO maneuvering some way and can't understand how it could be, then we tend to forget about what an advanced civilization could really do. We say in any particular case we can't invoke that possibility because you just have to know how something is done or science is unable to accept that it could be done.
Feedback from Scientists About JBIS Article
WHAT KIND OF FEEDBACK HAVE YOU GOTTEN ON THIS PAPER FROM SCIENTISTS?
Mainly it's been brief words of congratulations to have gotten this into the mainstream science literature.
BUT WOULD SCIENTISTS BE CONGRATULATING THE FOUR OF YOU BECAUSE THEY WOULD LIKE TO SEE MORE DISCUSSION, BUT THEY ARE AFRAID TO BRING IT UP THEMSELVES?
Well, yes, because they would like to see more discussion in the open literature, much, much more. But they weren't really afraid themselves. They just knew it was impossible! The curtain of ridicule that grew up around the UFO phenomenon – as far back as the early 1950s, there was the Robertson Panel in 1953, a US Air Force panel that helped get this started by saying, 'Well, let's make the UFO witnesses appear ridiculous and eventually that would have the effect of deterring people from reporting their UFO sightings.'
Open ET Contact With Earth This Century?
IF YOU WERE MAKING AN EDUCATED GUESS, DO YOU THINK WE WILL HAVE SOME KIND OF CONTACT FROM ANOTHER INTELLIGENCE IN THE UNIVERSE IN THIS CENTURY?
Oh, yes. I think it will be within the next 20 years. Probably won't have to wait the whole century. But I don't really know under what circumstances it might occur.
WHY DO YOU SAY THE NEXT 20 YEARS?
Well, we can see conditions going downhill so fast in the environment and in international politics, things like that. It could be that if things really did keep going down the way they are, we could end up in a World War III. In addition, we could end up with great problems in the environment with pollution being too great , as you have discussed in so many of your Earthfiles and radio reports. The ETs then could feel that it would be time to step in and we would be undergoing so much trauma anyhow that their appearance would not make matters worse. I just don't see that time scale as long as a whole century now."
---
More Information:
Geoffrey A. Landis, Ohio Aerospace Institute, NASA Lewis Research Center, Cleveland, Ohio, wrote about the Fermi Paradox this way: "If even a very small fraction of the hundred billion stars in the galaxy are home to technological civilizations which colonize over interstellar distances, the entire galaxy could be completely colonized in a few million years. The absence of such extraterrestrial civilizations visiting Earth is the Fermi Paradox.
"Proposed solutions to the Fermi paradox either deny the possibility of extraterrestrial civilizations, an assumption as yet unwarranted, or accept the possibility of extraterrestrial technological civilizations and propose explanations for why such civilizations may nevertheless not have colonized the galaxy. Explanations include suggestions that such civilizations collapse or blow themselves up, run out of resources, choose not to colonize, or chose to colonize but leave us alone. The difficulty with all such explanations is that they must all assume an unwarranted uniformity of motive for extraterrestrial civilizations over extremely long periods of time. If even a single civilization chose to colonize the galaxy, the explanations fail. It is useful, therefore, to try to look for explanations of the Fermi paradox which do not rely on uniformity of motive."
Jim Deardorff's comment: "Dr. Landis assumes that nothing like a consortium of advanced civilizations with reasonably good ethics would be able to prevent a single other civilization from exploiting us over a several thousand-year period, or from having done the same earlier within the galaxy. But a key element of any civilization is that an ethical, law-abiding majority is able to police a criminal minority and keep them under control – but perhaps never eliminate them."
---
Websites:
The JBIS Article: http://www.ufoskeptic.org/
The Fermi Paradox: http://www.sff.net/people/Geoffrey.Landis/percolation.htp
Worm Hole Travel: http://www.zamandayolculuk.com/cetinbal/NEGATIVEENERGYWORMHOLESWARP.HTM
Alcubierre Warp Drive: http://members.tripod.com/da_theoretical1/wdtheory.html


© 1998 - 2019 by Linda Moulton Howe.
All Rights Reserved.