"The most interesting thing is that we might find life there (in frozen sea) because if you look at the source of the water, which has filled a huge basin, it comes out of cracks in the ground. The indication that there are warm, wet places beneath the surface of Mars as recently as 5 million years ago to me is good evidence that life might have developed on Mars."
 – John Murray, Ph.D., Open University, England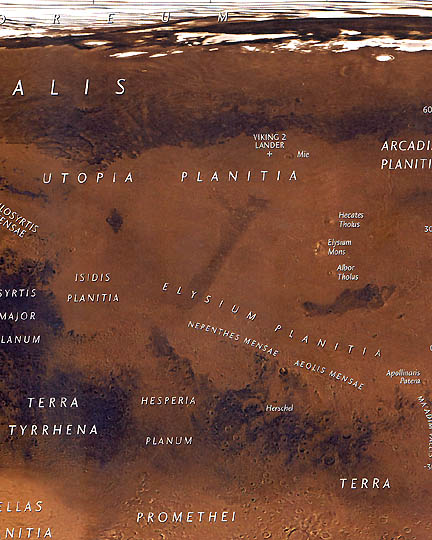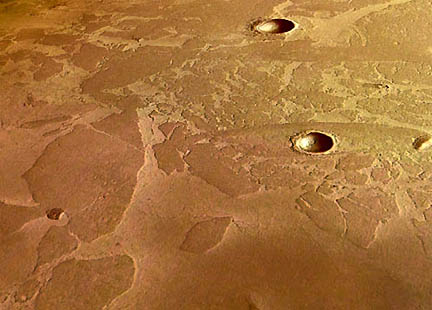 February 22, 2005  Noordwijk, The Netherlands – On Earth, pack ice is a floating mass of ice formed from seawater in the Earth's polar regions. Pack ice expands during winter to cover about 5 percent of the northern oceans and 8 percent of the southern oceans. When melting occurs in spring and summer, the margins of the pack ice retreat. 
This week, the European Space Agency's (ESA) "1st Mars Express Science Conference" began in Noordwijk, The Netherlands, on February 21 through February 25, 2005. On Monday morning, John Murray, Ph.D., from England's Open University Department of Earth Sciences, presented evidence that a region stretching for nearly 1,000 kilometers long by 800 kilometers is not lava flows, but the pack ice of a frozen sea. The depth of the ice is estimated to be 45 meters, covered by volcanic dust which kept the ice from evaporating away. The great icy plates are about 5 degrees north of the Martian equator in the region known as the Cerberus Fossae fissures of the eastern Elysium Planitia. According to Dr. Murray, only five million years ago the ice was liquid water as big as the North Sea or Lake Michigan.
Dr. Murray's formal evidence will be presented in the March issue of the British science journal, Nature, but on Monday by phone from the ESA meeting in Noordwijk, he talked with me about his public presentation there.
---
Interview:
John Murray, Ph.D., Research Lecturer for 16 years, Department of Earth Sciences, The Open University, Milton Keynes, Buckinghamshire, England:
"The ice is plainly visible as pack ice on the surface and what you see are great big plates, some of them more than 30 kilometers across and up to 45 meters thick, which very much resemble packed ice in the Antarctic or Arctic oceans. Our images have been taken with resolutions of about 10 meters. We also have color images in stereo as well, so we can see this is an extremely flat area, as you would expect the surface of a frozen sea to be.
COULD YOU EXPLAIN WHY IT IS THAT YOU THINK THIS HUGE AREA OF PACK ICE IS COVERED BY A LAYER OF VOLCANIC ASH?
The age of the ice is very young in geological terms. It's about 5 million years. But calculations show that if the ice had nothing on top of it, it would have sublimed (evaporated) away by now. We have to have something protecting it and that is almost certainly volcanic ash and dust.
HOW MUCH WATER WOULD THERE BE IF IT ALL MELTED?
The size of the North Sea, or perhaps Lake Michigan, that kind of size.
HOW DOES THIS FROZEN SEA RELATE TO THE GREAT MYSTERY OF HOW MUCH WATER FLOWED ON MARS IN THE PAST?
I think events like this happened throughout Mars's geological history. For the past 30 years from NASA Missions and Viking and before Viking, we've seen evidence of huge catastrophic floods on the surface of Mars. The water from those floods must have gone somewhere. They've certainly collected in low points on Mars in the past and it's always been assumed they've boiled away or even if they froze and became a sea, that ice sublimated away. That's probably the case for most of the very old frozen seas.
Could There Be Life in the Martian Ice, Past or Present?
But the interesting thing about this Elysium feature is that it's so young: 5 million years. That is young geologically. To me, the most interesting thing is that we might find life there because if you look at the source of the water, which has filled a huge basin, it comes out of cracks in the ground. The indication that there are warm, wet places beneath the surface of Mars as recently as 5 million years ago to me is good evidence that life might have developed on Mars. I said it might have developed.
We know these kinds of floods have occurred throughout Mars's geological history, so if you think of warm, wet places on the surface existing for that length of time, then it's possible that microorganisms might have developed there. Certainly on the Earth, microorganisms and other forms of life develop and survive in the most unlikely and hostile circumstances. So, this frozen sea in Elysium Planitia for me is one of the most likely places ­ probably the most likely place where we could find traces of life on Mars if it ever existed.
WHAT YOU ARE DESCRIBING IS A SEA THAT IS JUST ABOUT 5 DEGREES NORTH OF THE MARTIAN EQUATOR. THIS IS NOT IN THE POLAR CAPS. AND YOU ARE SAYING THAT ONLY FIVE MILLION YEARS AGO, THIS WAS A LARGE BODY OF WATER, AS BIG AS LAKE MICHIGAN?
Yes, that's right. It's frozen over. The first pack ice formed on the surface and that drifted around and that's what we can see today and that's what attracted our attention to it.
IF IT ONCE HAD LIFE, IT MIGHT BE FROZEN IN THIS PACK ICE?
Exactly. We might find microorganisms there if the ice still survives.
What Was Water Source 5 Million
Years Ago That Formed the Frozen Sea?
DOES THAT MEAN THAT MARS GOES THROUGH CYCLES OF ICE AGES AND WARMING?
There is certainly evidence that the climate might be slightly warmer and wetter 5 million years ago. But the water that formed this sea appears to have come out of cracks in the ground. These are very deep fissures that have probably gone down several kilometers. Now, if you go down that far ­ although the surface of Mars is extremely ice-rich – you get geothermal heating from within Mars. So, you get down to a layer that is like 6 to 10 kilometers deep where it's warm enough for water to survive as water rather than ice. It's been hypothesized now for about a dozen years that there is this water rich layer several kilometers beneath the surface of Mars. If you can tectonically crack the surface of Mars and get down to that layer, then suddenly you are releasing huge volumes of water under high pressure. I think that's what happened here 5 million years ago and what has happened throughout the Martian history.
WHAT WOULD CAUSE THE DEEP CRACKS AND WATER RELEASE?
Tectonic cracking. Mars does not have plate motions in continental drift as we do on the Earth. But there is ample evidence that there have been huge tectonic movements. You have had geological faulting occurring and deep cracks as parts of Mars deform and move around. There is a good body of evidence that you had upwelling in the Tharsis Ridge or Bulge ­ which is about 8 or 9 kilometers above the general surface level of Mars. At the top of that, you have the huge Valles Marineris, which is a long, deep crack. It's often been called the Grand Canyon of Mars, but Valles Marineris is much bigger and deeper. That would be a place where the surface crust has cracked apart and allowed water to escape from the interior, from the water-rich layer 6 to 10 kilometers down below the surface. You can certainly see the evidence of that in huge flows coming out of the Valles Marineris, huge flows of water.
[ Editor's Note: Valles Marineris is a canyon system more than 2,500 (4,000 kilometers) long and up to 6 miles (10 kilometers) deep, which is six times deeper than the Grand Canyon in Arizona. ]
Is There Liquid Water Deep
Underground on Mars Today?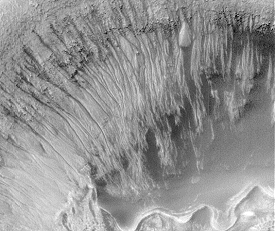 DO YOU THINK TODAY LIQUID WATER IS DEEP UNDERGROUND ON MARS?
Yes. It is not at all my idea. NASA began talking about the concept a dozen years ago. Gradually it's becoming a widely accepted idea.
Formaldehyde and Methane in Martian
Atmosphere – Underground Sources?
"Apparently the maximum emission of methane on Mars
is at Elysium Planitia where I found the frozen sea."
HOW WOULD THAT FIT INTO DR. VITTORIO FORMISANO'S PRESENTATION ON THURSDAY, FEBRUARY 24, 2005, IN THE NETHERLANDS MEETING ABOUT HIS EVIDENCE OF FORMALDEHYDE IN THE MARTIAN ATMOSPHERE. IT'S MY UNDERSTANDING THAT FORMALDEHYDE HAS A QUICK RECYCLING OF 7 TO 10 HOURS IN THE FACE OF ULTRAVIOLET ENERGY FROM THE SUN. THAT WOULD MEAN IF THE CONCENTRATION IS HIGH ENOUGH, FORMALDEHYDE HAS TO BE REPLENISHED BY AN ONGOING PROCESS – PERHAPS LIVING ORGANISMS?
I think that is an extremely interesting idea and I will look forward to seeing his talk. I should say after I gave my talk Monday morning (Feb. 21, 2005), the first remark from the audience was about the results of the Omega mission, the Omega instrument which is another instrument aboard the Mars Express Orbiter. I believe it was the head of the Omega mission who said that apparently the maximum emission of methane on Mars is at Elysium Planitia where I found the frozen sea.
My opinions about Mars have changed completely in the past year. I was all for research in going to Mars, but I would never have believed we would have found pack ice. I think my opinions about life existing on Mars are about ten times greater than they were a year ago.
Scientific Reaction to Elysium Frozen Sea Evidence
WHAT HAS BEEN THE REACTION OF OTHER SCIENTISTS ABOUT YOUR WORK?
When I first presented it, there was sort of dumbfoundedness. When you hear something as extraordinary as this, my first reaction would have been disbelief. 'Hang on, what's going on here?!'
I suppose the biggest contending theory to this is that what we're not seeing is pack ice, but plates of lava on the surface of a vast lava flow. But I have a volcanologist and I've spent two months each year since 1975 working on active volcanoes. So I know what lava can and can't do. Briefly, I think there are six or seven reasons why it can't be lava. But I imagine there is going to be quite a discussion and argument about this ­ certainly at the Houston Lunar and Planetary conference in March.
[ Editor's Note: 36th Annual Lunar and Planetary Science Conference, March 14 -18, 2005, NASA Johnson Space Center, Houston, Texas. ]
ESA's Mars Express Orbiter Ground Penetrating Radar
To Be Turned On in May 2005
COULDN'T THE GROUND PENETRATING RADAR THAT IS SUPPOSED TO BE PART OF THE MARS EXPRESS ORBITER MISSION DECIDE THIS ONCE AND FOR ALL?
I thought it could, but I asked specifically that question in The Netherlands meeting. But apparently the resolution of the Mars instrument is about 50 to 100 meters vertically. The thickness of this ice sea is just under 50 meters, around 45 meters thick, so it would probably not be able to detect it.
THE GROUND-PENETRATING RADAR IS SUPPOSED TO BE ABLE TO DETECT ICE MASSES THAT WOULD BE THICKER THAN 50 METERS?
Yes, 50 to 100 meters thick.
DO YOU KNOW WHY IT IS ALMOST A YEAR AFTER THE GROUND PENETRATING RADAR WAS SUPPOSED TO HAVE BEEN DEPLOYED LAST APRIL AND WE'RE TALKING AT THE END OF FEBRUARY 2005 AND IT STILL HAS NOT BEEN DEPLOYED?
Computer simulations indicated that radar deployment might send the whole spacecraft into an uncontrollable spin, which would be the end of the mission. Or else the Mars instrument would flap around and come back and bash into the spacecraft and perhaps destroy the mission or some of the instruments. So, we've all opposed deploying it. But ESA has now looked at those possibilities and decided they are extremely remote. As I understand it, the Mars Express deep ground-penetrating radar will be turned on the beginning of May 2005."
Continued in Part 2 – Sulfur-Eating Microorganisms Underground or in Caves on Mars?
---
Websites:
ESA's Mars Express Orbiter Mission: http://sci.esa.int/science-e/www/area/index.cfm?fareaid=9

© 1998 - 2019 by Linda Moulton Howe.
All Rights Reserved.