"The rocks in the Columbia Hills ­ they've seen a lot of water! They've been soaked, they've been altered, there is all sort of evidence that it was a different Mars when those rocks were laid down."
– Larry Crumpler, Ph.D., Geologist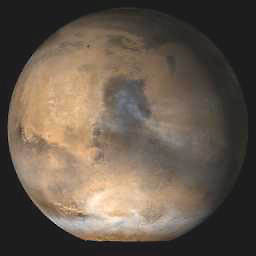 February 25, 2005  Albuquerque, New Mexico – There was a discovery by the Spirit Rover on Mars which thrilled NASA scientists in the summer of 2004. Both rovers, Spirit and Opportunity, have been looking for hard geological evidence that Mars had a watery past. Spirit's discovery would hold up in a "court room" as solid evidence of water, one geologist told me. And if there was once a lot of water on the Martian surface, was there life in that water? If organisms did live in Martian water, could they still be frozen in surface ice – or even living today underground and in caves on Mars? Could living organisms explain methane, formaldehyde and water vapor reported in the Martian atmosphere?
This week I have talked with scientists studying those questions at the European Space Agency's 1st Mars Express Orbiter conference in Holland ­ and with the only geologist in New Mexico working the Spirit Rover mission on Mars. All of the scientists are intrigued by the growing pattern of discoveries from the ground-based rovers and the Mars Express Orbiter that add up to a lot of liquid water on Mars in the past and tantalizing atmospheric gases that might be linked to present subterranean living organisms.
I would like to take share my research journey the past several days that began down at the New Mexico Museum of Natural History and Science where geologist Larry Crumpler, Ph.D., receives data from the Spirit Rover on Mars and designs maps.

Ground Search for Martian Water
Evidence Began in January 2004
It was fourteen months ago on January 3, 2004, that NASA's Mars Exploration Rover, Spirit, bounced and rolled for several minutes in the Gusev Crater near the Martian equator and then successfully sent a radio signal back to Earth that the rover was OK and ready to work. Spirit had landed south of a smaller crater inside the huge Gusev crater and scientists decided to drive Spirit over to take a look inside what came to be known as "Bonneville Crater."
It took 90 Martian days, called "sols," to get from the landing site, around the Bonneville Crater rim, and investigate rocks. A Martian sol is 24 hours and 37 minutes. Our day on Earth is a little shorter than 24 hours. So 90 sols on Mars is equivalent to about 92 Earth days, or three months.
That's why last March, there was a lot of media attention to Spirit's drive around the rim of the 656-foot-diameter Bonneville Crater. But for Dr. Crumpler – who is Research Curator for Volcanology and Space Science at the New Mexico Museum of Natural History and Science – he was frustrated that the only ground Spirit was rolling over was lava laid down in the recent past. In Spirit's search for geological evidence of water on Mars, Dr. Crumpler and other scientists wanted to move on further to distant hills rising out of Gusev Crater.
Spirit's Long Drive from Bonneville Crater to Columbia Hills – Sol 90 to Sol 156 (158 Earth Days, April through August 2004)
Spirit took off across the Gusev's lava plain into the hills and has been climbing ever since. Today on February 25, 2005, Spirit has completed its 406th sol on Mars and has shown NASA geologists what they originally set out to find: Martian rocks exposed to a lot of water. One discovered in mid-January in the Columbia Hills was named the "Peace" rock and has such a high concentration of magnesium sulfate that it provoked Dr. Crumpler to say, "It must have soaked in water." All this happened after the 90th Sol when the decision was made to explore higher ground in the hills.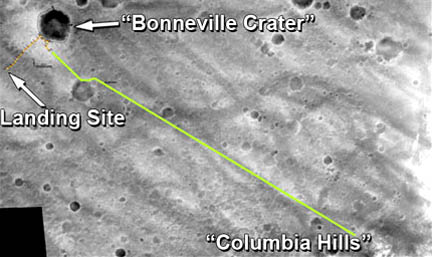 ---
Interview: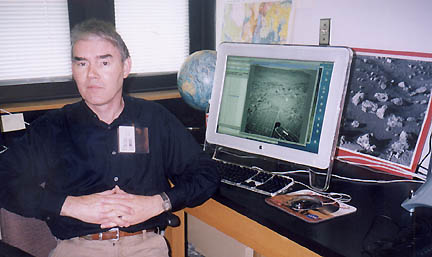 Larry Crumpler, Ph. D., Mars Spirit Rover Mission and Research Curator, Volcanology and Space Science, New Mexico Museum of Natural History and Science, Albuquerque, New Mexico: "Because then, we started doing the really exciting stuff, the real Lewis and Clark on Mars type stuff. We basically realized at the end of the basic mission, we're out in the middle of these plains that were not going to provide us with the evidence for the ancient history of Mars that we were looking for ­ because these were clearly younger lava flows. And we could see these ancient rocks sticking up we called the 'Columbia Hills' way to the southeast. Those would potentially be much older rocks from the ages we think was a time period of a lot of water on Mars ­ or some water at least.
So, we wanted to go there. The problem was they were 2.5 kilometers away, about a mile away from where we were on the rim of Bonneville. Anyway, at the end of 90 sols, we just said we're going to go there, do or die, we are going to do a death march across the plains and get to Columbia Hills and find out what is there. We turned the Spirit rover on a heading of 130 degrees southeast from north and started driving.

We finally made it to Columbia Hills about Sol 150 we were approaching them and it was quite spectacular. Because as we approached it, the terrain became much rougher. It was like surf, lapping on to a new continent. We started going through undulations. They were causing a lot of rover difficulty. We were having trouble over-tilting and would time out. We would have to re-set and go again the next day. As we approached it within the last 50 meters or so, it was like approaching a new world and we were wading ashore from the surf.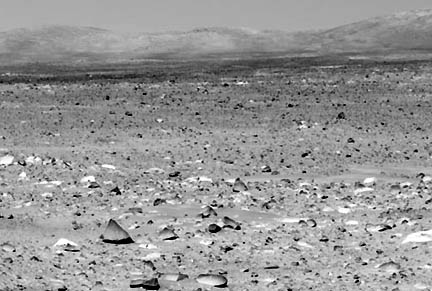 Boundary Between Gusev Lava and Older,
Water-Soaked Rocks in "Columbia Hills"

We finally made it on Sol 156. We rolled off, literally rolled across the contact from the plains onto the Columbia Hills and basically the whole mission changed ­ because at that point we were in rocks that were totally different, a totally different age, much older, much more evidence for alteration. Also, the terrain changed. Suddenly we weren't in the plains anymore. We were in mountains and as of this moment we are climbing up the side of this mountain. We're seeing things that haven't been seen before. We're in a new geology.
COLUMBIA HILLS TENDS TO SUPPORT AT LEAST THE IDEA THAT THESE ROCKS WERE UNDER WATER FOR A LONG TIME.
Yeah, they could have been underwater or underground where there was a ground water system even if the surface was dry. The water could have been in any number of forms and present any number of time periods. But the point is: if you had to compare it to stuff on the Earth, for an Earth rock to be that altered (sulfur), you would have to soak it in acidic water for hundreds or thousands of years.
The rocks in the Columbia Hills – they've seen a lot of water! They've been soaked, they've been altered, there is all sort of evidence that it was a different Mars when those rocks were laid down. It's hard to find a boundary here on the Earth that you can walk across.
"Peace" Rock's Important Water Evidence
THAT WOULD EXPLAIN WHY STEVE SQUYRES (Director of Spirit and Opportunity Rover Mission) SAID THAT THE PEACE ROCK WAS, FROM HIS POINT OF VIEW, THE MOST IMPORTANT ROCK THAT HAD BEEN INVESTIGATED WITH THE MOSSBAUER UP TO THE MIDDLE OF JANUARY 2005?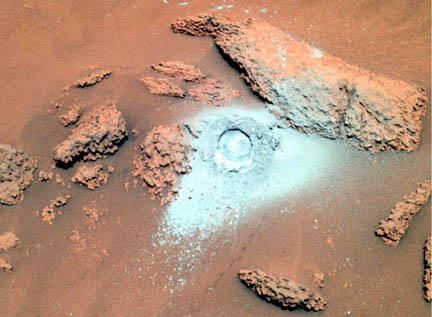 That's right. We'd seen magnesium sulfates before and hematite and things like that which all indicated water. But this is so pervasive in the "Peace" rock and the rock is so soft and rotten looking, that it really requires a lot of this fluid present to do this to such a large massive rock. This is scientific evidence for lots of water. We pretty well suspected that from what we've seen so far in Columbia Hills. This is evidence you can take to the court room, as it were, and prove that Mars was probably wet.
[Editor's Note: Spirit's Mossbauer instrument has also found soil in Columbia Hills that looks like sugar spilled in red sand and data indicate the soil could be 25% sulfur or magnesium sulfate.]
So, Mars was wetter when these rocks (in Columbia Hills) were deposited and to me that's the greatest accomplishment of this mission ­ that we walked across that boundary. We saw what the Middle Ages of Mars were like out there on the plains and now we know what the Early Age ­ or at least the latest early ages on Mars were like. They are totally different. The early Mars was really wet and suddenly that climate just changed very early in the history and things have been a lot drier since.
Did All the Surface Water Go Underground and Into Ice?
ABOUT HOW FAR BACK IN TIME DO YOU THINK THAT CHANGE OCCURRED?
That's the big question, too. We don't have any age date on any of the materials on Mars. We haven't brought any samples back we can run through a lab and get a date on. So, we have to kind of estimate what we think ages are.
Probably the ages we are talking about for Columbia Hills as opposed to the plains is a billion years differences in age. Three and a half billion (Columbia Hills) as opposed to 2.5 billion.
THE HYPOTHESIS HAS BEEN THAT IF THERE WAS A LOT OF WATER AND MAYBE IT'S GONE UNDERGROUND DEEP IN MARS BELOW THE PERMASFROST WHERE IT'S WARMER AND THERE MAY BE ORGANISMS THAT ARE RELEASING METHANE AND FORMALDEHYDE?
That's something that makes a lot of sense, but you don't have any data to say whether making sense is correct sense. But it makes a lot of sense because we know there's been a lot of water, the water has gone some place. If water has soaked into the ground, there's a lot of places for the water to go and there's a lot of warmth inside Mars where the water could stay unfrozen, circulate. So, it's not radically inconceivable that you could develop a biota that was micro-organisms that lived in the substrate, deep underground. It's entirely plausible. We don't have evidence for that and I guess the methane business is one little spike in the efforts to suggest that might be the case. What we need is many data points that really compel us to believe that. It's such a radical idea, concept, that there is life and it's underground.
But we need more data, as we always say! (laughs) More data means more missions!"
The next planned NASA rover mission to Mars is set to launch in 2009. It's called the Mars Science Laboratory Project. currently the next planned rover mission to the red planet, launching in 2009.
---
More Information:
Martian crust is about 30 miles (50 kilometers) deep. Most of the Northern Hemisphere lies at a lower elevation that the Southern Hemisphere. So, the northern crust might be thinner than the southern.
The main source of heat inside Mars must be the same as that inside Earth: radioactive decay, the breakup of the nuclei of atoms of elements such as uranium, potassium and thorium. Due to radioactive heating, the average temperature of the Martian mantle might be roughly 2700 degrees F. (1500 degrees C.)
Mars probably has a core composed of iron, nickel and sulfur, probably 1800 to 2400 miles in diameter. Unlike Earth's core, which is partially melted, the core of Mars probably is solid because Mars does not have a significant magnetic field. On Earth, motion with in the molten iron core makes Earth's magnetic fields.
Mars Express Orbiter Deep Ground-Penetrating
Radar Will Be Turned on in May 2005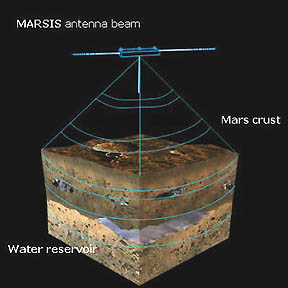 ---
Websites:
http://marsrovers.jpl.nasa.gov/gallery/all/spirit.html
http://marsrovers.jpl.nasa.gov/gallery/press/spirit/
http://photojournal.jpl.nasa.gov/target/Mars
http://www.nasa.gov/worldbook/mars_worldbook.html

© 1998 - 2019 by Linda Moulton Howe.
All Rights Reserved.