"I don't know of anyone who has access to the (Pentagon) blue room, nor am I aware of its contents and I am not aware of anything having been relocated. ...this thing (UFOs) has gotten so highly classified, even though I will admit there is a lot of it that has been released, it is just impossible to get anything on it."
- Barry Goldwater, U. S. Senator, Arizona, 1981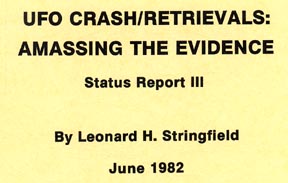 To be more computer-friendly, the reprint has been divided into parts. Here begins Part 1 of Status Report III, written in June 1982. The series of status reports, I through VII, were written by Leonard H. Stringfield from 1978 to 1994. Previous Status Report IV begins at Earthfiles 021205. Leonard Stringfield died on December 18, 1994.
"PROLOGUE: THE BIGGEST STORY EVER, NEVER TOLD
"Ever since World War II when the first UFOs, dubbed 'foo fighters,' became officially recognized, the mystery of their origin and intent has haunted the minds of man. Most ponder the puzzlement skeptically amused; others want to believe and straddle a philosophic fence guessing for answers. As we head into the decade of the 1980s, serious research has not found the answer either, or the proof to qualify an answer. Officially, the mystery remains ostensibly irresolvable. To those wary and who have taken the time to probe, the official position is as mysterious as the UFO itself.
Click here to subscribe and get instant access to read this report.
Click here to check your existing subscription status.
Existing members, login below:

© 1998 - 2023 by Linda Moulton Howe.
All Rights Reserved.