"I do believe there is life inside the planet Mars, maybe 50 to 100 meters below the surface. But there is a long way to go to demonstrate that."
– Physicist Vittorio Formisano, Principal Investigator, PSF Mars Orbiter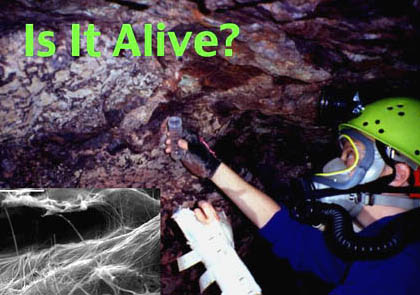 March 4, 2005  Socorro, New Mexico – Last week at the first European Space Agency Mars Express Orbiter conference in The Netherlands, the Italian physicist Vittorio Formisano presented data about not only methane and water vapor in the Martian atmosphere, but formaldehyde. Small amounts of formaldehyde had also been reported by NASA and attributed to the oxidation and break down of methane.
But Dr. Formisano ­ who is the creator and principal investigator of the Planetary Fourier Spectrometer on the European Space Agency's Mars orbiter ­ reported at the meeting that his data is showing about 10 to 20 times more formaldehyde than methane. If his data proves to be accurate over time and other measurements, the amount of methane will also have to be revised upwards since most methane is oxidized as soon as it comes out of the ground.
Dr. Formisano told the ESA meeting of scientists; "If you consider formaldehyde as oxidized methane, then Mars is producing 2.5 million tons of methane a year." One area on Mars where his PSF instrument found the greatest concentration of methane was over the Elysium Planitia near the Martian equator ­ the same region that British scientist John Murray reported a large frozen sea – equivalent in size to Lake Michigan. [See Earthfiles 02-22-05]
Dr. Formisano said the amount of methane his PSF instrument has measured is too large to be accounted for by any known geological process. Thus, he hypothesized that some other source must be involved. In fact Dr. Formisano said publicly: "I do believe there is life inside the planet Mars, maybe 50 to 100 meters below the surface. But there is a long way to go to demonstrate that."
Since there is no instrument on Mars to measure the isotopic ratio of the methane which could distinguish between an organic or inorganic source, scientists are now looking for heavier hydrocarbons in the Martian atmosphere, such as propane which cannot come from geothermal inorganic processes.
Meanwhile, back on Earth in the caves of New Mexico and the nation of Mexico, renowned microbiologist and atmospheric chemist, Penelope Boston, is studying and cataloging a huge array of creatures that literally eat their way through cave rock and leave telltale residues of their exotic, but organic, existences. She wants to assemble a "Field Guide to Cave and Subterranean Microbes" which can be used on future field trips to Mars. I first talked with her during the ESA meeting in The Netherlands when Dr. Murray's pack ice discovery in the Elysium Planitia was first reported and Dr. Formisano said that was where he found the greatest concentration of methane.
Water Ice On Martian Surface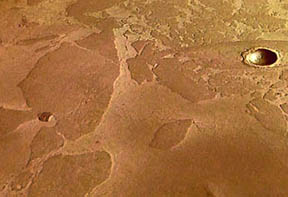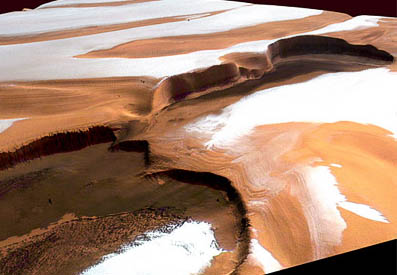 ---
Interview: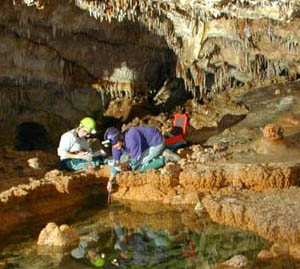 Penelope Boston, Ph.D., Director, Cave and Karst Study Program and Assoc. Professor of Earth and Environmental Sciences, New Mexico Institute of Mining and Technology, Saucer, New Mexico: "That (methane higher over Elysium Planitia) is extremely exciting. One of the things we've been wondering about is whether the present instruments that are onboard the different space craft orbiting could narrow down the methane detection to the point that there might be point sources, or at least localized sources, rather than an overall background methane signal?
Finding a solid indication that there are more localized sources of methane supports both the potential life hypothesis and also the leaky hydrothermal from a volcanic source hypothesis. It doesn't distinguish between those, but makes it more likely (for life) than generalized air chemistry.
POSSIBLY ORGANIC LIFE COULD BE RESPONSIBLE FOR PRODUCING PEAKS OF METHANE, FORMALDEHYDE AND OTHER GASES IN THE MARTIAN ATMOSPHERE?
Sure, sure. But so can non-biological processes. So, what one has to do with these tantalizing results is figure out ways to test them further to try to distinguish volcanic residual activity and critters.
ISN'T IT TRUE THAT FORMALDEHYDE UNDER THE STRESS OF UV HITTING MARS COULD ONLY SURVIVE AS A MOLECULE IN THE ATMOSPHERE ONLY ABOUT 7 HOURS…
Yes, I think it is a very short half life. The half life is probably 10 hours, or on the order of a day.
THAT WOULD MEAN THAT IF THERE IS ENOUGH SUSTAINING FORMALDEHYDE TO BE MEASURED BY THE PSF, THEN THE IMPLICATION, THE HYPOTHESIS IS, THAT SOMETHING HAS TO BE GENERATING FORMALDEHYDE ON A DAILY BASIS.
Right, the same can be said for ammonia and indeed, methane. However, the methane half life is more on the order of 100 years. But nevertheless, it's still sufficiently short that positive detection of it is quite significant.
Cave Creatures On Earth
HOW WOULD YOUR WORK LOOKING AT CAVES AND UNDERGROUND LIFE ON EARTH GIVE US SOME INSIGHT ABOUT WHAT MIGHT BE LIVING ON EARTH AND MARS EMITTING METHANE , FORMALDEHYDE AND OTHER GASES?
All of the gases reported on Mars are common products of the kinds of systems we are studying on Earth. Most of the things that interest us are organisms that are taking inorganic materials and typically oxidizing them and getting a small amount of energy to run their life process from that reaction. Very often they excel in transforming the state of different materials.
1) Metal Eaters Excrete Methane Gas
There are systems that are anaerobic where oxygen does not enter into the system and in those cases, these are methane-generating organisms.
There are organisms that produce methane from CO2, using inorganic sources of energy like oxidizing metals and things like that. Then there are organisms that eat it. So, just about every chemical transformation that you can think of is probably done by at least one or more different kinds of micro-organisms.
2) Manganese and Iron Eaters Leave Behind Crystal Trails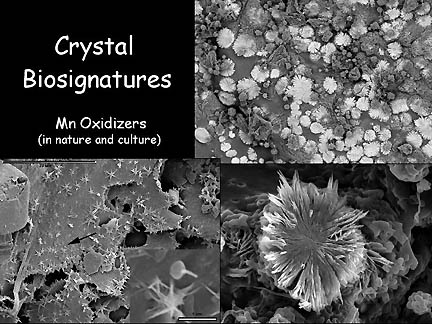 Lechuguilla Cave, Carlsbad Caverns and other caves in New Mexico date from 5 to 12 million years old. In those ancient caves, we find a number of microorganisms that make their living oxidizing manganese compounds and iron compounds.
As a result of that, they are chewing their way through the bedrock in these caves and degrading the bedrock and leaving these characteristic minerals behind. And they are doing it today at a very slow rate.
We're interested in that because the material they leave behind is pretty characteristic markers of residue from their lives there. So for example, even if all the microorganisms are gone, based on what we now know about what they do, we could look at material that has some of these minerals and special crystal forms in there and say, 'Aha, we think these are probably the products of micro-organisms.'
WHAT DO THOSE ORGANISMS RELEASE IN TERMS OF GASES AS THEY CHEW THROUGH THE CARLSBAD CAVE SYSTEM?
They release CO2. None of these guys are methane releasers. But we have organisms that transform hydrogen sulfide into sulfates and vice versa.
3) Sulfur Eaters Release Aldehyde Gases – Including Formaldehyde?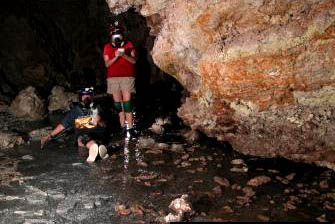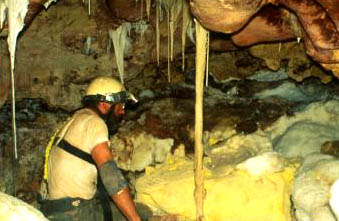 WHAT ABOUT FORMALDEHYDE?
Haven't looked for that. That is not an uncommon product of microbial breakdown of organic material. So for example, we have several different aldehydes in the sulfuric acid caves we are studying in Mexico. So, we're looking there at critters that are making their living by metabolizing sulfur in one form or another. We know there are background d levels of a number of different aldehydes that are unusual.
SO THE SULFUR EATERS ARE RELEASING GASES SUCH AS FORMALDEHYDE?
Something in the system is ­ we don't know if it's the critters themselves or some other microbe that is breaking down organic material that the sulfur eating critters are responsible for creating? Or what? We don't know the precise source, but we do know the levels are higher.
One of the things I have to emphasize is that the microbial subsurface communities are by and large novel ­ meaning we don't have them already in the DNA data bases. This is because they have not been studied. So when you look at one of these areas, a lot of the organisms are so different they could even be put in different domains. The part of our team that is working on molecular biology, Diana Northrup and her colleague at UNM, are looking at these organisms and putting them near their closest relatives. But many of them don't have many close relatives, or any, among the known bacteria. So, I can tell you the names of a few that we find because they happen to be ones that have been identified before, or are close to them. But by and large, these are really terra incognito!
"Snottites" Are Sulfur Eaters
Some of the organisms we find in these 'snottites,' as they are called, in the Mexican caves because they look like strings of snot basically. They produce all this gooey material and they look like stalactites because they hang down.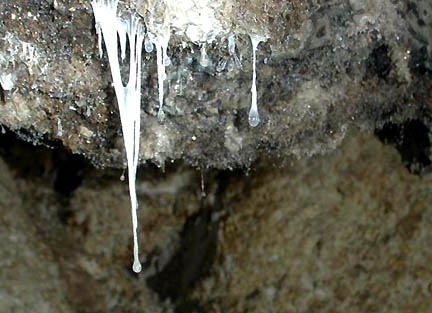 SNOTTITES ARE ONLY IN THE MEXICO SULFURIC ACID CAVES?
Absolutely. They are sulfuric acid beasts. They are fed by the hydrogen sulfide, they produce sulfuric acid, they produce these copious amounts of snot. It looks like snot and in fact chemically, it's very similar to slimy stuff that would come out of a person's nose with a cold. It really is extra-cellular polysaccharide goo. Chemically it is very similar and the organisms use it as a protection. It's part of their natural protection against their environment and their way of chemically controlling their immediate environment. They actually produce sulfuric acid as a by-product of their metabolism. These guys are in there busy producing acids.
Then there is the abiological production of sulfuric acid just from hydrogen sulfide going into solution in the water and reacting with the oxygen. So, these caves drip with sulfuric acid. They are very difficult for us to work in, as you can imagine, and the atmosphere is poisonous. But they are absolutely bursting with life! They are absolutely biologically intensely rich.
There are so many organisms in there that I can't even regale you with the numbers. Everywhere you look in these caves, there is new microbial goo or a new different kind of microbial mat. Many of them are busily precipitating and eating minerals while they grow in the goo in which they are growing.
THESE ARE THE ONES THAT WOULD RELEASE FORMALDEHYDE AND OTHER ALDEHYDE GASES?
Something in the system is. I don't think it's those organisms per se. I think we don't know which of the many possible actors in the play are producing that material.
COULD THE MICRO-ORGANISMS THAT YOU ARE STUDYING IN MEXICO THAT LOVE SULFURIC ACID AND YOU ARE IN CAVES THAT ARE ALIVE WITH LIFE AND THAT THEIR DNA IS NOT REALLY KNOWN IN ANY OTHER CATEGORIES ON THE EARTH. COULD THESE SAME ORGANISMS BE AT WORK IN SUBTERRANEAN SYSTEMS AND CAVES ON MARS?
Something like them, I think could very well be the case. We don't know whether or not if we find life on Mars right now, we don't know how to speculate whether or not it would be related to us here. In other words, was there a single genesis of life because of material being blasted out of Mars and carried here? Or vice versa? There is a shuttle mechanism for potentially getting organisms from one place to another. So, we wouldn't know that until we looked at the details of the organisms. But in terms of the way the organisms here make their living in these environments, I think it's a very good model for the way potential Martian subsurface microbes might be making their living.
AND RELEASING GASES INTO THE ATMOSPHERE.
Yes, releasing gases that they by-product from their metabolism.
WHAT ABOUT TEMPERATURES? IS THERE EVIDENCE THAT THERE IS ENOUGH HEAT IN THE INTERIOR OF MARS THAT SUBTERRANEAN ORGANISMS SUCH AS WHAT YOU ARE STUDYING IN MEXICO COULD LIVE THERE?
I think that all you need is the ability to have liquid water and that could be at very low temperatures, below what we normally think of as freezing, if the solution is briny (salty). So one might imagine that you might have salty systems at quite chilly temperatures where the water could remain liquid and organisms could have evolved to tolerate that and prosper in that circumstance.
So, that extends down the possible temperature at which organisms can live.
BASED ON THE WORK YOU HAVE DONE IN MEXICO AND NEW MEXICO SO FAR IN CAVES, WHAT IS YOUR BEST EDUCATED GUESS ABOUT WHAT COULD BE UNDERGROUND ON MARS?
I would guess, if it resembles Earth at all, that pretty much most of the subsurface ­ where there was the availability of liquid water ­ might be inhabited by low biomass, a low number of organisms making their living very similarly to here.
CHEWING AWAY ON ROCKS.
Yes, chewing away, liberating materials out of the rock that they can use, dissolving the rock in order to get to those materials, and leaving characteristic, telltale byproducts in the way of minerals, very characteristic minerals.
YOU CAN LOOK FOR IN THE SULFUR RANGE FOR CRYSTALS THAT COULD BE THE BYPRODUCTS OF THE MICRO-ORGANISMS, CHEWING THE ROCKS UP AND EXCRETING THEM.
Yes, exactly right. A lot of the stuff that we see in caves is basically bug poop. It doesn't seem like animal poop. Very often, it is quite beautiful if you look at SEMs of some of these crystals, they are very beautiful minerals. But in the biological sense of the term, this is really bug poop. So, you are working at scat basically!
AN OVERLAPPING MAP THAT WOULD SHOW WHERE THERE WAS HIGH METHANE AND FORMALDEHYDE, PLUS PERHAPS LARGE PACK ICE ON THE SURFACE, COULD BE THE FOCUS FOR WHERE THERE COULD BE SUBTERRANEAN LIFE?
Oh, definitely. Putting together what data have been gathered by the different missions on subsurface ice detection and/or water detection, and also anywhere that any kind of reduced gas ­ whether it's formaldehyde or methane or ammonia ­ could be localized, those are the places you want to go."
Lava Tubes At Olympus Mons Volcano on Mars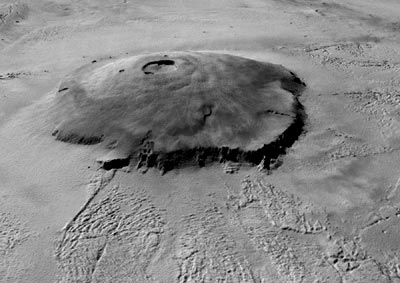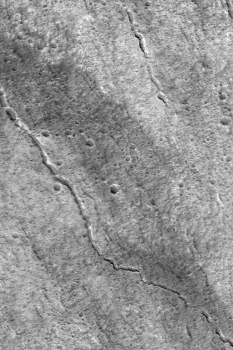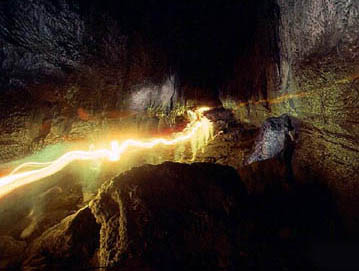 Lava tubes on Earth are places that Dr. Boston knows from research experience are filled with living microbes and lava tubes on Mars are the first place she would like to look for life. One of the Martian lava tubes she has been studying from Mars Orbiter images is in Olympus Mons. The Olympus Mons lava tube has both sunken in sections and covered sections. The covered, or roofed channels, would provide the most protection for living organisms.
Interview continued:
'THIS (OLYMPUS MONS LAVA TUBES) IS A PLACE YOU WOULD REALLY LIKE TO GET ROVERS?
I would love to go there! I would pack in tomorrow!! I would be packing my little robots. One of the things we've been working on the last number of years with some money from the NASA Institute for Advanced Concepts is a joint project that we are doing with the Field of Space Robotics Group at MIT. We've come up with these cute, tiny, bouncing sort of tennis ball-sized micro-robots. We haven't built any yet. There isn't enough money in the small pilot project we've been doing. But we've developed these as a concept. They use some of these artificial muscle material to propel themselves. They kind of boink their way into a cave and you deploy lots of them. The idea is you can make lots of them relatively inexpensively and send them to Mars.
One of our calculations shows we could send maybe a thousand of these little guys within a spacecraft the size that delivered the Mars rovers. So these guys (little ball robots) ­ you could withstand high mortality of them in these challenging environments and still have enough to do the job. They would be able to communicate with one another essentially like a cell network does. So, node-to-node communication and make their way into some of the challenging rough terrains that things like the big Spirit and Opportunity rovers have no hope of getting into. They would be able to do reconnaissance and a lot of valuable science. It's a very different strategy for robotic exploration of these kinds of rugged terrains.
I'VE NEVER HEARD OF THIS BEFORE AND I'M TRYING TO GET IN MY MIND'S EYE THAT INSIDE OF THE SPACECRAFT THERE WOULD BE LIKE 1,000 BALLS…
Yes, a thousand little guys that could deploy from the mothership ­ there would be the master robot…
WHEN IT LANDED.
Right, and if one could land that relatively near some interesting terrain. In my case, lava tubes, or even very rough surface terrains. These little guys could make their way slowly using very low amounts of power and be able to gradually make their way into these rugged terrains, including subsurface environments."
---
More Information:
Mysterious Life In Caves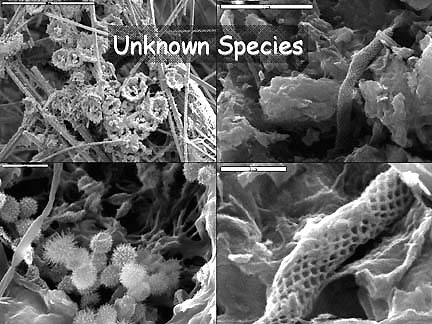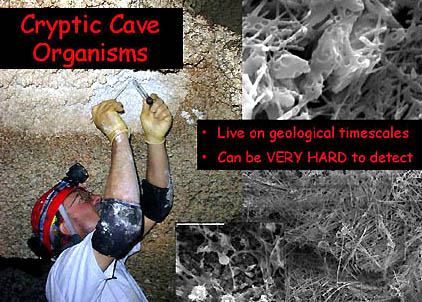 Cave Pearls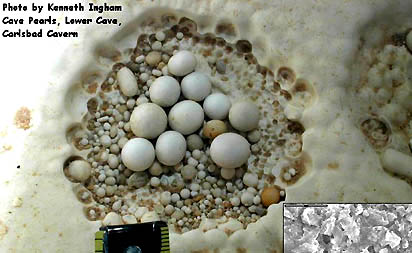 Penny Boston, Ph.D.: "Cave pearls are a unique kind of formation found in quite a few caves and are made mineralogically out of the same mineral that produces most stalagmites and stalactites. But in this case, these are literally like 'pearls' in that they are loose and they occur in these little nests. I think you can see in the picture there are little indentations where the spherical objects are sitting.
But how are they made? Why would they not be drip features like the other drip features we see? How come if you have a drip, you just would not produce a stalactite or stalagmite? Why would you produce these curious objects? We know now the surfaces of the cave pearls are coated with bacteria and the bacteria are producing biofilm. The biofilm is facilitating the precipitation of calcite, which we know that it does. Living systems like that greatly enhance the precipitation of many minerals. So, the hypothesis we are beginning to test is that the biofilm itself is responsible for the cave pearls."
Sulfur Eating Microbe Mats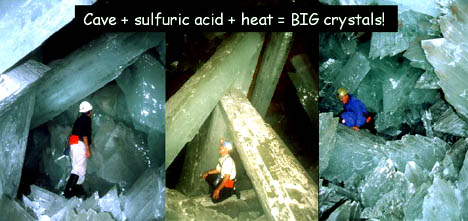 © 1998 - 2019 by Linda Moulton Howe.
All Rights Reserved.