"I can certainly say the risk is huge! Certainly the H5N1 virus that is out there is a particularly nasty virus. If you want to rank the flu viruses that you don't want in the human population, this guy is right at the top. The potential (threat) is huge. But exactly what the risk is in terms of this virus going human-to-human, nobody actually has any idea."
– Richard Webby, Ph.D., Microbiologist and Influenza Virus Specialist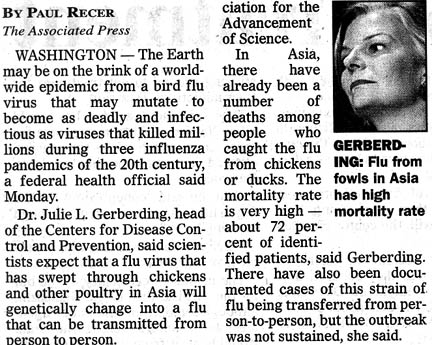 March 12, 2005  Memphis, Tennessee – For the past several weeks, the Director of the Centers for Disease Control and Prevention in Atlanta has made announcements about CDC's concern that the avian flu virus in Asia, also known as "bird flu," could be the source for the world's next dangerous pandemic in the human population. In fact, CDC and the World Health Organization say they are trying with urgency to develop a vaccine that could be ready if the avian flu virus, known as H5N1, expands its host territory from chickens and ducks to transmission human-to-human.
Earlier this year, one of the first cases of bird flu spreading from one person to another was published by Thailand and American scientists. The victim was an 11-year-old Thai girl who became ill in September 2004 after playing and sleeping where the family's chickens were kept. The girl's mother and aunt also became very ill with the avian flu virus. The only survivor was the aunt.
In fact, the current estimated mortality rate is 76% among humans who have contracted avian flu virus, whether from poultry or the few known cases of human-to-human transmission. Chickens are most sensitive to the H5N1 virus with nearly a 100% death rate.
The big problem now is that the H5N1 avian flu virus has spread throughout Asian poultry which largely runs wild and is not contained in cages. In fact, the Vietnamese government estimates that about 90% of that country's chickens and ducks are homegrown in back yards.
This past week, CDC's Director, Dr. Julie Gerberding, said, "We have more avian virus sitting in poultry in Asia than we could have ever imagined possible. We have to be prepared for the possibility that somewhere along that line we're going to see strains emerge that could be more infectious for people."
Why is there such a worry that this avian flu virus in Asian chickens and ducks could jump in a pandemic way to humans around the world? I put that question this week to Richard Webby, Ph.D., a microbiologist in infectious diseases at St. Jude Children's Research Hospital in Memphis, Tennessee. There, he studies both human and animal influenza viruses.
---
Interview:
Richard Webby, Ph.D., Associate Member, Department of Infectious Diseases, St. Jude Children's Research Hospital, Memphis, Tennessee: "There are 16 different H types of these avian flu viruses out there. If we look at potentially any one of them could be the next pandemic flu strain. But if we look at the viruses we know ­ the problem is, we have no way to predict how well any of these viruses will infect humans. We just don't know what an avian virus needs to do to infect a human in terms of what that virus would look like genetically. The nastiest so far is H5N1.
BUT ISN'T IT TRUE THAT SEVERAL CHILDREN AND SOME ADULTS HAVE APPARENTLY BEEN INFECTED BY AVIAN FLU AND DIED?
Yes. And that first occurred in 1997 in Hong Kong where at least 18 people diagnosed with the illness and 6 of those died. Since that time, the virus has been circulating in at least mainland China. But the difference, the different situation we're in now which is different to where we've been before is that this virus is so widespread in the poultry population of that region. In 1997, it was just in Hong Kong. They killed all the poultry population in Hong Kong and got rid of the virus and that stopped more human infection. The problem is now, we've got this virus so widespread throughout southeast Asia that we're no longer talking about a fairly confined avian population. It's throughout a number of different countries and it's practically impossible now to go out there and depopulate all the infected birds to get rid of it.
How Likely Is An H5N1 Pandemic Among Humans?
AS A PERSON WHO STUDIES VIRUSES, WHAT DO YOU EXPECT TO HAPPEN WITH SO MUCH OF THE H5N1 VIRUS IN POULTRY NOW SPREAD THROUGHOUT ASIA?
That's a really tough question. I don't know. I really don't know what's going to happen to it. So far the virus is pretty bad (poor) at infecting humans. We're talking about millions and millions of infected birds. People are probably handling these poultry every day and we've only had 50 odd infections and 40 odd deaths. So at the moment, the virus doesn't infect humans very well and certainly doesn't transmit, probably transmits even worse human-to-human.
The real question we would all like to know is : what is the next step for H5N1 to go human-to-human – easily. The problem is we have no idea how much this virus has to change to do that. Has it got to change just a little bit? If that's the case, it's very likely it will do it. But if it's got to change a lot, then there is always a chance it might never do it.
I can certainly say the risk is huge! Certainly the H5N1 virus that is out there is a particularly nasty virus. If you want to rank the flu viruses that you don't want in the human population, this guy is right at the top. The potential (threat) is huge. But exactly what the risk is in terms of this virus going human-to-human, nobody actually has any idea.
That's why we are so concerned about finding evidence of human-to-human transmission because what that would mean is that the virus now ­ which is originally adapted for growth in chickens and poultry ­ it gets into one human and may slightly adapt to humans and transmit to the next human. Then it takes that slightly adapted virus and adapts even further to humans. That's sort of what we expect to happen with this build up of the virus to gain the ability to go human-to-human. That's why when we start to see human-to-human transmission, we get concerned.
Quarantines and National Border Controls
WHAT WOULD YOU DO TO STOP IT?
To stop the virus? I don't think at the moment there is probably nothing we can do. I think if we see any real evidence of human-to-human transmission, then borders I think will be strengthened. Anybody ­ I guess similar things to SARS.
A LOT OF QUARANTINE.
A lot of quarantine. People talk about various mathematical models say that flu is probably more transmissible than SARS. And what worked with SARS might not necessarily work with flu. Some of these people with flu might actually be shedding virus before some of the symptoms appear. There might be a window where they are secreting the virus and might not know they have it, which makes it tough as well. But as soon as we start to see human-to-human transmission, I'm sure we'll see a lot of quarantine, stricter border control of people coming and going ­ of people coming in.
HOW LIKELY DO YOU THINK IT IS THAT H5 COULD END UP BEING A REAL HUMAN PANDEMIC PROBLEM?
(laughs) I don't know. I'm somewhat encouraged that the virus has not already done it. To me, we don't know how much the virus has to change. So far, the virus has not done it, so I think it's probably not just a small amount of change the virus has to undergo in order to take off (through human population).
THEN HOW IS CDC TRYING TO DEVELOP A VACCINE AGAINST SOMETHING THAT YOU ARE SAYING POTENTIALLY HAS TO CHANGE IN ORDER TO INFECT THE HUMAN POPULATION? HOW DO YOU DEVELOP A VACCINE FOR SOMETHING THAT DOES NOT EXIST YET?
It isn't just CDC. It's more W. H. O. (World Health Organization.) They want to look at what the virus is doing in the bird populations, to get all the isolates from humans, to characterize them. When does that make change. It may ­ when you talk about vaccines for this virus, the vaccines we have only target two of the viral proteins. The change that the virus might need to make to go human-to-human, might not be in that protein. It might be in another protein. So, this virus might be able to go human-to-human, but for vaccine purposes it would make no difference. Does that make sense?
THAT YOU COULD DEVELOP A VACCINE THAT WOULD HAVE AN IMPACT ON THE VIRUS NO MATTER WHO ITS HOST WOULD BE?
Yes. Yes. That's right. That's why a big part of what's going on with the various agricultural and human health agencies at the moment is to closely follow the evolution of the virus in both humans and the avian population so we can have a vaccine that is representative of the viruses that are circulating.
Why Is Bird Flu So Lethal?
YOU SAID THAT 100% OF INFECTED CHICKENS WILL DIE. WHAT HAPPENS WHEN THE H5 IS IN POULTRY? WHY IS IT SO LETHAL?
Poultry ­ particularly chickens ­ they get a massive viral burden. I don't think anyone knows why it kills so quickly. The virus does go systemic and replicates in many organs within the bird. That is another issue: why do they die so quickly? Some die in 24 hours.
WITHIN 24 HOURS.
They can, yes.
WHAT YOU MEAN IS, IF IT'S A VIRUS THAT IS ABLE TO GET THE AMINO ACIDS TO ALLOW IT TO GO SYSTEMIC THAT YOU HAVE WHOLE ORGAN FAILURE, NOT JUST LUNGS.
Yes, exactly. Multiple organ failure, yeah.
IF THE CHICKENS ARE THEN A PATTERN FOR WHAT HAPPENS IN THEM, THEN THE POTENTIAL IS IN HUMANS IT COULD BE SYSTEMIC WITH WHOLE ORGAN FAILURE AND NOT JUST FOCUS ON THE LUNGS AS WELL?
Yes, that's a worry. I think the jury is out about whether that will occur in humans. But you do get sort of multiple organ failure. But whether that's because the virus is replicating in those organs? There is some evidence that what causes a lot of the pathology might be immuno pathology – the host response to the virus might be causing a lot of the damage as opposed to the actual virus.
THAT IS SOMETHING LIKE AN ALLERGIC INFLAMMATION THAT THEY ALSO FOUND IN SARS.
Somewhat similar, yeah. It's probably true of many of the acute viruses like Ebolas as well where it might not be the actual virus within an organ that causes the problem, but the result of immune system that's been all fired up in the wrong way so instead of clearing infection, it causes pathology.
Avian Influenza H5N1 Pandemic –
Projected Human Mortality Rate?
IF A PANDEMIC DID START IN THE WORLD WITH THIS H5 AVIAN FLU VIRUS, WHAT WOULD THAT LOOK LIKE TO ALL OF US? WHAT WOULD HAPPEN?
I guess it would be the same as it started out with SARS ­ starting with a lot of cases in southeast Asia. Then I think we would see cases popping up in other parts of the world, like it did with SARS, but probably spreading more than that. In some of the flu pandemics we've seen in the past, there has been a milder wave initially ­ so maybe a mild wave that goes around the globe first and then followed by a bigger wave. But whether that will happen with this, no one can really predict.
I think if this virus takes off, it's going to be pretty obvious that it takes off! We would predict a fairly high fatality rate as well.
ABOUT HOW HIGH?
Again, no one can predict. At the moment it's about 70 odd % (76%).
70%? YIKES.
Right ­ yikes! But that could be artificially high because there might be a number of asymptomatic cases we're just not picking up on.
SO YOU'VE GOT ABOUT 100% MORTALITY IN CHICKENS THAT GET THE H5 VIRUS AND THE PROJECTION IS THAT IF IT DID SPREAD INTO A PANDEMIC INTO HUMANS, THERE COULD BE AS HIGH AS A 70% MORTALITY RATE?
Yeah, I would be surprised if it maintained that rate for very long. Obviously a virus that causes that high a mortality probably would not spread that well. The virus doesn't really want to kill its host. To be honest, I don't necessarily think that 70% is probably that accurate. That's of the cases that we know of ­ 70% of the people have died. I'm pretty sure there are many more cases out there we don't know of because maybe it has not caused that much illness and the people haven't come into hospital. I think it's very unlikely if it did take off, mortality would not be anywhere near 70%.
BUT THERE WOULD BE A LOT OF DEATHS IN THE BEGINNING?
Oh, for sure. That's a given.
Current Asian Efforts to Contain Bird Flu
WHAT ARE THEY DOING IN ASIA TO HELP CONTAIN THIS IF THE VIRUS IS NOW SPREAD SO FAR THROUGHOUT ALL OF THE POULTRY POPULATION? IS ANYTHING SPECIAL HAPPENING IN GOVERNMENTS THERE?
Some are still killing off populations when they find infected flocks and doing de-population. Governments are also starting to talk about vaccinating the poultry just to try and lower the burden of virus within the avian population.
DOES THAT WORK?
If it's done properly, it can work. The problem with vaccination is if it's not done properly, what it can do is mask disease symptoms, but allow the virus to spread. You can get enough protection from the vaccine that the birds might not die, but the virus might still grow and transmute.
SO KILLING OFF POTENTIAL INFECTED BIRDS IS STILL THE BEST REMEDY?
At the moment yes, but I think vaccination still has a role to lay. But it's got to be certain that it's done properly."
---
Websites:
CDC: http://www.cdc.gov/flu/avian/professional/han020405.htm
W.H.O. http://www.who.int/en/

© 1998 - 2023 by Linda Moulton Howe.
All Rights Reserved.