"NASA is not about the 'Adventure of Human Space Exploration.' We are in the deadly serious business of saving the species. I think over this century if we industrialize the moon and use its resources, I think it can save civilization. I think over the long haul, going to Mars will extend civilization. But I think the moon has the capability to save us." ­
Astronaut John Young, Captain, Apollo 16 Flight to the Moon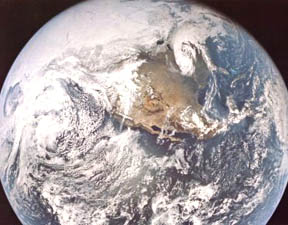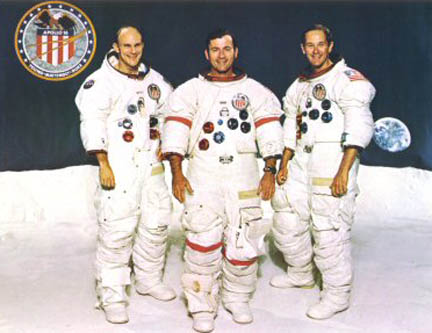 March 20, 2005 Houston, Texas – NASA's longest serving astronaut is John Young who had an aeronautical engineering education before joining the NASA space program in 1962 as a U. S. Navy Captain and test pilot. He was born September 24, 1930, in San Francisco, California; married Susy Feldman of St. Louis, Missouri, and has two children and two grandchildren. His first NASA mission was to pilot the maiden manned flight of the Gemini Program, Gemini 3, in 1965. With Young and Commander Virgil Grissom on board, Gemini 3 was the first American space flight with more than one person. After 42 years of service in the American space program, he retired on December 31, 2004. He was described by William Readdy, NASA's associate administrator for space operations: "John has an incredible engineering mind, and he sets the gold standard when it comes to asking the really tough questions. When he talks, everybody listens."
NASA reports that in his 42 years working for NASA, John Young "commanded the first shuttle mission and flew twice to the moon, was the first human to fly in space six times and the only astronaut to pilot four different spacecraft. He flew in the Gemini, Apollo and space shuttle programs. His first mission was in 1965 as a pilot of the first manned flight of the Gemini program. He went on to command the Gemini 10 in 1966, followed by his orbit of the moon in the Apollo Command Module in 1969. Young went back to the moon in 1972 on Apollo 16 with two other astronauts, Ken Mattingly and Charlie Duke. Young and Duke drove more than sixteen miles across the lunar surface in the Lunar Rover Vehicle and collected more than 200 pounds of rock samples. In 1981, Young commanded Columbia during the first space shuttle mission. His final space mission came in 1983, when he again commanded Columbia."
In Houston this past week, he was the keynote speaker on March 14, 2005, during the first day of the Lunar and Planetary Institute's 36th annual conference – the largest in LPI's history. Nearly fifteen hundred scientists and engineers from around the world came together for five days to share, discuss and dispute the latest data about our solar system – especially from the Mars and Saturn missions providing exciting new images. At the week's end, my mind was impressed by how many more unanswered questions there are now after a year of exploration by the Spirit and Opportunity Rovers on Mars and the Cassini/Huygens spacecraft exploration at Saturn and the ringed planet's very strange, icy moons.
But what I will remember most from the 36th LPI conference was astronaut John Young's talk, his concern about the future of Earth and the urgency he feels about returning to the moon and on to Mars. Both extraordinary efforts are necessary for the survival of the human race, John Young predicts, because catastrophes such as asteroid or comet collisions and super volcanic eruptions have caused near-extinctions repeatedly on Earth and could again. Only by learning to work and survive on extraterrestrial locations such as the moon and Mars will humans develop the technologies needed to survive our planet's own potential disasters.
I sat down with him at the LPI conference on March 15 to learn more about his experiences in space and his deep conviction that the catastrophe clock is always ticking down to periodic, but unpredictable, events that could wipe out civilization.
---
Interview: 
Apollo 16 – 200 Pounds of Lunar Samples
Collected At Descartes Crater Landing Site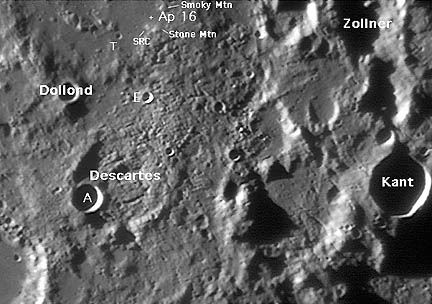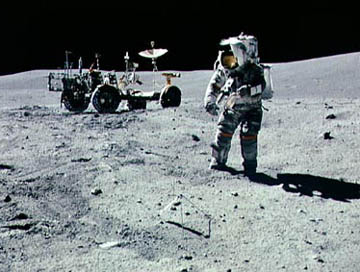 John Young, Astronaut and Apollo 16 Commander, NASA's Johnson Space Center, Houston, Texas: "The first time I saw the Earth from the moon, it was straight overhead and I was aligning a television system we had to line up in a communication system with the Earth's stations. We had a telescope we looked through on the rover to look up to the Earth.
WHAT WENT THROUGH YOUR MIND RIGHT THEN?
It's a great place! We were having a great time. But we were way behind on our timeline and I just thought, 'Let's get this thing aligned and get on with it.'
YOU MUST HAVE HAD SOME HUMAN THOUGHT ABOUT THAT'S WHERE YOU HAD COME FROM?
No, I didn't think about that. We really were busy working our timeline. The place we landed at, Descartes, was a great place and the rocks we found there were very unusual, so we were running around fast as we could to get the job done.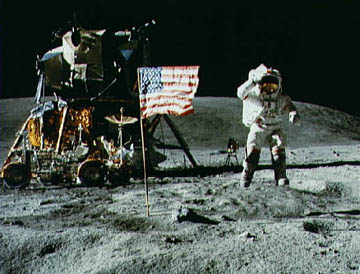 WHAT WAS SO UNUSUAL ABOUT THE ROCKS?

Everybody predicted the geology in the Descartes highlands would be rhyolite rocks (volcanic fire-formed rocks), but we found different kinds of rocks. There is still little understanding about why these rocks are so unique in their location and morphology."
[Editor's Note: England's BBC reported, "The results from the Descartes-Cayley (moon rock) survey were disappointing, insofar as they showed that volcanism had played no part in the region's formation, as had been predicted from the photographic evidence available to the mission planners. The origins of Descartes-Cayley were never fully resolved; but when the returned rock samples were analyzed, they were found to be predominantly impact breccias of varying types, rather than volcanic basalt. The best interpretation of the evidence was that the Descartes Highlands were laid down by the ejecta mass from the impact that formed the Nectaris Basin 3.92 billion years ago. It was later overlaid by further ejecta, possibly from the later Mare Imbrium event, which formed the Cayley Plain between Stone and Smoky Mountains."
On May 23, 1972, under remote control from earth, charges were fired into the moon's crust which indicated that the layer underlying the regolith was composed of brecciated rock (rocks broken by repeated impacts) at least 200 feet deep. Then a couple of months later on July 17, 1972, a 5-ton meteorite hit the far side of the moon and its strong signal was picked up by the seismometer network laid out by various Apollo missions. The data showed "a differentiated, layered structure and a possible inner core to the moon; although the core's size was indeterminate. It also showed that the crust below the highland regolith was about 40 miles thick, and at Procellarum and Fra Mauro about 50 miles thick."]
"COULD THE DESCARTES ROCKS BE METEORITES FROM SOME PLACE ELSE IN THE SOLAR SYSTEM THAT LANDED ON THE MOON?
I don't think so. They might have been throw out from Mare Crisium to where we were, which is a big crater on the moon, but it was an older crater than Mare Imbrium. People thought Mare Imbrium throw out would be rhyolite, but we just found different rocks.
FINDING THE DIFFERENT ROCKS MEANS WHAT ABOUT THE MOON?
It doesn't mean anything except we were ignorant about the surface of the moon back in those days and we have to go back and learn a lot more. At the South Pole basin, it looks to me like there are some very old basalts there that might go hundreds of kilometers down inside the moon. That would tell you a lot about the history of the moon.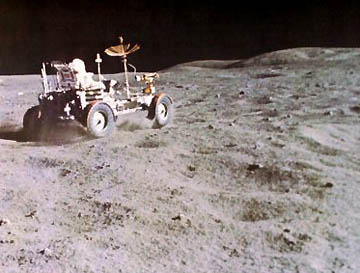 Earth's Violent Past, Present and Future
WHEN YOU SPOKE YESTERDAY, IT SEEMS AS IF YOU WERE GIVING A REALITY CHECK ABOUT OUR LIVING ON A PLANET THAT HAS NO SAFETY GUARANTEES. WHAT IS THE MOST IMPORTANT THING YOU THINK PEOPLE SHOULD UNDERSTAND ABOUT OUR FUTURE SURVIVAL?
Right now, we have the ability in the United States and in the world to develop the technologies that we need to live and work on the moon and Mars. And they are the very same technologies that will help us survive when the normal, terrible things happen like asteroid or comet impacts or super volcanoes. We've got to make progress to do that. We have to come up with new ways of doing things. We have to look at alternate energy sources and we need to do it now if we're going to make it in this century and the next centuries.
The historical geological record of our planet says that sooner or later, we are going to get hit by a comet or asteroid that can take out civilization. We worried about thousands of people getting killed by a tsunami over in Sumatra. Unfortunately, 34% of the population of this planet lives within 100 meters of sea level close to the coast. A big asteroid hitting in the ocean might do in 2 billion people or more. It would be terrible! So we have to worry about those things.
The current statistics are one in 5,000 that in the next 100 years we will get hit by an asteroid or a comet that will take out civilization. Another statistic is one in 500 that in the next 100 years, we will get hit by a super volcano that can take out civilization like a Yellowstone going off 640,000 years ago which put 100 cubic kilometers of ash into the atmosphere. People should not take my word for that. People should read Bill Bryson's book, A Short History of Nearly Everything that talks about this dangerous planet, the one we're standing on. (Click to amazon.com.)
The last super volcano was Toba in Sumatra 76,000 years ago. When it erupted, Toba put 2800 cubic kilometers of ash in the atmosphere. … It put 2800 cubic kilometers of ash in the atmosphere 76,000 years ago. We really have to be able to accommodate catastrophe in the world we live in, not predict and worry about it. If Yellowstone went off, it would probably wipe out the bread basket of the United States. We feed millions of people around the world with our farm products and we don't want to have that happen."
[Editor's Note: Toba caldera produced the largest eruption in the last two million years. The caldera is 18 x 60 miles (30 by 100 km) and has a total relief of 5,100 feet (1700 m). The caldera probably formed in stages. Large eruptions occurred 840,000, 700,000, and 75,000 years ago. The eruption 75,000 years ago produced the Young Toba Tuff, which erupted from ring fractures that surround most or all of the present-day lake.]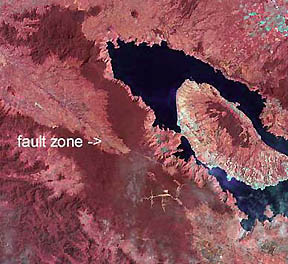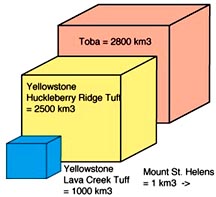 John Young: "We've gotten a lot more educated about impact processes on our own planet Earth and in terms of how super volcanoes operate. We almost had a super volcano back in 1815 when Tambura, Indonesia, went off one hundred times larger than Mount St. Helens did and Tambura produced a year without summer in the United States. A lot of people starved to death because they could not grow crops.
We talk about 'Spaceship Earth.' To survive, we would have to be able to control our environment pretty much throughout. If you have a super volcano, you could have a 6-year window in which temperatures go down below freezing year round. You would have the ash around the planet blocking the sun. We could develop reliable, uninterruptible power using the Moon and send it down to Earth. It could come down anytime. We need to be able to terraform like we'll have to do if we go to the moon. We'll have to be able to control our environment 100% recycling food, water, waste and things like sweat and urine, which we've already done over at the Johnson Space Center. But it takes a lot of energy and you need to get a lot of energy from the moon.
Back in the 1950s, scientists only knew about twelve or thirteen impact craters on Earth. And now they know about 150 or so. They are even finding them in the oceans where we could not even think of finding stuff before. I think we're finding out that the solar system is a very dynamic place. I mean, there is nothing magic about impacts or super volcanoes. It's just the way life is.
DOES IT MEAN THAT EVENTUALLY EARTH POPULATIONS MIGHT HAVE TO THINK ABOUT BUILDING LARGE UNDERGROUND SURVIVAL STRUCTURES?
I think preparing populations to go underground with the kind of things that might happen is very difficult. You have to have technologies to support underground operations, which would require a lot of energy. And where are we going to get that from when you can't get it from the surface.
Earth Is Running Out of Oil
Over the next 50 years, we are probably going to have to use alternative energy sources because I just saw an article where they said by 2050, we would require 900 million barrels of fossil oil equivalent per day. That amount does not exist and won't exist in 2050.
RIGHT NOW, WE ARE TOPPING CAPACITY OUT IN THE MIDDLE EAST AT 25 MILLION BARRELS A DAY.
Yes, OPEC is at 25 million barrels a day. Of course, it's developing countries like China and India ­ they want more fossil fuels and if the Chinese have a car in every garage and there are 1.3 billion of them ­ Boy! it's going to be an incredible use of energy! The Department of Energy here said three or four months ago that by 2025, oil would be $50/barrel. And it's $55/barrel NOW! So, we missed it by 20 years (too early). It's hard to predict the future with any accuracy.
WHAT YOU JUST SAID STRESSES HOW URGENT THINGS ARE RIGHT NOW.
Yes, I think developing alternative energy sources ­ they put in quite a bit, more than $1 billion into developing hydrogen alternative source and fuel cells. But to do fuel cells, you need platinum metals. The moon is full of platinum metals.
Moon's Helium 3 – Nuclear Power Station for Earth?
The moon can help us to survive because of technology we've got to develop:
1) Reliable, uninterrupted electric power from Helium 3 fusion reactor.
2) The ability to terraform.
3) The ability to use inflatable structures.
4) The ability to recycle 100% food, water and waste.
5) The ability to have reliable operation on the surface of the moon with pressure suits and (solar magnetic flare) storm shelters.
Over the long haul, we would then be able to save civilization. Maybe even in the short haul, but the sooner we do it the better.
HOW COULD WE TRANSMIT A LOT OF ENERGY FROM THE MOON TO EARTH?
You can put solar arrays on the moon and distribute electrical power to Earth through satellites around the earth and distribute it anywhere using gigahertz power, radiation power, and send it down pretty efficiently. Before it's over with in this century, we'll probably figure out how to do Helium 3. There is enough Helium 3 on the moon to develop nuclear power that could keep the world going for a thousand years. That's once you've learned how to do thermonuclear fusion with Helium 3 ­ but that might not be until the middle of this century before we figure that out.
WHEN REALISTICALLY DO YOU THINK WE'RE GOING TO HAVE MEN BACK ON THE MOON?
At the rate we're going, it's going to be awhile. They were talking about having a test on the crew exploration vehicle (CEV) by 2008. That would be a miracle if they can do that because it's 2005 right now. Unless you have the kind of budgets you had in the Apollo program. Of course, in the world we have spent trillions and trillions of dollars to avoid World War III. But we haven't spent one cent on developing the technologies that over the long haul can save the human race.
SINCE WE HAVEN'T BEEN TO THE MOON FOR A LONG TIME IN TERMS OF HUMAN EXPLORATION, WHAT IS AVAILABLE NOW IN 2005 THAT HAS NOT BEEN IN THE PAST THAT WOULD ALLOW US TO START SETTING UP THE KIND OF RESEARCH INSTALLATIONS AND LIVING HABITATIONS, STARTING ON THE MOON AND MOVING OUT TO MARS?
Bigelow Aerospace, Inc. is building inflatable structures right now to put on the moon. We have people over at the Johnson Space Center who are working on advances in technology to be able to 100% recycle water waste and be able to do terraforming. It's all technology development work. It's far cheaper to develop the technologies than it is to go to the Moon. But then you would not get the reliable, uninterruptible power you need on the Earth. For the long haul, we are going to need to develop that.
Why Hasn't U. S. Gone Back to the Moon Before Now?
SO YOU THINK HELIUM 3 FUSION REACTOR ABILITY ON THE MOON COULD PROVIDE ALMOST UNLIMITED ENERGY. THE MOON HAS METALS SUCH AS PLATINUM WE NEED FOR A HYDROGEN ENERGY ECONOMY. WHY THEN HASN'T THE UNITED STATES GONE BACK TO THE MOON FOR A FEW DECADES?
I think as H. G. Wells said many years ago: 'The future is a race between education and catastrophe.' We found out in the last ten or fifteen years that H. G. was right on. So, I think it is a matter of education, pure and simple. People have to know about these things and worry about them and do something about them. We're talking about taking care of our kids and grandkids.
BUT WHY WAS THE APOLLO PROGRAM – OR ANY SUBSEQUENT PROGRAM THAT WOULD HAVE KEPT THE UNITED STATES DEVELOPING SOME KIND OF RESEARCH AND INDUSTRY ON THE MOON ­ WHY WAS IT STOPPED IN THE FIRST PLACE?
It was stopped because they didn't think it would amount to anything. I think the Big Guys (political leaders) wanted to quit the Apollo Program back then because they were worried about people getting killed and they didn't think the scientific return was sufficient. But I think the moon was telling us a lot. Jack Schmidt wanted to land on the back side, but we would have needed a satellite in orbit around the moon. I think that would have been good because we don't know very much about the moon.
I think over this century if we industrialize the moon and use its resources, I think it can save civilization. I think over the long haul, going to Mars will extend civilization. But I think the moon has the capability to save us.
The Moon's Microgravity – 1/6th Earth's Gravity
I think the moon is a great place! I think everyone would love the gravity feel of moving and working on the moon when we industrialize it. If we industrialize it in this century, people will love to live and work up there because that gravity field is awesome!
CAN YOU DESCRIBE IT?
It's much better than 0 gravity. One sixth gravity (on the moon) ­ when you drop your pencil, you know where to look for it. In 0 gravity, you might chase the pencil for three hours! (laughs)
WHAT ELSE ABOUT BEING IN THAT MICROGRAVITY DO YOU REMEMBER ESPECIALLY?
You have a lot of mobility. You can easily move around and carry incredible loads. We carried 100 pound sacks of rocks in one hand, just holding them, while the pressure suit weighed another 200 pounds. Yet, you could jump flat-footed five feet in the air carrying that sack of rocks with you to get it up into the lunar module. It was really good!
THE DOWNSIDE IS MEDICAL CONSEQUENCES TO BONES IN THE BODY?
I don't think in 1/6th gravity you would have such a problem. I think you could weigh the body down and do normal things like push ups and sit ups, plus the work you would be doing, I think the gravity would be OK on the body with exercise. But there is some cut-off and we don't know what it is yet. That's one of the things we need to look at in the Space Station. There is some cut-off in which the bones stop making calcium. In zero gravity ­ that's what happens. They stop. But there is some G force at which they keep making calcium. Now, what is that? That's the G force people ought to be operating at when they are on long duration missions and need artificial gravity. I've been trying to get people to use artificial gravity for years. But it's hard to get them to do it. There are actually artificial gravity bicycles that have been developed that you could use in zero gravity and ride around in a circle and develop the gravity on the bicycle. That will work.
Civilian/Industrial and Military Use of Moon?
WHAT ABOUT THE MILITARIZATION OF SPACE AND USING THE MOON?
I think the Department of Defense (DOD) would be over-joyed to have electricity shipped to anywhere on the planet instantaneously and you could do that from the moon. The DOD would like to have such a thing because if they were called on to fight anywhere around the world, they would have instant electricity. They've probably thought about that already.
DO YOU THINK THAT GOING SUBTERRANEAN INSIDE THE MOON IS SOMETHING BOTH OUR CIVILIAN INDUSTRIES AND OUR GOVERNMENT-MILITARY MIGHT WANT FOR COMPUTERS, ARCHIVES AND HUMAN LIVING QUARTERS? SAFER UNDERGROUND?
I think everyone is talking about finding lava tubes on the moon. I think it would be difficult to find, but if they are up there, I would sure use them. I think there will be a lot of storm shelter digging on the moon because you will have to protect yourself from solar flares. I believe we will go back to the moon and when we do, people will do a lot of exploring in pressure suits and will carry shovels with them to dig storm shelters if there is a storm. It's going to be very exciting, but I don't think it will be fatal. I think it will be a lot of fun to live and work on another place in the solar system. Over the long haul, the moon really has the potential to save us.
BUT IT SEEMS LIKE IT WOULD BE MORE PRACTICAL TO GO UNDERGROUND, EVEN WITH THE INFLATABLES – AND USE THE SURFACE FOR TRANSPORTATION?
We talk about using inflatables on the surface where you put two meters of regolith (lunar rocks and dust) over the top of them. You don't dig a big hole and put them in the ground and cover them up. You just put two meters of regolith over the top. Or you can, as an alternative, you could have storm shelters inside your inflatables where you dig down into the ground a little ways to allow people to get under there. When you have a bad solar flare, you need about two meters of moon dust above you and that's easy to do.
IS THERE AN ARGUMENT AGAINST UNDERGROUND STRUCTURES?
I don't think anyone cares one way or the other as long as we learn more about how to live and work on another planet in space and to industrialize it and to give the world alternative energy sources it's going to need.
IF OTHER NATIONS TRY TO GET THERE BEFORE THE UNITED STATES TO MAKE A CLAIM ON THAT SOUTH POLE OF THE MOON, WHAT ARE THE IMPLICATIONS FOR EXPLORING THE MOON AND FIGHTING OVER THE SOUTH POLE?
I don't think so! (laughs) 2800 kilometers (1,740 miles) ­ that's enough in the South Pole for everybody. 2800 kilometers across is big country.
SO NO FIGHTS OVER THE MOON'S SOUTH POLE?
I don't see any reason to, no. I think we will go to the moon in this century to save civilization on Earth and we'll go to Mars in this century to extend civilization there. There is plenty of territory up there for everyone to live and work on Mars and I don't think it's worth fighting over. I think it's worth making progress with new technologies.
WOULD THERE BE COMPETITION BETWEEN THE CIVILIAN USE OF THE MOON AND THE MILITARY USE OF THE MOON?
I don't think so. The sunshine on the moon is eight times brighter than it is on the Earth. Much of the area around the Moon's south pole is within the Aitken Basin and Shackleton Crater. I understand there are a couple of rims on the Shackleton Crater that are in sunlight all but 98 hours every year. So we might get some batteries for 98 hours to keep solar rays powered up, but the rest of the time, you could be shipping electrical power to the Earth.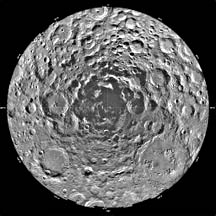 SO THAT SOUTH POLE ON THE MOON IS REALLY VALUABLE REAL ESTATE?
Everybody thinks it is. Everybody wants to go there. First, it's got the South Pole Aitken Basin which is one of the biggest craters in the solar system, about 2800 kilometers across. It's really worth seeing. Some people think there might be water on the moon and it could be in ice there at the pole. Another plus at the South Pole is that it has permanent shadows in some of those crater areas where you could put an infrared telescope and that would be awesome.
[Editor's Note: Ice which might provide water for fuel cell energy and drinking was discovered at the Moon's north and south poles in 1998 by the Lunar Prospector spacecraft. Other information on lunar polar ice and sunshine at the Moon's South Pole came from data in the 1994 Clementine mission that observed the Moon for 71 days. Clementine took images of the south pole every ten hours for about two lunar days. The rim of the Shackleton crater is receiving sunlight more than 80% of the time. Two places, only ten kilometers apart, are in sunlight at least 98% of the time.]
WHEN REALISTICALLY DO YOU THINK WE WILL BE ON THE MOON BUILDING STRUCTURES AND TECHNOLOGIES?
As soon as people get educated. It's just a matter of time, but they need to get educated fast because we don't really know how much time we have until one of the big natural events happens to us.
OF EITHER A SUPER VOLCANO OR ASTEROID OR COMET.
Yes, we really don't know.
Human Mission to Mars?
We have a fellow working on an engine right now ­ Franklin Chang Diaz, NASA's first Cost Rican astronaut. It's the Variable Specific Impulse Magnetoplasma Rocket (VASIMR) project. It could help us if we had an earth-crossing asteroid. You could go up there and dock with the asteroid and move it out of the way if it were going to hit Earth. So, you could prevent that catastrophe. It runs on hydrogen plasma and it runs on a magnetic nozzle that's controlled by superconducting magnets.
That's one use for it. Another use for it is to put people on Mars with nuclear power driving the engine. You could put people on Mars in 90 days, instead of six months.
HOW LONG DO YOU THINK IT WILL BE UNTIL WE HAVE A MANNED MISSION TO MARS, LANDING AND PUTTING UP INFLATABLES OR WHATEVER THEY ARE GOING TO DO?
At the rate we are going, they are talking about going to Mars by 2050. I think it will be difficult to get to Mars, but it's a very interesting place, no question about it!"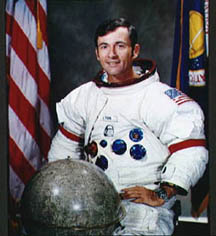 ---
More Information:
Astronaut John Young's Special Honors: Congressional Space Medal of Honor (1981), 4 NASA Distinguished Service Medals, NASA Outstanding Leadership Medal (1992), NASA Exceptional Engineering Achievement Medal (1987), NASA Outstanding Achievement Medal (1994), Navy Astronaut Wings (1965), 2 Navy Distinguished Service Medals, 3 Navy Distinguished Flying Crosses, the Georgia Tech Distinguished Young Alumni Award (1965), Distinguished Service Alumni Award (1972), the Exceptional Engineering Achievement Award (1985), the Academy of Distinguished Engineering Alumni (1994), and the American Astronautical Society Space Flight Award (1993), Distinguished Executive Award (1998), Rotary National Space Achievement Award (2000). Inducted into 6 Aviation and Astronaut Halls of Fame. Recipient of more than 80 other major awards, including 6 honorary doctorate degrees.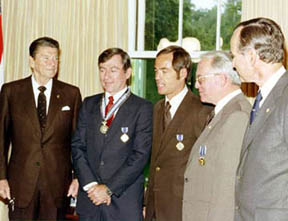 ---
Websites:
John Young's "Big Picture" Essay: http://www.johnwyoung.com/main/jyessay.htm
John Young's NASA Bio: http://www.jsc.nasa.gov/Bios/htmlbios/young.html
The Moon: http://nssdc.gsfc.nasa.gov/planetary/planets/moonpage.html
Mars Rovers: http://marsrovers.jpl.nasa.gov/home/index.html

© 1998 - 2019 by Linda Moulton Howe.
All Rights Reserved.