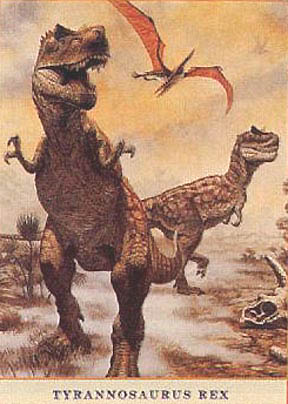 April 1, 2005  Raleigh, North Carolina – One of the most awesome creatures that ever walked on Earth was the 20-foot-tall Tyrannosaurus rex, or T-rex. It was a big meat eater with many sharp teeth as long as six inches in a head that could be five feet long. Sixty-five million years ago, the big dinosaurs were roaming what is now called the Hell Creek Formation in the state of Montana when an asteroid, maybe 6 miles in diameter, hit the Earth near the Yucatan Peninsula. That violent impact and its subsequent fires and dust blocked sunlight around the world for months and killed off more than 75% of all Earth life. Thirty-one dinosaur skeletons have been found at the Hell Creek Formation in the past four years by Montana State University paleontologist, Jack Horner. And one of those is the first dinosaur remains to have stretchy tissue and even what appears to be blood cells inside one of its leg bones. This astonishing discovery recently published in the March 2005 journal, Science, was made by biologist and paleontologist, Mary Higby Schweitzer, Ph.D., at North Carolina State University's Dept. of Marine Earth and Atmospheric Sciences.

It all started in 2000 when a fossil prospector named Bob Harmon was searching around the Hell Creek Formation in Montana and sat down to eat lunch. He saw some bones sticking out at the base of a cliff and realized it was the foot of a Tyrannosaurus rex. But there were so many thick sedimentary layers covering the skeleton that it was not until 2003 that Prof. Horner had managed to extract the skeleton and the bones reached Prof. Schweitzer's lab. She applied a solution to dissolve minerals from part of the leg bone for more detailed study.
---
Interview: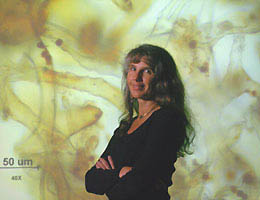 Mary Higby Schweitzer, Ph.D., Assistant Professor, Department of Marine Earth and Atmospheric Sciences, North Carolina State University, Raleigh, North Carolina: "In modern bone, if you remove the minerals ­ the mineral in bone is what makes your bone hard. If you didn't have the minerals, you probably would not be able to walk because what is left is kind of soft and flexible. You can try this by taking a chicken bone and putting it in a jar of vinegar and letting it sit for a couple of weeks. When you take the bone out, it doesn't look all that different, but you can tie it in a knot.
So, what you've done is use the acid in vinegar to remove the minerals and you leave behind protein. But with fossil bone, of course, no one expects there to be anything left when you remove the minerals. So, we were trying to do this rather slowly. The more mineral we removed, the weirder it got because the bone was not going away like it should. It was becoming really stretchy and that was our first indication that something really strange was going on with this bone.
YOUR IMAGES IN THE SCIENCE ARTICLE SHOW CELLS WITH NUCLEI AND MAYBE EVEN HEMOGLOBIN?
Yes, we do see what appears to be cells. And they do indeed contain nuclei. And there is more than one type. But if they are really cells or not, we have to await the analysis. I'm not willing to say they are cells, even though they look and act like cells until I've done the characterization of them.
Tyrannosaurus rex Blood Vessels, Blood Cells and Endothelial Nuclei?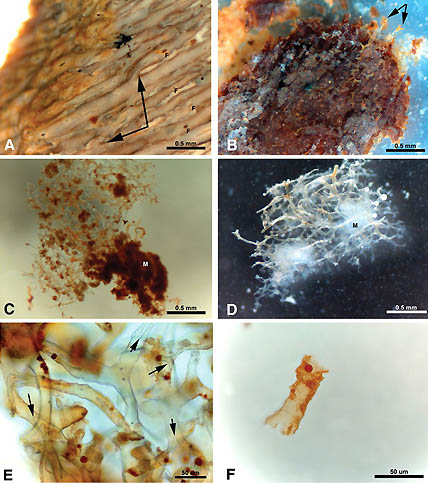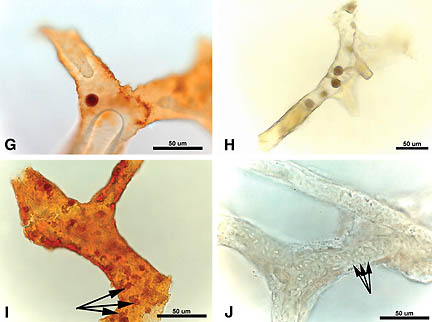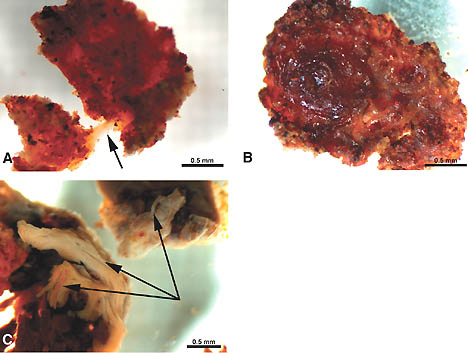 T-rex Bone Cells?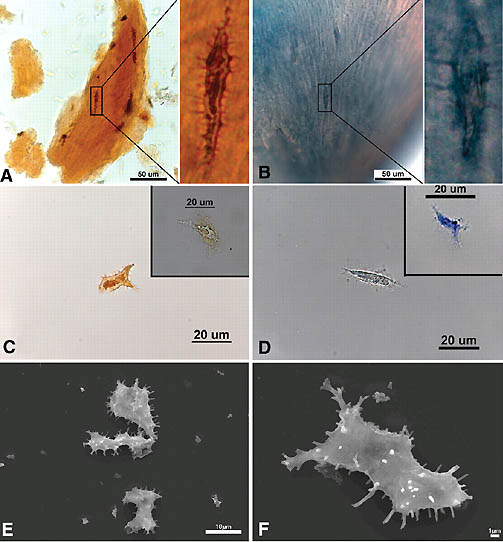 Could T-rex Cells Be Cloned?
IF THERE ARE CELLS AND IT IS T-REX TISSUE, IS IT POSSIBLE THAT DNA MIGHT BE ABLE TO BE RECOVERED?
Well, if our studies show they are cells and that it is dinosaur tissue, there is a remote chance we could. But the problem is that DNA as a molecule degrades quicker than most other molecules. And so, we might have, for example, fragments of protein, but no DNA. We haven't even proven that we have protein yet. So, DNA is not the focus of our research. It's not the focus of my study. It's down the list of things I will be looking for. But we've always been told that soft tissues in dinosaurs are not possible either. So, at this point, I won't rule anything out, except for cloning of a dinosaur.
IF THERE WAS DNA AND IT WAS VIABLE, THEN CLONING A T-REX MIGHT BE POSSIBLE IN SOME FUTURE?
No. It's not just about the DNA in order to clone an extinct organism, especially one that has been extinct for 65 million years. If we were able to recover DNA from a Tyrannosaurus rex, realize that it would be chunked up into little tiny fragments. We're talking eight to ten orders of magnitude less than what you need for a complete genome of any vertebrate today. That's orders of magnitude less.
Then to make a functional organism, we would have to figure out how to put those all together. But you would have to figure out how to put them together in exactly the right order. Because if you mess up the order, you're going to mess up the organism. Since we don't have any living dinosaurs, we have nothing to compare it to, except birds. Birds have continued to evolve for millions of years since the dinosaurs stopped. So they might not give us what we need.
But even if you could figure out how to put all of those pieces together in a correct order, they have to be arranged on chromosomes. And we have no idea how many chromosomes a dinosaur had. Even if you could figure that out, then you would have to figure out how to put those in the appropriate environment inside a cell so that it could get all the hormonal and environmental cues to turn those genes on and off, again in the correct order and correct sequence for the correct length.
We have absolutely no idea what those hormonal and chemical cues are to do that for a dinosaur. So, to get to the point you can clone a dinosaur, the easiest part is going to be getting the DNA out. We have not done that yet and I'm not willing to say that is possible right now. So, no! Dinosaur cloning is not in the future.
BUT IN YOUR PAPER, YOU ARE PRESENTING IMAGES OF WHAT APPEARS TO BE CELLS. WOULDN'T CELLS CONTAIN CHROMOSOMES?
At one point in time, yes. But cells degrade. And even if they are not visibly degraded, they are chemically degraded.
WHAT IS AT THE TOP OF YOUR RESEARCH LIST?
Figuring out what they are. I mean, they look like vessels and they are transparent and they are stretchy and they are where vessels are supposed to be and they are hollow. But we don't know that they really are blood vessels. In order to determine that, we are going to need to determine what they are made of. And we have to do the same thing for the population of cells that we have.
And the reason that it's so exciting, I guess, is this is the first time ­ let me back up a little bit ­ there has been an awful lot of analytical and experimental studies about how cells and tissues degrade after death. We know the chemical cascades involved. We know the molecules involved and we know what happens to cells and tissues during degradation. Knowing that, knowing the chemistry, soft tissues will go away easily within 100 years of death. Easily, except in very rare cases where you have things mummified, for example, or things frozen in ice. That is not the case for dinosaurs. So, knowing that, based upon the chemistry and experiments and everything else, it is not possible ­ according to our current theories ­ to have dinosaur soft tissues remain soft and flexible for this long, which is why I'm not willing to say that's what they are yet until I study them further.
AND THE IMPLICATION IS: IF THEY ARE BLOOD VESSELS, THEN THERE MIGHT BE SOMETHING IN THE ORIGINAL DINOSAUR CHEMISTRY THAT IS DIFFERENT THAN WHAT WE UNDERSTAND ABOUT LIFE TODAY THAT MAY HAVE MADE THE ABILITY OF THESE TISSUES TO LAST FOR 69 TO 65 MILLION YEARS?
Maybe. I guess that's one thing to look at.
THEN WHAT WOULD THAT BE?
I have no idea."
---
More Information:
See other Earthfiles reports concerning Tyrannosaurus rex and dinosaurs:
09/02/2003 — Updated – Astronomers Don't Think Asteroid Will Hit Earth in 2014
05/30/2003 — Scientists Surprised by Common House Fly Fossils in Antarctica
05/17/2003 — Major Study Reports Only 10% of Large Ocean Fish Remain
11/14/2002 — What Happened 12,000 Years Ago That Killed So Many Animals?
10/22/2002 — What Is the Huge Bird Flying Over Manokotak, Alaska?
03/09/2002 — Dinosaur Feathers – Even On Tyrannosaurus rex?
12/22/2001 — Scientists Warn That Climate and Earth Life Can Change Rapidly
10/28/2001 — 12,000-Year-Old Human Hair DNA Has No Match With Modern Humans
01/07/2001 — Dinosaur-Killing Asteroid Punched 22 Miles Through Earth's Entire Crust
04/30/2000 — A Dinosaur with A Warm-Blooded Heart
---
Websites:
Hell Creek Formation: http://serc.carleton.edu/research_education/cretaceous/hell.html
Tyrannosaurus rex: http://www.ucmp.berkeley.edu/trex/specialtrex2.html


© 1998 - 2019 by Linda Moulton Howe.
All Rights Reserved.