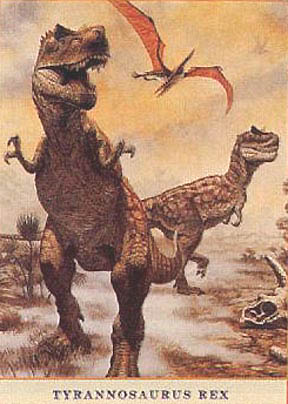 April 1, 2005  Raleigh, North Carolina - One of the most awesome creatures that ever walked on Earth was the 20-foot-tall Tyrannosaurus rex, or T-rex. It was a big meat eater with many sharp teeth as long as six inches in a head that could be five feet long. Sixty-five million years ago, the big dinosaurs were roaming what is now called the Hell Creek Formation in the state of Montana when an asteroid, maybe 6 miles in diameter, hit the Earth near the Yucatan Peninsula. That violent impact and its subsequent fires and dust blocked sunlight around the world for months and killed off more than 75% of all Earth life. Thirty-one dinosaur skeletons have been found at the Hell Creek Formation in the past four years by Montana State University paleontologist, Jack Horner. And one of those is the first dinosaur remains to have stretchy tissue and even what appears to be blood cells inside one of its leg bones. This astonishing discovery recently published in the March 2005 journal, Science, was made by biologist and paleontologist, Mary Higby Schweitzer, Ph.D., at North Carolina State University's Dept. of Marine Earth and Atmospheric Sciences.
Click here to subscribe and get instant access to read this report.
Click here to check your existing subscription status.
Existing members, login below:

© 1998 - 2023 by Linda Moulton Howe.
All Rights Reserved.