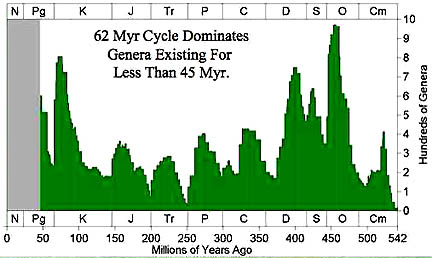 Apri1 1, 2005  Berkeley, California – Whatever humans do, or don't do, in this century to help sustain the Earth's ecosystem, it appears that our planet has endured some kind of assault every 62 million years which kills marine life all over the world. The last big global catastrophe is definitely linked to the impact of a large asteroid near the Yucatan Peninsula in the Gulf of Mexico 65 million years ago. About 75% of all living creatures in the oceans and on land were literally wiped out to extinction, including the dinosaurs. Could there be a 62-million-year cycle of asteroids, comets or other cosmic debris that affects our solar system and Earth? Or is it fluctuations in our Sun? Or the periodic volcanic violence of our own planet? Or something else?
Those are the questions that physicist Richard Muller and his graduate student, Robert Rohde, have been trying to answer over the past few years and recently published their findings in the March 10, 2005, issue of the British science journal, Nature. What came together to make their investigation possible were two scientific accomplishments. First, the most complete study ever done of all the known world marine fossils was the life work of University of Chicago paleontologist, Jack Sepkoski. He documented 36,380 genera of marine life over the past half a billion years. After his death, his work was published as Compendium of Fossil Marine Animal Genera. That is the most complete reference available for the study of biodiversity and extinctions.
Then last year emerged a computer model known as the "2004 Geochronology Time Scale." Prof. Richard Muller and Robert Rohde combined the Compendium and Time Scale to search for cycles of extinction in the marine fossil record. And where they began was a discovery that Prof. Sepkowski had found while assembling his meticulous compendium of fossils.
---
Interview:
Richard Muller, Ph.D., Prof. of Physics, University of California – Berkeley, Berkeley, California: "About twenty years ago, Sepkowski found an interesting and intriguing pattern in the recent fossil record. They found great extinctions ­ when animals go away abruptly ­ appeared to occur every 26 million years. Back then, they had the data and they were analyzing it and published their papers. Now, that their data are all publicly available and in this form that we could use on a computer, I wanted to verify and see if that 26 million year cycle of sudden mass extinctions was still there. So, that's how we began the work, looking for that.
I enlisted help from a graduate student, Robert Rohde, and one day when I was away, I got an e-mail from Robert saying that he had been looking for this 26 million year cycle, which we believe now is really there. But he found something that was much, much larger ­ it was a huge variation in the diversity of the fossil genera. Diversity basically measures how many different kinds of creatures there are. So high diversity means there are a lot ­ like we find in the rainforests today ­ but over the whole Earth. Low diversity means that for some reason, and it could be many reasons, there aren't that many, that the variety has decreased.
We found this huge cycle at every 62 million years when diversity would grow and then it would collapse and it would grow and then collapse and the cycle was quite regular. That was a real surprise ­ much bigger than what we were looking for.
WE KNOW THE DINOSAURS AND A LOT OF LIFE WERE WIPED OUT 65 MILLION YEARS AGO BY AN ASTEROID. DOES THAT IN ANY WAY TIE INTO THE 62 MILLION CYCLE?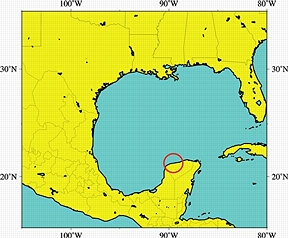 Your number is absolutely correct and yes, it does. If this were the only thing going on, we would now be in an era of low diversity. But there are two things that compensate for that:
One of them is that for the last 100-150 million years, biodiversity has been increasing on top of the 62 million cycle. So, that increase is a bigger effect.
The other effect is that with closer examination into these data, we found there is a second cycle, almost as strong as the 62 million cycle. That's 140 million years. So, these two things come and go ­ the 62 million cycle and a somewhat weaker 140 million cycle. The 140 million year cycle was at its low diversity point 65 million years ago. But now it's at a relatively high point. So, they tend to cancel (each other out). Because of these two effects, the growth in diversity and the fact that the 140 million year cycle is now in a peak of diversity, the (62 million low diversity) cycle effect is not very big at present.
 Ice Ages and 140 Million Year Galactic Cycle?
I THINK THE 140 MILLION YEAR CYCLE IS ASSOCIATED WITH CYCLIC ICE AGES ON THE EARTH. YET WE CAME OUT OF AN ICE AGE ONLY 12,000 YEARS AGO. IS THERE ANY CONNECTION THERE?
The Ice Ages ­ we've basically been in a constant Ice Age for the past million years. Yes, we came out of one about 12,000 years ago, but we've been coming out of them every 100,000 years for a short period. We're kind of near the end of one of those short periods right now. If we look over the past million years, it's been mostly ice, with short periods of what we call 'inter-glacials.' We happen to be in one of those right now.
When I talk about the 140 million year cycle of the Ice Ages, I'm referring to the fact that right now there is lots of ice with short inter-glacials, whereas if you go back 65 million years, there was actually very little ice ever! So, these microscopic things ­ 12,000 years sounds like a long time to you and me. But on the cycle of 65 million years, it's just a blink of an eye.
Milky Way Galaxy Bands of Dust and Gas?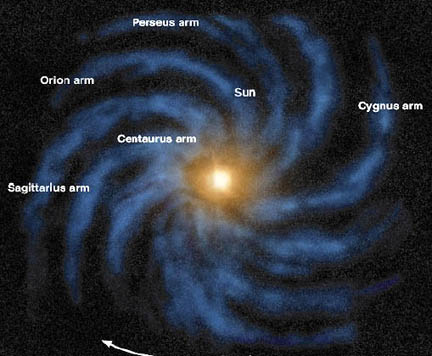 COULD THE 62 MILLION CYCLE THAT YOU HAVE JUST DESCRIBED BE RELATED TO THE ENTIRE SOLAR SYSTEM, GOING THROUGH SOME BUMPY PATCHES OF GAS AND DUST EVERY 62 MILLION YEARS?
That's my favorite hypothesis. But there is no evidence there is dust out there with that kind of regularity. When Robert and I looked to see how often we passed regions of dust in the galaxy, the best answer was around 140 million years ­ although it might be longer or shorter. But we could not find any pattern that would be 62 million years.
So, the 140 million year cycle could be due to the passing of the Sun and Earth through these dense regions called the galactic arms. That's plausible. But looking hard and talking to the experts, 62 million years ­ there is nothing out there that we know of that we pass through every 62 million years. Doesn't mean it's not there, but now it's moving away from science to mere speculation.
Fluctuating Sun?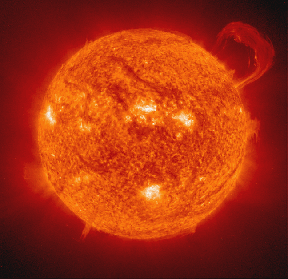 We looked hard at lots of things. Maybe the Sun could be undergoing some sort of oscillation and gets brighter every 62 million years. So, we looked hard at solar theory to see whether the reactions that are going on in the Sun ­ maybe there is something somebody missed. Maybe there is something that heats up and cools off. We looked at solar theory. We do understand the Sun pretty well and we can pretty well rule that out as an explanation.
Mega Volcanoes?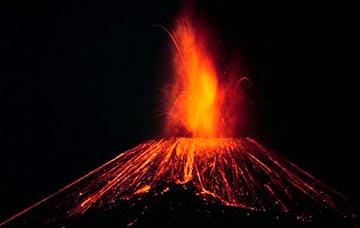 Another possibility is that we are undergoing regular volcanic eruptions. This is Robert Rohde's favorite. If you have a source of heat, as we do deep down in the Earth, every now and then a big blob could come up to the surface, create a huge volcanic eruption, and those might occur on a regular pattern. Once you have relieved the pressure, then it settles down for awhile ­ maybe 62 million years. So, we looked at the records of volcanic eruptions and in fact, there were huge volcanic eruptions right around the time when the dinosaurs went extinct ­ 65 million years ago.
There was another (volcanic eruption) right at the Permian-Triassic, one of the greatest extinctions of all time, at 250 million years ago. Maybe that's what's really going on here. There have been lava flows so big they would cover the state of California!
It turns out that there does not seem to be a regularity of these eruptions every 62 million years, except for those two. So, it's possible as we get better geologic data, it will verify that the cycle is due to volcanic eruptions. But right now, the evidence does not support that.
Earth-Crossing Cycles of Asteroids and Comets?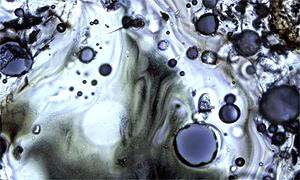 WE SAY THAT THE DINOSAURS WERE WIPED OUT BY AN ASTEROID THAT WENT INTO THE YUCATAN AREA. IS IT POSSIBLE THAT THERE COULD BE SOMETHING THAT CYCLES IN THE ASTEROID BELT OR KUIPER BELT?
That is asteroid impacts occurring. We know there was a great asteroid impact 65 million years ago and that played some role here (in the 62 million cycle). So, it suggests that maybe every one of the cycles should be due to an asteroid or cometary impact. The problem there is that the evidence that other cycles are caused by impacts is really very weak. to come up with an explanation ­ I tried very hard to come up with an explanation for something that would cause asteroid or comet impacts every 62 million years. You can say that something is there, but that's speculation.
The hard part is to do a calculation that shows that something we know about, some simple mechanism you can come up with, would cause such a thing to happen. Maybe there is a star, like the Nemesis, that's on a 62 million cycle (instead of 26 million). But I can rule that out because the calculations show the orbit is unstable.
So, we tried lots of ideas, but we could not make any of them work. Right now, we're at a loss. We don't know what causes the 62 million year cycle.
IS IT POSSIBLE THAT CURRENT HUMAN CIVILIZATION SIMPLY HAS NOT BEEN AROUND LONG ENOUGH TO HAVE A REALITY CHECK ON THE CYCLES OF GALACTIC ARMS AND ASTEROIDS AND THE SUN?
I think that must be the answer. Our science is really just at the beginning of astrophysics. The things we don't know about the galaxy ­ anybody who is an expert in this would be happy to list them. Dark matter is a big mystery. Dark energy is a big mystery. We don't know if our galaxy has four arms or two arms. We don't really understand what is going on at the core of the Milky way galaxy. So, there are a huge amount of things for future scientists to figure out. I'm hoping that when they do, one of them will turn out to say: 'Look at this, here is something that's 62 million years.'
YOU'RE USING THAT NUMBER, 62 MILLION. AND WE KNOW THE ASTEROID CRASHED INTO THE EARTH ABOUT 65 MILLION YEARS AGO AND THE DINOSAURS AND SO MUCH LIFE WAS WIPED OUT. DOES THAT MEAN WE ARE OVERDUE FOR SOMETHING TO HAPPEN NOW?
Not necessarily overdue. If the cycle is right, then there is a larger number of impacts hitting the Earth every 62 million years. If we look over the history of the Earth and life on Earth which goes back over 300 million years, then we see these cycles. The data as we look at them now seem to show more gradual changes, as if there are times lasting half a cycle up to 30 or 31 million years when diversity is low. This could come about from perhaps an impact every few million years. Then there are periods of 30 million years when biodiversity is high. So not every cycle here consists of an event as big as the one that killed the dinosaurs. It's certainly possible that over the past few million years, asteroid or cometary impacts on the Earth could have helped trigger these kinds of cycles. Since they weren't as big as the one that killed the dinosaurs, we just haven't paid much attention to them ­ but this is just speculation."
Prof. Muller will keep trying to figure out which marine animals have been the most vulnerable to the 62 million cycle of destruction in hopes of finding the cause. Ironically, right now it's humans that are doing the destroying and our very lives depend on what we do next to protect this planet.
---
More Information:
See: Earthfiles053003 Scientists Surprised by Common House Fly Fossils in Antarctica
Other Earthfiles reports about potential extinction events:
03/20/2005 — Astronaut John Young: "The Moon Can Save Earth's Civilization."
02/26/2005 — Collapse of Societies: From Easter Island to Iraq – to Western World?
02/03/2005 — British Scientists Warn Global Temperatures Could Climb Higher Than Earlier Estimates.
08/27/2004 — Global Warming Impact On Birds – More Extinctions Expected
09/02/2003 — Updated – Astronomers Don't Think Asteroid Will Hit Earth in 2014
11/14/2002 — What Happened 12,000 Years Ago That Killed So Many Animals?
07/20/2002 — Extinctions of Earth Life Are Accelerating Rapidly
04/27/2002 — Earth's Magnetic Anomalies – Could the Poles Flip?
01/05/2002 — Global Warming Update – Could Increasing CO2 Gas Be Transformed Into Limestone?
12/22/2001 — Scientists Warn That Climate and Earth Life Can Change Rapidly
06/09/2001 — Environmental Updates and Colt Mutilated in Leitchfield, Kentucky
02/25/2001 — Environmental Updates
02/07/2001 — 94% Decline In Aleutian Islands Sea Otter Population
01/07/2001 — Dinosaur-Killing Asteroid Punched 22 Miles Through Earth's Entire Crust
10/25/1999 — A Mysterious "Perturber" at the Edges of Our Solar System
---
Websites:
Mass Extinctions On Earth: http://www.answers.com/topic/extinction-event
Near-Earth Objects: http://neo.jpl.nasa.gov/
Volcanoes: http://volcanoes.usgs.gov/
Solar Activity: http://sohowww.nascom.nasa.gov/
Milky Way Galaxy: http://abyss.uoregon.edu/~js/ast123/lectures/lec10.html

© 1998 - 2019 by Linda Moulton Howe.
All Rights Reserved.