"If it was a positive CWD animal, I would not eat it. In the infectious prion form, we hope the species barrier will protect us. But the recent history of BSE (Mad Cow) suggests it has not."
– Srinand Sreevatasan, D.V.M., Univ. of Minnesota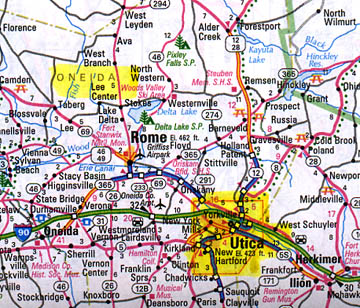 April 7, 2005  Albany, New York – This week on April 2, 2005, a second case of Chronic Wasting Disease was confirmed in a white-tailed deer farm in Oneida County, New York State. Utica is the county seat. The week before, the first case was reported by New York's Department of Agriculture and Markets and the New York Dept. of Environmental Conservation (DEC).
Chronic Wasting Disease, also known as CWD, is similar to Mad Cow in its ability to transmit from animal to animal. But so far, CWD has only been found in white-tailed deer, mule deer, elk and moose in North America. Mad Cow ­ also known as bovine spongiform encephalopathy, or BSE – has infected cattle and people in England and many other European countries since the early 1990s. More than 200 people have died from a Mad Cow-related disease in Europe after eating infected meat and organs.
Since both Chronic Wasting Disease and Mad Cow cause severe brain and nervous system deterioration which is always fatal, scientists have been trying to understand how Mad Cow crosses the species barrier from animals to people. So far CWD has never had a confirmed link to human illness and death. Both diseases are caused by natural body proteins called "prions" that become misshapen, or "folded the wrong way." So far no one knows why the naturally occurring proteins in animals and humans go haywire and cause so much self-destruction in the brain and nervous system.
The United States and Canada have been working hard to keep Mad Cow-infected cattle out of the Northern Hemisphere. But there have been a few cases in the past couple of years. And while Chronic Wasting Disease was originally a problem only in western deer, elk and moose, the prion disease has now spread to thirteen states from the Rocky Mountains to New York, and into the Canadian provinces of Saskatchewan and Alberta.
In New York State, deer are raised in captive herds called deer farms to sell the meat for venison stakes or to ship out to game hunting preserves. The bottom line is that all the captive herds will eventually be eaten. What New York State is faced with right now are seven deer herds in the same region which now must be taken out of circulation. Of the seven, two herds have had the CWD-infected deer. All twenty animals in those two herds were killed this week so their brains can be studied at New York's Veterinary Diagnostic Laboratory at Cornell University. Microscopic examination of brain, lymph, tonsil and nervous tissue is the only way to confirm the presence of the destructive proteins.
This week, I talked with Michael Fraser, Assistant Commissioner for Media Relations in New York State's Department of Environmental Conservation in Albany. I asked him if they had any idea how the two Oneida County white-tailed deer herds became infected with CWD.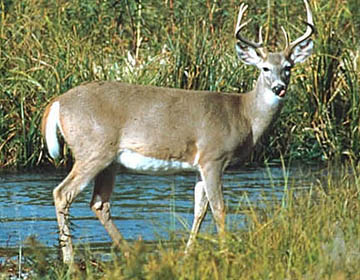 ---
Interviews:
Michael Fraser, Assistant Commissioner for Media Relations, New York State's Department of Environmental Conservation, Albany, New York: "There is a lot we can learn about CWD. We know its effects. We no it's always fatal. As far as transmission from animal to animal, we're still in a learning process. Because of that, because there are questions that need to be answered, we implemented stringent regulations as a precautionary measure to try to keep CWD away from New York. We've learned from the states that have faced this challenge in the west and Midwest. It's fair to say, we are continuing to learn more about CWD as time goes on and to try to get more answers.
WHAT IS THE CURRENT THINKING ABOUT WHERE THE SOURCE OF THE PRION DISEASE CAME FROM IN THE TWO DEER?
That's the matter we're looking into and that's the most important part of our investigation right now. There are a number of theories, but to speculate on one or to narrow down to one is premature. DEC is working with the Dept. of Agriculture Markets to identify the source. Because we're dealing with captive herds, we are backtracking and trying to dig up as much as we can on the history of transactions, the history of any importation of these animals into New York and do whatever we can to make that final determination to put that piece of the puzzle in place.
Uncertain Source of All Deer in Captive Herds
DO YOU KNOW WHERE THE CAPTIVE HERDS CAME FROM?
Right now, we haven't made a final determination. It varies from animal to animal. Some were born on the farm. Others came from different parts of the state. But we're trying to track all that down and the highest priority for us is to gain more knowledge and get a better handle on what the source is.
SO THE DEC AND OTHERS MIGHT NOT HAVE ADEQUATE PAPER WORK ON EACH ANIMAL IN A CAPTIVE HERD?
There's the potential for that if some farm owners kept more diligent records than others. But that's something the Dept. of Agriculture and Markets and our DEC are going to work together on and do what we can to find record keeping through interviews and various means to backtrack and do as thorough and comprehensive research as we can on this.
20 Deer In Two CWD-Infected Herds Killed
April 5, 2005, for Medical Study
WHAT IS HAPPENING RIGHT NOW TO THESE SEVEN HERDS ­ THE TWO IN WHICH YOU HAVE FOUND THE CONFIRMED CWD – AND THE OTHER FIVE HERDS?
At the two farms where we have detected CWD, we are conducting depopulation ­ meaning we are going to take the deer and sample all of the deer at our Cornell laboratories.
WHICH MEANS YOU HAVE TO KILL THEM FIRST.
Right. As you know, to take samples to test for CWD, you need brain matter.
RIGHT. AND HOW DO YOU GO ABOUT DOING THIS AND HOW MANY ANIMALS WILL BE KILLED?
All the animals in the two herds, so you're talking a total of 20 will be killed and sampled.
WHEN WILL THE ANIMALS BE KILLED AND SHIPPED TO CORNELL?
They will be killed today and shipped immediately to Cornell. We hope to have test results back from Cornell within 2 weeks.
OK, SO SOMEWHERE AROUND APRIL 18?
That's' right.
THE GOAL RIGHT NOW IN STUDYING THE 20 ANIMALS, WHICH WOULD BE THE ENTIRE POPULATION OF THE TWO HERDS, IS TO SEE HOW MANY MORE MIGHT BE INFECTED?
Correct.
WHAT ABOUT THE OTHER FIVE HERDS?
Right now from DEC's perspective, we're going to implement regulations and additional restrictions on the movement of deer in this immediate area.
DOES THAT MEAN YOU ARE GOING TO STOP ANY TRANSPORTATION OF ALL THE DEER IN THE SEVEN HERDS UNTIL YOU FIND OUT?
Correct.
Could Wild Deer Outside New York
Captive Herds Also Have CWD?
IF YOU'VE GOT CAPTIVE HERDS WITH CHRONIC WASTING DISEASE, HOW MANY OF THE WILD DEER POPULATION OUTSIDE THE FENCE COULD ALSO HAVE IT?
That's certainly a concern for DEC. And that's why we're going to conduct an extensive monitoring program around the farms to make that determination. When CWD was detected in Wisconsin, we began a sampling program around the state of New York. For example, we looked at 3500 deer for CWD ­ including 40 in Oneida County ­ and have not come back with a positive result. We're going to continue that and intensify our efforts in this area to determine whether CWD has spread to the wild herds.
AND IF IT HAS, WHAT DO YOU DO?
That's a good question! We'll continue monitoring. We'll try to implement measures and continue our investigation as to source and try to determine if there are other infected regions in New York. But that's certainly something we're hoping we don't have to get to.
BECAUSE THEN YOU WOULD HAVE TO PUT OUT AN ADVISORY THROUGHOUT THE STATE OF NEW YORK TELLING HUNTERS AND RESTAURANTS AND EVERYONE IT IS NO LONGER SAFE IN THE UNKNOWN TO CONSUME DEER AND ELK?
No, I don't think that is something we would do. We recommend to people right now and this comes from the Dept. of Public Health, not DEC, to not eat a deer or elk that tests positive for CWD.
Our greatest concern would be finding that this has spread and gone into the wild deer population. Obviously the ramifications for that would be felt and would be considerable.
MEANING ECONOMIC AND PEOPLE WOULD NOT FEEL COMFORTABLE HUNTING AND THERE MIGHT HAVE TO BE A RESTRICTION ON VENISON AND THAT SORT OF CONSUMPTION?
I don't want to speculate on that, but there is certainly that potential. That is why we have been aggressive in our regulation thus far and our response to this will be equally aggressive. We've seen what's happened in other states and the effects it's had on sportsmen groups, on hunting, on venison donation. Obviously from an economic standpoint, it certainly not what we want to see for our sportsmen and industries that rely on a healthy deer population to attract tourism that gets people into the outdoors.
From our standpoint, that's our primary concern is to contain as much as we can and to first determine if it has gotten into the wild deer population and to do whatever we can to meet the challenges and mitigate the problem.
CWD Spread to New York State
Faster Than Expected
To be honest, I don't think – when we saw this only as far east as Illinois, I think we thought if it is spreading, it's going to take a little time. But here we are (in 2005) and somehow we are facing the inevitable a lot sooner than we thought we would have to.
IT HAS HAPPENED VERY QUICKLY.
Right.
THAT IN AND OF ITSELF HAS GOT TO BE A MAJOR CONCERN.
Yes and it's not just for us. You can imagine that our neighbors ­ it's got their attention as well.
ALL THE OTHER STATES ­ THAT'S IN EVERYBODY'S MIND. COULD ALL STATES AND CANADIAN PROVINCES END UP WITH CWD? IF SO, THEN WHAT HAPPENS?
Right."
CWD, Mad Cow and Other Prion Protein Research
Chronic Wasting Disease and Mad Cow are not the only fatal diseases in which prion proteins change shape and destroy the brain and nervous system. Ranchers have long had to cope with "scrapie" in sheep. But there is no known case in which the scrapie-causing prion protein was transmitted to humans.
But people are susceptible to several prion diseases which include:
– Creutzfeld-Jacob Disease
– Mad Cow-variant (CJD-v) which is transmissible from cattle to humans.
– Kuru contracted during a Pacific Island native tradition to eat the brains of dead family members.
– Alpers syndrome.
Many scientists are working on the prion problem. This week I talked with one expert about research into the differences between the misshapen proteins in CWD, Mad Cow and other prion diseases. He is Dr. Srinand Sreevatasan, Associate Professor of Veterinary Population Medicine, College of Veterinary Medicine in the University of Minnesota – St. Paul. He begins with what's happening at the protein level in an analogy with a sheet of paper.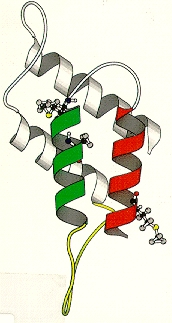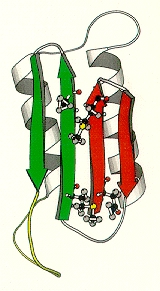 Srinand Sreevatasan, D.V.M., Associate Professor of Veterinary Population Medicine, College of Veterinary Medicine, University of Minnesota – St. Paul: "And you nicely fold it into a rocket or airplane form. Then if you take the exact same type of paper and just crumple it and toss it across the room, one goes gliding through the room and the other plops down somewhere. The normally folded protein would serve a function and it would be like the airplane nicely folded. The crumpled paper would be the abnormally folded protein that does not serve a function, but it does do something else because it has a tendency to aggregate and to destroy cells.
USING THAT METAPHOR ABOUT THE FOLDED AIRPLANE AND CRUMPLED PAPER, IS IT THAT THE MOLECULAR STRUCTURE THAT WOULD MAKE UP THE NORMAL PRION PROTEIN GETS SCRAMBLED?
Yes, that is correct. It has exactly the same primary amino acid sequence. The way it plops down into a different molecular form is a second or third possibility in which it can fold. But the abnormal fold is not favored thermodynamically because the airplane form, or normal form, is the thermodynamically favored folding pattern. That serves a purpose in the cell, but what that purpose is is not clearly understood either.
AND THE MYSTERY IS: WHAT CAUSES THE MOLECULES TO GO HAYWIRE IN THE FIRST PLACE AND CAUSE THE CRUMPLED PAPER INSTEAD OF THE NICE AIRPLANE?
Right. Right.
BUT IT IS KIND OF SPOOKY, ISN'T IT, THAT AT THIS MOLECULAR LEVEL THAT THAT WHICH WOULD OTHERWISE BE NORMAL AND NECESSARY FOR LIFE SHOULD TURN INTO CRUMPLED PAPER THAT CAN DESTROY US?
Yes. Whether the prion protein is necessary for life is also a question because there have been transgenic mice that have been deleted of the PrP-C gene which produces the gene and they live normally like regular mice.
So we don't know if it actually serves a purpose. If it does, what kind of function is it serving in the cell? If we understand that, I think we will understand a lot of these molecular processes that link to either one form of folding or the other.
Misshapen Prion Proteins Remain Hard Crystals
That Don't Dissolve Into Normal Body Waste
WHEN YOU LOOK AND STUDY THE PROTEIN FOLDS THAT ARE RESPONSIBLE FOR CHRONIC WASTING DISEASE AND YOU COMPARE THOSE TO THE PROTEIN FOLDING THAT IS RESPONSIBLE FOR MAD COW DISEASE, DO THE PROTEINS LOOK ABOUT THE SAME? OR ARE THERE SUBSTANTIAL DIFFERENCES?
The problem is that we've never crystallized the protein. I don't believe anyone has so far of CWD versus that of BSE. They are working on it. The amino acid sequences are a little different between bovine and the deer population ­ the normal protein amino acid sequence does vary when you look at it in the phylogenetic tree. Although, the ruminant of prion proteins cluster together, they are separated by a small percent of variation in amino acid sequences. And the basic primary amino acid sequences which are the building blocks of a protein would determine how the protein would fold because they would determine the acidity, the basidity of different parts of the protein. Regardless, the prion protein, if we understood the function of it and if we knew what a particular confirmation or folded pattern would indicate in terms of function, then we would be able to tell if there are major variations in the abnormally folded bovine BSE and the CWD prion.
We do know that the proteins have a certain memory and a tendency to mis-fold. But most of the mis-folded proteins in a cell are generally soluble and transported back into a 'trash can' where they are destroyed. But in this particular situation, I think this CWD misshapen protein is not soluble, so it is not being destroyed in sufficient speed in order to prevent the downward cascade toward the disease phenotype.
DO YOU ALL HAVE ANY UNDERSTANDING YET ABOUT WHY IT REMAINS IN A CRYSTALLIZED FORM AND DOES NOT GO INTO SOLUBILITY SO IT COULD BE REMOVED FROM THE SYSTEM?
Yes and no. That is the major emphasis of certain research groups. I think if you contacted someone like Dr. Witold Surewicz at Case Western University, he would tell you that is his major thrust ­ that's the question he has been asking for the past several years. He was a disbeliever in the protein-only hypothesis until recently. There are a couple of papers that will be coming out soon in the journal Molecular Cell, I believe, about prion test tube studies done outside of a mammalian system. These studies are very important in studying how the proteins mis-fold and how they can become infectious.
To directly answer your question about infectious prion protein variations, I don't think we know enough to actually say that just because a prion is not folded in a particular fashion does not mean it's not going to transmit to humans. Or that we could say it means we are safe and can go on eating any types of meat we want.
THAT WE CANNOT SAY THAT?
Right, no! We cannot say that because we don't know enough about the protein-folding characteristics to make that call. If we did, we would probably be making recommendations about how safe CWD is or not.
People Should Not Eat CWD-Infected Animals
RIGHT, AND THAT'S WHY WHEN TWO WHITE-TAILED DEER THAT ARE BASICALLY GROWN FOR PEOPLE TO EAT ARE FOUND IN TWO DIFFERENT HERDS WITH A POSITIVE CHRONIC WASTING DISEASE PRION, IT HAS TO RAISE RED FLAGS FOR EVERYBODY IN NEW YORK AND THE STATES WHERE THE PRIONS ARE FOUND, ABOUT EATING GAME THEY KILL, CORRECT?
Absolutely! It's better to be safe than sorry. I think in infectious disease we have learned lessons that you can't ignore an infectious agent and say it does not exist because we have not found it.
One thing to remember is while the transmission of the CWD disease within the same animal species is easy, the transmission across species barriers is difficult. This is very important that we keep track of where the animals are moving between states or between countries globally.
Sure, we have now found two new cases in New York State, but we don't know if it is actually spreading. We know we are identifying more and more cases as we test more and more animals. We don't know if it is a diagnostic bias just because we went and tested them and found CWD, or if it's actually spread from the particular same strain of prion that could be spreading across the animal population.
YOU WOULD BE RELUCTANT TO EAT VENISON THAT HAD A POSITIVE DIAGNOSIS OF CWD?
Yes, if it was a positive CWD animal, I would not eat it. In the infectious prion form, we hope the species barrier will protect us. But the recent history of BSE (Mad Cow) suggests it has not.
RIGHT, THERE HAVE BEEN A LOT OF DEATHS IN EUROPE.
Yes. I think it's now 200 something.
AND IF IT COULD HAPPEN IN EUROPE, IT COULD HAPPEN HERE?
Yes, it could. I can't say no to that question. Yeah, it could."
In normal health, if prion proteins fold the wrong way in animals or humans, the mistakes will be soluble and be flushed out of the body systems. But in prion disease, for unknown reasons, the misshapen protein is no longer soluble. It's thought to be in a non-soluble crystallized form. The goal of prion researchers now is to isolate the misshapen protein crystals, if possible. If it can be understood how the proteins fold themselves the wrong way, then maybe scientists can find an antidote that could return prion proteins to their normal shape ­ and restore health to the infected animals and humans.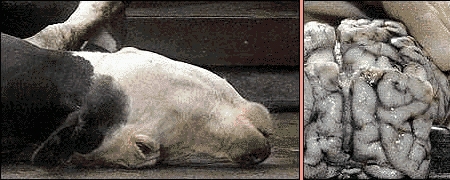 ---
More Information:
Prion Diseases
A prion has been defined as "small proteinaceous infectious particles which resist inactivation by procedures that modify nucleic acids." The discovery that proteins alone can transmit an infectious disease has come as a considerable surprise to the scientific community. Prion diseases are often called spongiform encephalopathies because of the post mortem appearance of the brain with large vacuoles in the cortex and cerebellum. Probably most mammalian species can develop these diseases, which are always fatal.
Specific prion diseases in animals are:
* Scrapie: sheep
* TME (transmissible mink encephalopathy): mink
* CWD (chronic wasting disease): mule deer, elk
* BSE (bovine spongiform encephalopathy): cows
Humans are also susceptible to several prion diseases:
* CJD: Creutzfeld-Jacob Disease
* GSS: Gerstmann-Straussler-Scheinker syndrome
* FFI: Fatal familial Insomnia
* Kuru
* Alpers Syndrome
Please see other Earthfiles reports about prion disease:
03/09/2004 —  300 Wyoming Elk Dead After Baffling Paralysis
02/20/2004 —  New Form of Mad Cow Disease Resembles Human Creuzfeldt-Jakob Disease (CJD)
09/28/2002 —  2002 Mad Cow Disease and West Nile Fever Updates
04/06/2002 —  Chronic Wasting Disease Spreads to Wisconsin White-Tailed Deer
04/24/2001 —  Chronic Wasting Disease (CWD) in Colorado and Saskatchewan, Canada
03/26/2001 —  Mad Cow and Foot and Mouth Disease Spreading
03/21/2001 —  USDA Finally Removes 233 European Sheep from Vermont Farm After Court Battles
02/25/2001 —  Environmental Updates
02/11/2001 —  Update On Mad Cow Disease
02/04/2001 —  Mad Cow-like Chronic Wasting Disease in North American Deer and Elk
01/21/2001 —  Prions – The Misshapen Protein That Causes Mad Cow and CJ Disease
---
Websites:
http://www-micro.msb.le.ac.uk/3035/prions.html
http://www.cjdfoundation.org/cjdisease.html
http://www.thedoctorsdoctor.com/diseases/prions.htm

© 1998 - 2023 by Linda Moulton Howe.
All Rights Reserved.