April 20, 2005  Dayton, Ohio – Around 11 a.m. Sunday, August 24, 2003, at the Brush Creek bridge in Peebles, Ohio, a family saw "an oddity in a nearby soybean field that was not natural." It turned out to be an extraordinary crop formation in soybeans only a half mile from the tail of the famous Serpent Mound mysteriously built a thousand years ago to be seen from the sky, but no one knows why.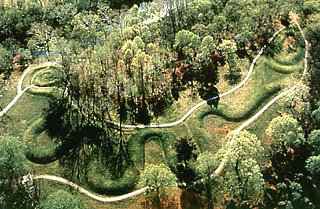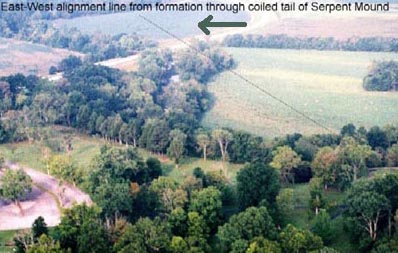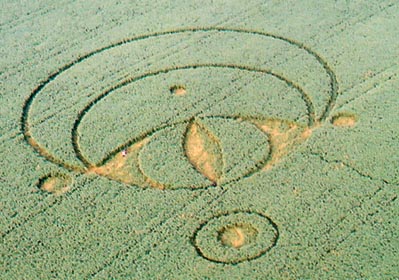 In North America, the Ohio Serpent Mound is comparable to Britain's Stonehenge and Peru's Machu Picchu as one of Earth's large and most mysterious manmade structures. Whoever built the Serpent Mound might have recognized the land as the most interesting geological structure in Ohio – a crater about 6 miles in diameter produced nearly 260 million years ago by a strong impact. The land is very unusual with vertical upthrust and downthrust, in contrast to the rest of flat Ohio. One theory was that the unusual geological structure might be the remains of an old volcano.
But now geologists and geophysicists at Ohio's Wright State University, the Ohio Geological Survey, and the University of Vienna in Austria, have detected the presence of cracked quartz crystal and iridium beneath the crater. Iridium is a silver-grey metal not common on Earth and is largely associated with comets and meteorites. The new theory is that 256 million years ago, an object from outer space hit the ground so hard it created the 6-mile diameter crater that fractured quartz crystal as far down as 10,000 feet, or nearly two miles.
This week I talked with the science team leader who mapped the size of the impact crater. He is Doyle Watts, Ph.D., Assoc. Prof. of Geophysics, Wright State University, Department of Geological Sciences, Dayton, Ohio.
---
Interview:
Doyle Watts, Ph.D., Assoc. Prof. of Geophysics, Wright State University, Dept. of Geological Sciences, Dayton, Ohio: "The odd thing about the geology of the area is that there is an outer ring of rocks about 6 miles in diameter that have dropped down about 1,000 feet. They are not in the right place, from the geologic point of view. The other thing is that in the center of the structure, the rocks come up 1,000 feet and they are intensely deformed. They look like they have been pulled through a napkin ring. It's very much unlike any of the rocks one finds in Ohio which are normally flat lined and have not been deformed.
This is the geological structure about 6 miles in diameter and it's located on geological maps. And the Native Americans built the monument on the flank of the geological structure, the southwestern flank. So, the Serpent Mound monument is not located in the middle of the geological structure. It's located on the southwest flank of the structure.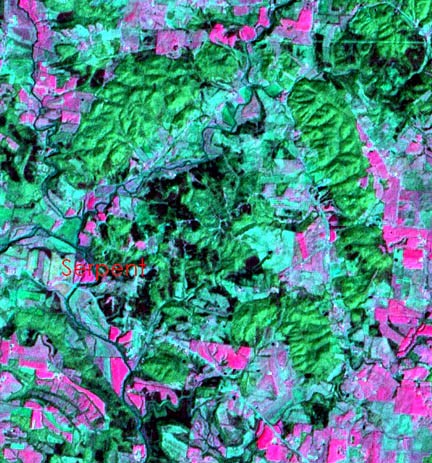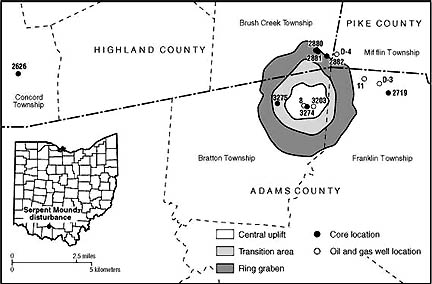 We knew from previous investigations that there was something very odd about the geology of this part of Ohio. The reason we worked on it was to sort out between the two hypotheses that explained it. In the 1920s, the people that mapped the geological structure thought it was an old volcano. But more recently in the 1960s, a group of workers thought it was the scar of an impact (crater).
We decided to investigate the geological structure in more detail because we had data available. There was seismic data that the oil companies used to image the subsurface and there were rock cores collected in the 1970s that were drilled down to a depth of about 1700 feet by an exploration mining company. We had that data available and decided the time was right to look at it.
We did not discover the feature. It's been known from a long time ago and I feel the Native Americans probably noticed there was something strange about the area because that's where they chose to build the very significant monument (Serpent Mound).
WHAT PRECISELY DID YOU FIND?
In the core, we found rocks that had been shattered and had been pushed downwards, down to the bottom of the core at 1700 feet below the surface where the core was collected. There were actually two cores ­ one at the center of the geological feature and one at from the periphery of the geological feature. We found features called 'shatter cones.' These show very fine fracture lines on the surface of the rock when you break it. They are indicative of a passage of a shock wave through the rock. My colleagues found quartz that had been deformed. What happens when you get a shock and it squeezes the crystal quartz at very high pressures and there is partial melting along certain crystal plains due to the intense pressure. My colleagues found quartz that had been subjected to that affect.
Impactor's Energy Greater Than Atomic Bomb
THE BOTTOM LINE IS THAT THE PRESSURE OF IMPACT FROM SOMETHING LARGE FROM OUTER SPACE COMING AND HITTING IN OHIO 250 TO 260 MILLION YEARS AGO ­ WOULD HAVE THIS KIND OF CRACKING OF QUARTZ CRYSTAL UPON IMPACT, SIMILAR TO WHAT WE WOULD FIND IN ATOMIC BOMB TESTS?
Yes, yes. You would need the amount of energy released that you would get in an atomic bomb to produce such a texture in these particular crystals. Let me say that the energy that produced the Serpent Mound structure is far greater than any nuclear device that has been activated by humans. No atomic device has created a crater 6 miles across and fractured the rocks so deeply.
Crater Impact Goes Down Nearly Two Miles
DOWN TO ABOUT 1700 FEET AT THE MAXIMUM?
No, that was the maximum depth at the core. I would say at the minimum ­ we don't know what's beneath the core because it ended at only 1700 feet.
SO IT COULD BE 6 MILES IN DIAMETER AND WHO KNOWS HOW DEEP?
Well, we actually have a pretty good idea how deep because that's where I contributed most to the effort. The oil industry had gathered some seismic data. This is a way of imaging what's beneath the Earth using soundwaves. The device that is used is a vibrasized truck. It's a large truck that has a 2-ton speaker mounted on it. The reaction mass will move up and down between 6 to 100 times per second producing soundwaves at those frequencies.
I processed the data that had been gathered and I can say that looking at those images that the effect of the geological structure goes down about two miles, about 10,000 feet. We can see that the rocks are deformed in the seismic image down to that depth.
HOW BIG DO YOU THINK THE OBJECT WAS THAT CAUSED ALL OF THIS DESTRUCTION?
It depends on the nature of the object. If it were dense and heavy like an iron meteorite. It wouldn't have been all that big ­ maybe the size of two or three football stadiums. If you can imagine something that big.
If it were lighter, say a fragment of a comet, it would have needed to have been bigger than that. But I think we're talking about something that's maybe a few hundred meters across, as opposed to a few thousand meters.
IF IT HAD BEEN AN IRON CORE METEORITE, WOULDN'T YOU BE ABLE TO FIND THE RESIDUE OF THAT IRON METEORITE?
I don't think so ­ if it's so old, at least 256 million years or older. Meteorites like that are not stable at the surface of the Earth. They weather quite readily. They'll rust effectively. If 250 million years have gone by, it's unlikely it would have been preserved. What IS preserved and my colleagues have found ­ it was Dick Carlton of the Ohio Geological Survey and Mark Baranoski, worked with Christian Koeberl at the University of Vienna. They sent some samples to Prof. Koeberl who found higher concentrations of the element iridium. Iridium is not all that common on the Earth and they found in samples taken from within the core had higher concentrations of iridium. That's probably all that's left from impacting body (comet or meteorite).
By the way, this is the sort of thing that gives evidence that supports the impact theory because volcanic activity just would not produce the levels or iridium that my colleagues discovered.
Outer Space Iridium Concentration
Ten Times Normal Earth Crust
I UNDERSTAND IT IS TEN TIMES ABOVE WHAT IS USUALLY PRESENT IN THE EARTH'S CRUST ­ THE AMOUNT OF IRIDIUM AT THE SERPENT MOUND?
OK, the sample they looked at which was gathered from the core ­ I'm not sure how deep it was ­ but it was around 1,000 feet deep certainly had ten times the normal concentration of iridium. I don't know that anybody's found an iridium anomaly near the surface.
BUT WE THINK IRIDIUM IS LARGELY ASSOCIATED LARGELY WITH ASTEROIDS AND COMETS, DON'T WE?
Yes, yes. That is the current thinking, the current wisdom. You have to have an extraterrestrial source for such concentrations of iridium.
NOW, I THINK IT WAS FROM THE PLAIN DEALER NEWSPAPER THAT IT SAID: "Fine grains of sand taken from 1439 feet down appear deformed when viewed under a microscope. There even seem to be particles of soot left from scorched limestone, although researchers say additional work is needed before the strange black material is positively identified." HAVE YOU BEEN ABLE TO FIND OUT WHAT THIS BLACK MATERIAL ON THE SCORCHED LIMESTONE IS?
I'm not aware of any further progress on that. My colleagues at the Ohio Geological Survey that were examining the thin sections and the microscope slides they produced and I don't know if they have made any further progress on that.
ANY SPECULATION?
No. (laughs) That's there line of work, not mine.
COULD IT BE CARBON FROM BURN?
It could be carbonaceous material. I don't think it would have been material from a fire that had been created by the impact because the temperatures at that depth were not very high, at least not for very long. I don't know what would have burned. I think ­ if I had to speculate ­ if you look at some of the rocks exposed at the surface as well as in the core, there is evidence that hydrocarbons had once passed through the rock. It's not active hydrocarbon. It's a very thick residue left behind. So I wouldn't recommend drilling any oil wells, at least at those depths. But it could be bitumen that was left behind by the passage of hydrocarbon through the porous rocks. That could have happened any time after the creation of the geologic crater feature.
Magnetic Field Anomaly
ANY LINK BETWEEN THE PRESENCE OF A HIGHER AMOUNT OF IRIDIUM AND PERHAPS MAGNETIC FIELD ANOMALIES OVER THAT AREA?
I don't think so. We've measured the magnetic field over there, and there is a magnetic anomaly. One can use geophysical analysis to determine the depth of the production of the anomaly and the anomaly that is there is produced by rocks that are at least 10,000 feet deep. That's well below the maximum depth of that core.
THE MAGNETIC ANOMALY ­ HOW DOES THAT REGISTER AT THE EARTH'S SURFACE? COULD IT EXPLAIN WHY THE HOPEWELL INDIANS, AS THEY WERE CALLED, MIGHT HAVE BUILT THE SERPENT MOUND THERE SO LONG AGO BECAUSE OF THE MAGNETIC FIELD ANOMALY?
I don't know they would have had any means to detect it. You can't really see it, even if you have a magnetic compass. I don't know they had magnetic compasses. To actually see the anomaly, you have to make measurements over quite a large area. That's pretty much over 30 to 40 square miles. Using a device called a 'proton procession magnetometer' that measures the intensity of the field with considerable precision. The amplitude of the magnetic anomaly is not more than 1% of the total field there. So, whatever the natives noticed and chose that site there to build the Serpent Mound monument, I don't think it was the magnetics. It might have been the strange disposition of the rocks themselves.
But what makes it so intriguing is that this is the very place that the native Americans chose to build the monument. The area must have been very sacred to them. It begs the question: why would they choose this 6-mile across circle area to build the most spectacular effigy mound seen from the sky? "
Did Serpent Mound Impactor Cause Extinction Event?
I asked Prof. Watts if there is any evidence of an extinction event that would match the Serpent Mound impact 256 million years ago?
He pointed out that the timing is close to what is called the "Permian/Triassic boundary." That was the largest extinction event the world has experienced so far, occurring about 255 million years ago. 90% of all marine species died out and 70% of vertebrate species on land went extinct. Exactly what happened is unknown. The strongest hypothesis is that a large meteorite or piece of comet fell to Earth.
After that, the next big outer space impact was 65 million years ago when something huge landed near the Yucatan Peninsula and wiped out 70% of all earth life, including the dinosaurs.
Compared to those Permian and Yucatan impacts, whatever came down in the Serpent Mound, Ohio, region was small in comparison. There would have been local devastation over an area maybe the size of Ohio from the debris falling out of the sky. But Prof. Watts does not think the Serpent Mound impact could have caused wholesale extinctions around the Earth by itself. But he qualified that conclusion by saying: If there had been lots of meteoritic or comet impacts around the world at the same time – that might have had a significant impact on Earth life ­ such as the Permian/Triassic boundary catastrophe. But so far, there is no evidence that connects the Permian/Triassic extinctions and the Serpent Mound crater event.
---
More Information:
See other Earthfiles about Serpent Mound, Ohio
10/17/2004 —  American Crop Formations: 1880-2004
09/22/2004 —  Miamisburg and Serpent Mound, Ohio Crop Formations: Geometries Compared
09/10/2004 —  Update on Miamisburg, Ohio, Corn Pictogram – Balls of Light?
09/02/2004 —  Updated Photos: Big, Impressive New Corn Formation in Miamisburg, Ohio
05/22/2004 —  2004 Overview of Crop Formations in Five Countries
12/13/2003 —  What Snapped Off Big Trees in A Circle in Ruby, Alaska?
11/01/2003 —  Another Soybean Formation in Ohio
10/17/2003 —  2003 "UFO Flap" in Ohio
10/10/2003 —  Updated – Ohio Hunter's "Deer Camera" Photographs Mysterious Glowing Disk
10/05/2003 —  Part 3 – Paint Creek Island, Ohio Crop Formation Photographs
10/03/2003 —  Part 2 – Military Interest in Serpent Mound and Seip Mound Formations?
10/02/2003 —  Part 1 – Another Soybean Formation Near Seip Mound in Ohio
09/12/2003 —  2nd Soybean Crop Formation in Ohio is Manmade. Special USAF Investigation Unit Involved? 09/06/2003 —  Part 3 – Unusual Soybean Formation Near Serpent Mound, Ohio
09/06/2003 —  Part 2 – Unusual Soybean Formation Near Serpent Mound, Ohio
09/05/2003 —  Part 1 – Unusual Soybean Formation Near Serpent Mound, Ohio
---
Websites:
http://www.cropcircleconnector.com
http://www.cropcircleresearch.com

© 1998 - 2019 by Linda Moulton Howe.
All Rights Reserved.