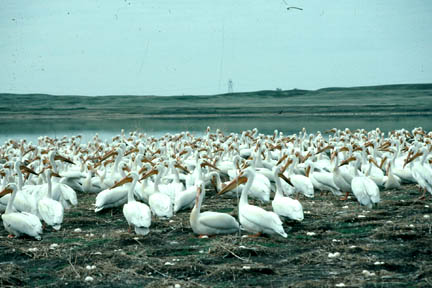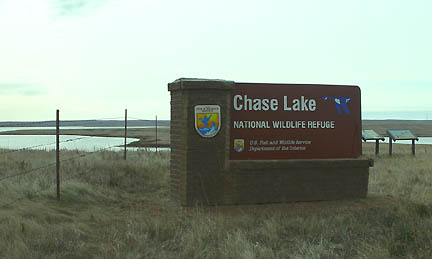 July 14, 2005  Medina and Bismarck, North Dakota – A year ago, beginning on May 24, 2004, the Bismarck, North Dakota office of the U. S. Fish and Wildlife Service began hearing that American White Pelicans were disappearing from the Chase Lake National Wildlife Refuge north of Medina, North Dakota. Over four days the end of May 2004, the estimated number of large water birds dropped from 27,000 down to 80 at two of three nesting sites. The third nesting site of pelicans remained normal with 2,400 birds – adding to the mystery about why? – and how? – could 27,000 pelicans disappear without a trace? By June 17, 2004, another 2,000 American White Pelican adults disappeared. The 29,000 missing pelicans left their eggs and chicks behind. The disappearance remained a mystery until this summer when about 18,000 adults returned to Chase Lake for nesting.
Just when federal officials in the Bismarck U.S. Fish and Wildlife office began to think all was returning to normal, right after the Fourth of July holiday the Chase Lake island was very quiet. When USFWS agents went to investigate, dead White Pelican chick bodies were decomposing everywhere – at least 8,000 at last count. Then, all but 2000 adult White Pelicans took off because there are only about five hundred chicks left to protect.
Today I asked Ken Torkelson, writer, editor and spokesperson for the U. S. Fish and Wildlife Service in Bismarck, what might have happened to the 8,000 dead pelican chicks.
---
Interview:
Ken Torkelson, Writer, Editor, and Spokesperson, U. S. Fish and Wildlife Service, Bismarck, North Dakota: "Last year it was a completely different order of things. The adults took off on their own, leaving behind eggs and a few chicks. This year, the chicks died first, then the adults took off.
HAVE YOU LOST ABOUT 29,000 ADULTS BECAUSE OF THE DIE-OFF?
No, we believe we've lost about 8,000 chicks and the adult population at the end of May at Chase Lake this year was pegged at 18,850. We think we are down to just a couple of thousand adults left now. So, 16,000-plus adults have indeed taken off.
WHAT HAPPENED TO KILL OFF 8,000 WHITE PELICAN CHICKS?
We've sent in some specimens to the National Wildlife Health Center in Madison, Wisconsin, to determine that. As yet, we have no answer. We are assuming that either later this week or possibly next week, we could have an answer. In the past, this colony has been effected by West Nile virus. We've lost some chicks the last few years. Certainly nothing on this scale. Our people on site are leaning against West Nile Virus this year. The chicks have not been exhibiting the behavior normally associated with West Nile virus, particularly the stumbling behavior.
WHAT SYMPTOMS DID THE CHICKS SHOW?
We are not seeing much for symptoms. All of a sudden, we saw dead chicks. Our observers on site were alerted to this when they came back from the Independence holiday by noticing a lack of activity out on the islands. It took a couple of days before we were able to get out there. When we did get out there, we found lots of dead, decomposing chicks. Not a very pleasant sight to come to, especially after we had such high hopes for this year that things would be back to normal. The hypothesis is disease of some kind.
HAVE THERE BEEN ANY OTHER DIE-OFFS OF ANIMALS OR BIRDS IN THE REFUGE?
Probably not, at least not that we are aware of. It's largely a pelican refuge, although I think the bird list there numbers well over 200. But the pelicans are at the top of the list and they are the easiest to notice if something is wrong. They are the biggest and most populated.
Thunderstorm and High Heat 4th of July Weekend
ISN'T IT A BIT STRANGE THAT IF THE REFUGE HAS A LOT OF WILDLIFE IN A VARIETY THERE, WHY IS IT THAT ONLY THE WHITE PELICAN CHICKS WOULD DIE OFF?
You're right. It's a mystery. I certainly don't have the answer to that. But pelicans, because of their biological nature, are born without feathers and don't have much protection to start with. I understand a big rain and wind storm swept through there (on 4th of July weekend) and that was followed by some pretty intense heat, over 90 degrees. Their immune systems might have been stressed to the point where they were unable to fight off whatever (disease) attacked them.
IF THE WHITE PELICANS HAVE BEEN COMING TO THE CHASE LAKE REFUGE FOR 100 YEARS FOR NESTING, THEN CHICKS MUST HAVE BEEN EXPOSED TO THE ELEMENTS AND WEATHER BEFORE NOW.
Yes. But have they been exposed to this critical combination at such a critical time in their young lives? Maybe not.
BUT ESSENTIALLY YOU ARE STILL STUCK WITH TWO MYSTERIES IN 2004 AND 2005.
That's certainly correct. We're saying two different mysteries and we're encouraging people to keep them separate because it's a completely different set of circumstances.
Pelican Future at Chase Lake?
WHAT IS THE IMPACT FOR THE FUTURE AT THE REFUGE WITH THE DEATH OF THESE 8,000 WHITE PELICAN CHICKS?
I believe you asked me a year ago if the pelicans were going to be back at Chase Lake and I said yes. You're asking me again if they will be back next year, and I'm again saying yes. There probably won't be 30,000 white pelicans back next year. There might not be 18, 850 back next year. But I'm pretty confident the pelicans will be back at Chase Lake next year as they have been back every year for at least 100 years.
IF THEY DID NOT RETURN NEXT YEAR, IS IT POSSIBLE THAT THE ADULTS THAT DISAPPEARED LAST YEAR IN 2004 FOR WHATEVER REASON ­ AND THEN CAME BACK THIS YEAR, LAID EGGS, THE CHICKS HATCHED AND DIED – THAT THOSE ADULTS LEFT WITH BAD MEMORIES AND WON'T RETURN A THIRD YEAR BECAUSE OF WHATEVER THE PROBLEMS ARE?
Well, we've lost chicks every year ­ certainly not on this scale. The birds have been coming back. They've faced natural disasters. They've faced disturbances (from humans or predators). The population has fluctuated both up and down, but I think they'll be back. We'll have to see what happens in 2006."
---
More Information:
To read more about unexplained bird disappearances and die-offs, see Earthfiles Archives:
08/01/2004 —  Sixth Straight Year Hundreds of Birds Die at Roestler Lake, North Dakota.
07/24/2004 —  What's Happening to Birds? – More Reports
07/22/2004 —  What Is Happening to Birds? Updated With Viewer Reports
06/29/2004 —  Four White Pelicans from Missing 29,000 Tracked by Satellite
06/17/2004 —  29,000 American White Pelicans Have Disappeared from North Dakota Wildlife Refuge
---
Websites:

© 1998 - 2023 by Linda Moulton Howe.
All Rights Reserved.