Updated July 28, 2005, with new photographs below.
July 23, 2005 Williamsburg, Ohio – Beginning on June 13, 2005, a series of six circle patterns in North Carolina grasses began to emerge, all at elevations above 2,000 feet. American crop circle investigator, Jeffrey Wilson, told me this week: "We really have not seen crop circles in locations at this kind of elevation before, so I think this is notable." Jeff is Director of the Independent Crop Circle Researchers' Association (ICCRA) in Ohio. Other investigators included Delsey Knoechelman, Ted Robertson and Roger Sugden, and Mike and Jackie Price. Jeff has gathered over 500 reports related to crop formation events in the United States from 1880 to 2005. The majority of American crop formations have occurred east of the Mississippi River – and Ohio has had the most, at least 35 crop formations.
But this 2005 summer, it is North Carolina that has provoked Jeff and his colleagues to make several trips to the mountain country around Asheville between Jupiter and Mars Hill to Burnsville and Green Mountain. Like last year in Ohio when Jeff reported crop formations there lining up on two straight lines that intersected, this year Jeff has found that all six of the North Carolina grass patterns also are on a line. Further, the line intersects in Oakvale, West Virginia, with another straight line-up of crop formations that extends to the 2004 Ohio formations on a straight line from Miamisburg to Rardon, Ohio, down to Oakvale, West Virginia. Oakvale is also famous for several unidentified flying objects in the fall of 2003, followed by a grass circle in April 2004.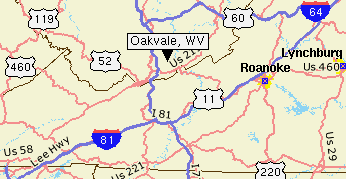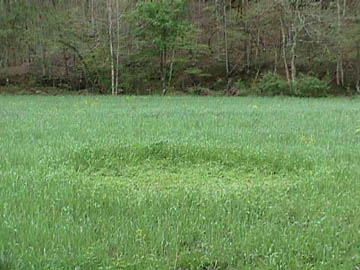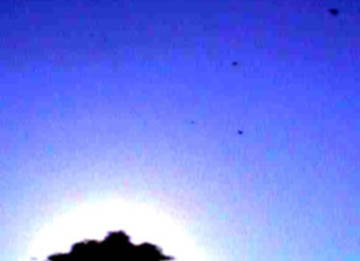 No one has a definitive answer about why there are straight line-ups of crop formations. But I asked Jeff to describe the straight line phenomenon so far in North Carolina and his ICCRA investigation of a 4-circle pattern in 6-foot-tall hay in Leicester, where the farm owners and neighbors reported "a blinding white light" before midnight on June 21, 2005.
---
Interview: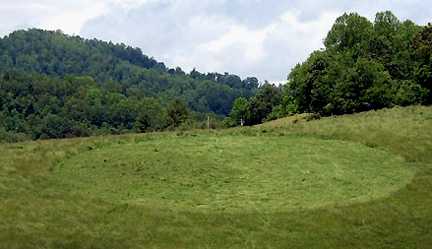 Jeffrey Wilson, Director, Independent Crop Circle Researchers' Association (ICCRA), Williamsburg, Ohio: "Based on those four initial circles – beginning with the first one on June 13, 2005, in Green Mountain – we plotted the location of those as best as we knew at the time on the map and it turned out that they pretty much fell on a single straight line going from southwest to northeast. We got a pilot and a plane and we went back down to North Carolina the following week after we visited the first one and we flew along a heading after plotting out onto a GPS, we flew along that line and we discovered two additional formations that were right on that line.

Two Grass Circles Discovered by ICCRA While Flying Straight Line
The first one we discovered is in a little town just to the northwest of Jupiter called Mars Hill. That is in Madison County. Delsey Knoechelman spotted this circle out of the plane. It had already been harvested in hay. It was approximately 20 feet in diameter.
As we continued to fly a line up toward Green Mountain, we got to Burnsville and I spotted the last of the six formations, again in grass. This is actually the largest of all the formations. It's about 110 feet across. It's a single ring, large 110-foot-ring, with a straight line half way to the center where there is a 23-foot swirled circle in the center of that ring formation.
We landed the plane, drove up to that site first and the landowner knew nothing about it, even though it was pretty adjacent to his house. I have to say that these formations were in some of the most obscure, hard-to-reach places. All of these crop circles in North Carolina are above 2200 feet elevation. They are way up in the mountains. This area of North Carolina and into West Virginia are the highest mountains east of the Mississippi River. We really have not seen crop circles in locations at this kind of elevation before, so I think that is notable.
'Blinding White Light' Seen Where
Leicester Hay Formation Found
June 21, 2005, Leicester, North Carolina
The third crop circle that was reported in North Carolina was at a place called Leicester, which is in Buncombe County to the southwest of Yancey County. There was a 4-circle formation found there in six to seven foot high hay the morning after more than a dozen people, including the landowner, observed a blinding white light lasting for several seconds around 11:15 p.m. on June 21, 2005, about a week after the first two in Green Mountain, North Carolina.
Witnesses from about ten miles around the Leicester, North Carolina, formation reported seeing light. Animals in all those locations were reported as extremely agitated. The land owner's dog was in the basement, they call it the 'cow dog' for herding cows. It was locked up in the basement and tried to rip the door off when this light appeared. The other dog upstairs also sort of went nuts.
No tracks were found leading into this 4-circle formation, which is made up of a large, single central circle about 75 feet across and three separate circles between 10 and 19 feet in diameter circles, tangent to the main circle sort of spaced apart in a triangle pattern.
We went to the Leicester formation which we found to be one of the most intriguing ones because of the eyewitness report and seeing the brilliant white light. It turns out that those land owners who really wish to remain unidentified at this point, they don't want any attention. They just want to understand what is happening in their field. They refused to even report their crop circle to the local press because the local press had reported on the Green Mountain formation. The press did a pretty good ridicule job of it, so they did not want to go through that kind of a wringer.
Updated – Unusual Double S-Shaped Swirl in Main Circle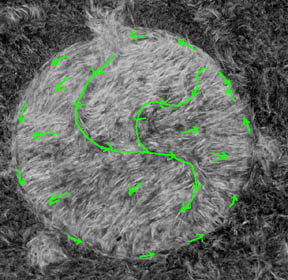 WHAT DID YOU SEE WITH YOUR EDUCATED EYES IN THAT GRASS THAT YOU THOUGHT MIGHT BE ANOMALOUS?
The main circle has an extremely unusual double-S-shaped swirl in the main circle. That means it doesn't start in the center and swirls outward, like a whirlpool or like a big giant swirl. This has got a double-S to it so the grass goes in multiple different directions. At first, it just looked like a mess, but to understand how this was actually swirled down is very complicated. That really struck us right away that it was really unusual.
DID THE SWIRLS INVOLVE MULTIPLE LAYERS?
Only in a couple of cases. There are only a couple of areas where there are over-lapping places where the grass was in layers.
WERE THEY IN 90 DEGREE ANGLES?
More like 180 degrees where the direction reversed flow 180 degrees.
HAD YOU SEEN THAT BEFORE?
I've not seen a double S-shape before. I've seen single S shapes, but I've never seen a double S shape before. And I can't recall in the literature of seeing it reported elsewhere.
Burned Centers in Three Smaller Circles
of Leicester, North Carolina, 4-Circle Grass Pattern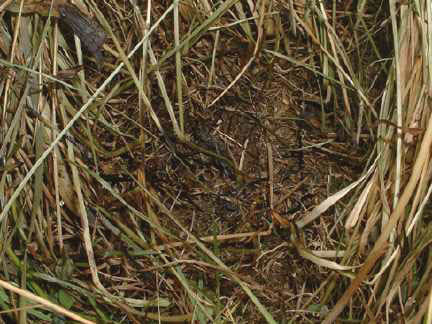 There was another very interesting thing about the smaller tangent circles to the main circle. These circles are only between 10 and 18 or 19 feet in diameter. When the landowners woke up in the morning after the bright light and saw the crop circles out there in their field, they sent their son out to look at them. He drove his 4-wheeler out into the field next to the formation and he reported that the area smelled like a camp fire that had just been put out. And when he walked into the formation, in the three smaller circles, he reported they were burned in the centers and he did take photographs of that. So, the centers of those circles appear to have been burned.
WERE YOU ABLE TO EXAMINE THOSE BURNED AREAS YOURSELF?
We did examine the areas that he reported the burns in, but we had gotten there about 9 days after the formation happened. They had rain for the previous 3 days, and had like 7 inches of rain. So a lot of that evidence disappeared or melted away. But we did find some trace evidence of what appears to be burned stems of grass and we did collect samples of that. But his original photographs show that burn.
THAT WOULD BE HIGHLY UNUSUAL IN THE WHOLE HISTORY OF CROP FORMATIONS AROUND THE WORLD. BURNING. THERE HASN'T BEEN MUCH BURNING OR SCORCHING ANYWHERE.
Yes, there really has not been. It's very rarely reported, but it does get reported from time to time.
Elongated Growth Nodes in Leicester Hay
DO YOU HAVE ANY LAB ANALYSIS BACK ON THIS FORMATION OR ANY OF THE SIX YET?
Yes, we were able to sample three of the six. The other three had already been cut. We've had time now to do only a node elongation measurement test on the Leicester circle formation and it does come up positive that we do have elongated nodes in the grass from the Leicester formation.
Nearby Randomly Downed Rye Grass in Triangle Pattern
Just at the road near the Leicester, North Carolina, 4-circle formation was a triangular-shaped field of rye grass which was pretty ready for harvest. In fact, I had never seen rye grass so tall, about 7 feet all. This grass was flattened like a randomly downed formation, but in the shape of the triangle-shaped field.
SO LIKE AN ECHO OF THE BIG FIELD?
Correct. That field also appears to be on the same line as all the other six geometric formations. That was when we went down the first time.
Corn Flattened Across Road
from Leicester 4-Circle Hay Pattern
Just across the street from the Leicester 4-circle hay pattern is a corn field. When we went down there the first time, it was intact. But when we flew over it on our second trip down there, we discovered the corn field now has been flattened in a randomly downed patch and that corn is flattened so hard to the ground, it's like impacted. The flattened corn also appears to fit on the straight line. I have a photo in which you can see the Leicester formation, the rye grass triangle field that's flattened, and the square flattened area in corn all in the same photo, below.

Burnsville Pattern On Steep Hill
of Grass and Blackberry Bushes
If we go to the Burnsville formation, which was in grass ­ the large ring with the circle in the center with a pathway, that formation was really unusual in the sense that I've never come across a crop formation that was on such a severe slope. This slope was at about a 45 to 50 degree angle, very severe slope. Unusually, this is the first formation I've run across in which the field grass, there were blackberry bushes. One of those blackberry bushes is also flattened in the middle of the ring and none of the berries were damaged.
IF YOU PUT DOWN BERRIES AND THEY ARE FLATTENED AND NOTHING HAS HAPPENED TO THE BERRIES, THAT SUGGESTS SOME KIND OF PRESSURE THAT IS NOT PHYSICAL ­ MEANING, NOT HARD MECHANICAL PHYSICAL.
Right. It wasn't as if someone flattened this with a garden roller because that would have left clear damage on the fragile berries.
RIGHT. SO THIS IS VERY SIGNIFICANT.
It was certainly unusual, yes. We did take samples of the berries that were flattened and we did take samples of the berries that were out in the rest of the field. So perhaps biophysicist W. C. Levengood can try a germination of those and find something interesting.
Radioactivity in Burnsville and Leicester Formations
IS THERE ANYTHING ELSE ANOMALOUS?
Well, we did take radiation readings in both the Burnsville formation and the Leicester formation. At this point, I've got some additional work to make a confirmation on it, but at this point it appears that both of those formations had elevated radiation readings.
AND COMPARED TO THE ABOVE BACKGROUND READING THAT YOU HAD IN OHIO, I THINK, IN ONE OF THE FORMATIONS THERE, HOW WOULD THIS ONE COMPARE?
About twice as much.
IS THIS THEN THE HIGHEST RADIOACTIVE READING YOU'VE GOTTEN IN A CROP FORMATION?
No, not by far. It is above the statistical background.
THE HIGHEST RADIOACTIVE READING THAT YOU'VE GOT WAS WHERE?
I would have to say that was Paulding, Ohio back in 1996. That was about ten times the background radioactivity.
IN ANY OF THESE FORMATIONS WHERE YOU HAVE GOTTEN RADIOACTIVE READINGS, HAVE YOU EVER HAD ANY EXPLANATION FOR WHY THERE WOULD BE RADIOACTIVITY IN A CROP FORMATION IN ANY OF THESE FIELDS?
No. There is not really a known physical process that can generate the radioactivity that we see for the amount of time that it seems to last. It never seems to last longer than 10 or 11 days, and there isn't really any radioactive isotopes that decrease their radiation in that length of time. So, either something is continuously generating radioactivity and then just stops. Or, this is something that we really aren't sure what's going on.
W. C. LEVENGOOD HAS ALWAYS SAID FROM HIS HYPOTHESIS POINT OF VIEW, IT'S A SPINNING PLASMA WITH A VERY COMPLEX RANGE OF ENERGIES. ONE COULD INCLUDE ­ WHAT? SOME FORM OF GAMMA RAY OR X-RAY OR SOMETHING THAT COULD CAUSE SOME KIND OF RADIATION?
That's possible, but we're picking up the radiation across all the bands: alpha, beta and gamma. So, that makes it even more difficult to determine what the isotopes might be.
DO YOU HAVE ANY HYPOTHESIS?
We haven't really come to one at this point because so much of the data that we're seeing is so puzzling. There seems to be so many unknown factors included here that we're pretty much staying away from one hypothesis right now. We're keeping our minds open.
Who? or What? Is Making Anomalous Formations
AT THIS POINT, YOU'VE BEEN STUDYING THESE CROP FORMATIONS FOR A LONG TIME, ESPECIALLY IN THE UNITED STATES. PRIVATELY, YOUR OWN INTUITIVE CUT, WHAT DO YOU THINK COULD BE RESPONSIBLE FOR THESE THAT ARE ANOMALOUS?
That's generally the million dollar question, isn't it? The idea of forming a hypothesis has gone in and out of my mind over the last 10 years. What I've found is that just as we seem to be approaching something that resembles an answer that we could postulate, some new evidence comes up that we have to go back to square one. So, I've sort of learned to refrain from committing to any gut type hypothesis because the data is just so varied that we really can't commit to one.
DOES THAT FACT ALONE SUGGEST THAT HUMANS ARE NOT RESPONSIBLE?
Well, it certainly ­ the evidence is pretty clear and convincing and documented that NOT ALL crop circles are being made mechanically by people. That's absolutely clear. There are certainly ones that people are making and the hoaxing teams have been out there and are getting pretty good and have been doing it for awhile. But, there is this large population of crop circles out there that have enough evidence that shows the typical hoaxing methods just cannot produce the kinds of things we are seeing."
To report grass or crop formations, contact Jeffrey Wilson, ICCRA, in Ohio:
Ph: 734-891-2689
E-mail: [email protected]
Or e-mail: [email protected]
---
More Information:
Across the Atlantic Ocean in Poland, the Czech Republic and England, crop formations are being reported ­ at least 13 in July so far for England and in 6 different counties:
– Wiltshire County
– West Sussex
– Kent
– Hampshire
– Oxfordshire
– North Somerset.
One in Garsington, Oxfordshire, was at least 500 feet in diameter, reported on July 15th. It's 12 circles joined at the edges in a large circle around a central 13th circle. The 12 circles are joined by a pattern of connecting lines ­ like orbital lines ­ and four of the circles are laid down in such a way that the plants reflect brighter than the other circles.
About this spectacular, large pattern, I received an e-mail from a scientist in Northwestern Australia who requests anonymity. He wrote:
"This new one shows, I think, the precession of Mercury about our Sun: four times a year it becomes visible above the western horizon (two weeks ago for example): hence four white circles.
Einstein used the slow advance of Mercury's elliptical orbit (as shown) to deduce his theory of general relativity:
namely that motional gravity is slightly stronger than gravity at rest, by a factor of (1 + v2/c2).
Converting from acceleration to velocity to distance, by a applying triple time-integral, we get (1 + v2/c2)**3 = (1 + 3 x v2/c2) for small v / c, just as shown in the drawing. For example, the number 1.001 when cubed becomes 1.003 if v / c = 0.001.
The angular factor for light bending around our Sun remains (1 + v2/c2) = 1 + 1 = 2, because there it is only acceleration, and v = c.
Very intelligent indeed, in my view at least."
2003-2004 Alignments of Ohio Crop Formations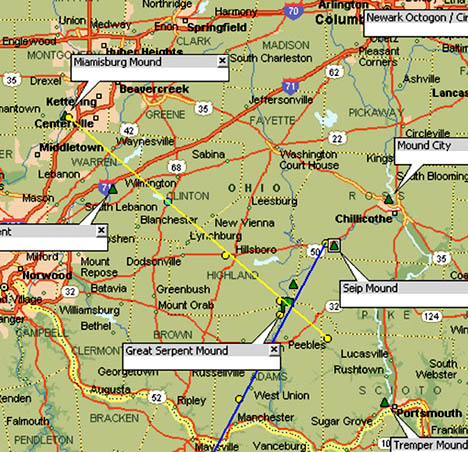 Jeffrey Wilson: "My Ohio Crop Formation Alignments Map is for the last two seasons of 2003 to 2004 of crop formations reported in Ohio and Kentucky. That map with the two alignments of crop formations, and not earth mounds, from the past two years got started last year because we went to several crop circles in Ohio, beginning with a formation that appeared near the Great Serpent Mound (Locust Grove and Peebles). See: 09-05-03 Earthfiles. There were several formations ­ one in West Union (Adams County) and one near Bainbridge (Ross County, Ohio). So, yellow line represents 2004 formations from Miamisburg through Cuba, Ohio (blue circle above Blanchester) through Hillsboro and ends on the map near Peebles at the last 2004 formation which was in Scioto County. (See other 2004 Earthfiles reports below.)
Before in 2003, we received a report from a place called Hilltop, Kentucky, which is southwest of Flemmingsburg, Kentucky. It appeared that all of the 2003 formations from Kentucky to Ohio fell along a pretty straight line if you connected the dots from Maysville to the Seip Mound. That struck us as being unusual. So, the blue line on the map connects the 2003 crop formations in Hilltop, Kentucky; West Union, Ohio; Serpent Mound formation in Locust Grove near Peebles; to the last formation in Bainbridge near the Seip Mound. The blue line does not go directly through the Seip mound.
We held a meeting earlier this year with several members of the ICCRA and one of those members, Roger Sugden, was looking on the map at where we had held that meeting, which was near Cuba, Ohio. That is the blue dot on your map above Blanchester. He noticed that there was also an alignment between the Miamisburg Mound and the Tremper Mound to the southeast in Portsmouth, Ohio.
2003 and 2004 Alignments Cross Near Ohio's Great Serpent Mound
He had drawn a line on his paper map that only those of us at that small 12-person meeting looked at. Subsequently, all of the crop circle formations in 2004 have fallen pretty much on that line from the Tremper Mound to Miamisburg Mound. If you connect a line between the two, it would not fall exactly on the line, but if you connect all the crop formations that came down this year, they do fall on a line that crosses the 2003 line near the Great Serpent Mound.
HAVE YOU TRIED TO EXTEND THE LINES TO SEE WHAT HAPPENS IF THEY GO UP FURTHER THROUGH THE UNITED STATES AND INTO CANADA TO SEE IF THERE ARE SIMILAR ALIGNMENTS FOLLOWING ALONG THOSE TWO ALIGNMENTS?
Yes, I did. I blew the line out to the southeast, all the way to the Atlantic Ocean. And I drew the line going to the northwest all the way to the Pacific Ocean. My mapping program follows the curvature of the Earth so you get a nice smooth line. It goes all the way from coast to coast. I don't have all of Paul Anderson's data base map yet, so I can't tell if his Canadian formations are connected on my U. S. line. But I will tell you that in drawing that specific line, there are about fifteen crop circles from the historical data in the United States falls upon."
Other Earthfiles Reports About Crop Formations, 1999 to 2004, see Earthfiles Archives:
09/22/2004 —  Miamisburg and Serpent Mound, Ohio Crop Formations: Geometries Compared
09/17/2004 —  Updated: Part 1 – High Strangeness in Canadian Cattle Corn
09/12/2004 —  Part 2 – High Strangeness in Canadian Cattle Corn
09/10/2004 —  Update on Miamisburg, Ohio, Corn Pictogram – Balls of Light?
09/05/2004 —  Part 2 – Hillsboro, Ohio Corn Plant Anomalies
09/04/2004 —  Hillsboro, Ohio Corn Formation – High Strangeness in Soil and Plants
09/02/2004 —  Updated Photos: Big, Impressive New Corn Formation in Miamisburg, Ohio
08/12/2004 —  Circles in Belgium and Holland
08/09/2004 —  Pictograms in Poland
07/26/2004 —  Crop Circles in Tilden, Wisconsin Oats and 90-Degree Angles in Litchfield, Minnesota Barley
07/25/2004 —  2004 Canadian Crop Formations: Scorched Soybeans and "Dirt" Pattern in Barley
07/15/2004 —  Updated: Part 1-Beyond Hillsboro, Ohio, More Corn Down in New Milford, Connecticut
07/06/2004 —  Mysteriously Downed Oat Plants in Eagle Grove, Iowa, and Downed Corn in Hillsboro, Ohio
07/06/2004 —  Additions to Spanish Fork, Utah Formation and Mysterious Lights Seen
07/04/2004 —  Crop Formation in Spanish Fork, Utah
06/17/2004 —  More 2004 Holland and Poland Crop Formations
06/16/2004 —  England: 2004 Crop Formations and 2003 Research
06/02/2004 —  2004 Peach Orchard, Arkansas Crop Formation
05/24/2004 —  Biophysicist W. C. Levengood's Crop Circle Reports Available for First Time On Internet
05/22/2004 —  2004 Overview of Crop Formations in Five Countries
05/11/2004 —  An Extraordinary Photograph in A Dutch Home
 05/09/2004 —  2003 English Crop Formations on Documentary DVDs
04/14/2004 —  Light Anomalies in Photos of Conondale, Australia Grass Circles
04/07/2004 —  Four "Combed" Grass Circles in Conondale, Australia
12/05/2003 —  Diatonic Ratios and Seed Changes in 2003 California Wheat Circles Rule Out Hoax?
11/07/2003 —  British UFO Crash Retrievals
11/01/2003 —  Another Soybean Formation in Ohio
0/17/2003 —  2003 "UFO Flap" in Ohio
10/10/2003 —  Updated – Ohio Hunter's "Deer Camera" Photographs Mysterious Glowing Disk
10/02/2003 —  Part 1 – Another Soybean Formation Near Seip Mound in Ohio
09/12/2003 —  Second Soybean Crop Formation in Ohio is Manmade. USAF Investigation Unit Involved?
09/06/2003 —  Part 3 – Unusual Soybean Formation Near Serpent Mound, Ohio
08/29/2003 —  Part 2 – After August 10, No Crop Formations Except in Canada?
08/23/2003 —  Fourteen Crop Formations in Canada
08/11/2003 —  Field Notes from Wiltshire, England Crop Circles
07/31/2003 —  Field Notes from English Crop Circles
07/16/2003 —  Unusual Details in Dutch Crop Formations
07/11/2003 —  Part 2 – Unusual Cylindar-Shaped Cloud Seen Night Before Dutch Crop Circles Discovered
07/08/2003 —  Mysterious Lights Videotaped Emerging from Ogbourne St. George, England Crop Formation
06/27/2003 —  Part 1 – Mysterious Lights and Fourteen Crop Formations in Italy
06/13/2003 —  Updated: Fractal Crop Formation in Knobel, Arkansas
05/10/2003 —  Tree Formation in Defiance, Missouri
05/02/2003 —  First 2003 English Crop Formations
04/29/2003 —  Comparison Between First 2003 and 2002 U. K. Crop Formations
04/26/2003 —  First 2003 U.K. Crop Formation Near Petersfield, Hampshire
11/05/2002 —  Canadian Crop Circles and Mysterious Lights in Saskatchewan
10/19/2002 —  Shifting Time Lines and Earth's Destiny?
10/11/2002 —  Mission, British Columbia, Canada Seed Corn Formation Has Changed Shape
10/03/2002 —  Part 3 – 2002 Crop Formations In Canada
10/01/2002 —  Part 2 – September 2002 Maize Circles Update: Canada
09/28/2002 —  Part 1 – September 2002 Maize Circles Update: England
08/24/2002 —  Crop Formation Update: United States
08/24/2002 —  Crop Formation Update: Canada
08/18/2002 —  Another Face and Code Appears in Hampshire, England – UPDATED
07/25/2002 —  Strange Stem Anomalies in New Dutch Crop Circles
07/20/2002 —  Mysterious Lights Seen Above Field Where Nautilus Formation Emerged
07/06/2002 —  Stonehenge 4th of July Formation Echoes Hackpen Hill 1999 4th of July Spiral
06/26/2002 —  Part 1 – New Crop Formations in England, Holland and Germany
06/04/2002 —  New 2002 Crop Formations in Wiltshire and Sussex, England
05/11/2002 —  First 2002 Crop Formation In Wiltshire, England
10/10/2001 —  Update On Unique British Crop Formations
09/22/2001 —  Huge Hexagram Crop Formation in Red Deer, Alberta, Canada
08/30/2001 —  Chilbolton Observatory – What Does It Do?
08/29/2001 —  Part 1 – Ground Details of Chilbolton "Face"
08/25/2001 —  Are Crop Formations at Chilbolton Observatory A Response to 1974 Earth Transmission?
08/22/2001 —  Milk Hill 2001 – 409 Circles, Most For Any Crop Formation So Far
08/09/2001 —  Crop Formation in Holland Changes with Researchers Present
06/16/2001 —  Beyond Stonehenge with Astronomer Gerald Hawkins
06/08/2001 —  Another Crop Formation Near Kassel, Germany
05/19/2001 —  Part 1 – New Crop Formations in Holland, Germany and England
03/02/2001 —  Mysterious Lights and Crop Circles – A Book Excerpt
12/13/2000 —  Mysterious Clouds of Light in English Crop Formation
09/30/2000 —  Unidentified Moving Spiral of Light Photographed in Crop Formation
08/29/2000 —  Black Triangle, Red Lights and Spinning Disc Over Wiltshire, England Crops
08/29/2000 —  Crop Formation Near Woodburn, Oregon Photographed from Hot Air Balloon
08/27/2000 —  Crop Circle Reports from Whitefish, Montana – Updated Photos
08/23/2000 —  Intelligence Sensed In Mysterious Lights Associated With Crop Formations
08/19/2000 —  White Balls of Light and Helicopter Videotaped in Woodborough Hill Field
07/16/2000 —  Multiple Crop Formations Same Day in Wiltshire and Hampshire, U. K., July 16, 2000
07/09/2000 —  New Book about Ancient Sites of Wiltshire, England 
06/11/2000 —  Two New Crop Formations at Silbury Hill
05/30/2000 —  Crop Formations In Germany, May 2000
01/16/2000 —  Crop Circle Mysteries – A New Book
01/05/2000 —  Crop Circle Year Book 1999
11/30/1999 —  A New Crop Formation In Marion, New York and Crop Research Updates
1/18/1999 —  Short Environmental Updates
10/29/1999 —  A New Book About Crop Circles
09/29/1999 —  Crop Formations Continue in Canada
09/21/1999 —  1999 Summary of Crop Formations in Canada and Latest 9/21/99 Edmonton Circles
06/09/1999 —  Dutch Eyewitness SaysTwo Crop Circles Created By Pink-Purple Light
06/07/1999 —  1999 U.K. Crop Circle Update with Photographer Peter Sorensen
---
Websites:
http://www.cropcircleconnector.com
http://www.kornkreise-forschung.de
http://www.cropcircleresearch.com
http://www.temporarytemples.co.uk
http://www.CropCircleAnswers.com
http://www.ukcropcircles.co.uk/?page=home

© 1998 - 2023 by Linda Moulton Howe.
All Rights Reserved.