September 2, 2005  Vancouver, British Columbia, Canada – Paul Anderson, Director of the Canadian Crop Circle Research Network (CCCRN), reported the first large crop formation in Canada on August 31, 2005.
High River, Alberta Canada
August 31, 2005 – Barley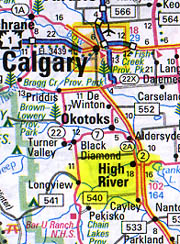 Paul Anderson: "It's near High River, just south of Calgary, Alberta. Large circle with surrounding outer ring in barley, found August 28, 2005. Circle is said to be about 18 meters (60 feet) in diameter, with ring about 7.6 meters wide (25 feet). The total diameter is about 49 to 55 meters (160 to 180 feet), based on initial estimates.
"Some multi-directional lay in circle. Counterclockwise lay in ring. Land is gently hilly in the field. Barley is still quite green, may not be swathed for a couple of weeks yet.
"The formation has already been visited by a number of people. No tracks reportedly were seen initially, but there are not quite a few from all the visitors. The land manager (not owner) is calling it 'vandalism,' so he does not want any publicity. A few people reported cell phone problems inside the formation."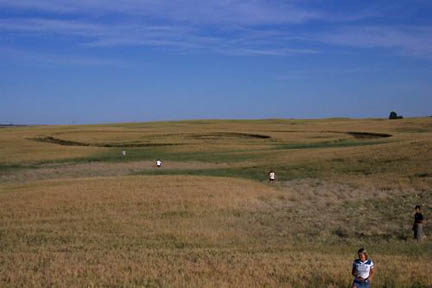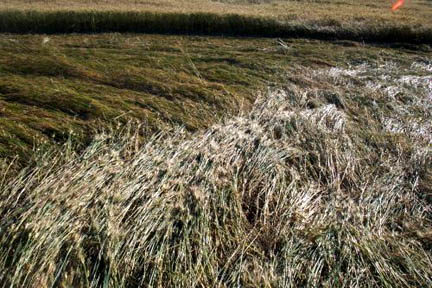 Steelman, Saskatchewan, Canada
August 27, 2005 – Wheat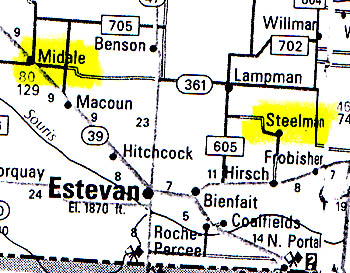 A simple circle was reported in wheat near Steelman, Saskatchewan, on August 27, 2005. The circle measured 23 meters (76) feet and the plants had been laid down counter-clockwise. This 2005 circle is near two other simple circles found in 2003.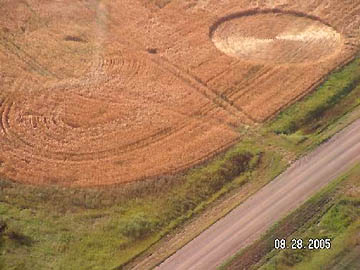 In 2003, Paul Anderson's CCCRN Website reported about two simple circles that were discovered near Steelman on nearly the same date as the August 27, 2005, circle.
"The second formation of this 2003 year was near the Midale "hot spot" region of Saskatchewan and was another classic simple circle. …It was first spotted on August 25 by pilot and CCCRN field research assistant John Erickson from nearby Estevan.
"On August 25, 2003, a simple single circle, the formation was again close to the edge of a road. The size of the circle was almost exactly the same as the first one, the diameter varying slightly from 16 meters (52 feet) to 16.25 meters (53 feet), with the mature wheat plants again flattened counterclockwise in an impressive tight, flat spiral pattern. It was like a carbon copy of the first circle in Steelman (this year), although in this case the field had already been harvested. With the plants pressed flat to the ground however, the circle itself was still quite intact and in good condition by the time of our investigation. …While stretched nodes or nodes with expulsion cavities weren't found, stems with twisting below the seed heads were, similar to other cases in Canada this year at Revenue, Saskatchewan and Wallacetown, Ontario and in Canada and other countries in other recent years."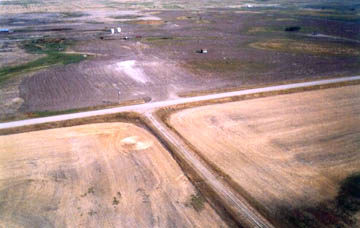 Aneroid, Saskatchewan
August 14, 2005 – Peas
A rancher was harvesting two pea fields on opposite sides of a road on August 14, 2005, when he found a downed circle of plants in each field. The two fields were an eighth of a mile apart. The rancher walked off each circle at about 39 feet in diameter. Four days later, on August 18, 2005, his brother found one of their best 4-month-old bull calves dead and mutilated. That pasture is about eighteen miles from the pea fields. See Earthfiles 082605 for more details.
---
More Information:
See http://www.cccrn.ca/ for more information about the 2005 Canadian crop circle phenomenon as it unfolds and the archives of previous years.
For other Earthfiles reports about U. S. crop formations, see Earthfiles Archives:
08/02/2005 —  Part 2: Anomalies Confirmed in Pennsylvania and Arizona Randomly Downed Crops

08/02/2005 —  Part 1: Anomalies Confirmed in Pennsylvania and Arizona Randomly Downed Crops

07/23/2005 —  Mystery of Six Grass Circle Formations in North Carolina
06/02/2005 —  Part 2 – Highly Anomalous Pigment Formation in 2004 Hillsboro, Ohio, Crop Formation

05/26/2005 —  Phoenix Barley Mystery: Apparently Irrigation and Wind

05/20/2005 —  May 2005 Crop Formation Update in Six Countries

05/09/2005 —  Mysterious Lights and 2003 Serpent Mound Soybean Formation
·10/17/2004 —  American Crop Formations: 1880-2004

09/22/2004 —  Miamisburg and Serpent Mound, Ohio Crop Formations: Geometries Compared
09/10/2004 —  Update on Miamisburg, Ohio, Corn Pictogram – Balls of Light?

09/05/2004 —  Part 2 – Hillsboro, Ohio Corn Plant Anomalies

09/04/2004 —  Hillsboro, Ohio Corn Formation – High Strangeness in Soil and Plants

09/02/2004 —  Updated Photos: Big, Impressive New Corn Formation in Miamisburg, Ohio

07/26/2004 —  Crop Circles in Tilden, Wisconsin Oats and 90-Degree Angles in Litchfield, Minnesota Barley
07/15/2004 —  Updated: Part 1-Beyond Hillsboro, Ohio, More Corn Down in New Milford, Connecticut

07/13/2004 —  Updates on Spanish Fork, Utah Barley Formation
07/06/2004 —  Additions to Spanish Fork, Utah Formation and Mysterious Lights Seen

07/06/2004 —  Mysteriously Downed Oat Plants in Eagle Grove, Iowa, and Downed Corn in Hillsboro, Ohio

07/04/2004 —  Crop Formation in Spanish Fork, Utah

06/02/2004 —  2004 Peach Orchard, Arkansas Crop Formation

05/24/2004 —  Biophysicist W. C. Levengood's Crop Circle Reports Available for First Time On Internet

05/22/2004 —  2004 Overview of Crop Formations in Six Countries
·12/05/2003 —  Diatonic Ratios and Seed Changes in 2003 California Wheat Circles Rule Out Hoax?
·11/01/2003 —  Another Soybean Formation in Ohio

·10/17/2003 —  2003 "UFO Flap" in Ohio

·10/03/2003 —  Part 2 – Military Interest in Serpent Mound and Seip Mound Formations?

·10/02/2003 —  Part 1 – Another Soybean Formation Near Seip Mound in Ohio

09/12/2003 —  Second Soybean Crop Formation in Ohio Manmade. By Special USAF Investigation Unit?

09/06/2003 —  Part 2 – Unusual Soybean Formation Near Serpent Mound, Ohio

09/05/2003 —  Part 1 – Unusual Soybean Formation Near Serpent Mound, Ohio
08/29/2003 —  Part 1 – Why Do Military Helicopters Focus On Crop Formations?
07/19/2003 —  Update – Defiance, Missouri T-Pattern Cut in Saplings
06/13/2003 —  Updated: Fractal Crop Formation in Knobel, Arkansas
05/10/2003 —  Tree Formation in Defiance, Missouri
08/20/2000 —  Crop Formations In North Dakota
11/30/1999 —  A New Crop Formation In Marion, New York and Crop Research Updates

07/15/1999 —  Brentwood, Tennessee Crop Formation and New U.K. Photos by Peter Sorensen
---
Websites:
http://www.cropcircleconnector.com
http://www.temporarytemples.co.uk
http://www.kornkreise-forschung.de
http://www.cropcircleresearch.com
http://www.CropCircleAnswers.com
http://www.ukcropcircles.co.uk/?page=home

© 1998 - 2023 by Linda Moulton Howe.
All Rights Reserved.