"At first glance, you would think of a deer's head on a kangaroo's body."
– Stacey Womack, Dog Breeder, Pollok, Texas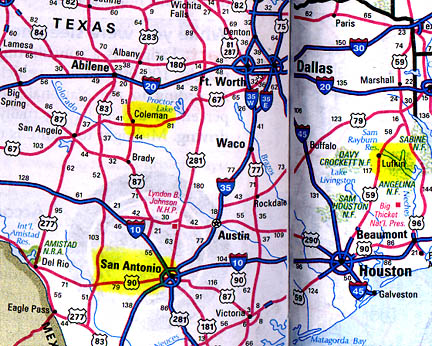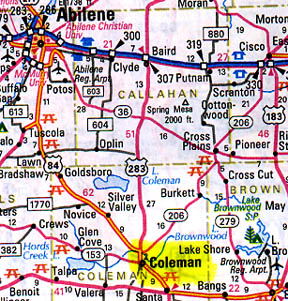 August 31, 2005   Coleman, Texas – Memorial Day weekend of 2004, Dave McAnally shot a so-called "chupa" creature on his Elmendorf, Texas, property south of San Antonio. See 073104 Earthfiles. Five months later on October 8, 2004, Stacey Womack's brother shot a similar looking creature on their Pollok farm near Lufkin, Texas. See 101404 Earthfiles. Then in the first week of August 2005, a man in Coleman, Texas who requests anonymity, shot and killed another very similar-looking creature, but threw it in the trash. To date, no veterinarian has seen a fresh kill and no one knows exactly what the grey-skinned creature is that likes to kill and eat chickens.
Elmendorf, Texas, Memorial Day Weekend, 2004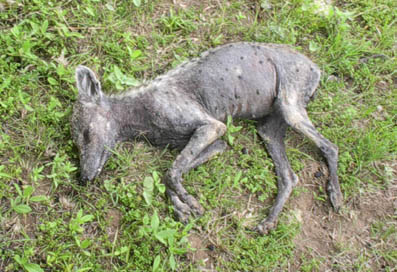 Pollok, Texas, October 8, 2004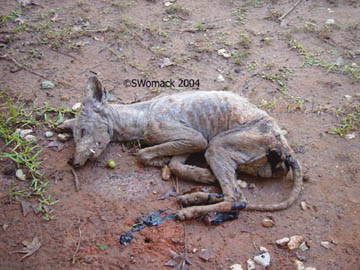 Coleman, Texas, Around August 16, 2005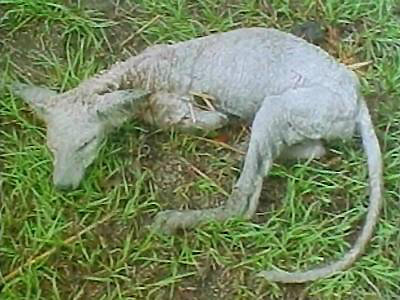 ---
Interviews:
Reginald and Ruth Lagow, Chicken Farmers, Coleman, Texas:
Reginald saw creature around first week of August 2005: "There isn't much to say except that nobody seems to know what it is. Except I did see it run and it ate most of my chickens. When I saw him while he was alive, he did not give me time to see anything. In fact, he ran very fast, ran like hell!
DID THE CREATURE RUN ON FOUR LEGS OR TWO?
I don't know. He took off carrying a chicken and ran less than 50 yards. He had caught that chicken real quick. We'd been losing chickens for several days, but we didn't know what was killing them. We lost 14 chickens over a period – sometimes we lost as many as two a day.
DID IT LOOK LIKE A DOG CARRYING A CHICKEN IN ITS MOUTH?
I didn't realize anything except a chicken was running. The next thing I knew, it had already caught it and before I could get to it, the creature had already killed it and saw me coming and went through a fence, probably 50 yards from where I saw it. It all happened so quick!
HOW BIG DID YOU THINK IT WAS WHEN YOU SAW IT LIVE?
It probably weighed about 15 to 18 pounds.
ABOUT HOW LONG AND HIGH?
If it were standing up, the back legs are ­ the back leg is 2/3s the length of the body at least.
WHEN YOU SAW IT RUNNING AFTER YOUR CHICKEN, HOW BIG WAS IT COMPARED TO YOUR CHICKEN?
I didn't have a comparison. I heard the chicken hollering and I came a running. The next thing I knew, the creature had killed it and tried to get away from me.
SO, YOU RAN UP AFTER THE ANIMAL HEARING THE CHICKEN, BUT YOU DID NOT SEE THIS ANIMAL ATTACK THE CHICKEN?
No. All I know is that by the time it got there, it had already broke the hide on the chicken's neck. Then the next time I saw it, it was dead ad rigor mortis had already set in.
Neighbor Shot Strange Animal Around August 16, 2005
DID YOU NOTICE ANYTHING ABOUT THE FACE?
The teeth I looked at after it had already been dead for probably 12 or 14 hours. Rigor mortis had set in and I had no idea it was going to be something like it turned out to be. So, I did look at its teeth, but they were almost transparent. They weren't over a half-inch long protruding from the gums.
SO YOU LOOKED AT THE ANIMAL AFTER YOUR NEIGHBOR SHOT IT?
Yes, because I took a picture of it. I have a little digital camera and then I carried it around for several days and finally I carried it down to the veterinarian's office. I had written on it, 'What is it?' And it started getting excitement as it went around. We didn't know anything about it and now the more we try to find out, the less we know.
No Blood In Chicken Deaths
IN THE CHICKEN DEATHS, HAVE YOU AND YOUR NEIGHBORS FOUND ANY BLOOD ON THE CHICKENS?
Nope. They never saw any blood.
THAT'S ALWAYS BEEN ONE OF THE PECULIAR ASPECTS OF THIS ­ IS THIS CREATURE PUNCTURING THE CHICKENS AND SUCKING THE BLOOD? OR WHAT IS IT DOING?
I don't know.
DID YOUR NEIGHBORS FIND ANY PUNCTURE WOUNDS IN ANY OF THEIR CHICKENS OR ANIMALS?
The thing is, the creature would kill a chicken and eat half of it before we'd even realized it had been killed.
SO WHATEVER THIS CHICKEN WAS DOING, IT WAS EATING FLESH OFF OF THE CHICKEN ­ NOT JUST PUNCTURING HOLES TO SUCK BLOOD?
That's right. After it killed, it would eat the flesh because the time I'd caught it in the trap, it had left quite a bit of chicken there. I put that leftover in the back end of the trap and placed the trigger where he could not get anything without getting caught. He outsmarted me. He got in there and got away.
WHEN YOU FOUND YOUR DEAD CHICKENS, WHAT DID THEY LOOK LIKE? WHICH PARTS HAD BEEN EATEN?
They started with the neck apparently. You could see a gob of fat there where they had started eating and then they would eat all they cold and probably come back the next day and get some more. I would use what was left of their kills to try to trap the creature/s.
DID THEY EAT THE HEADS OFF FIRST?
When they do that, I always think it's a skunk. I've had that happen. I've caught some skunks in my trap, but it's been awhile.
DID YOU NEIGHBORS HAVE CHICKENS IN WHICH THE HEADS HAD BEEN BITTEN OFF?
Yes, but then that's been before. I'm talking about the past month.
DID YOU FIND CHICKENS IN WHICH THE BREAST MEAT AND MUSCLE TISSUE HAD BEEN EATEN?
Well, I have some small chickens called Hamburg. The creature would eat 2/3s of one of those sometimes. But that's a small little hen. Sometimes when I was not watching close enough, I would go around the outer fence of my chicken pen and the creature would kill dead chickens to the fence and eat parts of them and leave the rest.
Not realizing what it could possibly be, I just am only half way able to report only half of what I should.
SO FAR, NO ONE THAT YOU HAVE SHOWN YOUR DIGITAL PHOTOGRAPH TO, INCLUDING THE VETERINARIAN, HAS BEEN ABLE TO IDENTIFY EXACTLY WHAT THIS CREATURE IS?
That's right. My brother saw it and he's spent quite a bit of time in Mexico.
WHAT DID HE SAY?
He did not know. The first thing he said was it must be something that has been concocted by somebody mixing animals (genetically). He thinks it must have come out of a laboratory."
(He's going to keep his trap going to try to catch another creature)
I keep my trap set at all times and keep it baited. It's right next to my chicken pen at the edge of town.
Reginald Lagow Set Trap for "Chicken Eater"
By the time I got the trap set to catch it, I caught it in the trap. But it was smarter than I was. It untied the trapdoor I had on top and got out.
I WONDER HOW IT WOULD UNTIE THE ROPE IF IT ONLY HAS CLAWS ON ITS FEET?
I'm fairly familiar with raccoons. They outsmart a lot of us.
BUT A COON HAS HANDS WITH FINGERS. THIS CREATURE THAT IS IN YOUR PHOTOGRAPH THAT THE NEIGHBOR SHOT ONLY HAS CLAWS ON ITS FEET, RIGHT?
I don't know. I did not unfold them and look at them like I should have. There are so many things I realize I did not do. It makes me wonder how I got as far along as I am! (laughs)
DID YOU SEE ANYTHING IN THIS CREATURE'S EYES?
He had his eyes closed.
WHEN YOU SAW IT RUNNING AFTER THE CHICKEN, WERE YOU ABLE TO SEE ANYTHING ABOUT ITS EYES THEN?
No. All I know you can tell as much from the photograph I took as I know.
WHAT ABOUT THE HAIR OR COVERING OF THE ANIMAL?
It feels like wool (touched it). It does not look like it has hair at all. But the back leg when I moved it out to get a better picture of it, it felt like a dog's leg. I don't know if it has three or four toes. I think it has four toes. But I don't know.
IT WAS A LONG TAIL?
You can see the tail on the photo ­ it was almost as long as the body.
WAS THERE A TASSEL ON THE END?
I don't think it has much of one. It's just a little bit.
IT SURE WOULD BE NICE TO GET DNA ANALYSIS OF WHATEVER THIS CREATURE IS.
Yes, but I have no idea."
Ruth Lagow: "THE ACTUAL KILLING OF THE CREATURE WAS WHEN?
Close to two weeks ago from now. The chicken kills began about in late July. We had about 14 chickens killed total and so did our neighbor. And it was starting in on the next neighbor over, so that was mounting up to about a month of kills. And it's been at least a couple of weeks since our neighbor shot it.
DID YOU ALL THREE SEE THIS ANIMAL?
No, there were only two people who saw it alive.
WHO SAW IT ALIVE?
Reg and the neighbor who killed it. Reg did not kill it. He thought he had it in a trap one night because he caught something that got in the trap, ate the bait (dead chicken) and got out through the opening by untying a nylon rope. It was untied just like a human would have untied it.
Then the neighbor was at his barn one day and his dog had this strange animal cornered. He was the neighbor who killed it. He called Reg and said he had got the 'chicken eater.' So, Reg went over and took a picture of it.
It did not have hair. It was more like wool. And it had a real long tail, but it certainly was not a kangaroo because a kangaroo has a thick tail that it sits on when it raises up.
OTHER ANIMALS RESEMBLING YOUR PICTURE KILLED IN TEXAS THE PAST COUPLE OF YEARS HAVE HAD DARK SPOTS ON THEM. THE CREATURE AT YOUR PLACE APPEARS TO BE ALL WHITE?
It was light grey. It had been raining on it. It was a rainy day, but the vet said it did not have fangs from looking at the picture. Reg also looked at the teeth and he said they were almost translucent-looking, the funniest teeth he had ever seen.
DID THE VET EXAMINE THE CREATURE?
No, he didn't. The neighbor who killed it just threw it in the trash. They did not realize what it might have been. He was just getting rid of a chicken eater. And he has a bunch of goats, too, and that chupacabras is supposed to be a goat and chicken eater.
WHAT IS THE NAME OF THE NEIGHBOR WHO SHOT IT?
This neighbor will not talk about it and does not want his name mentioned.
IS THAT WHY HE JUST THREW THE CREATURE AWAY?
I think he did not realize what he had ­ that's why he threw it away. It was just a critter getting into his chickens. Reg took the picture that day before the neighbor threw the creature in the trash. Reg was showing it to everyone in town and at the vet's. He took it over to the vet to see what they'd say about it. There is only one veterinarian clinic here and they said it looked like a chupacabras.
THAT'S STRANGE BECAUSE THE CHUPACABRA – WHATEVER IT IS – HAS ONLY BEEN SEEN IN PUERTO RICO, MEXICO, SOUTHERN FLORIDA, SOUTH AMERICA ­ AND THAT WAS MOSTLY IN THE MID-1990S. THIS CREATURE IN TEXAS HAS BEEN SEEN ONLY THE PAST COUPLE OF YEARS.
I have no idea. Reg said it was not like anything he had seen before and he heard the chicken making noise. That's why he went running to find it. The creature was close to the chicken pen by the time Reg got out there. It had killed this chicken and was going through the fence. It was a small animal. Maybe the photograph makes it look like it was larger than it was. He said it was about 2 to 3 feet long, but not so tall. It had a woolly coating, instead of hair. It was not hair. It was just a strange animal that appeared and we don't know where it came from or what it was.
HOW DID IT ATTACK?
It broke the chicken's neck. But it dropped the chicken and ran through the north fence near the chicken pen. We were looking for something like a blood-sucking animal at that time. But one time, Reg found a chicken that had its head eaten off down into the wing section.
But in the photo, I thought the creature did look like it was malnourished, given the number of chickens we think it has eaten. It must have had a pile of them somewhere!"
---
More Information:
For other Earthfiles reports about alleged "chupacabras", see Earthfiles Archives:
06/23/2005 —  More Than 3,000 Unusual Animal Deaths Reported in Argentina and Chile Since 2002

10/23/2004 —  Veterinarian Examines Pollok, Texas Carcass

10/20/2004 —  Pollok, Texas "Chupa": Strange Mammal or Mangy Coyote?

10/14/2004 —  Another "Chupacabra" Shot in Texas

07/31/2004 —  Strange Animal Shot by Elmendorf, Texas Farmer

07/19/2002 —  Unusual Animal Deaths and Unidentified Aerial Lights Persist in Argentina

06/15/2002 —  Cattle Mutilations In LaPampa, Argentina

06/01/1999 —  Puncture Wounds On Dogs In Woodleaf, North Carolina

© 1998 - 2023 by Linda Moulton Howe.
All Rights Reserved.