"The amphibians are like canaries in a coal mine and they are in trouble first. …The fact of the matter is: we have only one coal mine for planet earth. The coal mine is in trouble right now. And the amphibians are telling us ­ it's a warning!"
– Andrew Blaustein, Ph.D., Oregon State University Zoologist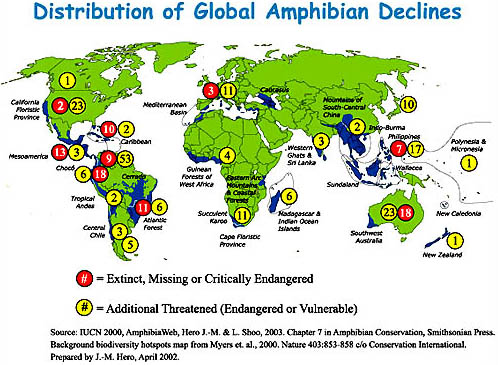 August 26, 2005    Corvallis, Oregon – What is killing amphibians around the world? The die-off in many species began in the 1980s and has not stopped. There have been waves of extensive amphibian die-offs in Australia, Central and South America and spreading into North America. Zoologists and other scientists have been forced to look urgently for the cause. One of the culprits is a fungus called Chytrid (KIT-trid) which attacks amphibians in such a way that they can't eat. Its formal name is Batrachochytrium dendrobatidis, which was first discovered on dead and dying frogs in Queensland, Australia in 1993. Australia's Commonwealth Scientific and Industrial Research Organization (CSIRO) reports, "This is the first time a chytrid fungus has been found to parasitize vertebrates."
One prominent amphibian researcher is Prof. Andrew Blaustein, Zoologist and Director of the Environmental Sciences Graduate Program at Oregon State University in Corvallis. He explained to me how the fungus attacks.
---
Interview:
Andrew Blaustein, Ph.D., Prof. of Zoology and Director, Environmental Sciences Graduate Program, Oregon State University, Corvallis, Oregon: "The disease we're talking about in this particular case is a fungus. It's one we don't know that much about. It seems to be going from amphibian to amphibian. It seems to be triggered by some events that we're not exactly clear about. Many of these events might be global climate change or it might have mutated. We're not exactly sure. It does not seem to be an evolving type of disease, but there do seem to have been some changes to make it more virulent. It's just a very bad deal.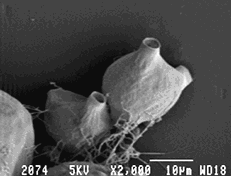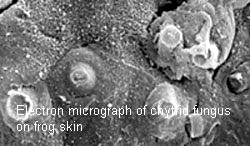 Ways Chytrid fungus attacks amphibians
There are a couple of ways by which this fungus kills an amphibian. One way is that it actually makes the hard parts of the amphibian like the tooth structures or other hard parts, it corrodes them, eats them away.
Another way it kills is it produces a toxic substance that kills the amphibians outright. We've seen that in tadpoles and even after they have metamorphosed into adult form. So, that's what is going on. It seems to be spreading. There is no way we know how to stop the spread. We don't know exactly where it came from. It might have been around for a long time and some environmental change triggered it, as have other diseases have been triggered by environmental change recently.
WHAT ARE THE SYMPTOMS IN THE ADULT AMPHIBIANS?
In the adults, it seems that their mouth parts disintegrate and they can't eat properly. Or they get some physiological imbalance.
DOES THAT DISINTEGRATION IMPLY THIS MIGHT BE SOME KIND OF CHEMISTRY CORRODING THE HARD PARTS?
We don't know what the mechanism is, but we definitely know that there are some toxic substance produced by the Chytrid fungus. We don't know how the toxic substance works and we don't even know what it is. But that's what we're looking at right now.
Extinctions of amphibian species
WHAT KIND OF NUMBERS ARE WE TALKING ABOUT IN THESE DIE-OFFS IN THE SOUTHERN AND NORTHERN HEMISPHERES?
We're looking at some pretty amazing die-offs. In Australia, they've had whole populations and whole species disappear in the last 20 years. The same thing ­ we're talking about hundreds if not thousands of individuals in Central and South America. In some places in the Colorado Rockies, the Chytrid fungus is found. It is found in the northeastern United States. They seem to be found in California. In California, there is something called the Mountain Yellow-Legged Frog. Its population has been decimated and the fungus is found on them.
The problem is that sometimes the fungus might come in after the animals are compromised by something else. For example, increase in ultraviolet radiation (from the sun). Or pollution contaminants. Or even another disease.
Are amphibians weakened by something else
that makes them vulnerable to fungus?
I ASSOCIATE FUNGUS WITH HAVING AN IMPACT ON AN ORGANISM ONLY IF ALREADY WEAKENED. IT SUGGESTS THAT POSSIBLY THE AMPHIBIAN POPULATION IS ALREADY VULNERABLE AND THE FUNGUS TAKES OVER?
That's what I feel. That's what a lot of my colleagues feel. But some of these fungi can kill the amphibians outright. There is another fungi species that is worldwide that has been killing amphibians worldwide for years. It occurs when amphibians are weakened by ultraviolet radiation streaming in through the ozone shield which has been diminished over the years due to human pollutants. We think the same thing might be happening with the Chytrid fungus, that the animals get compromised, their immune systems become dysfunctional when there are more ultraviolet rays that come in, when there is a contaminant and then the fungus hits them.
WHY SHOULD THIS FUNGUS BE SPREADING HEMISPHERE TO HEMISPHERE?
That's a good question. Why is it? One idea out there is that the fungus has always been around, but it has not been that bad. But now global climate change, global warming, decreased ozone, all these things are compromising the amphibians globally. Another potential cause is that some sick individual amphibians were either introduced through laboratories or from the pet industry. This is a problem. When you have a pet in captivity, or you have a lab animal in captivity, and it becomes sick and you release it into the field, then it can give this disease to other amphibians.
Diseases spread by exotic amphibians
released from zoos, pet stores and laboratories
There are two major culprits. One carrier of this disease is the bullfrog, the North American bullfrog. It seems to carry this fungal disease and not get that sick. Bullfrogs have been introduced all over the world.
THEY HAVE BEEN INTRODUCED ALL OVER THE WORLD TO ACCOMPLISH WHAT?
Various things ­ they are not native to the western United States. They are an eastern species. They were originally introduced to Oregon, California and the state of Washington for a food source. Sometimes they have been released by accident. The African Clawed Frog is now living very nicely in San Diego, California.
BUT WAS IT INTRODUCED TO PROVIDE FOOD UNDER SOME FEDERAL PROGRAM? OR WAS IT BROUGHT IN THROUGH EXOTIC PETS AND ZOO PROGRAMS?
The bullfrog, for example, was introduced as a food source in the late 1800s. So, there was no federal program for that. They were just brought in for food.
The African Clawed Frog are releases. No one wanted those things out in the field. They are totally bad news and they can carry the diseases.
SO HOW DID THEY GET HERE?
They are used in the laboratory. They are laboratory rats. The African Clawed Frog is THE laboratory rat for amphibians. People release them, or they get loose. But I don't really think they get loose by themselves. They are totally aquatic. They can't even hop. They are also in the pet industry. People just get sick of them and throw them out into the wild. Now, those frogs have established populations in southern California, yet they are native to Africa. They've also established populations in other areas. It's a species you DON'T want in San Diego, California, but it's there.
BECAUSE WHY?
Because it carries diseases and eats native insects. It might compete with native amphibians and fish, all kinds of bad things. Any time you introduce an exotic species, you're going to have problems.
DOES THE CHYTRID FUNGUS KILL THIS FROG?
We're not exactly sure what the Chytrid fungus does to it, but we do know that fungus can glom on to this frog and so the African Clawed Frog can carry the Chytrid fungus.
BEFORE THE LAST 20 YEARS, WHAT DID THE CHYTRID FUNGUS DO?
Good question. We don't have really good evidence for what it did, but there have been some studies that show the museum specimens actually have a Chytrid fungus on them. These are specimens that were collected, put in alcohol and jars and laid on a museum bench for years and now we look at them to see if the fungus was around back then. We've got a couple of samples that show the Chytrid fungus was around in the 1950s, anyway. Whether it was bad news in those days, we don't know. But the documented amphibian population decline is a recent phenomenon and we think the Chytrid fungus is involved in many places and probably due to global climate changes which are affecting many animals and plants. That's what is going on here.
Is rate of amphibian deaths increasing?
IS THERE AN ACCELERATION OF THE AMPHIBIAN DEATHS IN THE PAST DECADE OR SO?
In the last 20 years, amphibian populations ­ the deaths have increased more than we've seen ever in the history of these things. Usually it's a long process, extinction is a natural process. But we're undergoing a massive extinction event around the planet and not just for amphibians. Many organisms, animals and plants are going to extinction at rates that are unprecedented.
IF HUMANS CAN'T FIGURE OUT A WAY TO SLOW DOWN THE IMPACT OF THE CHYTRID FUNGUS ON AMPHIBIANS, ARE WE FACING EXTINCTIONS OF AMPHIBIAN POPULATIONS?
Absolutely. If we can't figure out how to get a handle on this disease, the Chytrid fungus, you will see many amphibian populations disappear and whole species will probably go extinct. Probably some have already, due to this fungus.
What would world be like without amphibians?
WHAT ARE THE CONSEQUENCES OF EXTINCTIONS OF AMPHIBIANS?
Just like the extinction of any groups of organisms: you have major complications arising in the ecosystem. For example, if I took away all the amphibians today, think about all of the billions of insects such as mosquitoes and flies that would not be eaten by the amphibian creatures. They eat billions and billions of bad insects all the time. Things eat them, too. Fish eat them (amphibians, snakes eat them, birds eat them, so the whole ecosystem changes when you take away the amphibians.
IF YOU WERE MAKING AN EDUCATED GUESS LOOKING OUT TEN YEARS FROM NOW IN 2015, WOULD YOU SAY THAT IF THE CHYTRID FUNGUS IS NOT SLOWED DOWN THERE WOULD BE EXTINCTIONS IN TEN YEARS? IF SO, IN WHICH SPECIES?
I would absolutely say that if we don't slow the Chytrid fungus down, there will be major extinctions occurring in the next ten years. The species that are the most susceptible are those where the fungus grows best. That seems to be in areas where it's a nice moist climate at certain temperatures which make it grow better. In some cases, it's warmer temperatures that make it grow better, like the tropics. But it's hitting temperate regions, too. So, it depends upon the ecology of the species of amphibians whether or not the fungus will hit them or not hit them.
ARE YOU TALKING WITH ANYBODY AT A FEDERAL LEVEL ABOUT WHAT MIGHT BE DONE TO SLOW DOWN THE CHYTRID FUNGUS?
Oh, yeah! We're talking at the federal level and we're talking at the international level! We have an international grant in conjunction with some Australians and some Central Americans and the U. S. We're trying to get a handle on this whole Chytrid problem. We've just started studying it in great detail in only the last 8 or 9 years.
AND IT TAKES ME BACK TO SOMETHING LIKE THAT OLD CHILDHOOD STORY ABOUT THE CANARY IN THE MINER'S CAGE. THE MINERS WOULD WATCH TO SEE ABOUT OXYGEN LEVELS IF THE CANARY DIED FIRST. IS THERE SOMETHING ABOUT THE AMPHIBIANS DYING AT THIS RATE FROM A FUNGUS THAT INDICATES TO YOU THAT THERE MIGHT BE SOMETHING TRULY WRONG IN THE WATER AND/OR THE AIR?
Yes, we're all thinking that amphibians are exactly that. They are canaries in a coal mine and they are in trouble first. They are a sentinel species. These species will be affected first. Other animals and plants will be affected later. And some are already being affected along with amphibians. The fact of the matter is: we have only one coal mine for planet earth. The coal mine is in trouble right now. And the amphibians are telling us ­ it's a warning!
What are scientists doing to stop the Chytrid fungus attacks on amphibians?
First, they are trying to figure out how the fungus works. There is a journal called Conservation Biology, which is published by the Society of Conservation Biologists. In the October 2005 issue, there will be five articles by researchers about new investigations of the Chytrid fungus and how to stop its unrelenting spread."
Dr. Blaustein says one big step would be to stop laboratories, zoos and the pet industry from releasing amphibians into the wild. As amphibians continue to die around the world in huge numbers, it's another disturbing signal that Earth life is faced with new survival challenges, from the microbial plankton in the seas to the huge polar bears whose icy Arctic homes are melting away beneath their feet.
---
More Information:
For other Earthfiles reports about amphibian deaths, see Earthfiles Archives:
08/27/2004 — Global Warming Impact On Birds – More Extinctions Expected

12/22/2001 — Scientists Warn That Climate and Earth Life Can Change Rapidly

11/26/2000 — Environmental Updates

11/12/2000 — Update On Increased UV Radiation and Amphibian Decline

05/27/1999 — Amphibian Decline – Parasites and Increased UV Radiation
---
Websites:
CSIRO (Australia): http://www.biodiversity.csiro.au/2nd_level/3rd_level/fact_sheet_frog_fungus.htm
Frog Decline Reversal Project (Australia):  http://www.fdrproject.org/pages/disease.htm

© 1998 - 2023 by Linda Moulton Howe.
All Rights Reserved.