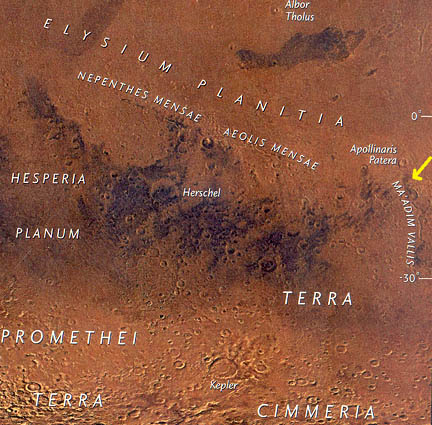 August 24, 2005  Pasadena, California – For twenty months now, the robotic explorer, Spirit, has been exploring the Gusev Crater on Mars, while its twin rover, Opportunity, has been exploring the Meridiana Planum. The two sites are 6,600 miles from each other in the equatorial region.
Spirit Photographs Several Martian Dust Devils in Gusev Crater
NASA reports that Spirit videotaped from a hill "several dust devils crossing a plain inside Mars' Gusev Crater. The clip consists of frames taken by Spirit's navigation camera during the rover's 543rd martian day, or sol (July 13, 2005)."
See dust devils in action in NASA video.
"Spirit began seeing dust devil activity around the beginning of Mars' spring season. Activity increased as spring continued, but fell off again for about two weeks during a dust storm. As the dust storm faded away, dust devil activity came back. In the mid-afternoons as the summer solstice approached, dust devils were a very common occurrence on the floor of Gusev crater. The early-spring dust devils tended to move southwest-to-northeast, across the dust devil streaks in Gusev seen from orbit. Increasingly as the season progresses, the dust devils are seen moving northwest-to-southeast, in the same direction as the streaks. Scientists are watching for the big dust devils that leave those streaks."
Opportunity Photographs "Lemon Rind" At Meridiani Planum Outcrop
NASA reports: "After months spent roving across a sea of rippled sands, Opportunity reached an outcrop in August 2005 and began investigating exposures of sedimentary rocks, intriguing rind-like features that appear to cap the rocks, and cobbles that dot the martian surface locally. Opportunity spent several sols analyzing a feature called "Lemon Rind," a thin surface layer covering portions of outcrop rocks poking through the sand north of "Erebus Crater." In images from the panoramic camera, Lemon Rind appears slightly different in color than surrounding rocks. It also appears to be slightly more resistant to wind erosion than the outcrop's interior. To obtain information on how this surface layer (or weathering rind) may have formed and how it compares to previously analyzed outcrops, Opportunity is using the microscopic imager, alpha particle X-ray spectrometer and Moessbauer spectrometer to analyze surfaces that have been brushed and ground with the rock abrasion tool. Scientists will compare these measurements with similar measurements made on the underlying rock material."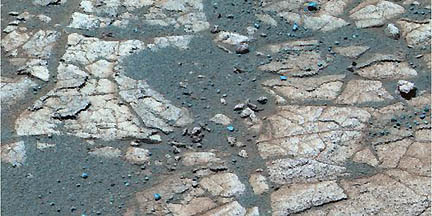 "This is a false-color composite generated by draping enhanced red-green-blue color from the panoramic camera's 753-nanometer, 535-nanometer and 482-nanometer filters over a high-fidelity violet, 432-nanometer-filter image. The image was acquired on martian day, or sol 552 (Aug. 13, 2005) around 11:55 a.m. local true solar time. In this representation, bright sulfur-bearing sedimentary rocks appear light tan to brown, depending on their degree of dust contamination, and small dark "blueberries" and other much less dusty rock fragments appear as different shades of blue. Draping the color derived from the blue to near-infrared filters over the violet filter image results in a false color view with the sharpest color and morphology contrasts."
---
More Information:
For other Earthfiles reports about rover explorations on Mars, see Earthfiles Archives:
03/26/2005 —  Spirit Rover Finds Magnesium Sulfate Near "Larry's Lookout" in Columbia Hills on Mars.
03/20/2005 —  Astronaut John Young: "The Moon Can Save Earth's Civilization."
04/02/2004 —  Updates on Spirit and Opportunity Rovers

03/11/2004 —  Updated – Mars Spirit and Opportunity Sol 65 and Sol 46
03/05/2004 —  Part 3 – Mars: A Sulfate Salty Planet – Could It Have Sulfate-Loving Microbes?

03/03/2004 —  Part 1 – Mars: Meridiani Planum Was Once "Drenched With Water and Habitable"

03/03/2004 —  Part 2 – Mars: Scientific Challenge of Identifying Substances

02/21/2004 —  Update On Mars with Cornell Astronomer Steve Squyers, Mars Rover Missions

02/18/2004 —  Distorted Distance Perspective in Martian Rover Camera Images

02/11/2004 —  Opportunity Finds Martian Bedrock Has Lots of Sulfur and Small Spherical Rocks

02/03/2004 —  Planet 150 Light Years from Earth Has Oxygen and Carbon Atmosphere

01/31/2004 —  Is There Living Green Algae in the Gusev Crater on Mars?

01/31/2004 —  Opportunity Rolls Onto Martian Soil and Confirms Hematite

01/28/2004 —  Mars – First Bedrock Seen Beyond Earth
01/09/2004 —  Robotic "Geologists" on Mars
01/28/2004 —  Mars – First Bedrock Seen Beyond Earth
---
Website:
http://marsrovers.jpl.nasa.gov/home/index.html

© 1998 - 2019 by Linda Moulton Howe.
All Rights Reserved.