"The National Weather Service meteorologist said he had never seen anything like it, even when he was in his training on what storm damage does to crops."
– Jeffrey Wilson, Director, ICCRA
September 2, 2005   Williamsburg, Ohio – American crop circle activity picked up in the last two weeks of August 2005. There are five new reports. There were two new formations that were discovered August 12, 2005. The first one was in Canisteo, Steuben County, New York. One of the senior meteorologists for the National Weather Service in that area reported that there were two circular areas that were found flattened in corn. He found them while he was investigating damage from an F-1 tornado that went through the area. The circular flattened areas were off the main track of the tornado by about 30 to 40 yards. The larger circle was approximately 30 feet in diameter and the smaller one about 16 feet in diameter. The circular areas were not flattened all the way to the ground. They were only partially bent over.
The tornado damage investigator went to look at the tornado track. Tornadoes leave a very specific and defined path when they touch down on the ground. This one was confined and the track crossed through some trees down in a valley that had a creek. The tornado crossed a corn field, clipped the corner of the field, took off a barn roof and went back into the sky. The investigator could not understand what produced the circles in corn 100 to 150 feet away from the tornado's path.
---
Interview:
Jeffrey Wilson, Director, Independent Crop Circle Researchers Association (ICCRA), Williamsburg, Ohio:
Canisteo, Steuben County, New York
August 12, 2005 – Corn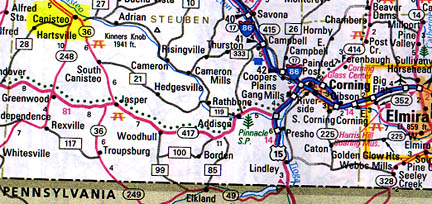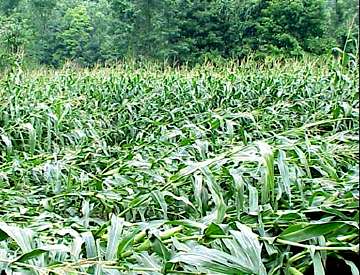 "The Canisteo corn stalks were not flattened all the way to the ground, but were kind of bent over probably a foot or two up to about five feet off the ground. The partially bent areas were very circular.
The National Weather Service meteorologist said he had never seen anything like it, even when he was in his training on what storm damage does to crops. He spent quite a bit of time out looking in fields in Nebraska and what storm damage does to fields out there. He said he had never seen anything that appeared like this in Canisteo, which is why he remarked they must be crop circles. So, it's definitely unusual.
Greene County, Ohio
August 12, 2005 – Corn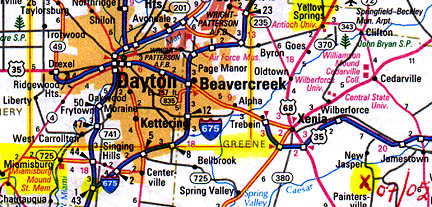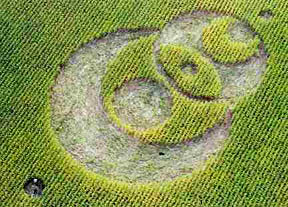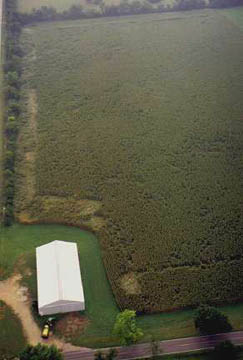 As rare as that is, there was a second formation that was reported on that same day of August 12, 2005, in Greene County, Ohio, 9-foot-tall corn. It was discovered by a photographer on a routine photo flight and it took a couple of weeks for the information to reach me. But I visited the formation August 28, and that formation is so extensive. It covers a substantial portion of the field. The randomly downed corn also seems to be raised up anywhere from 2 inches to 6 feet above the ground and this has resulted in creating several woven canopies, which you can actually walk underneath. In some places, such as the radial lay photo below, the plants were about two feet off the ground and I could walk on top.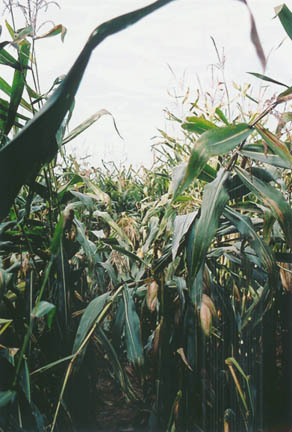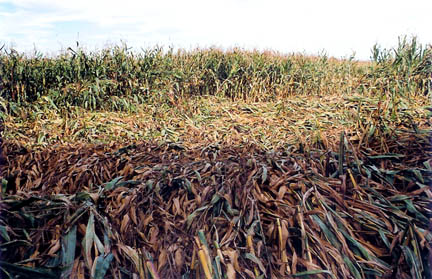 It is incredible! Unfortunately, the farm owners do not want their names or location released to the public. We're run into that this year because people are afraid of ridicule. It's sad because this year in the United States there have been several remarkable anomalies, including these similar above-ground patterns found on the same day in two different states.
AS YOU WERE LOOKING AT CORN THAT WAS BENT OVER AND ARCHED AS MUCH AS 6 FEET OFF THE GROUND, WHAT WENT THROUGH YOUR HEAD ABOUT HOW THAT COULD HAVE OCCURRED?
I've never seen anything like it before. I've seen weather damage in fields before. I've seen what people do to hoax circles. I have not seen this kind of bending in corn fields prior to this. First of all, the length of the area that is flattened in a straight line is about 3/4 of a mile in length and probably close to 30 feet wide.
AND ALL OF THAT WOULD BE RAISED UP OFF THE GROUND, JEFF?
Yes, in certain places, anywhere from 2 inches off the ground up to 6 feet off the ground.
BUT FOR 3/4'S OF A MILE!
That's only one side of the field. Then there are, the line kind of turns and makes a 90-degree angle and goes up the other side of the field. Although that line is not quite as wide, that line has the higher flattening of the canopy effect.
To be honest with you, it was the most strenuous effort to get through this field that I had ever experienced. I thought the worse was trying to cut through soybeans when you have to rip your way through it. but this was even more difficult than that. My legs from my knees down are just so cut up right now from having to try to wade my way through that stuff. It really took a toll on my body just trying to get through it.
WHAT DO YOU THINK MADE THOSE CANOPIES? HOW?
I could not begin to explain it unless whatever the energy was came down and something kind of interfered with it and created the scatter shot across the field that resulted in this not flattening all the way down. It is enormous. I can say this with some certainty ­ it is the largest area of flattening that I've had to go through with any formation. It's really, really enormous!
The aerial photo will give you an idea of the areas that were flattened, including the pockmarked effect across the entire field. If I had not seen the aerial photograph before I walked into the field, I would not even begin to have an idea what it would look like. The aerial I have does not quite show the radial effect in the one corner of the field because it was taken on an angle at the far edge at the back of the field. There is definitely some really unusual stuff in this field.
Northwood, Grand Forks County, North Dakota
August 19, 2005 – Wheat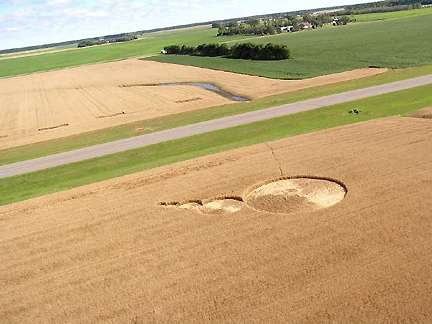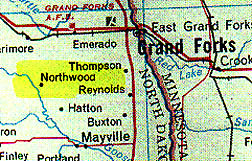 The next report that has recently come about is on August 19, in Northwood, Grand Forks County, North Dakota. There was a series of five circles in wheat creating a 'thought bubble'-type design. It was found in the day time by a pilot flying from the nearby municipal airport. The five circles are all swirled counter-clockwise, with the swirled centers actually being several feet off from the true centers. The circle sizes are from large to small: the first one is about 68 feet in diameter. The second circle is 31 feet in diameter. The third one is about 18 feet in diameter. The fourth one is 9 feet in diameter. And the fifth and smallest circle is about 6.5 feet in diameter.
There were no tracks leading into the field that anybody can see originally. But there was no unusual plant damage reported so far ­ no expulsion cavities, no node elongations, that kind of thing.
THE FACT THERE ARE NO EXPULSION CAVITIES OR LENGTHENING OF THE GROWTH NODES ­ DOES THAT SUGGEST TO YOU THAT IT MIGHT HAVE BEEN EITHER METEOROLOGICAL OR PEOPLE?
It's hard to say in this case. The wheat is so dry at this point. If there was some energy to affect the crop, it might not elongate the nodes because they have been dried out.
This 2005 formation is very similar to another that appeared about 300 miles to the southeast in Owatonna, Steele County, Minnesota in wheat on August 1, 2000.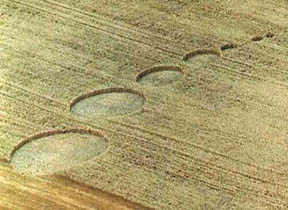 Ohio Map of Mounds and 2005 Crop Formations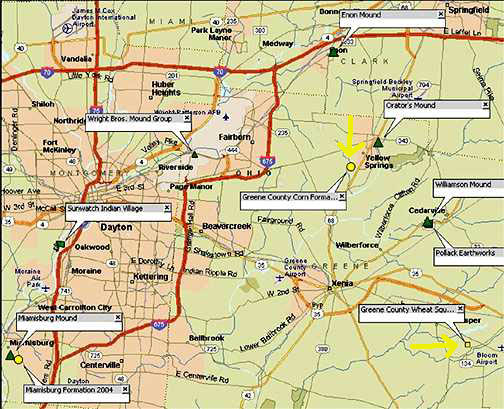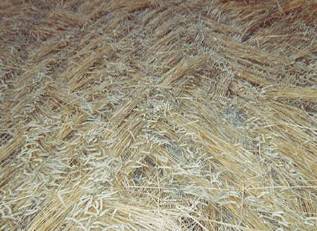 Continued in Part 2 – Mysterious Lights At Illinois Corn Circles
---
More Information:
For other Earthfiles reports about U. S. crop formations, see Earthfiles Archives:
08/02/2005 —  Part 2: Anomalies Confirmed in Pennsylvania and Arizona Randomly Downed Crops

08/02/2005 —  Part 1: Anomalies Confirmed in Pennsylvania and Arizona Randomly Downed Crops

07/23/2005 —  Mystery of Six Grass Circle Formations in North Carolina
06/02/2005 —  Part 2 – Highly Anomalous Pigment Formation in 2004 Hillsboro, Ohio, Crop Formation

05/26/2005 —  Phoenix Barley Mystery: Apparently Irrigation and Wind

05/20/2005 —  May 2005 Crop Formation Update in Six Countries

05/09/2005 —  Mysterious Lights and 2003 Serpent Mound Soybean Formation
·10/17/2004 —  American Crop Formations: 1880-2004

09/22/2004 —  Miamisburg and Serpent Mound, Ohio Crop Formations: Geometries Compared
09/10/2004 —  Update on Miamisburg, Ohio, Corn Pictogram – Balls of Light?

09/05/2004 —  Part 2 – Hillsboro, Ohio Corn Plant Anomalies

09/04/2004 —  Hillsboro, Ohio Corn Formation – High Strangeness in Soil and Plants

09/02/2004 —  Updated Photos: Big, Impressive New Corn Formation in Miamisburg, Ohio

07/26/2004 —  Crop Circles in Tilden, Wisconsin Oats and 90-Degree Angles in Litchfield, Minnesota Barley
07/15/2004 —  Updated: Part 1-Beyond Hillsboro, Ohio, More Corn Down in New Milford, Connecticut

07/13/2004 —  Updates on Spanish Fork, Utah Barley Formation
07/06/2004 —  Additions to Spanish Fork, Utah Formation and Mysterious Lights Seen

07/06/2004 —  Mysteriously Downed Oat Plants in Eagle Grove, Iowa, and Downed Corn in Hillsboro, Ohio

07/04/2004 —  Crop Formation in Spanish Fork, Utah

06/02/2004 —  2004 Peach Orchard, Arkansas Crop Formation

05/24/2004 —  Biophysicist W. C. Levengood's Crop Circle Reports Available for First Time On Internet

05/22/2004 —  2004 Overview of Crop Formations in Six Countries
·12/05/2003 —  Diatonic Ratios and Seed Changes in 2003 California Wheat Circles Rule Out Hoax?
·11/01/2003 —  Another Soybean Formation in Ohio

·10/17/2003 —  2003 "UFO Flap" in Ohio

·10/03/2003 —  Part 2 – Military Interest in Serpent Mound and Seip Mound Formations?

·10/02/2003 —  Part 1 – Another Soybean Formation Near Seip Mound in Ohio

09/12/2003 —  Second Soybean Crop Formation in Ohio Manmade. By Special USAF Investigation Unit?

09/06/2003 —  Part 2 – Unusual Soybean Formation Near Serpent Mound, Ohio

09/05/2003 —  Part 1 – Unusual Soybean Formation Near Serpent Mound, Ohio
08/29/2003 —  Part 1 – Why Do Military Helicopters Focus On Crop Formations?
07/19/2003 —  Update – Defiance, Missouri T-Pattern Cut in Saplings
06/13/2003 —  Updated: Fractal Crop Formation in Knobel, Arkansas
05/10/2003 —  Tree Formation in Defiance, Missouri
08/20/2000 —  Crop Formations In North Dakota
11/30/1999 —  A New Crop Formation In Marion, New York and Crop Research Updates

07/15/1999 —  Brentwood, Tennessee Crop Formation and New U.K. Photos by Peter Sorensen
---
Websites:
http://www.cropcircleconnector.com
http://www.temporarytemples.co.uk
http://www.kornkreise-forschung.de
http://www.cropcircleresearch.com
http://www.CropCircleAnswers.com
http://www.ukcropcircles.co.uk/?page=home

© 1998 - 2023 by Linda Moulton Howe.
All Rights Reserved.