"This has been a mystery for a thousand years. Nobody knew what they looked like in the wild. We only saw them dead."
– Richard Ellis, Author, Monsters of the Sea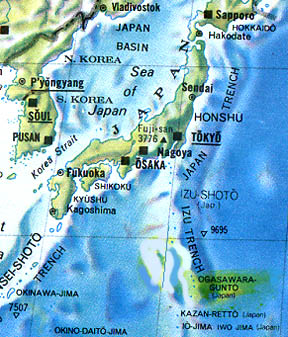 September 28, 2005  Ogasawara Islands, Japan – Six hundred miles south of Tokyo off islands the Japanese call Ogasawara (Bonin Islands), two Japanese scientists used a robotic camera to capture the first series of photos ever taken of a living, feeding giant squid in the wild, three thousand feet down in ocean waters. Images from their camera and details about the exploration by Tsunemi Kubodera and Kyoichi Mori were reported in the September 27, 2005, Proceedings of the Royal Society B (biological sciences), London, the oldest scientific organization in the world.
The live giant squid (Architeuthis), measuring roughly 25 feet (8 meters) long, attacked a baited fishing line off the Ogasawara Islands on September 30, 2004.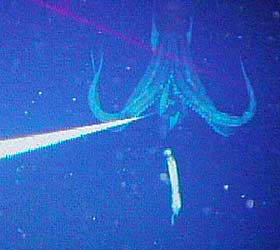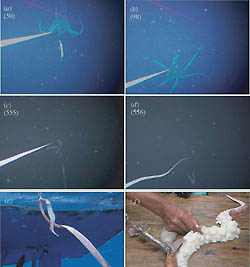 The Japanese scientists baited a fishing line with small squid and mashed shrimp. When the creature took the bait, the Japanese researchers could see the squid's long tentacles coil into a ball around the food, similar to the way a large snake such as a python wraps its body around prey to crush them. The squid fought off the hook for more than four hours and eventually freed itself, leaving behind an 18-foot-long white tentacle pictured in the lower right image above. Giant squid have eight short arms and two long tentacles, but it is not known which tentacle broke off. The scientists reported in the British journal that the giant squid "appears to be a much more active predator than previously suspected, using its elongate feeding tentacles to strike and tangle prey."
---
Websites:
National Geographic: http://news.nationalgeographic.com/news/2005/09/0927_050927_giant_squid.html
Giant Squid History: http://www.the-emperor.org/wiki/giant_squid/

© 1998 - 2019 by Linda Moulton Howe.
All Rights Reserved.