"What struck me odd about this particular cat was that it had been cut in half and it looked like it had been gutted. It just did not seem possible that a predator animal could do that."
- Robert Casell, San Antonio resident and former Los Angeles policeman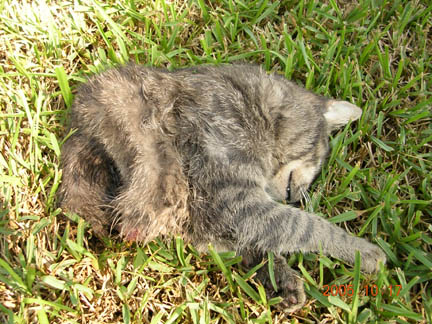 Updated October 30, 2005  San Antonio, Texas - Back in October 1999 in Fort Worth, Texas, five mutilated cats were discovered. The strange deaths included half cats, a cat that had been skinned, and another that had its tail sliced in two halves down its length. Also in October 1999, bloodlessly decapitated and half cats were found in San Jose, California; London, England; and Toronto, Canada. Other 1999 cases involved excisions of paws and/or back leg from cats in Tucson, Arizona occurred in March and June. 

© 1998 - 2018 by Linda Moulton Howe.
All Rights Reserved.