Also see: 030806 Earthfiles
March 24, 2006 – Since reporting in the March 8, 2006, update about the New Jersey survey engineer's photograph of a ball of light, I received other similar glowing orb photographs which I posted as updates to the 030806 Earthfiles.
Since then, I have received two more unusual orb photographs I would like to share.  These contain spiral structures inside the orbs that are peculiar, hard to explain and have also turned up in some photographs at crop formations the past few years.
Unusual Spiral Orb on Digital Frame
Taken in June 2003, Brookline, Massachusetts
March 17, 2006
"Dear Ms. Howe,
I was reading your website, Earthfiles.com, especially taking note of the unusual light photographed by your surveyor friend in New Jersey. There was another photo in the article taken in Wisconsin in which the 'light' appeared to have structure. Interestingly, I have a photo from my archives, taken in June 2003, which has a very similar anomaly. It was taken at a Holiday Inn in Brookline, Massachusetts. My family laughed when they saw the photo since it looks like my son is swinging at the 'ball.' In fact, there was no ball. I had always assumed the 'ball' was a digital photo artifact and nothing more. The photo was taken with a Canon Powershot A60 digital camera. I am an engineer and am, consequently, very skeptical of any supernatural origins!
I took the photograph to a couple of local camera shops, Hunts Camera and Video and Ritz Camera, both in South Portland, Maine. At Hunt's, the two people I spoke to said they had never seen such an anomaly, but thought it was external to the camera. This was because a blow-up of the image showed chromatic aberration, structure and shadow. The only explanations they could offer were dust on the lens or something in the air that would have triggered the flash. I explained that dust on the lens was unlikely because photos taken immediately before and after did not have the anomaly. If it was something in the air, we did not see it.
At Hunt's, they had no clue as to what caused the image, having never seen anything like it before either. They, too, thought it was external to the camera. They offered to check out the camera if it appeared gain. I suspect that will be unlikely because this is the only time in hundreds, if not thousands, of photos that the anomaly has appeared. Please feel free to post it to Earthfiles. I would be very interested if anyone else has an explanation.
Best Regards,
Peter Vachon
Scarborough, Maine"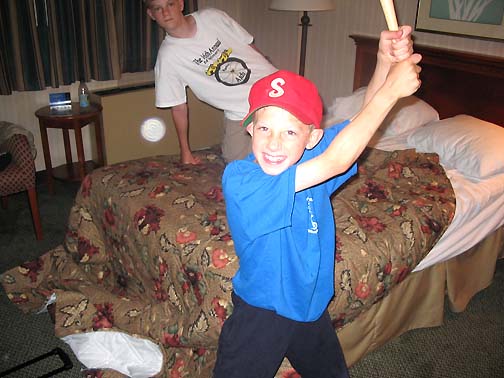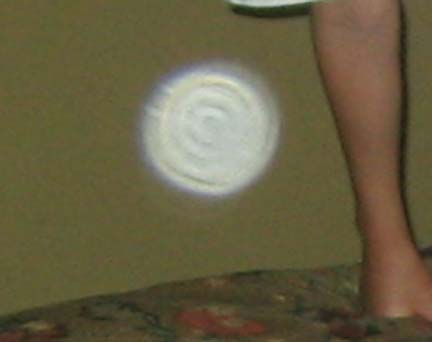 Unusual Orb and Other Light Anomalies on Digital Frames Taken in February 2006, Eureka Springs, Arkansas
March 20, 2006
"Dear Linda:
A few weeks ago I went to Eureka Springs (Arkansas) with my sister and an old friend for a weekend. We stayed at the Crescent Hotel which was built about 1885 and is supposed to be haunted. After taking numerous photos with my Sony 7.2 megapixel cyber shot camera which showed more anomalies than I ever imagined I would get, I have come to believe that may be the case. Most of the really strange pictures were taken in our room.
After a while orbs became a dime a dozen – there were so many of them and everyone was getting pictures of them. But in our room, to the left of the headboard of one of the beds, is a large white oval that I took 11 pictures of over three days. It would come and go but it always would be in the same location. Most of the photos were taken on our first night there.
I awoke at 6:00 a.m. the next morning and even though it was still dark I took a picture of my sister sleeping and the thing was still there. I only got one picture of it that night, but the next morning when we were ready to check out, I took a few more shots to see if I could get anything and there it was again. My friend had a regular camera and she also got a picture of it although it did not come out as well as mine.
These are the first two pictures I took in our room that evening while my sister was watching T.V. I don't know enough about digital cameras to know if the glare on the pillow and behind my sister are from a problem with the camera or not (but I think not). When we went on the ghost tour at the hotel we were told that if we got a picture of an orb to take another one because the orbs moved. I wound up taking over 75 pictures looking for orbs and anything else that might pop up.
Do you have any idea what this thing could be? Have you ever seen anything like it? The hotel has a web site that tells the history and a few ghost stories. This hotel was also featured on an episode of Ghost Hunters that is on the Sci-Fi channel and I think it is supposed to air again at the end of this month.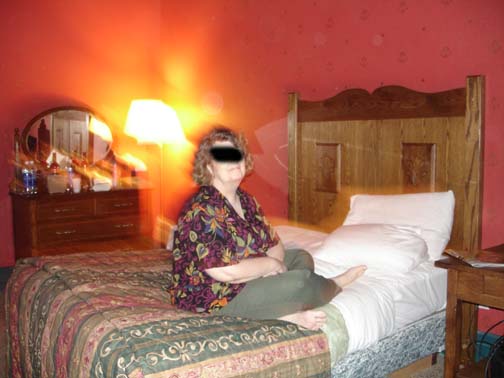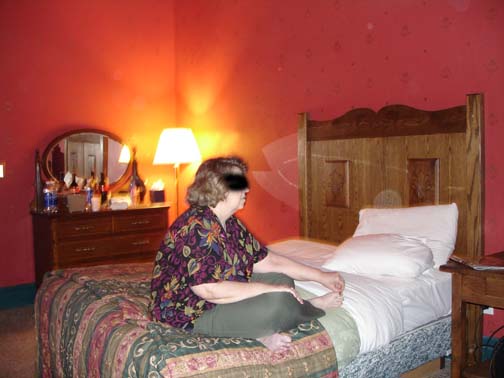 Unusual Orbs on Digital Frame Taken in Summer 2005, Washington, D. C.
"I am sending you another photo I took last summer when we went to Washington D.C. This picture was taken during a tour of the Capitol Bldg. and the room is the old Supreme Court Room. After my weekend at the Crescent I started looking back at all my other pictures I had taken with my digital camera. I was surprised at how many orbs I found – I had never noticed them before. I am willing to bet that many people have pictures of orbs that they don't know about. There were a lot in our room and on the ghost tour. You can put this photo on your website also.
Susan Saffa
Tulsa, Oklahoma"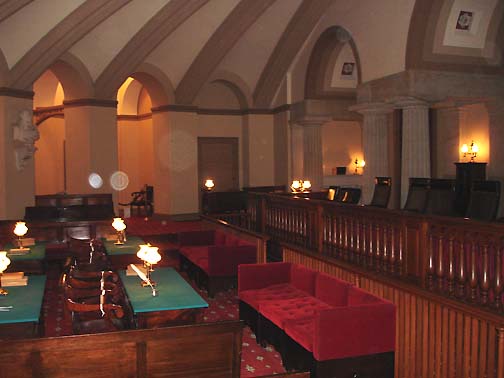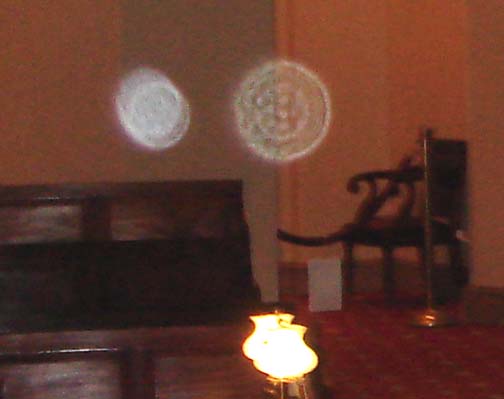 ---
More Information:
For more information about mysterious orbs and lights, please see the following reports in  Earthfiles Archives. Also see my book, Mysterious Lights and Crop Circles in the Earthfiles Shop.
11/02/2005 — Part 3: Unusual Animal Deaths -Sheep Mutilations in Moortown, Dartmoor, England
09/21/2005 — Silent, Unidentified Aerial Triangle Entered Thunderstorm Over Fairborn, Ohio
09/02/2005 — First 2005 Canadian Crop Circles Reported
09/02/2005 — Part 2: Mysterious Lights At Coles County, Illinois, Corn Circles
09/02/2005 — Part 1: New York and Ohio Corn Circles "Flattened 2 to 5 Feet Above Ground"
08/09/2005 — Three Extraordinary U. K. Crop Formations Reported August 9, 2005
08/07/2005 — Mysterious Light Photographed in Canadian Woods
08/02/2005 — Part 1: Anomalies Confirmed in Pennsylvania and Arizona Randomly Downed Crops
07/23/2005 — Mystery of Six Grass Circle Formations in North Carolina
07/19/2005 — Crop Formation in Czech Republic
07/18/2005 — Garsington, Oxfordshire, U.K. Wheat Formation – Astronomical Orbit?
07/01/2005 — U. K. Bicyclist Reports Mysterious, Low Hovering Objects Bending Wheat
06/02/2005 — Part 2 – Highly Anomalous Pigment Formation in 2004 Hillsboro, Ohio, Crop Formation
05/26/2005 — Phoenix Barley Mystery: Apparently Irrigation and Wind
05/20/2005 — May 2005 Crop Formation Update in Six Countries
05/09/2005 — Mysterious Lights and 2003 Serpent Mound Soybean Formation
04/13/2005 — Highly Strange Dog Death in Arkansas; 2000-Pound Bull Dropped On Log Pile
04/12/2005 — First 2005 Dutch Crop Circles Reported in Hoeven, Holland Grass
02/21/2005 — Updated – Bull and Cow Mutilations Northwest of Corpus Christi, Texas
01/15/2005 — Bull and Cow Mutilations Northwest of Corpus Christi, Texas
12/10/2004 — Part 4: "Peculiar Phenomena," V-2 Rockets – and UFOB Retaliation?
12/10/2004 — Part 3: "Peculiar Phenomena," V-2 Rockets – and UFOB Retaliation?
10/17/2004 — American Crop Formations: 1880-2004
09/17/2004 — Updated: Part 1 – High Strangeness in Canadian Cattle Corn
09/12/2004 — Part 2 – High Strangeness in Canadian Cattle Corn
09/04/2004 — Hillsboro, Ohio Corn Formation – High Strangeness in Soil and Plants
08/09/2004 — Pictograms in Poland
07/25/2004 — 2004 Canadian Crop Formations: Scorched Soybeans and "Dirt" Pattern in Barley
07/24/2004 — Part 3 – Crop Formations and Mysterious Lights in Wiltshire, England, July 2004
07/24/2004 — Part 2: Crop Formations and Mysterious Lights in Wiltshire, England, July 2004
07/06/2004 — Additions to Spanish Fork, Utah Formation and Mysterious Lights Seen
05/24/2004 — Biophysicist W. C. Levengood's Crop Circle Reports Available for First Time On Internet
05/22/2004 — 2004 Overview of Crop Formations in Six Countries
05/11/2004 — An Extraordinary Photograph in A Dutch Home
04/14/2004 — Light Anomalies in Photos of Conondale, Australia Grass Circles
01/24/2004 — Oregon Man's Experiences with High Strangeness
01/17/2004 — High Strangeness in the Napoleon, Michigan Sky
01/17/2004 — Update on Horton, Michigan Ice Circle
11/01/2003 — Another Soybean Formation in Ohio
10/10/2003 — Updated – Ohio Hunter's "Deer Camera" Photographs Mysterious Glowing Disk
10/03/2003 — Part 2 – Military Interest in Serpent Mound and Seip Mound Formations?
09/06/2003 — Part 3 – Unusual Soybean Formation Near Serpent Mound, Ohio
08/23/2003 — Fourteen Crop Formations in Canada
08/01/2003 — Field Notes About English Animal Mutilations
07/19/2003 — Update – Defiance, Missouri T-Pattern Cut in Saplings
07/08/2003 — Mysterious Lights Videotaped Emerging from Ogbourne St. George, England Crop Formation
06/27/2003 — Part 1 – Mysterious Lights and Fourteen Crop Formations in Italy
06/27/2003 — Part 2 – Mysterious Lights and Fourteen Crop Formations in Italy
06/13/2003 — Updated: Fractal Crop Formation in Knobel, Arkansas
03/08/2003 — Part 5 – Corguinho, Brazil: Large Light Explodes
02/22/2003 — Part 1 – Corguinho, Brazil: Farmer Describes His Transport to A Non-Human Craft on September 15, 2002.
11/05/2002 — Canadian Crop Circles and Mysterious Lights in Saskatchewan
10/19/2002 — Shifting Time Lines and Earth's Destiny?
10/03/2002 — Part 3 – 2002 Crop Formations In Canada
09/02/2002 — Blue Lights and Helicopters in Wiltshire's East Field
07/25/2002 — Strange Stem Anomalies in New Dutch Crop Circles
07/20/2002 — Mysterious Lights Seen Above Field Where Nautilus Formation Emerged
06/26/2002 — Part 1 – New Crop Formations in England, Holland and Germany
05/11/2002 — First 2002 Crop Formation In Wiltshire, England
04/27/2002 — Triangle Formation of Moving "Stars" Over Dover, Arkansas
11/17/2001 — Mysterious Lights in Hessdalen, Norway Are "Thermal Plasmas of Unknown Origin"
09/29/2001 — Part 2 – Sasquatch Bigfoot, Visible and Invisible Evidence in North America
09/29/2001 — Part 1 – Sasquatch Bigfoot, Physical Evidence in North America
09/22/2001 — Huge Hexagram Crop Formation in Red Deer, Alberta, Canada
08/29/2001 — Part 1 – Ground Details of Chilbolton "Face"
08/25/2001 — Are Crop Formations at Chilbolton Observatory A Response to 1974 Earth Transmission?
08/09/2001 — Crop Formation in Holland Changes with Researchers Present
06/16/2001 — Beyond Stonehenge with Astronomer Gerald Hawkins
06/08/2001 — Another Crop Formation Near Kassel, Germany
03/02/2001 — Mysterious Lights and Crop Circles – A Book Excerpt
12/13/2000 — Mysterious Clouds of Light in English Crop Formation
08/23/2000 — Intelligence Sensed In Mysterious Lights Associated With Crop Formations
08/17/2000 — Mysterious Light Near Woodborough Hill Night Before August 13, 2000 Formation
07/09/2000 — New Book about Ancient Sites of Wiltshire, England
08/01/1999 — 1999 Crop Circle Update from Wiltshire, England

© 1998 - 2023 by Linda Moulton Howe.
All Rights Reserved.