An "imminent" eruption, say authorities, has provoked a call for
more than 20,000 people to evacuate their homes on Saturday, May 13, 2006.
– 1994 Eruption killed about 70 people.
– 1930 eruption killed 1,370.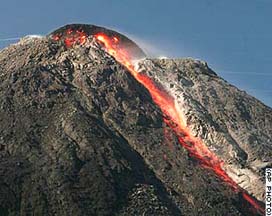 May 13, 2006  Yogyakarta, Indonesia –  The Smithsonian Institution Global Volcanism Program wrote about Mt. Merapi in 2000:
"Merapi, one of Indonesia's most active volcanoes, dominates the landscape immediately north of the city of Yogyakarta in one of the world's most densely populated areas. Merapi is the youngest and southernmost of a volcanic chain extending NNW to Ungaran volcano. …Pyroclastic flows and lahars accompanying growth and collapse of the steep-sided active summit lava dome have devastated cultivated lands on the volcano's western-to-southern flanks and caused many fatalities during historical time. Since 1953, activity has been characterized by extrusion of lava into the summit crater, with periodic lava dome collapse and nuée ardente formation. Summit lava dome growth has continued since the 1969 gas explosion."
The volcano is monitored from the Merapi Volcano Observatory (MVO) in Yogyakarta, which states at its website at least 32 villages at 500 meters up the mountain have more than 250,000 people at risk if volcanic lava moves down the active mountain.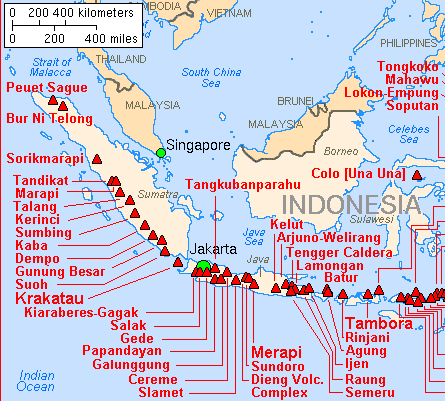 USGS reports that "Indonesia consists of more than 13,000 islands, spread over an area approximating that of the conterminous United States (48 contiguous states, not counting Alaska and Hawaii). Although Chinese records show a Krakatau eruption in the 3rd century AD, and some 17 additional historical eruptions are reported from Kelut as well as Krakatau through the 15th century, uncertainty surrounds many of them. Europeans first began to document eruptions in 1512 (Sangeang Api and Gunungapi Wetar), about the time Portugal gained control of the Mollucan clove trade.
"The disastrous Krakatau eruption of 1883 was followed by several devastating eruptions on other islands and in 1920 a Volcano Survey was established by the government, leading to much improved volcano monitoring and reporting. The Volcanological Survey of Indonesia (VSI) now operates a network of 64 volcano observatories continuously monitoring 59 volcanoes.
"The great sweep of the Sunda Arc, over 3,000 kilometers from NW Sumatra to the Banda Sea, results from the subduction of Indian Ocean crust beneath the Asian Plate. This arc includes 76% of the region's volcanoes, but those on either end are tectonically more complex.
"Indonesia leads the world in many volcano statistics. It has the largest number of historically active volcanoes (76), its total of 1,171 dated eruptions is only narrowly exceeded by Japan's 1,274, and these two regions have combined to produce one-third of the known explosive eruptions on Earth. Indonesia has suffered the highest numbers of eruptions producing fatalities, damage to arable land, mudflows, tsunamis, domes, and pyroclastic flows."
Since serious record keeping did not begin until more modern history, 80% of dated Indonesian volcano eruptions have occurred since the 1800s.
---
Websites:
USGS Indonesia Volcanoes:
http://vulcan.wr.usgs.gov/Volcanoes/Indonesia/description_indonesia_volcanics.html
Merapi Volcano Observatory:  http://www.vsi.esdm.go.id/mvo/earlywarn.html

© 1998 - 2019 by Linda Moulton Howe.
All Rights Reserved.