"Dark patches, which resemble terrestrial lakes, seem to be sprinkled all over the high latitudes surrounding Titan's north pole … very strong evidence for hydrocarbon lakes."
– NASA and JPL Cassini-Huygens Mission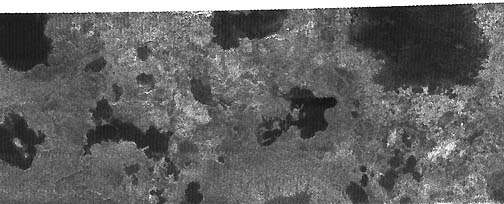 July 25, 2006 Pasadena, California – NASA and JPL report: "The Cassini spacecraft, using its radar system, has discovered very strong evidence for hydrocarbon lakes on Titan. Dark patches, which resemble terrestrial lakes, seem to be sprinkled all over the high latitudes surrounding Titan's north pole.
"Scientists have speculated that liquid methane or ethane might form lakes on Titan, particularly near the somewhat colder polar regions. In the images, a variety of dark patches, some with channels leading in or out of them, appear. The channels have a shape that strongly implies they were carved by liquid. Some of the dark patches and connecting channels are completely black, that is, they reflect back essentially no radar signal, and hence must be extremely smooth. In some cases rims can be seen around the dark patches, suggesting deposits that might form as liquid evaporates. The abundant methane in Titan's atmosphere is stable as a liquid under Titan conditions, as is its abundant chemical product, ethane, but liquid water is not. For all these reasons, scientists interpret the dark areas as lakes of liquid methane or ethane, making Titan the only body in the solar system besides Earth known to possess lakes. Because such lakes may wax and wane over time, and winds may alter the roughness of their surfaces. Repeat coverage of these areas should test whether indeed these are bodies of liquid.
"These two radar images were acquired by the Cassini radar instrument in synthetic aperture mode on July 21, 2006. The top image centered near 80 degrees north, 92 degrees west measures about 420 kilometers by 150 kilometers (260 miles by 93 miles). The lower image centered near 78 degrees north, 18 degrees west measures about 475 kilometers by 150 kilometers (295 miles by 93 miles). Smallest details in this image are about 500 meters (1,640 feet) across.
"The Cassini-Huygens mission is a cooperative project of NASA, the European Space Agency and the Italian Space Agency. The Jet Propulsion Laboratory, a division of the California Institute of Technology in Pasadena, manages the mission for NASA's Science Mission Directorate, Washington, D.C. The Cassini orbiter was designed, developed and assembled at JPL. The radar instrument was built by JPL and the Italian Space Agency, working with team members from the United States and several European countries."  
---
More Information:
For further information about solar system research, please see reports below in the
Earthfiles Archives:
05/05/2006 — Saturn's Titan Moon Has Puzzling Dunes
04/11/2006 — Hot Venus Now Studied by ESA's Venus Express
03/17/2006 — Planet Earth's Ice Melt
11/09/2005 — Dust Storm On Mars, Cosmic First Light and Black Hole At Our Galaxy's Center
10/19/2005 — Saturn's Icy Moon, Dione, Up Close
09/16/2005 — "Planet X" and the Kuiper Belt's Oddballs, "Santa" and "Easterbunny"
05/06/2005 — What Are The Straight Lines on Saturn's Titan Moon?
03/25/2005 — Glow of Distant Worlds Seen For First Time
03/20/2005 — Astronaut John Young: "The Moon Can Save Earth's Civilization."
02/17/2005 — Iapetus and Enceladus: Baffling Moons of Saturn
01/22/2005 — Titan – A Moon Where It Rains Methane Into Seas and Soils of Hydrocarbons
01/14/2005 — Updated – Cassini/Huygen's First Look At Titan's Surface
11/25/2004 — Closest Look At Mysterious Titan from Cassini Spacecraft
06/11/2004 — Cassini Spacecraft Will Rendezvous with Saturn July 1, 2004
04/21/2004 — At the X-Conference, Former Naval Intelligence Officer, C. B. Scott Jones
02/03/2004 — Planet 150 Light Years from Earth Has Oxygen and Carbon Atmosphere
10/07/2002 — Large Kuiper Belt Planetoid Found Beyond Pluto
04/27/2002 — Classified NOSS Navy Satellites Offered As Dover Triangle Explanation
11/05/2000 — Near-Earth Object 2000 SG344 – Is it an asteroid?
10/01/2000 — A Search for Earth's First Life
02/16/2000 — 433 Eros, Orbiting An Asteroid Up Close
12/01/1999 — Six More Planets Discovered 60 to 190 Light Years Away
08/28/1999 — Oddball Quasar and Salt Water Inside Meteorite
---
Website:
Cassini-Huygens Mission:  http://saturn.jpl.nasa.gov/home/index.cfm

© 1998 - 2019 by Linda Moulton Howe.
All Rights Reserved.