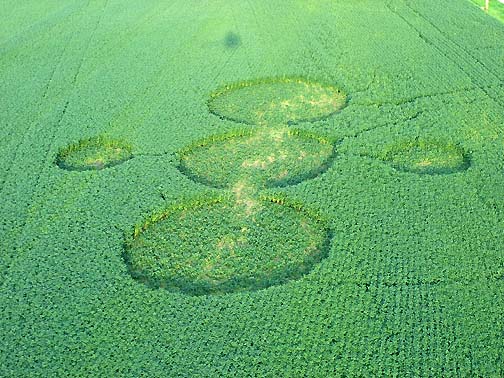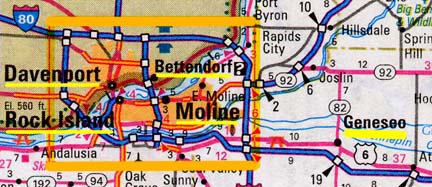 August 27, 2006  Geneseo, Illinois – On Sunday, August 20, 2006, Quad City Times reporter, Barb Ickes, wrote:  "The crop circles at Jim Stahl's farm appeared as they always do – out of nowhere. … The five circles in his soybean field create a geometric pattern. Three of the circles are the same size – about 50 feet in diameter – and are connected like beans in a pod. The other two circles are half the size of the others and flank them on either side. They appear to be precisely the same distance from the main circle. …Amid a 90-acre field of soybeans, Stahl discovered the oddity Saturday morning (August 19, 2006). He called the Henry County Sheriff's Department."
I flew from Albuquerque, New Mexico, to Moline, Illinois, on Thursday, August 24, to visit Jim and Chris Stahl at their Geneseo home and to investigate the soybean circle pattern. I was joined there by Indiana resident, Ted Robertson, a harpsichord-maker, who also investigates crop formations for the Independent Crop Circle Research Association (ICCRA).
We learned that the Stahls have been farming in Geneseo since 1983, nearly a quarter-century. Jim is the third generation in his family to work the land since earlier Stahls began during the Depression. With Jim and Chris Stahl's invitation, we entered the soybean field early Thursday evening around 6:30 p.m., exactly one week after Thursday, August 17, when one of the neighbors first saw that some of the Stahl soybeans were down along Middle Road. But that neighbor didn't report the problem to Jim Stahl until Saturday morning, August 19, when Jim himself noticed downed soybeans and went to investigate.
---
Interview:
Jim Stahl, Farmer (since 1983), Geneseo, Henry County, Illinois:  "My first impression was that kids had driven out there in cars and did some damage. I continued to drive down the road to the west edge of the field to see where they entered. But there wasn't any entrance tracks. So, I turned around and came back and sitting here at my truck, I thought, 'I've got a disease problem and my beans are dying.'
So, I got out of my truck and walked out there. The main path (made by people after formation discovered) is where I originally walked out. I was standing there scratching my head not knowing what I'm looking at. Within three minutes, my neighbor pulled up and he hollered out to me, 'What's wrong with your beans?' I went out to talk with him and told him, 'I don't know.' He said he noticed the circles on Thursday evening(August 17, 2006) around 6:30 p.m., and I did not know that. He was going to stop and tell me about it, but I had company. So, he just figured he would catch me later. But he actually caught me out here within five minutes of me discovering it (on Saturday).
SO AS FAR AS YOU ARE CONCERNED, THURSDAY, AUGUST 17, 2006, IS THE FIRST EYEWITNESS REPORT FROM ANYONE WHO HAD SEEN THE PATTERN?
That's the first I know about.
SINCE YOUR HOUSE IS NOT FAR DOWN THE ROAD FROM HERE – AND YOU WOULD HAVE BEEN DRIVING BACK AND FORTH – WHY DIDN'T YOU SEE IT YOURSELF BEFORE SATURDAY?
Where my other farms are located, I can go out my home driveway in either direction. It's the same distance, same time. I just chose not to go this direction the last few days. It was just by chance that I decided to go this direction on Saturday morning (August 19).
ONE OF THE MOST IMPORTANT FACTS IS THAT YOU WERE NOT LOOKING AT PATHS LEADING INTO THESE FIVE CIRCLES?
Right. I made the initial path myself. Then, not knowing what to do, I decided to call the Sheriff's department. I told them, 'It's not an emergency. You don't even have to come out. I just want to make you aware that something has happened here. That's all I'm doing, just reporting.' They said, 'We're going to send someone out.' And within ten minutes, a deputy showed up.
I was in the circle when he showed up. Not knowing any better, I exited on the far circle. I walked out and did not think to come back to the original point where I first walked in. I told the deputy this because he was asking me where I came in. So he walked up and down the field here looking for entry points and he asked me if I went in here (pointing to main path from road where we were sanding). I said, 'Yes.' We went down a little bit and he asked, 'Did you exit here?' (second path entrance) I said, 'Yes.' So, he said I've got to go out and look at this.
I started walking down this first path and for some reason, he starts walking down parallel to me (making a third path in). I don't know why. But three-quarters of the way out there, he joined my path.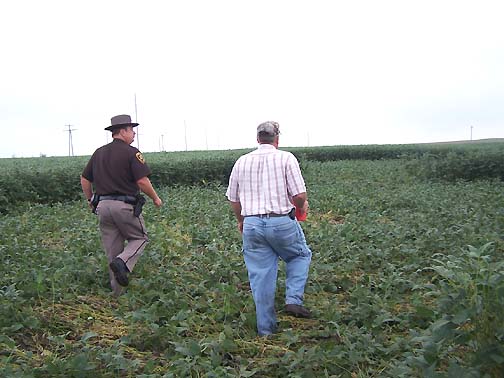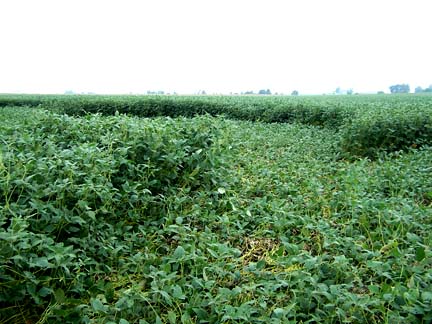 SO SATURDAY MORNING (AUGUST 19) WAS THE FIRST TIME YOU HAD THREE PATHS PUT IN HERE BY YOU AND THE (HENRY COUNTY) DEPUTY SHERIFF?
Yes. There was absolutely no path when I got there. I didn't even know where to walk in. I just picked the shortest point. When we first got in this big center circle, we went over to look at the outside circle on the north and there was absolutely no opening from one circle to the other. And we did not go across there. We tried to figure out how someone got from here to there without leaving a mark. We could not figure it out."
Geneseo Fire Department Volunteers Ladder Truck for "Aerial" of Circles
Jim Stahl's son-in-law, Justin Snodgrass, works as a volunteer firefighter and substitute teacher in Geneseo. That Saturday morning, around 11 a.m. CDT, Justin contacted the Geneseo Fire Protection District and asked for a ladder truck so he could climb up high to take photographs of the five circles.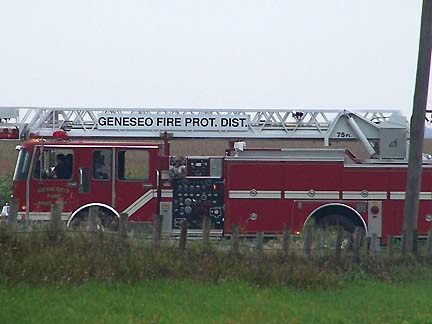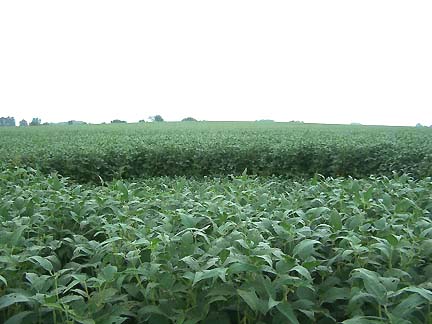 Jim Stahl:  "But a day later, a cameraman did go through there. He tried an experiment: could he get from here inside this circle to out there in the smaller circle without leaving a mark? He tiptoed. He did not bend or break or disturb a plant. He went in there and did some video work and then he came back out. He did not step on any plant, but there was a very visible track where he went.
I was very interested to see his (cameraman's) experiment because I wasn't 100% sure. I did not know if he could get through there and back. I thought maybe the track would blend back together (and disappear). But it didn't. A day later, we could still see where he went.
I'm convinced that no one could have gotten from this middle circle to the outside circles without making tracks. There is no way!
All Five Soybean Circles Swirled Clockwise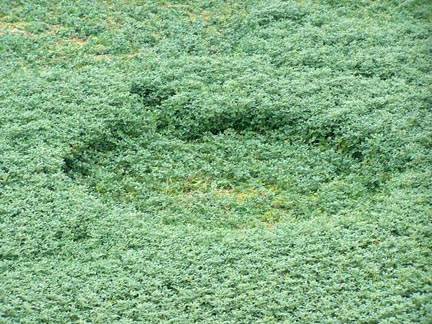 IN THE 23 YEARS YOU HAVE BEEN FARMING HERE, HAVE YOU EVER SEEN SOYBEAN PLANTS GO DOWN LIKE THIS IN CLOCKWISE CIRCLES?
I've never seen them go down this flat in any condition, let alone circular motion. I've had beans go down, but it's the whole field and they are not flat like this. They are just leaned over. If it's some kind of stem disease, the plants start to lean in and we get some weather on them and they tip over. But they don't go flat, not like this.
AND WHAT ABOUT SWIRLING AROUND IN CLOCKWISE CIRCLES?
No. When a field of beans go down, it's either they are all leaning north, or leaning west. It's the whole field leaning one direction and it's every bit of the field.
YOU MEAN LODGING.
Yes, that's right.
THESE CIRCLES DON'T FIT INTO A CATEGORY OF LODGING, DISEASE, OR ANYBODY WALKING IN HERE?
Not to me."
Jim and Chris Stahl, Ted Robertson and I walked out into the soybean formation together that early evening of Thursday, August 24, 2006, as the sun was setting. The distance from Middle Road was about fifty feet to the three larger circles that connected one to the other along an east to west axis. The two smaller circles were on either side of the center, larger circle on a north to south axis. The elevation of the field was 519 feet above sea level.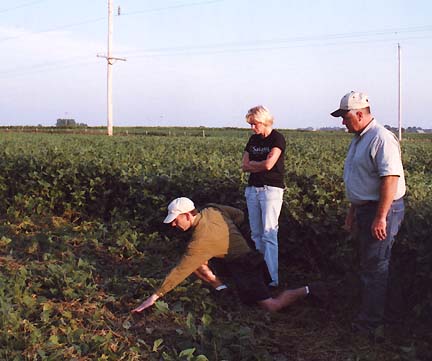 Ted Robertson used a GPS and discovered that the 5-circle-pattern was not laid out to true north, but was rotated about 19 degrees east of north. None of the five circles were perfectly round. (Detailed diagram with measurements in Part 2.) The longest east to west measurement was 154 feet; the north to south measurement was 127 feet, ten inches.
As we walked to the eastern most circle, I realized that the standing soybean plants around me were up to my shoulders.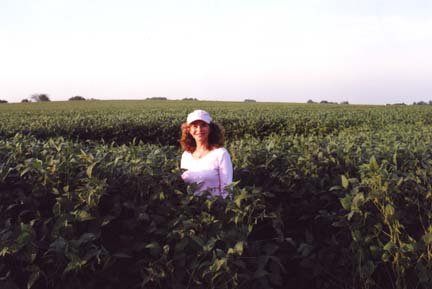 "JIM, WHAT STRIKES ME IS HOW TALL THESE PLANTS ARE. I WOULD EXPECT THAT A LOT OF PEOPLE THINK OF SOYBEANS AS ONLY TWO OR THREE FEET HIGH, WHEN ACTUALLY THESE PLANTS COME UP TO ABOUT 4.5 FEET?
Yes, they are probably 4.5 feet high. These are relatively tall, but this is normal for us.
CAN YOU DESCRIBE WHAT YOU AND THE DEPUTY SAID TO EACH OTHER ABOUT THERE BEING NO CONNECTION TO THOSE TWO SMALLER CIRCLES FROM THE BIGGER CIRCLES?
Right. We noticed these three big circles were just touching, but the outer circles, there was no evidence anyone had walked there, except for the small one back here. I did walk into that one and I showed him my pathway. But the one to the north, nobody had entered there and he was looking at it and shaking his head. He saw that nobody had walked through there (12-feet-thick "wall" of standing soybean plants between the three bigger circles and the two outer, smaller circles).
Everything was clockwise and the soybeans were laid over just so neatly and gently. I don't know. I just can't explain it. Also, we had rain that week and it was muddy here. The deputy had mud on his pants when he left.
HOW COULD ANYBODY HAVE COME IN HERE AND MADE THESE CIRCLES WITHOUT LEAVING SIGNS OF MUD AND TRACKS ON THE PLANTS?
I don't know. The deputy was looking for evidence of vandalism and he was looking for tracks, any markings on the soil. He said, 'I don't know how I'm going to write up (this report) because I see no evidence that anyone was out here.' I did not know either. But when we was out here that Saturday, everything was so green still. It was not trampled. Back here (pointing to far southern smaller circle), not many people have walked over there and that's what the entire circles looked like (greener, crisper). It was just green.
WHEN YOU LOOKED AT THE PLANTS WITH HIM, DID YOU NOTICE ANYTHING UNUSUAL ABOUT THEM AS SOYBEAN PLANTS AS COMPARED TO WHAT YOU WOULD BE LOOKING AT IN A NORMAL, HEALTHY PLANT?
They were all laid over, but it was pointed out to me later a red streak on the plants. But I've got color blindness and that's not something I could detect very well. But after it was pointed out to me, I could see the discoloration. But with color blindness, it's nothing I picked up right away.
BUT THE DISCOLORATION, EVEN WITH YOUR COLOR BLINDNESS, WOULD IT BE DISCOLORATION THAT YOU HAVE NOT TYPICALLY SEEN ON NORMAL, HEALTHY PLANTS?
No, normal, healthy plants should not have this. They should just be green. They should not have any discoloration on them.
IT APPEARS FROM OUR EXAMINATION AS WELL THAT IT WAS ONLY INSIDE OF THE CIRCLES THAT THIS DISCOLORATION WAS GOING ALONG THE STEMS.
Yes. After it was pointed out to me what to look for, I looked outside the crop circles and I didn't see it there (in rest of soybean field). I don't see it on all the plants (inside the pattern). And it appears to be just on the upper side, but I don't know what that means.
I'M CURIOUS IF THE SHERIFF HAD ANY REPORTS FROM ANYBODY ABOUT HAVING SEEN OR HEARD ANYTHING UNUSUAL IN THE SKY?
They asked me if I heard or saw anything. I told him we didn't hear or see a thing. We said, 'We don't even know what day or night it happened.'
JIM, WHAT DO YOU THINK NOW ABOUT THIS CROP FORMATION AND THE MYSTERY OF CROP FORMATIONS?
I guess I don't know what to make of them really. I don't know what to make of them at all. I just think it's a form of energy, but I don't know what it is or where it comes from. But I'm convinced that this one was not made by a person, just from the evidence that I saw when I was first out here. These soybeans where they have not been trampled are green and growing back upward. They have not been walked on. So, I'm convinced this was not manmade.
IF YOU AND THE DEPUTY SHERIFF CAME INTO ALL FIVE CIRCLES ON SATURDAY, AUGUST 19, AND YOU WERE LOOKING AT A 'VELVET CARPET' OF GREEN PLANTS AROUND THE CIRCLES AND INSIDE THE CIRCLES, WHAT COULD HAVE PUT THOSE PLANTS DOWN SO GENTLY?
I have no idea. I don't know a source that could do that."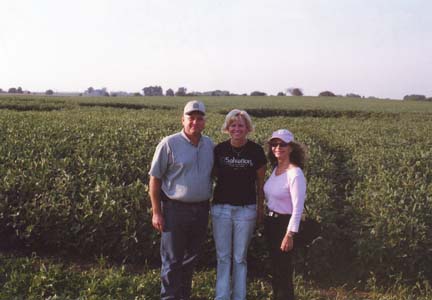 Continued in Part 2 –  Military Helicopter Circled Geneseo Formation
---
More Information:
For further information about American crop formations, please see reports below in the Earthfiles Archives and my book, Mysterious Lights and Crop Circles in the Earthfiles Shop:
06/11/2006 — Updated: Two Mysterious Circles in Wheat Baffle Kansas Farmer
09/02/2005 — Part 1: New York and Ohio Corn Circles "Flattened 2 to 5 Feet Above Ground"
08/02/2005 — Part 1: Anomalies Confirmed in Pennsylvania and Arizona Randomly Downed Crops
07/23/2005 — Mystery of Six Grass Circle Formations in North Carolina
05/26/2005 — Phoenix Barley Mystery: Apparently Irrigation and Wind
05/09/2005 — Mysterious Lights and 2003 Serpent Mound Soybean Formation
04/20/2005 — Outer Space Impact At Serpent Mound, Ohio, 256 Million Years Ago
10/17/2004 — American Crop Formations: 1880-2004
09/22/2004 — Miamisburg and Serpent Mound, Ohio Crop Formations: Geometries Compared
09/17/2004 — Updated: Part 1 – High Strangeness in Canadian Cattle Corn
09/12/2004 — Part 2 – High Strangeness in Canadian Cattle Corn
09/10/2004 — Update on Miamisburg, Ohio, Corn Pictogram – Balls of Light?
09/05/2004 — Part 2 – Hillsboro, Ohio Corn Plant Anomalies
09/04/2004 — Hillsboro, Ohio Corn Formation – High Strangeness in Soil and Plants
09/02/2004 — Updated Photos: Big, Impressive New Corn Formation in Miamisburg, Ohio
08/09/2004 — Pictograms in Poland
07/25/2004 — 2004 Canadian Crop Formations: Scorched Soybeans and "Dirt" Pattern in Barley
07/24/2004 — Part 3 – Crop Formations and Mysterious Lights in Wiltshire, England, July 2004
07/06/2004 — Mysteriously Downed Oat Plants in Eagle Grove, Iowa; Downed Corn in Hillsboro, Ohio
04/08/2004 — FBI Is Investigating Animal Deaths in Johnston County, North Carolina
11/01/2003 — Another Soybean Formation in Ohio
10/10/2003 — Updated – Ohio Hunter's "Deer Camera" Photographs Mysterious Glowing Disk
10/05/2003 — Part 3 – Paint Creek Island, Ohio Crop Formation Photographs
10/03/2003 — Part 2 – Military Interest in Serpent Mound and Seip Mound Formations?
10/02/2003 — Part 1 – Another Soybean Formation Near Seip Mound in Ohio
09/12/2003 — 2nd Ohio Soybean Crop Formation is Manmade. USAF Investigation Unit Involved?
09/06/2003 — Part 2 – Unusual Soybean Formation Near Serpent Mound, Ohio
09/05/2003 — Part 1 – Unusual Soybean Formation Near Serpent Mound, Ohio
11/30/1999 — A New Crop Formation In Marion, New York and Crop Research Updates
---
Websites:
American Crop Circles, ICCRA:  http://www.cropcirclenews.com/
English Crop Circles, Current and Archived:  http://www.cropcircleconnector.com
Canadian Crop Circles, CCCRN:  http://www.cccrn.ca/
German Crop Circles:  http://www.kornkreise-forschung.de
Dutch Crop Circles, DCCA:  http://www.dcca.nl
http://www.lucypringle.co.uk
http://www.members.iinet.net.au/~bwratten/ccc.html
http://www.cropcircleresearch.com
http://www.CropCircleAnswers.com
http://www.ukcropcircles.co.uk/?page=home
http://www.temporarytemples.co.uk

© 1998 - 2023 by Linda Moulton Howe.
All Rights Reserved.