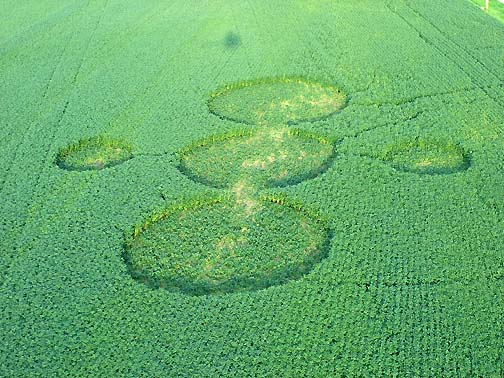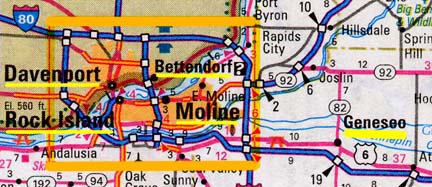 August 28, 2006  Geneseo, Illinois –  On Friday, August 25, 2006, around 3 p.m. CDT, Jim Stahl heard and saw a large, dark helicopter circling over the soybean formation to the west of his house. He managed to grab a digital camera and and got outside as the helicopter flew over his yard and away to the north.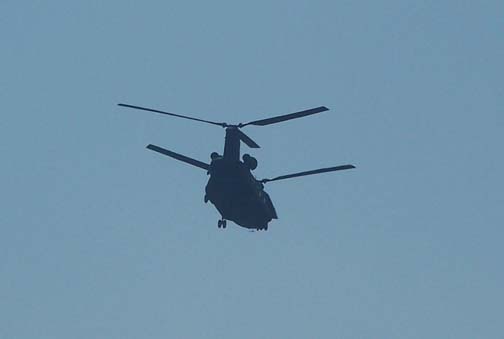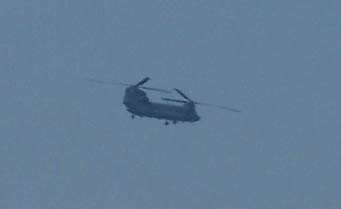 A helicopter expert has identified the vehicle in the above photographs as either an H-46 helicopter, which is used by American Navy Marines for ship-to-shore transport. Or it could be the larger H-47 model used by the U. S. Army for transport. There are five major military bases in Illinois:  Rock Island Arsenal; Scott AFB; Peoria Air National Guard (ANG); Springfield ANG; and the Naval Station Great Lakes near Chicago. The closest to Geneseo is Rock Island Arsenal between Rock Island, Illinois, and Davenport, Iowa, in the Quad City region about a half-hour by car from Geneseo.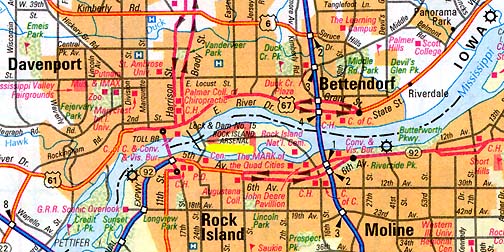 According to the Illinois Governor's office, the Arsenal "is a center for Department of Defense logistics … and is the home to four major U. S. Army headquarters organizations that have regional and global responsibilities to soldiers – ranging from Army munitions management to regional installation management."
The Naval Station Great Lakes (NSGL) is north of Chicago and about 150 miles northeast of Geneseo. According to globalsecurity.org, NSGL is "the largest military installation in Illinois and the largest central processing training center of recruits in the Navy."
Scott Air Force Base is in St. Clair County, Illinois, near Belleville about 200 miles south of the Quad City region and not far from downtown St. Louis, Missouri. The USAF base serves as headquarters for the Air Mobility Command, the United States Transportation Command, the Eighteenth Air Force, and the Air Force Communications Agency.
Military Interest in Previous U. S. Crop Formations
There has been a previous connection between crop formations and Scott AFB. Jeff Wilson, Director of the Independent Crop Circle Research Association (ICCRA), described a July 2003 military encounter in a Mayville, Wisconsin, wheat formation. See: 091203Earthfiles.
"A soldier from the US Air Force, (who we had now identified by his uniform), told us that he was part of a Special Crop Circle Investigative Unit in the U.S. Air Force. He said they had been looking into this Mayville formation for the past couple of weeks and were temporarily based out of a hanger in Milwaukee. He also told us that the unit was originally based out of Scott Air Force base located in Belleville, Illinois (southeast of St. Louis, Missouri)."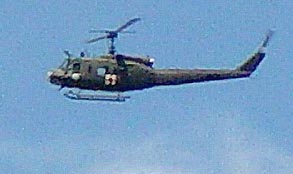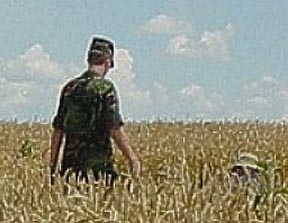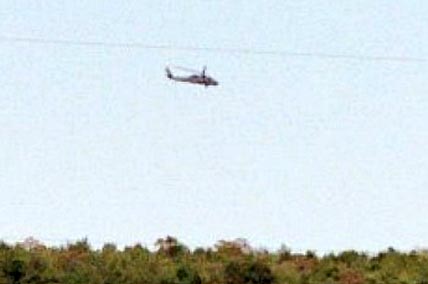 At the time the helicopter flew over the Stahl farm, Ted Robertson and I were returning from Davenport, where we had gone to Fed Ex soybean and soil samples to biophysicist W. C. Levengood to examine. After we arrived at the Stahl home, Chris Stahl told us that she had received a letter from a nearby family who had photographed translucent spheres in a couple of photographs taken inside the soybean formation.
Translucent Orbs on Digital Photo Not Visible to Human Eyes in Geneseo Soybean Circles
I asked Chris if she could call the mother, Juliet Vanopdorp of Annawan, Illinois (about 15 minutes from the Stahl farm), to see if Juliet could show us her images and talk to me about her family's experience in the soybean circles.
---
Interview:
Juliet Vanopdorp, Annawan, Illinois:  "A week before these actually showed up, my children and I were driving to Geneseo for an appointment. We started discussing crop circles. The children were asking questions about how they were formed? I said some were supposed to be hoaxes, but some are really unknown. Some people think they are aliens. I choose to think they are signs from God and messages for us humans, but I don't know if we can understand what the messages mean. The kids asked if we could see one and I said we might have to go to Europe because we won't see any here.
Less than a week later, the children came screaming out of their bedroom after watching the news, 'There are crop circles in Henry County!' They were just thrilled. So, I told them we were going to go see them. And I wrote the farm owners a letter to explain why we wanted to see them.
WHAT HAPPENED WHEN YOU GOT HERE?
I took a few pictures inside the circles as it was getting dark. We didn't stay very long, maybe five minutes or so. Before we got home, I started looking at the pictures on my digital camera and there were little bright lights and circular things in a couple of pictures where I stood in the back of my husband's truck and I was trying to get the circles. The circles didn't turn out in the dark, but there are lots of circles in the picture.
NONE OF YOU SAW ANY LIGHTS WHEN YOU WERE TAKING FLASH PHOTOGRAPHS?
No, we did not."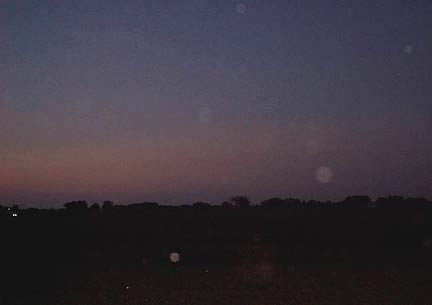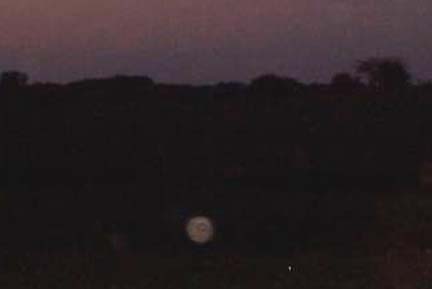 Juliet Vanopdorp and her family did not see the translucent spheres when they visited the soybean circles on August 22, 2006. Translucent spheres have been increasingly common on digital photographs in recent years.  One theory, unproved, is that electrostatic charges build up in electronic cameras and release sporadically.
"Plasma Spheres" Seen and Videotaped by People in Crop Formations
In contrast, the mysterious lights seen and videotaped in English crop formations since the early 1990s glow and stand out to human eyes from the rest of the environment. Some mysterious lights, like the one videotaped below on August 7, 1999, in Barbury Castle, Wiltshire, England, travel in smooth, rapid, undulating motion and are often compared to "a mirror flickering under a noon sun."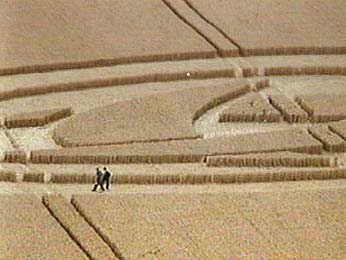 While Ted Robertson and I were looking at the Saturday, August 19, 2006, images that Jim Stahl and his family had taken when the Henry County Deputy Sheriff had visited the soybean circles, Juliet Vanopdorp and her children went to see the crop circles again. Then a cell phone call came from Juliet, who said she and her kids had found strange, red-colored "things" coming from the ground. We all took off for the soybean circles to have a look.
Phallus rubicundus – Were the Delicate Fungi Scorched?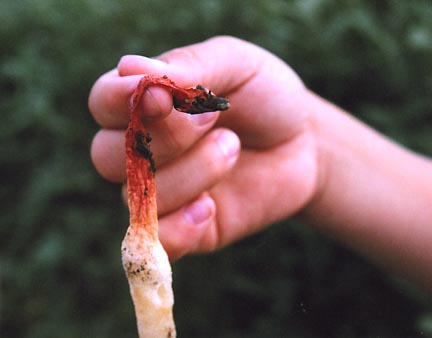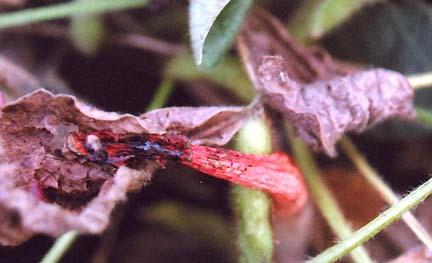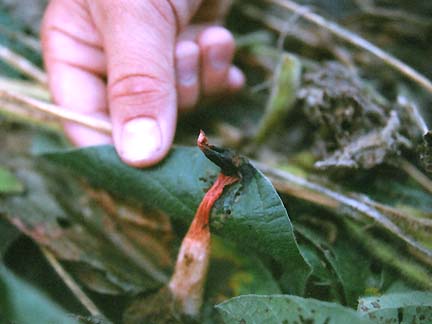 There had been heavy rain the whole morning of Friday, August 25, which might have accelerated the fungi growth that day. I emailed a photo of the fungi we found in the soybean circles to Kathie Hodge at Mushroomexpert.com for identification. Kathie wrote back: "Your photo appears to be of a stinkhorn called Phallus rubicundus. I don't think this one has a common name beyond Stinkhorn, which applies to many species in a family of mushrooms called the Phallaceae. The family (and genus) take their name from the similarity of the fruiting bodies to phallic organs. They have caps that are covered in green slimy spores and they stink horribly, smelling something like rotting meat. This attracts flies, which disperse the spores. Stinkhorns are not poisonous and are common in composted soils around the world. This particular species is not too common in North America, but not too surprising to find it here, either."
Biophysicist W. C. Levengood has hypothesized in his investigations of crop formations that the plants and soils show evidence of interaction with microwave and spinning ion energies. Were the delicate fungi "scorched" by microwave energy in spinning plasma vortices during the creation of the five soybean circles? Or is the scorched blackness a natural drying process of the Stinkhorn's dark slime that contains spores?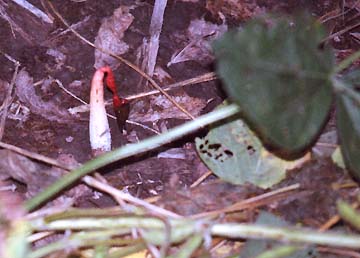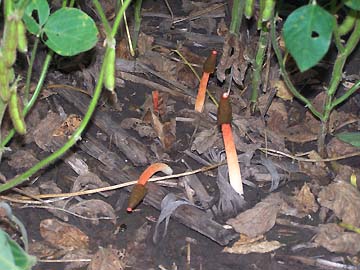 [ Editor's Note: Michael Kuo of MushroomExpert.Com reports that Stinkhorn Fungi,  Phallus rubicundus, is a species known from Africa and other tropical and subtropical locations, including Australia, the Gulf Coast and New Mexico.
"I thought my Illinois collection represented a unique, north-temperate find of Phallus rubicundus – until I started going through stinkhorn photos sent to me in "What's This Mushroom?" e-mails. I found several other pictures of Phallus rubicundus, all sent to me from the central Midwest.
"Description of Mature Fruiting Body: Spike-like, to about 20 cm; with a 3 to 4.5 cm cap which is attached to the top of the stem and is smooth (or slightly roughened, but not pitted and ridged), and covered with olive brown to dark brown slime; with a reddish to orangish or pinkish hollow stem, about 1.5 cm thick and coarsely pocked with potholes; with a whitish to pale brown volva clinging to the stem and around the base; with one or more whitish rhizomorphs at the base." ]
Continued in Part 3 – Anomalies and Measurements in Soybean Circles
---
More Information:
For further information about American crop formations, please see reports below in the Earthfiles Archives and my book, Mysterious Lights and Crop Circles in the Earthfiles Shop:
06/11/2006 — Updated: Two Mysterious Circles in Wheat Baffle Kansas Farmer
09/02/2005 — Part 1: New York and Ohio Corn Circles "Flattened 2 to 5 Feet Above Ground"
08/02/2005 — Part 1: Anomalies Confirmed in Pennsylvania and Arizona Randomly Downed Crops
07/23/2005 — Mystery of Six Grass Circle Formations in North Carolina
05/26/2005 — Phoenix Barley Mystery: Apparently Irrigation and Wind
05/09/2005 — Mysterious Lights and 2003 Serpent Mound Soybean Formation
04/20/2005 — Outer Space Impact At Serpent Mound, Ohio, 256 Million Years Ago
10/17/2004 — American Crop Formations: 1880-2004
09/22/2004 — Miamisburg and Serpent Mound, Ohio Crop Formations: Geometries Compared
09/17/2004 — Updated: Part 1 – High Strangeness in Canadian Cattle Corn
09/12/2004 — Part 2 – High Strangeness in Canadian Cattle Corn
09/10/2004 — Update on Miamisburg, Ohio, Corn Pictogram – Balls of Light?
09/05/2004 — Part 2 – Hillsboro, Ohio Corn Plant Anomalies
09/04/2004 — Hillsboro, Ohio Corn Formation – High Strangeness in Soil and Plants
09/02/2004 — Updated Photos: Big, Impressive New Corn Formation in Miamisburg, Ohio
08/09/2004 — Pictograms in Poland
07/25/2004 — 2004 Canadian Crop Formations: Scorched Soybeans and "Dirt" Pattern in Barley
07/24/2004 — Part 3 – Crop Formations and Mysterious Lights in Wiltshire, England, July 2004
07/06/2004 — Mysteriously Downed Oat Plants in Eagle Grove, Iowa; Downed Corn in Hillsboro, Ohio
04/08/2004 — FBI Is Investigating Animal Deaths in Johnston County, North Carolina
11/01/2003 — Another Soybean Formation in Ohio
10/10/2003 — Updated – Ohio Hunter's "Deer Camera" Photographs Mysterious Glowing Disk
10/05/2003 — Part 3 – Paint Creek Island, Ohio Crop Formation Photographs
10/03/2003 — Part 2 – Military Interest in Serpent Mound and Seip Mound Formations?
10/02/2003 — Part 1 – Another Soybean Formation Near Seip Mound in Ohio
09/12/2003 — 2nd Ohio Soybean Crop Formation is Manmade. USAF Investigation Unit Involved?
09/06/2003 — Part 2 – Unusual Soybean Formation Near Serpent Mound, Ohio
09/05/2003 — Part 1 – Unusual Soybean Formation Near Serpent Mound, Ohio
11/30/1999 — A New Crop Formation In Marion, New York and Crop Research Updates
---
Websites:
American Crop Circles, ICCRA:  http://www.cropcirclenews.com/
English Crop Circles, Current and Archived:  http://www.cropcircleconnector.com
Canadian Crop Circles, CCCRN:  http://www.cccrn.ca/
German Crop Circles:  http://www.kornkreise-forschung.de
Dutch Crop Circles, DCCA:  http://www.dcca.nl
http://www.lucypringle.co.uk
http://www.members.iinet.net.au/~bwratten/ccc.html
http://www.cropcircleresearch.com
http://www.CropCircleAnswers.com
http://www.ukcropcircles.co.uk/?page=home
http://www.temporarytemples.co.uk

© 1998 - 2023 by Linda Moulton Howe.
All Rights Reserved.