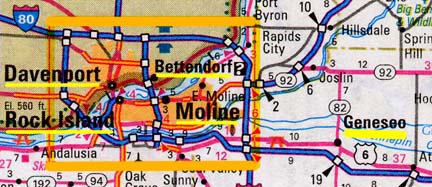 August 31, 2006  Geneseo, Illinois – When I first learned about the Geneseo, Illinois, soybean formations on Monday, August 21, I immediately wanted to get aerials before the field deteriorated from visitor traffic and weather. So, I talked with the farm's owner, Jim Stahl, who recommended Steve's Nursery in Geneseo, which hires out for landscape photography. Later that afternoon, Mike Belovicks at Steve's Nursery photographed for me the soybean circles from north, south, east and west. He also got a clear close-up of the southern circle which showed the downed soybeans there were still pretty fresh and green, without much feet damage from visitors. That contrasted with a close-up Mike was able to get of the far eastern circle where most visitors had entered on the original path made by farm owner, Jim Stahl on Saturday morning, August 19. In all five circles, the soybean plants were circling clockwise, with the exception of anomalies in the eastern and center circles discussed below.
FLYING SOUTH Over Soybean Circles along Middle Road,
Geneseo, Illinois, August 21, 2006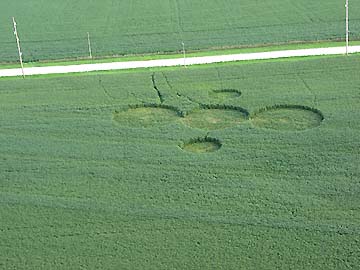 FLYING WEST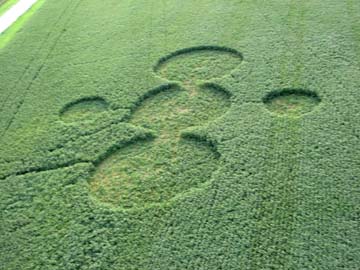 FLYING NORTHEAST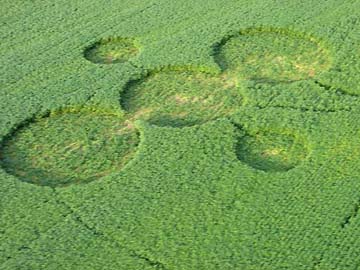 FLYING EAST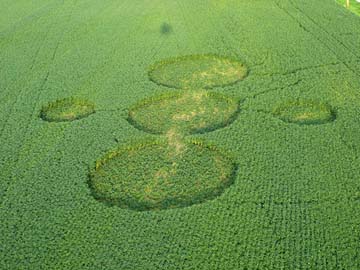 CLOSE-UP EASTERN Circle with Visitor Path in Upper Left,
Geneseo, Illinois, August 21, 2006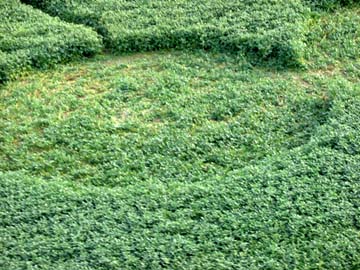 CLOSE-UP Southern Circle, Freshest Plants of Five Soybean Circles,
Geneseo, Illinois, August 21, 2006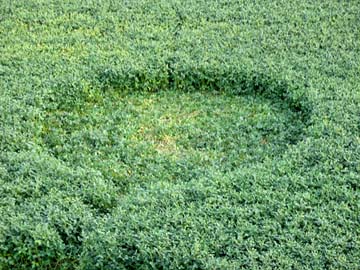 Three days after seeing the helicopter images, I arrived at the Stahl farm with Ted Robertson around 6 p.m. on Thursday, August 24. Severe thunderstorms in Chicago had delayed my flight and more storms and rain were forecast for Friday. I worried that heavy rain could go through Geneseo. So, after talking with the Stahls about the history of the week-old soybean circles, Ted and I set to work to look for anomalies, to sample plants and soils from inside the circles and to gather normal controls from far outside the circles. We worked into the darkness and were very glad we did since booming thunder and heavy rain moved in Friday morning.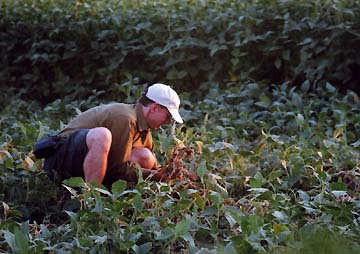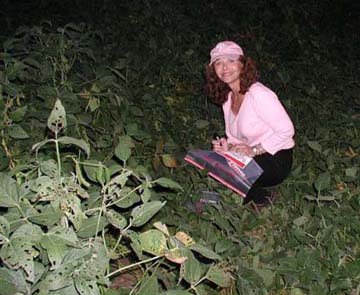 Anomalies In Geneseo Soybean Circles
Ted Robertson had worked in soybean crop formations back in 2003 when extraordinary patterns were reported at the Serpent Mound near Peebles, Adams County, Ohio, on August 24, 2003, and at the Seip Mound near Bainbridge, Ohio, reported the end of August 2003. See: 090603Earthfiles and 100203Earthfiles. Based on those previous investigations, Ted was looking in the Geneseo soybean circles for what he and his ICCRA colleagues called "leaf base necrosis."
Jeffrey Wilson, Director of ICCRA, explained to me during their 2003 investigations that "we normally would look at the growth nodes in cereal crops. But in this case, soybeans are a little bit different. They don't really have analogous growth nodes like on a wheat plant where you would see elongation of the growth node or see expulsion cavities.
"In this case in soybeans, what we did find though is where those branches stem off at the side of the plant ­ that's called a leaf base ­ we found there was a collapse and what we are calling necrosis setting in of the surface layer of cells called the parenchyma tissue. We've done a couple of cross sections where we've looked at that leaf base versus controls. There is a clear layer of damage from whatever energies hit the plants and heated up those cells."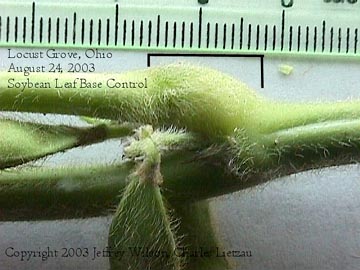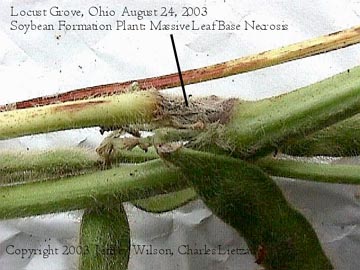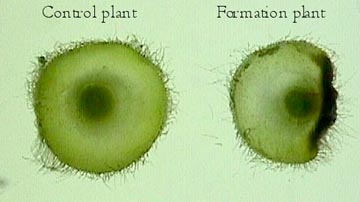 "What typically happens in the field crops is that the vessels that carry the moisture through the plants ­ those heat up and it creates a pressure that explodes out of the growth nodes of the plants. But in this case, the layer of parenchyma cells is much thicker in soybeans and acts as a kind of cushion and doesn't actually reach the vessels that would carry that moisture. So, it's only that layer of damage that we see in these plants, again suggesting heating."

Leaf Base Necrosis and Anthocyanin Concentration – North and South Circles
Challenged by time, darkness and impending weather, Ted and I agreed that I would sample my way across from the edge of the north circle through the middle larger circle out to the south circle. Ted worked his way from east to west through the bigger circles. The Stahls had originally noticed many downed soybean stems that had one side colored reddish-purple. Ted began picking up the reddish-purple affected plants to look for leaf base necrosis.
As I bent down at the edge of the north circle, I saw a vivid reddish-purple color. At the leaf base on the stem was a brownish deterioration that I thought looked like the leaf base necrosis from Serpent and Seip Mounds. I photographed it below and put the stem in one of the sample bags for biophysicist W. C. Levengood. He received plant and soil samples by Fed Ex on Saturday morning, August 26, from all Geneseo circles. He examined the discoloration and said it is "anomalous concentrations of anthocyanin," a pigment found naturally in many fruits and vegetables. But anthocyanin is not supposed to saturate the stem surfaces of soybeans. We also noted that only the sky-facing surfaces of the downed plants in the circles were discolored with anthocyanin, suggesting that some kind of energetic interaction had come from above downward onto the crop.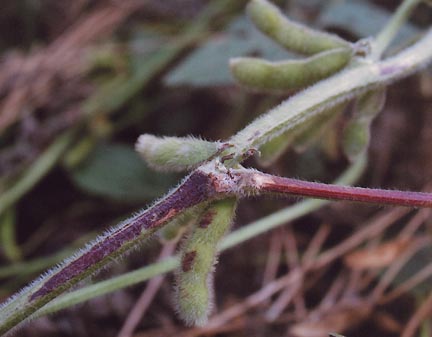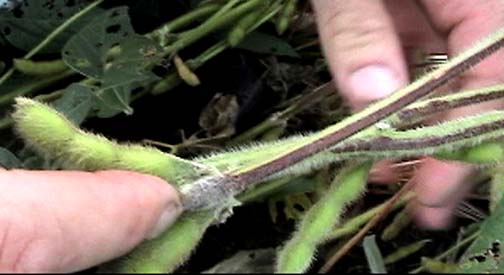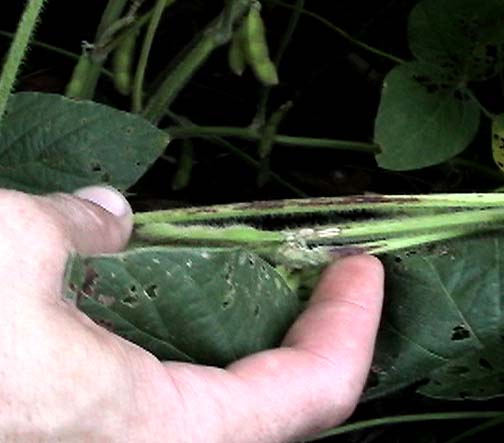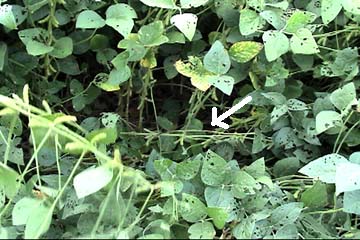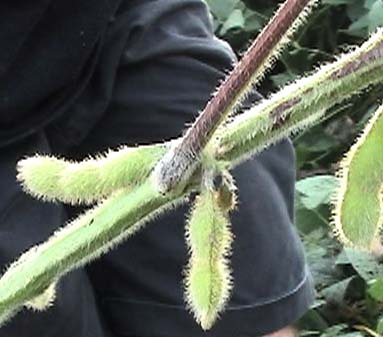 Compare Geneseo Anomalous Anthocyanin Concentrations
to July 5, 2004, Corn Formation, Hillsboro, Ohio
Unusual concentrations of anthocyanin were found in a rectangular pattern laid down in Hillsboro, Ohio, corn and first reported on July 5, 2004, to Jeffrey Wilson and ICCRA.
See 090404Earthfiles and 090504Earthfiles.
Anthocyanin is a pigment that reflects the red to blue range of the visible spectrum. It is often observed in the plant kingdom, where it serves to color anything from fruits to the autumn leaves. It can be used as pH indicator because it changes from red in acids to blue in bases. In the Hillsboro, Ohio, corn rectangle, the anthocyanin discoloration was only on one side of the corn plants – similar to the Geneseo soybeans in which we found the anthocyanin concentrations only on the sky-facing sides of the leaf and plant stems.
Jeffrey Wilson, ICCRA, told me in 2004, "The reason we say it (presumed energy impact) was directed from one side is that the color only appears on one side of the stalks, as if some of the plants shaded other plants and you can see where the exposure of the exposed part of the plant turned red, but the shaded part is still left green. That's essentially what has happened to the corn in this field  – in one section, the plants have turned a brilliant red. But there are shadow marks that leave no doubt that something shadowed them or protected them from turning red."
Above: Reddish-purple color on one side of corn stalks is anthocyanin which is a residue when chlorophyll disintegrates. Below: Jeffrey Wilson wrote on image: "Plant turned 1/4 turn. Red coloration is only on one side of plant and shows 'shadow of leaf' fell on corn from stalk blocking (shading) part of the affected area" (from the energy). Photographs © 2004 by Jeffrey Wilson.