September 6, 2006  Geneseo, Illinois –  On Thursday, August 24, 2006, Ted Robertson hired a fixed-wing airplane pilot to take him over the Jim and Chris Stahl soybean farm in Geneseo, Illinois. One of his photographs sparked a question in the minds of Roger Sugden and Jeffrey Wilson of the Independent Crop Circle Research Association (ICCRA).
Puzzling Soybean Circle Placement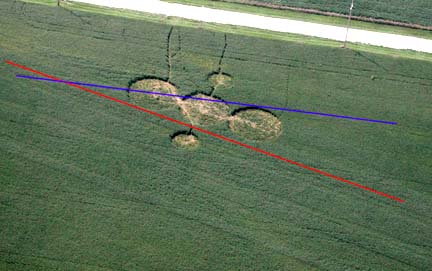 Jeff applied the red and blue lines to the photograph and wrote to me by email:
"Roger Sugden looked at Ted's aerial photos of that site and it appeared at first that the formation was aligned to the planting rows and not to the tramline sprayer lines, but the actual planting rows. Those are at a different angle than the sprayer lines are. Sprayer lines seem to be parallel to the road, but for some reason – we don't know why this is the case – when they planted there, they planted sort of on an angle. So, Roger first looked at it and thought it was aligned to the planting rows, rather than the sprayer lines.
"But in a better overhead aerial, I looked at it more carefully and it does not appear to be aligned to either one, which is the photograph I sent you with the two colored lines. One colored line (blue) is aligned with the tramlines. The other colored line (red) is aligned with the planting rows. The formation is not aligned to either one, which is somewhat significant in the sense that generally when we are in a manmade formation, it's aligned to some feature on the ground like the sprayer lines or perhaps the planting rows or telephone poles on the ground or some building feature that the people use as a marker when they are laying out the construction on it.
"In this case, the Geneseo soybean circles are not aligned to any ground feature, including the tramlines, the planting lines, the poles nearby, or even the microwave tower off in the distance."
September 3,2006 email from Chris and Jim Stahl
in answer to my question about the sprayer and planting lines:
Jim Stahl: "The field is actually one big triangle. I planted the rows parallel to the fence row on the north. I sprayed parallel to the fence row on the south."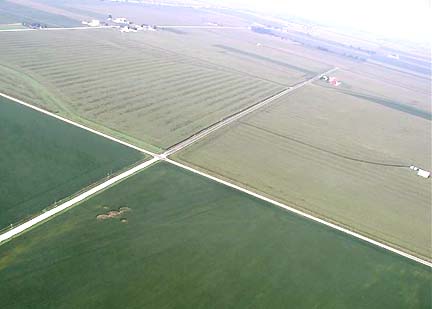 Corn Test Farm Across Road
Ted Robertson's aerial photographs also showed a large rectangle of soil with strips of plants growing in it across the road from the soybean circles. I asked Jim and Chris Stahl for more information.
September 3,2006 email from Chris and Jim Stahl
Jim Stahl: "Wyffels seed corn company owns it (test farm). They have test plots there every year. I believe they are testing different seed corn varieties."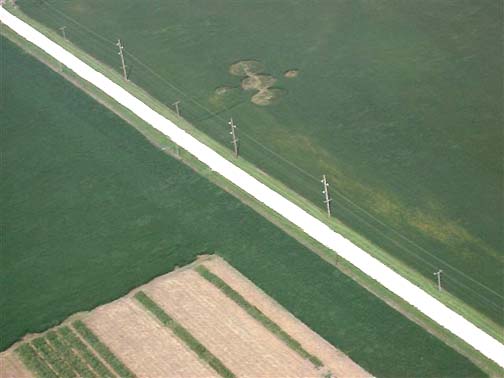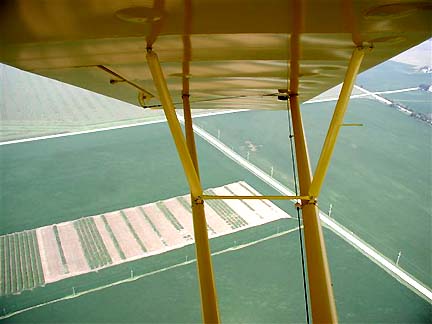 Only Similar Previous U. S. Pattern Was in Allen County, Ohio -1999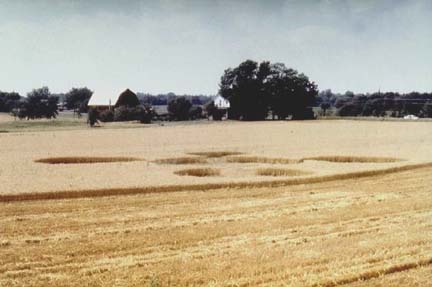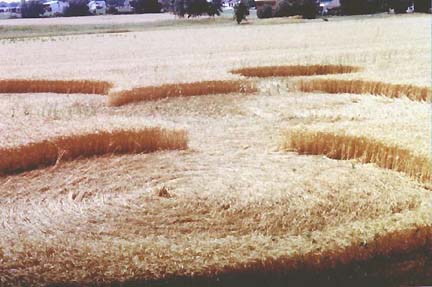 Jeffrey Wilson looked in his ICCRA archives of American crop formations for any pattern similar to the five circles in the Geneseo, Illinois, soybeans. He wrote to me: "Allen County, Ohio in 1999 is the only formation in the USA database which is similar – we've had very few Celtic Cross-type patterns reported in the USA." Jeff found that five circles were "discovered near the center of a field of wheat while the landowner was harvesting the field, and there were no sprayer lines/tramlines in the field.
Jeff Wilson: "In this Allen County, Ohio case, all five circles were tangent/slightly overlapping, but the circle sizes were quite similar. I checked the measurements of the formation, and it was slightly smaller overall than Geneseo, Illinois. There was also a crop formation in Rock Island, Illinois back in the 1990s."
August 22-25, 1991: Circles in Blue Grass, Iowa Corn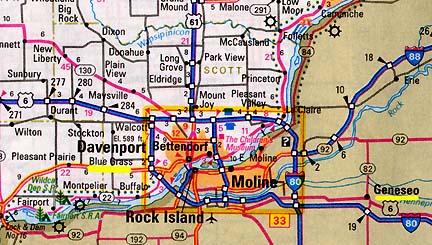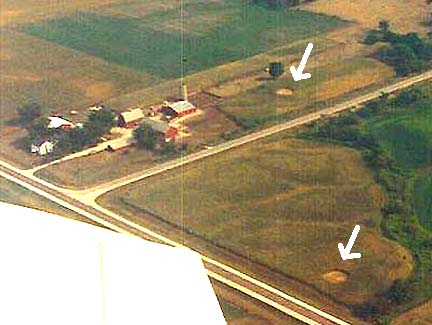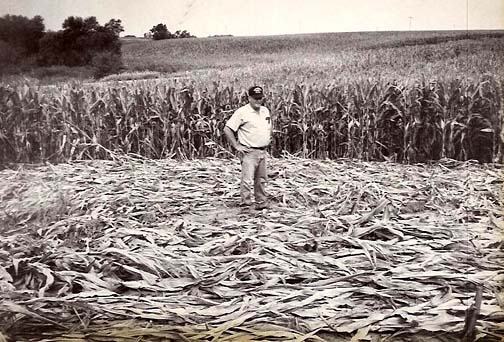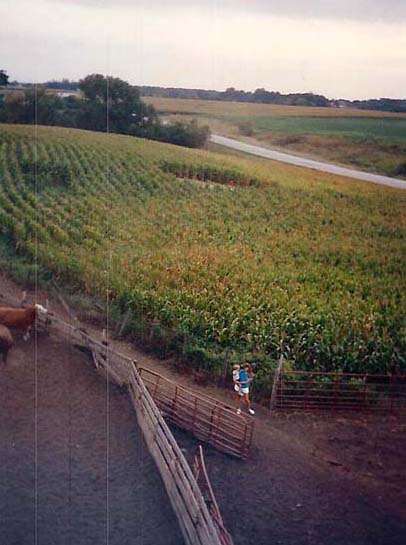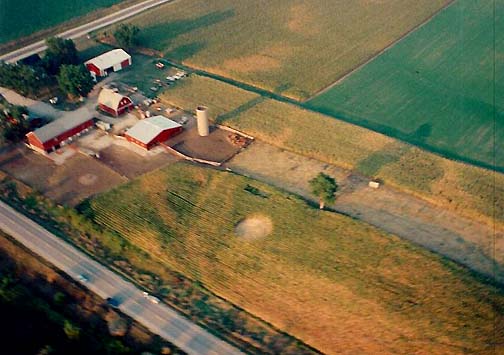 ---
Interview:
Delmar Meyer, Farmer, Blue Grass, Iowa: "It was fifteen years ago back on August 22, 1991, probably around 6 p.m. I did custom bailing and I was going down the road (Coon Hunter's Road) with a tractor. I looked up there on the hillside and I could see a circle. I went down and finished bailing and came back and got the wife (Carol) and said, 'Let's go look at the hole in the ground.' A couple of weeks before, there was a (limestone) quarry over about three miles and they had a hole that fell in. So I thought maybe it was another one in my corn. But then, when we got out there, it was no hole. It was just a complete circle in our corn.
SO IS YOUR FARM ON A LOT OF LIMESTONE?
I'm not certain – the quarry is at least three miles away – but at the time I didn't know what else it could be.
WHAT EXACTLY DID YOU SEE IN THE CORN?
I just went out there and it was all counterclockwise. Jim Stahl's in Geneseo was all clockwise, wasn't it?
RIGHT.
Mine was counterclockwise and it was just like something set on top of it and just went down. There were no cornstalks scuffed, no ears of corn knocked off. There wasn't a stalk outside that 46-foot-diameter circle! Everything was inside the circle. You know if you knocked corn down, it would fall into different rows. But this was neatly inside that 48-foot-diameter perfect circle. Actually, it was measured it at 46 feet, five inches.
[ Editor's Note: Carol Meyer sent me an aerial photograph taken by local pilot on August 25, 1991, which showed a second corn circle near old Highway 61 that ran in front of their farm house. She said it also measured 46-feet and was put down as someone's hoaxed copy of the first circle. "We decided not to talk much about the second circle because we were afraid of being called crazy." ]
IT WAS LIKE YOU PUT A COOKIE CUTTER DOWN AND EVERYTHING INSIDE WAS SWIRLED COUNTERCLOCKWISE?
Yes.
HAD YOU EVER SEEN ANYTHING LIKE THAT BEFORE?
No, but we had heard about a crop circle over in Illinois around that time (Milan, Illinois, 1990 – see report below.)
DID YOU HAVE THE SHERIFF COME OUT TO LOOK AT THE CIRCLE?
Yes. I called the Scott County Sheriff's office right away and they came out and said about the same thing that Jim Stahl in Geneseo, Illinois, said now. The deputy called his dispatch and said, 'I don't know how we're going to report this. There's a circle out here and there's no signs of anything – not of anybody walking to it or anything like that.' So, that was all they had and eventually they called it a hoax.
BUT HOW COULD THAT BE IF THERE WERE NO TRACKS?
I know, but they put it that way so they don't have to go further and investigate it.
THIS WAS A FIELD THAT DID NOT HAVE ANY TRAMLINES?
Right, it didn't have anything. The deputy and I looked around the outside edge of the circle for any foot marks and didn't find anything. There were no footprints in there whatsoever, and there were no corn leaves pulled on the ground or anything.
HOW WERE THE CORNSTALKS SWIRLED COUNTERCLOCKWISE?
I don't know. They just looked like they fell over.
WERE THEY STRAIGHT? OR SWIRLED SOMEHOW?
They were pretty straight, but there was not a one of them outside the edge of the circle. So there had to be some curve to it to stay inside.
ALL THE PLANTS LEFT STANDING AROUND THE CIRCLE SEEMED UNTOUCHED?
Yes, they were.
WERE ALL OF THE CIRCLE STALKS LIKE THEY HAD FALLEN TO A POINT IN THE CENTER?
Well, in the center, there were a couple of bare spots, just like the plants were turned out from there and the dirt was all there was. It was like they were all put down at one time. There weren't stalks on top of another. It's just like something sat down on the stalks and put them down neatly, but the leaves weren't torn up or ears knocked off. But something took those plants down.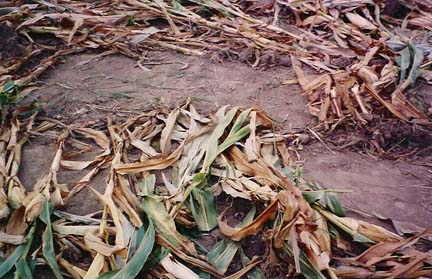 THERE WERE NO PHYSICAL ABRASIONS ON THE CORN?
No.
IT SOUNDS AS IF THEY WOULD HAVE TO HAVE SOME SWIRL TO THE STALKS TO FIT IN THE CIRCLE.
Yes, it was just so neat.
DID YOU NOTICE ANY PURPLE-REDDISH DISCOLORATION ON ANY OF THE LEAVES OR CORN, LIKE JIM STAHL HAS HAD IN HIS SOYBEANS?
There was nothing that anyone ever found.
HOW CLOSE WAS THE CORN TO HARVEST ON AUGUST 22, 1991?
You don't harvest corn until around the end of September.
WAS THERE ANYTHING UNUSUAL ABOUT THE CORN LAYED DOWN INSIDE THE CIRCLE COMPARED TO CORN IN THE REST OF THE FIELD?
No. It all looked like normal corn that something had set down on it in a circle – without touching it! (laughs) Can you believe that?!
THERE HAVE BEEN OTHER CORN CIRCLE REPORTS AND EVERYONE ASKS: HOW DO YOU TAKE THOSE THICK STEMS AND SWIRL THEM?
All the corn root system in that circle was not broke off either.
WHERE THE STEMS WENT INTO THE GROUND TO THE ROOTS, WERE THEY CURVED OVER WITHOUT CRACKS OR BREAKS?
Yes.
VERY CLEANLY CURVED TO THE GROUND?
Yes. Those stalks should have broken off!
LIKE YOU WOULD FORM A PIPE TO CURVE TO THE GROUND?
Yes.
WHO MEASURED THE 46 FEET, FIVE INCHES?
We had our tape measure and measured it. And some people came down from Iowa City and they were in the field for quite awhile and they measured it over and over. [ Paranet investigators – see 1991 report below.]
WHAT DID THEY SAY?
They said it was unexplainable. They took samples and all that and they could not figure anything out.
DID YOU HARVEST THE CORN IN THOSE 1991 CIRCLES?
Yes.
Unusual Lights Reported in Sky
"One witness saw an unidentified light moving over nearby fields around 9:30 p.m. A second witness on a road adjacent to the field reported seeing a classic saucer descending toward the field as if preparing to land between 12:30 and 1:00 a.m. A third witness heard an unusual 'rumbling, bumping sound' between 2 and 3 a.m."
– "1991 Paranet Information Service Field Investigation Report" (below)
DID ANYONE REPORT HEARING OR SEEING ANYTHING UNUSUAL IN THE SKY AT THAT TIME?
Two or three people said they saw something. It's in that report (see below).
DID YOU HEAR FROM ANY OTHER FARMERS HAVING CIRCLES IN THE SUMMER OF 1991?
No, nothing, until a couple of years ago, there was a farmer up by Tama, Iowa, who had a circle in his soybean field. I don't know who it was.
HOW FAR IS THAT FROM BLUE GRASS?
150 miles northwest. I believed him, too, when he said he had a circle he couldn't explain.
WAS IT IN SOYBEANS?
Yes. Another soybean circle about ten years after our corn circles."
1991 Paranet Information Service Field Investigation Report, August 29, 1991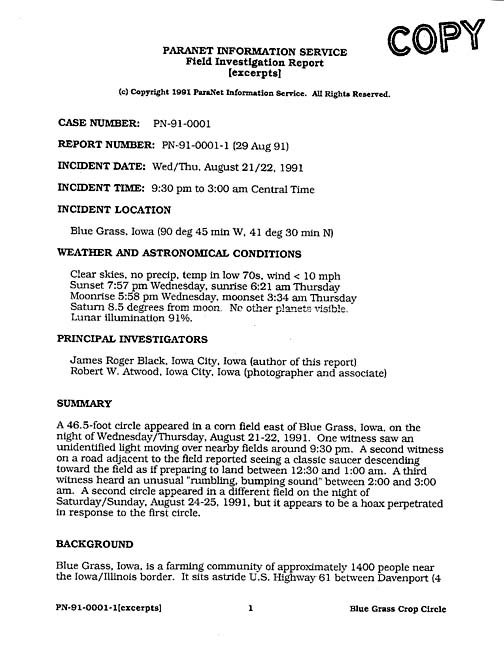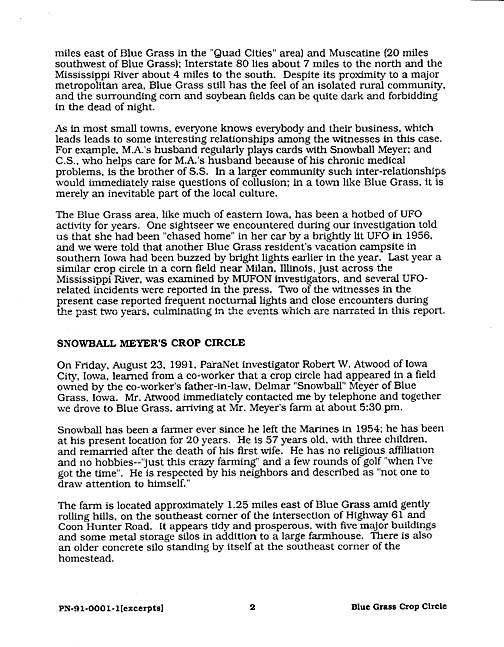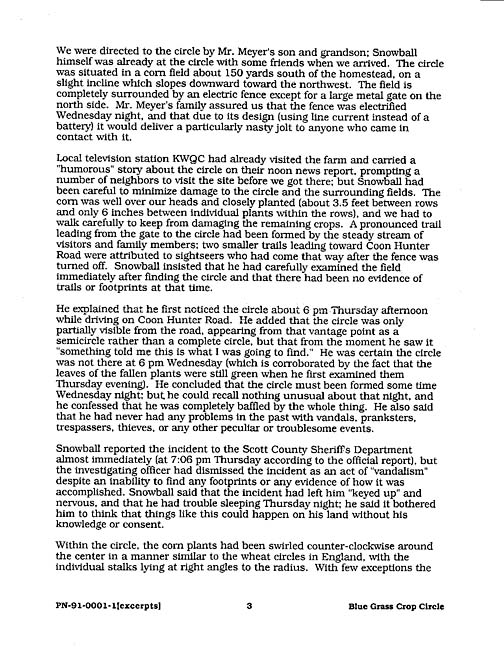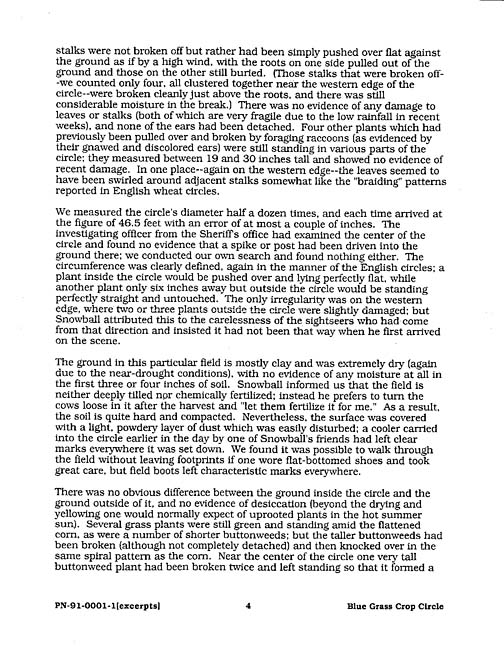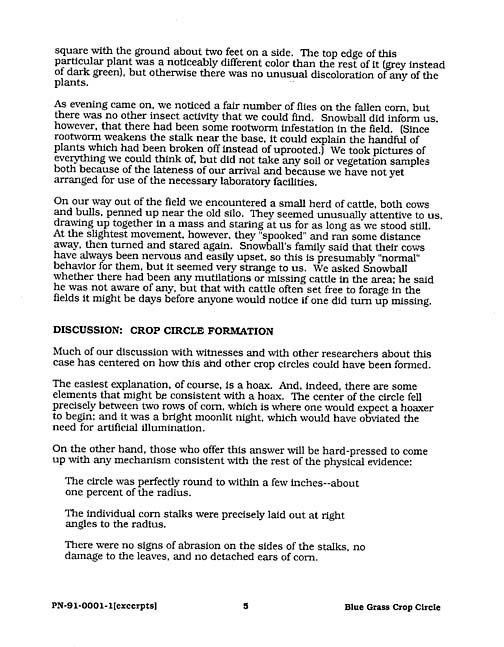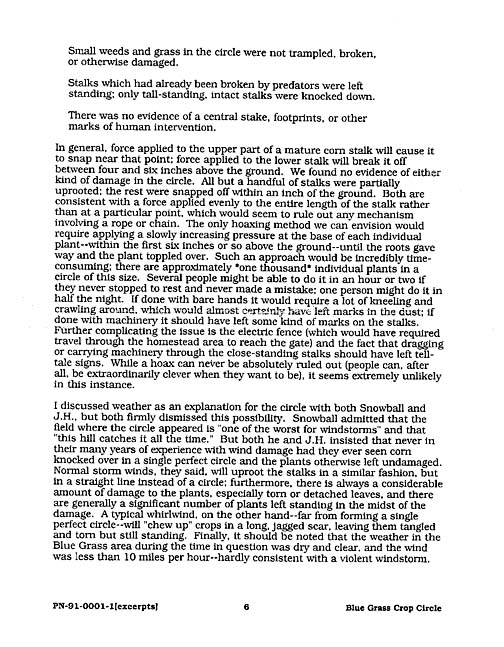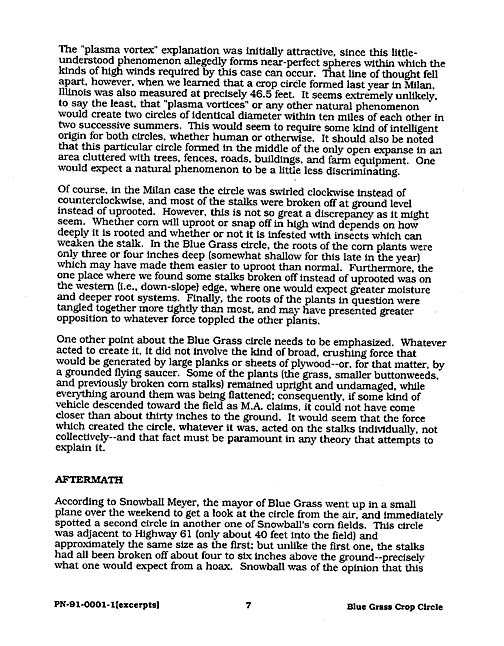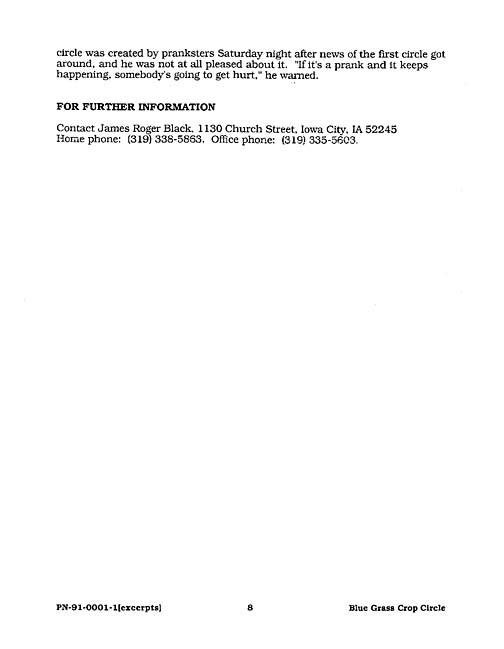 ---
More Information:
For further information about crop formations, please see reports below and going back to 1999 in the Earthfiles Archives and my book, Mysterious Lights and Crop Circles in the Earthfiles Shop:
08/31/2006 — Part 3: Five Circle Pattern in Geneseo, Illinois, Soybeans
08/28/2006 — Part 2: Five Circle Pattern in Geneseo, Illinois, Soybeans
08/27/2006 — Part 1: Five Circles in Geneseo, Illinois, Soybeans
08/17/2006 — Military Helicopter Aggression Toward Red Sphere in U. K.
08/16/2006 — Etchilhampton August 15, 2006, Wheat Formation
07/21/2006 — U. K. 17 Crop Patterns Reported Between July 4 – 20
06/11/2006 — Updated: Two Mysterious Circles in Wheat Baffle Kansas Farmer
04/07/2006 — First 2006 Grass Circles in Conondale, Queensland, Australia
09/02/2005 — Part 2: Mysterious Lights At Coles County, Illinois, Corn Circles
09/02/2005 — Part 1: New York and Ohio Corn Circles "Flattened 2 to 5 Feet Above Ground"
09/02/2005 — First 2005 Canadian Crop Circles Reported
08/09/2005 — Three Extraordinary U. K. Crop Formations Reported August 9, 2005
08/07/2005 — Mysterious Light Photographed in Canadian Woods
08/02/2005 — Part 1: Anomalies Confirmed in Pennsylvania and Arizona Randomly Downed Crops
07/23/2005 — Mystery of Six Grass Circle Formations in North Carolina
07/19/2005 — Crop Formation in Czech Republic
07/18/2005 — Garsington, Oxfordshire, U.K. Wheat Formation – Astronomical Orbit?
07/01/2005 — U. K. Bicyclist Reports Mysterious, Low Hovering Objects Bending Wheat
06/28/2005 — Crop Circles in Poland
05/26/2005 — Phoenix Barley Mystery: Apparently Irrigation and Wind
05/20/2005 — May 2005 Crop Formation Update in Six Countries
04/12/2005 — First 2005 Dutch Crop Circles Reported in Hoeven, Holland Grass
---
Websites:
American Crop Circles, ICCRA:  http://www.cropcirclenews.com/
English Crop Circles, Current and Archived:  http://www.cropcircleconnector.com
Canadian Crop Circles, CCCRN:  http://www.cccrn.ca/
German Crop Circles:  http://www.kornkreise-forschung.de
Dutch Crop Circles, DCCA:  http://www.dcca.nl
http://www.lucypringle.co.uk
http://www.members.iinet.net.au/~bwratten/ccc.html
http://www.cropcircleresearch.com
http://www.CropCircleAnswers.com
http://www.ukcropcircles.co.uk/?page=home
http://www.temporarytemples.co.uk

© 1998 - 2023 by Linda Moulton Howe.
All Rights Reserved.