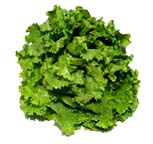 "The recall was initiated when it was discovered that water used to irrigate the product may have been contaminated with E. coli. Subsequent investigation indicated that the problems were caused by temporary use of a secondary water source, initially testing positive for E. coli."
– Foxy Brand Fresh Vegetables
October 9, 2006  Albuquerque, New Mexico – Less than a week after the Food and Drug Administration lifted its warning on fresh spinach grown in California's Salinas Valley, a new problem emerged with some green leaf lettuce grown by The Nunes Company, Inc., which distributes fresh vegetables under the Foxy brand. The dangerous E.coli bacteria strain that has infected Salinas Valley spinach the past several weeks, killed three people and made nearly 200 ill, was confirmed in secondary irrigation water used by Nunes. To date, no one has reported becoming ill after eating green leaf lettuce.
Below is the October 8, 2006, recall notice released by The Nunes Company, Inc., based in Salinas, California.

"Green Leaf Lettuce Recall
For Immediate Release
October 8, 2006
The Nunes Company, Inc.
P.O. Box 673
Salinas, CA 93902
Contact:
Tom Nunes
800-695-5012
The Nunes Company, Inc. Recall of Green Leaf Lettuce Under the
Foxy® Brand for Possible Health Risk
The Nunes Company, Inc. of Salinas, California is initiating a voluntary recall of green leaf lettuce designated by the code 6SL0024 sold October 3, 2006 through October 6, 2006 under the Foxy® brand.
The items recalled by The Nunes Company, Inc. are:
Green Leaf 24 Count, waxed carton
Green Leaf 18 Count, cellophane sleeve, returnable carton
The above products may be contaminated with Escherichia coli bacteria (E. coli). Pathogenic E. coli bacteria may cause a diarrheal illness often with bloody stools. Although most healthy adults can recover completely within a week, some people can develop a form of kidney failure called Hemolytic Uremic Syndrome (HUS). HUS is most likely to occur in young children, the elderly, and those with compromised immune systems. The condition can lead to serious kidney damage and even death.
The above products were distributed in Arizona, California, Nevada, Washington, Oregon, Idaho, and Montana, and sold to retail stores, and distributors who may have further sold it to restaurants. The product can be identified as Foxy® green leaf lettuce sold under lot code 6SL0024, and purchased on or after October 3, 2006 through October 6, 2006.
No illnesses have been reported to date.
The recall was initiated when it was discovered that water used to irrigate the product may have been contaminated with E. coli. Subsequent investigation indicated that the problems were caused by temporary use of a secondary water source, initially testing positive for E. coli.
Consumers who have purchased these products are urged to return it to the place of purchase for a full refund. Consumers with questions may contact the Company at 1-800-695-5012."
---
More Information:
For further information about contaminated spinach, please see:
• 09/23/2006 — E. coli O157:H7 – Why Can't It Be Washed Off Contaminated Spinach?
---
Websites:
Foxy Fresh Vegetables: http://www.foxy.com/recall_release.html
Federal Food and Drug Administration (FDA) Recalls: http://www.fda.gov/opacom/7alerts.html

© 1998 - 2023 by Linda Moulton Howe.
All Rights Reserved.