"This Beloit, Kansas, crop circle is one of the largest single circles that's ever been reported in the United States. There are only two reports that are larger."
– Jeffrey Wilson, Director, ICCRA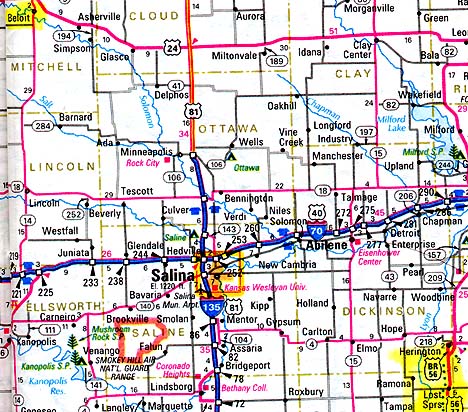 October 14, 2006  Beloit, Kansas – Four months ago, I reported about two circles suddenly showing up on June 2, 2006, in a wheat field owned by Merle and Diane Ecklund in Lost Springs, Kansas, which is a bit south of Herington and north of Wichita. [ See 061106 Earthfiles.] Both circles were estimated to be about 28-feet in diameter. Biophysicist W. C. Levengood examined wheat from both circles and found fundamental biophysical and biochemical changes in the plants that he hypothesizes could only have resulted from interaction with a spinning vortex of plasma and other energies.
Now, again in Kansas, a very large single circle was discovered around 11 a.m. on the morning of Saturday, September 9, 2006, along Highway 9 in Beloit, Kansas. Beloit is about 90 miles northwest of Lost Springs.
Early Photographs Showing No Entry Paths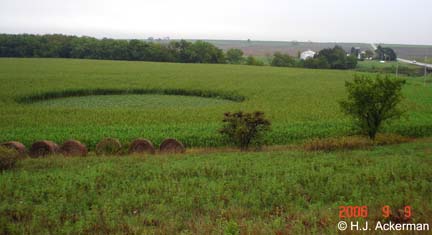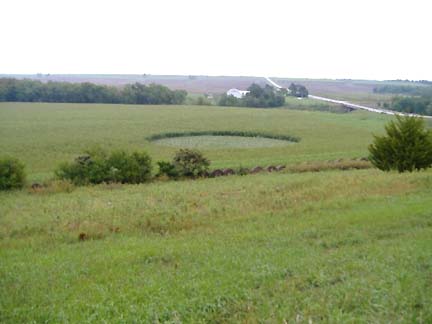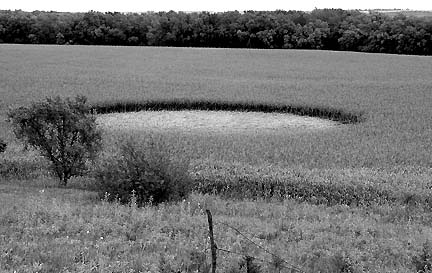 I phoned, Jane Wallace, who co-owns Thierolf Grain Company with her brother. She said they were growing Haygrazer sorghum to be harvested for cattle feed. She drove back and forth from her home in Beloit about three times a day right by the field. She said there definitely was no circle there on Friday, September 8, at 6 p.m. It rained all day Friday and all night until Saturday morning when the circle was first seen. There were no paths or tracks leading to the large circle in 7-foot-high sorghum that was more than 100 feet from the road.
On September 15, six days after the discovery, Ted Robertson of the Independent Crop Circle Research Association (ICCRA), traveled eleven hours by car from his Indiana home to investigate. He was joined by Rich Webb of MUFON and ICCRA. Ted had also been with me in my investigation of the July 17, 2006, 5-circle soybean formation in Geneseo, Illinois. [ See: 082706 Earthfiles.]  By now, Ted has investigated at least thirty crop formations in the United States and I talked with him recently about the Beloit circle.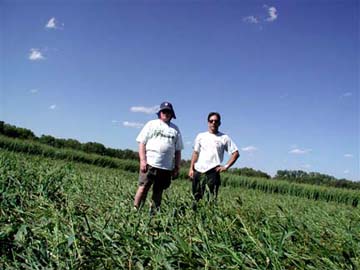 ---
Interviews:
Ted Robertson, Harpsichord-Maker and Investigator, Independent Crop Circle Research Association (ICCRA), Bloomington, Indiana: "The first thing that struck me was the size of it. Big! 133 feet. It looked impressive from the road, pretty substantial. It's at least 100 or so feet into the field. So, it's not exactly right next to the road. And I was also struck by the height – it looks like corn, but it's actually Haygrazer, which is a variety of sorghum.
HOW TALL WAS THIS CROP?
I'm 5 foot 7 1/2 inches. And the seed heads were at least 7 ½ feet. Some areas were taller than others. It ranged in height from like 4.5 feet to maybe 7.5 feet.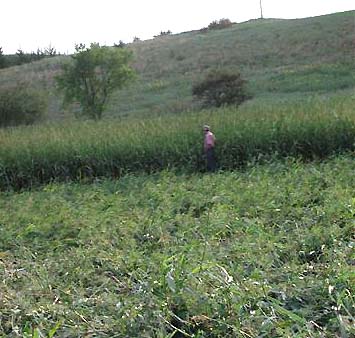 SO, YOU WERE APPROACHING A CIRCLE IN WHICH MANY OF THE PLANTS WERE TALLER THAN YOU ARE?
Yes, and it's kind of a neat feeling.
FROM BOTH THE AERIAL PHOTOS AND THE PHOTOS YOU TOOK FROM THE HILL ACROSS THE ROAD, YOU WOULD NEVER GUESS THAT IT WAS THAT HIGH.
We really did not know what this was. In some ways, it looks like wheat because it has tassels on the top. And it is planted so closely. Corn is usually planted in rows, and these are sort of rows, but they are more tight and more plants, more closely spaced.
THAT'S WHY IT LOOKS SORT OF LIKE VELVET AROUND THIS CIRCLE FROM THE WIDER SHOTS?
Yes, it's very healthy, the plants. I must say I was expecting some to be torn out, completely snapped off, where they had been pushed over, or torn out of the soil. I don't think I found one plant that was loose, and I pulled on a lot of plants and looked at them.
Thick Sorghum Stalks Bent Without Breaking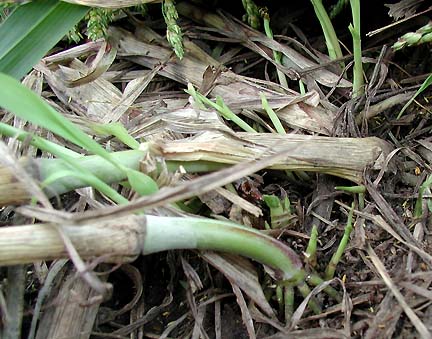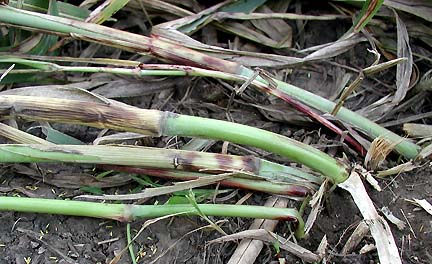 I KNOW IN YOUR FIELD NOTES, YOU WERE IMPRESSED BY THE LACK OF DAMAGE ON THE STALKS AND HOW REALLY PRISTINE THE PLANTS LYING DOWN WERE.
That's true. Normally, we look for scrape marks on the upper surface along the base where it comes from the soil. I would say the majority of them were not even splintered. The soil was moist, I think, when this formed and the roots tipped up a little bit, maybe came out in some plants. Maybe it was a combination of the roots tipping and the plants bending slightly, although maybe 40% of the plants had split, but it did not look like the plants that we mechanically broke off in our own experiment.
No Mud On Sorghum Circle
IF IT HAD RAINED JUST THE NIGHT BEFORE, WOULDN'T THERE HAVE BEEN MUD SOMEWHERE ON ALL THESE PLANTS, OR AROUND THE PLANTS, IF IT HAD BEEN PEOPLE?
Yes, because I've walked in crop circles – and know you have – after it's rained you get muddy and the plants get muddy and I looked under a lot of this canopy of green, growing sorghum, lifting it up and photographing it at ground level, looking for scrape marks, boot marks, mud. I even looked at areas where dirt clumps are and you want to see if the plants actually smashed those clumps, or if they are intact. If something is flattening the plants down manually, like a board, I would assume that a stem next to a taller dirt clod really could not be, because the dirt cloud would be flattened along with the stem in most cases. I did find intact dirt clods that just seemed like no one had trudged on them.
I FOUND ONE OF YOUR MOST INTERESTING PHOTOGRAPHS AND COMMENT THAT HERE IS ONE OF THE SORGHUM PLANTS DOWN, IMPRESSED INTO THE SOIL. RIGHT NEXT TO IT, IT APPEARS AS IF THE SOIL IS A FEW INCHES HIGHER THAN THE PLANT.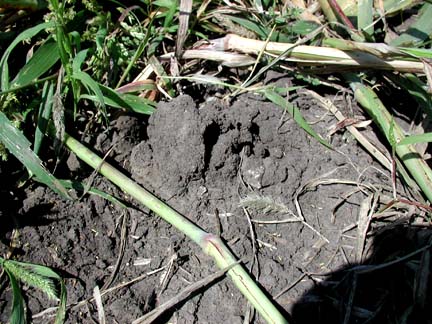 Definitely yes. These plants were imprinted half way through the diameter of their stalks into what had been mud and was drier after the long rain, leaving like a groove. Next to the downed plant, only one or two inches away in some cases, were these clumps that were now dry but fragile. Just inches away! The crop circle was impressive the way the plants went down.
HAVE YOU EVER SEEN THAT PARTICULAR ANOMALY OF EMBEDDED STEMS NEXT TO RAISED SOIL IN OTHER FORMATIONS?
Yes, I have. It's what I like to see if I'm looking for something I don't think is manmade. That one photograph, the stem is literally touching the dirt cloud that is two to three inches higher. The dirt clod does not have a flat top. It's like a spire. With a board, I think it would take down the dirt clod as well, especially since it was raining. We did not find any mud on the stems, not any scrape marks.
TED, IN THIS BELOIT CIRCLE – AS OPPOSED TO THE ROTATING COUNTER-CLOCKWISE OR CLOCKWISE DIRECTIONS WE FIND IN MANY OTHER FORMATIONS, IS IT ALMOST MORE OF A RADIAL LAY?
Yes, it has a general clockwise flow, but it's not a tight swirl. It splays out more radially, so instead of taking maybe seven times, starting in the middle, to spiral out to the perimeter, it takes more like three or four. That to me is more difficult. On top of that, the center of the circle is not where the center of the swirl is located.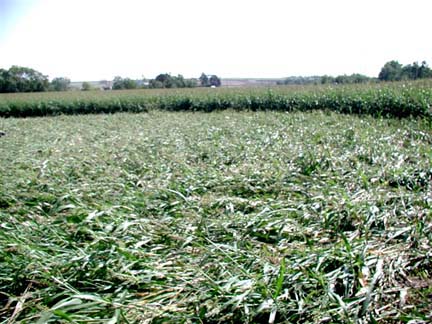 DOESN'T THIS SEPARATE OUT THE SO-CALLED MECHANICALLY MANMADE, WHICH REALLY HAVE TO HAVE A CENTER POINT USUALLY IN ORDER TO FLATTEN A CIRCLE?
Right. The outer perimeter of the circle was almost a perfect circle. Over 133 feet, it was 132 by 133 feet, which is only a foot difference. That's closer to a perfect circle than we usually find in formations. [ See diagram below.]
AND VERY DIFFICULT GIVEN THAT THE CENTER IN YOUR DIAGRAM IS SIX TO SEVEN FEET OFF OF WHAT WOULD BE THE GEOMETRIC CENTER.
The other thing is there is an added detail to the east (inside the circle) about 80 degrees off of north. There is a secondary swirl with a little center, which is so subtle, and yet it has layers underneath. It's almost like water flowing down a drain. The main drain is near the center, but the smaller drain is about ten feet from the edge of the circle. It's like water that flows into this little swirl.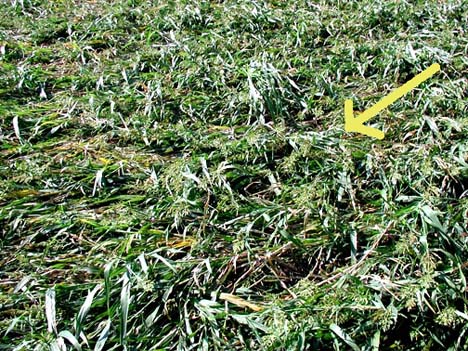 HOW WOULD YOU COMPARE BELOIT TO THE MANY CIRCLES THAT YOU HAVE INVESTIGATED YOURSELF OVER THE PAST HALF A DOZEN YEARS OR SO?
The most outstanding thing about Beloit is that it is a huge circle, in terms of single circles, especially for the United States. We don't get them. One hundred feet in diameter is pretty big. In 2000, when I saw my first crop circle in corn, we had a 100-foot-diameter circle. At the time, it was the largest circle in corn. This one (in Beloit) is 133 feet in diameter and it's in sorghum, probably the single largest circle that we know about in sorghum.
THE CHARACTERISTIC OF SORGHUM IS THAT IT IS STIFF LIKE THE STALKS OF CORN.
That's the closest thing I can describe it as. These plants were almost like corn. In fact, if there were ears on these, it would look just like corn. But they were all green and growing, none were loose. It was just like I saw in Miamisburg, in terms of the base of the roots. It was even a little bit more gently laid down than in some corn circles that I've seen.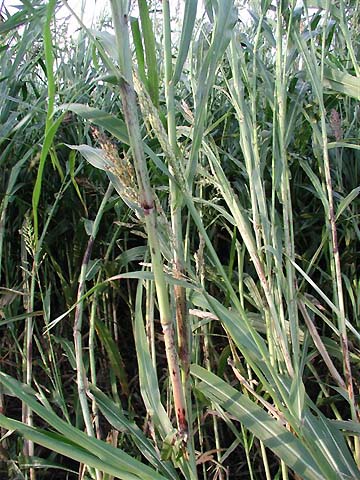 WHICH IS IMPRESSIVE, GIVEN THE STIFFNESS OF CORN. IT HARKENS BACK TO THE FIRST REAL MYSTERY IN ENGLAND, WHICH WAS HOW COULD THE 'MAGICALLY BENT STALKS' OCCUR, WHETHER IT WAS IN WHEAT, BARLEY, CORN MAIZE, OR SORGHUM? HOW COULD IT HAPPEN WHEN YOU YOURSELF DEMONSTRATED THAT IF YOU PUSHED THOSE THICK STALKS DOWN, THEY WILL LITERALLY SNAP OFF AND OOZE?
That's a very good point. They do explode, and it seems the thicker the stalk, the harder it is to make that bend. I was bending with my bare fingers as gently as I could on the samples that we tried to lay flat. In most cases, they would tear out and juice would fly out and that juice was kind of irritating, itchy. I know Rich Webb got an allergic reaction the next day and I was itching in the field from it.
But the thinner stems were more like grass. They could be put down. But that's the other thing – to make them stay down, doesn't work. It's very interesting.
Sorghum Note Elongation Analysis
IT'S MY UNDERSTANDING THAT THE ANALYSIS NOW ON THE LENGTH OF THE GROWTH NODES IS DEFINITELY OUTSIDE ANY STATISTICAL POSSIBILITY OF CHANCE. THERE REALLY IS A HIGH PERCENTAGE OF ELONGATED NODES AS WE HAVE FOUND FOR YEARS NOW IN THE TRULY MYSTERIOUS FORMATIONS?
Right. Jeff Wilson and Dr. Chuck Lietzau did independent L-NEAT tests on full sets of samples that I collected individually for each of them. Jeff can tell more about that, but the nodes were significantly elongated."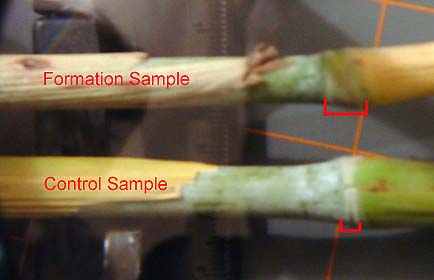 The L-NEAT test (Levengood-Node Elongation Analysis Test) was developed by biophysicist W. C. Levengood and published in the peer-reviewed science journal, Physiologia Plantarum, back in the mid-1990s. It measures the growth nodes in cereal crop formations for a comparison with the normal crop outside formations. Jeff Wilson, Director of the Independent Crop Circle Research Association (ICCRA), has been using the test for several years. He has found that none of the proven manmade crop formations have ever shown growth node elongation. Only authentic crop circles have had the anomalous node elongation, which can be 15% to as much as 300% longer than normal crops. Biophysicist W. C. Levengood hypothesizes that the node elongation is caused by interaction with spinning energies of plasmas and microwaves produced by an unknown source.
Jeff Wilson and his ICCRA colleague, biologist Dr. Charles Lietzau, received sorghum samples that Ted Robertson and Rich Webb gathered in Beloit. Jeff summarized for me what they found.
Jeffrey Wilson, Director, Independent Crop Circle Researchers Association (ICCRA), Williamsburg, Ohio: "Only authentic crop circles exhibit this anomalous growth node elongation, which can range from 15% to 300% elongation, depending on the crop, the moisture content of the plants and the time of the growing season.
In this particular crop circle in Beloit, Kansas, I received samples collected from ICCRA investigators, Ted Robertson and Rich Webb. I went through the samples with my wife, Delsey, and we measured and recorded the growth nodes of all the plants for this comparison using a digital caliper to get an exact measurement of each growth node. We found that there was overwhelming statistical evidence that the growth nodes in the Beloit, Kansas, crop circle were elongated, compared to control plants taken from the standing crop in the same field.
DID YOU NOTICE ANYTHING ELSE ANOMALOUS AS YOU WERE DOING THE L-NEAT ANALYSIS ON THE BELOIT, KANSAS CROP, WHICH IS A SORGHUM? DID YOU NOTICE ANYTHING ELSE THAT STUCK OUT TO YOU?
The idea of vertical splits in crop circle formations is being debated around the world by a number of investigators. We don't know what the significance of it is. We did not find vertical splits in any of the control plants, but just a few in the formation plants.

[ Editorial Note from Ted Robertson: "About the red stalks with splits, these were very few in number – I probably found one or two and took some photos. These did not look like the types of splits I saw before in terms of size. This one (above) was much larger. In other formations the splits were much smaller and on the node – the underneath or ground facing side of the downed stalk. In Beloit, Kansas, the splits were in what seemed more fragile outer leaf sheaths and not over nodes – and I only saw a few of these – not very prevalent. These splits could be a natural drying out or wind fraying of the stem. Or they could be the result of the energy forces that were involved in creating the formation – or a combination of both where a mysterious force alters the leaf sheath at the nodes likely weakening it. Then perhaps over time, the leaf splits open and flares. We did a statistical analysis experiment and found that the amount of plants that exhibited a red coloration on the stalks downed inside the formation was less than the amount of affected plants in the standing field outside of the formation (controls)." ]
It's possible that these vertical splits, which look in some cases similar to expulsion cavities. But they don't go all the way down through the nodes. It's just a split in the outer node sheet. It's possible they could be related to expulsion cavities, but there is not enough evidence to determine that at this point.
BUT THE BOTTOM LINE IS THAT IN EITHER CASE, THE SPECULATION IS THAT SOME KIND OF ENERGY INTERACTION WITH THE PLANTS MIGHT CAUSE THIS SPLITTING?
It's possible, but it's also possible that it could be a natural effect after plants get laid down. Many times we find the cracks only on the side of the plant facing the ground and not anywhere else. So, it could be a result of some natural decay process or other. We don't know yet. But the node cracks are something notable we found in the Beloit plants.
Why the Beloit, Kansas, Sorghum Circle Is Not Manmade
WHAT IS YOUR OVERALL PERSPECTIVE NOW ON THE LARGE BELOIT, KANSAS, CIRCLE IN SORGHUM?
Well, certainly, the L-NEAT numbers tell us it's authentic. There are a number of contextual pieces of information that would also support that. It has a number of characteristics, which show it to be well in line with other authentic crop formations that we've seen over the years.
– Growth nodes of downed plants in circle elongated in comparison to control plants outside the circle.
– The Beloit circle was in close proximity to Plum Creek, which borders the eastern edge of the field. Water is often found near crop formations.
– The circle was right over the top of limestone in which crop circles around the world seem to be locating themselves over the tops of underground aquifers.
– The circle was in really close proximity to power lines. There are power lines on both sides of the road that border the southern edge of the field. From Europe to Canada to the United States, crop formations are often found near microwave or other electronic towers.
– The circle was on the down slope in the low part of the field approaching the creek. Many crop formations are found on the sides of hills.
– While there are no Indian mounds nearby, we do find that there was an ancient Native American connection to this crop circle. There's a nearby historical marker, which notes something called the 'Great Spirit Spring.'
Beloit, Kansas, telephone tower is on hill across Highway 9 in upper left. Photograph © 2006 by Ted Robertson.
Beloit Circle Is Third Largest On Record in United States
This Beloit, Kansas, crop circle is one of the largest single circles that's ever been reported in the United States. There are only two reports that are larger. There was a circle last year in Green Mountain, North Carolina, that was reported to be 176 feet in diameter. Then there was a circle that was part of a big 14-circle formation in Rockville, California, in 2003. The largest circle there was 140 feet across.
So, this one in Beloit at about 133 feet would be the third largest ever reported. To give you an idea, I went through and looked at over the past ten years, I looked at over 120 crop circles reported in the United States that had been measured accurately, and the average is about 43 feet in diameter. So, this is well over three to four times the average size crop circle.
THE FACT THAT A CIRCLE THIS BIG COULD HAVE BEEN LAID DOWN SO GENTLY, AS TED ROBERTSON DESCRIBED IT, IS REMARKABLE IN ITSELF.
It's quite remarkable. The people who lived closest to the field, the Ackerman family, their house overlooks the field. One of their daughters and a friend were up until about 3 o'clock in the morning the night this crop circle seemed to show up. They reported no unusual lights, no unusual sounds; the family did not report anything. They said the circle was not in the field when the sun went down and it was there at 7 a.m. when the sun came up.
IT RAINED ALL NIGHT, DIDN'T IT?
It rained all night and it had rained all the previous day. There did not appear to be any heavy lightning or thunder associated with that rain, and the circle showed up during that rain shower.
Anomaly of Off-Centers In Big Circle and Small Swirl
Did Ted tell you about the second little swirl?
YES.
Multiple centers in crop circles are quite rare. I can only think of probably half a dozen in the United States that have occurred like this. What's interesting in this particular case is that both of the swirled centers in this crop circle were on the eastern side of the circle. They weren't even close to being in the geometric center of the circle. But the circle itself is only out of (perfectly) round by about a foot.
So, you have essentially a geometric circle, but the swirled centers to it are way off from where the geometric center would be.
RIGHT, I UNDERSTAND THAT THE CENTER IS ABOUT 6 TO 7 FEET FROM WHAT THE GEOMETRIC CENTER WOULD BE AND THAT SECOND, MORE SUBTLE, SWIRL IS ALMOST TO THE FAR EAST SIDE OF THE CIRCLE.
Yes, it's only about 20 feet from the edge.
THROWING OFF THE CENTERS OF CIRCLES HAS BEEN REPORTED SO OFTEN OVER THE YEARS IN ENGLAND. WHAT DOES THAT SUGGEST TO YOU?
That's a good question. I think perhaps however the circles are being created, it could be they are being formed on some kind of an angle, rather than a vertical 90-degree hit from above to the ground. It could be coming down on an angled trajectory, rather than straight up and down to the surface.
It's kind of like shining a flashlight to the ground. You still get a circle, but the angle of incidence could be pretty dramatic. That's just a possibility. I don't think there is any good evidence at this point to say one way or the other."
Diagram of Beloit, Kansas, Circle of September 9, 2006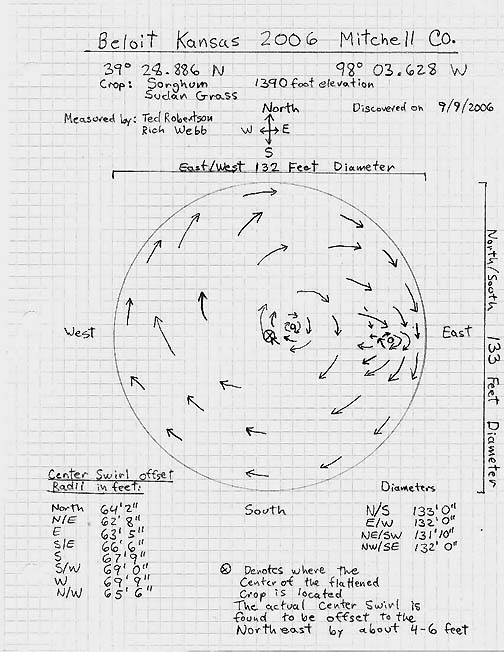 Famous Delphos, Kansas, UFO Ring Only 20 Miles Away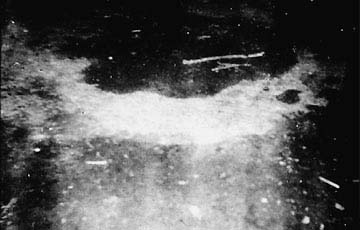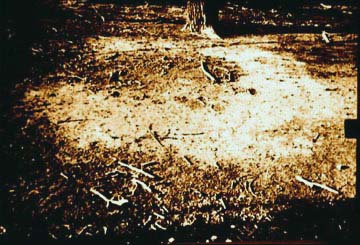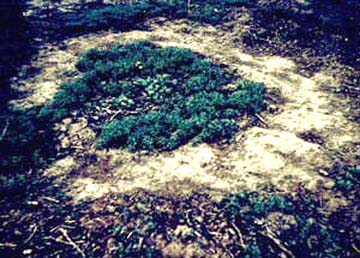 Jeffrey Wilson noted that the large Beloit sorghum circle is only about twenty miles northwest from one of the most famous anomalies to ever be discovered in Kansas, known as the  Delphos Ring. Thirty-five years ago on September 2, 1971, eyewitness Ron Johnson watched a ball of light hover near the ground 75 feet away. It emitted a rumbling sound for about three minutes and then flew up into the sky while emitting a very high-pitched sound.
Afterward, there was an 8-foot-diameter, glowing ring in the dry soil where the ball of light had been. MUFON investigator, Ted Phillips, investigated and soil samples were gathered for analysis. Compared to normal soil in the area, the Delphos Ring would not absorb water; was more acidic; had 5 to 10 times more calcium, was coated with an unusual hydrocarbon; and contained an unknown crystalline substance with a low atomic weight.
But that was a glowing ring in dry soil – not a 133-foot-diameter circle in 7-foot-high sorghum. Both phenomena are astonishing – and unexplained.
---
More Information:
For further information about American crop formations and unusual rings, please see reports below in the Earthfiles Archives and my book, Mysterious Lights and Crop Circles in the Earthfiles Shop:
06/11/2006 — Updated: Two Mysterious Circles in Wheat Baffle Kansas Farmer
09/02/2005 — Part 1: New York and Ohio Corn Circles "Flattened 2 to 5 Feet Above Ground"
08/02/2005 — Part 1: Anomalies Confirmed in Pennsylvania and Arizona Randomly Downed Crops
07/23/2005 — Mystery of Six Grass Circle Formations in North Carolina
05/26/2005 — Phoenix Barley Mystery: Apparently Irrigation and Wind
05/09/2005 — Mysterious Lights and 2003 Serpent Mound Soybean Formation
04/20/2005 — Outer Space Impact At Serpent Mound, Ohio, 256 Million Years Ago
10/17/2004 — American Crop Formations: 1880-2004
09/22/2004 — Miamisburg and Serpent Mound, Ohio Crop Formations: Geometries Compared
09/17/2004 — Updated: Part 1 – High Strangeness in Canadian Cattle Corn
09/12/2004 — Part 2 – High Strangeness in Canadian Cattle Corn
09/10/2004 — Update on Miamisburg, Ohio, Corn Pictogram – Balls of Light?
09/05/2004 — Part 2 – Hillsboro, Ohio Corn Plant Anomalies
09/04/2004 — Hillsboro, Ohio Corn Formation – High Strangeness in Soil and Plants
09/02/2004 — Updated Photos: Big, Impressive New Corn Formation in Miamisburg, Ohio
08/09/2004 — Pictograms in Poland
07/25/2004 — 2004 Canadian Crop Formations: Scorched Soybeans and "Dirt" Pattern in Barley
07/24/2004 — Part 3 – Crop Formations and Mysterious Lights in Wiltshire, England, July 2004
07/06/2004 — Mysteriously Downed Oat Plants in Eagle Grove, Iowa; Downed Corn in Hillsboro, Ohio
04/08/2004 — FBI Is Investigating Animal Deaths in Johnston County, North Carolina
11/01/2003 — Another Soybean Formation in Ohio
10/10/2003 — Updated – Ohio Hunter's "Deer Camera" Photographs Mysterious Glowing Disk
10/05/2003 — Part 3 – Paint Creek Island, Ohio Crop Formation Photographs
10/03/2003 — Part 2 – Military Interest in Serpent Mound and Seip Mound Formations?
10/02/2003 — Part 1 – Another Soybean Formation Near Seip Mound in Ohio
09/12/2003 — 2nd Ohio Soybean Crop Formation is Manmade. USAF Investigation Unit Involved?
09/06/2003 — Part 2 – Unusual Soybean Formation Near Serpent Mound, Ohio
09/05/2003 — Part 1 – Unusual Soybean Formation Near Serpent Mound, Ohio
11/30/1999 — A New Crop Formation In Marion, New York and Crop Research Updates
09/05/1999 — Delphos, Kansas Ring Mystery – More Analyses
---
Websites:
American Crop Circles, ICCRA:  http://www.cropcirclenews.com/
English Crop Circles, Current and Archived:  http://www.cropcircleconnector.com
Canadian Crop Circles, CCCRN:  http://www.cccrn.ca/
German Crop Circles:  http://www.kornkreise-forschung.de
Dutch Crop Circles, DCCA:  http://www.dcca.nl
http://www.lucypringle.co.uk
http://www.members.iinet.net.au/~bwratten/ccc.html
http://www.cropcircleresearch.com
http://www.CropCircleAnswers.com
http://www.ukcropcircles.co.uk/?page=home
http://www.temporarytemples.co.uk

© 1998 - 2023 by Linda Moulton Howe.
All Rights Reserved.