"We've never seen anything like this – ever. In doing some research,
we can't find any other die-offs of this magnitude with mallard ducks
in the United States."
– David Parrish, Idaho Dept. of Fish and Game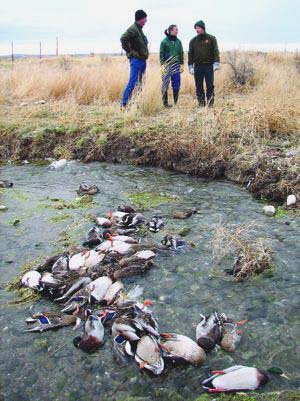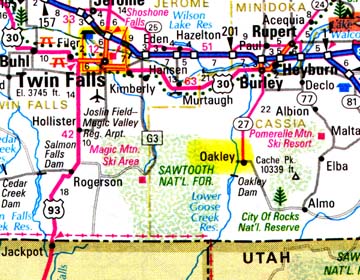 Updated December 16/ December 14, 2006  Oakley, Idaho – In a six day period between December 8 and December 13, 2006, the Idaho Fish and Game Department received reports of dead mallard ducks on the Land Creek Springs waterway near Oakley in the Sawtooth National Forest region of south central Idaho. By December 13th, the death count was up to 2,500 ducks, unprecedented in Idaho wildlife history. By December 14, the first laboratory results from several agencies are expected and I talked about the unprecedented die-off with David Parrish, Magic Valley Regional Supervisor in the Idaho Department of Fish and Game where he has been employed for twenty-six years.
Update: Idaho Fish and Game News Release on December 15, 2006
"Ducks Died of Fungal Infection
State and federal officials have confirmed that about 2,500 mallard ducks found dead southeast of Burley, died of an acute fungal infection.
The official cause of death is acute aspergillosis, a respiratory tract infection caused by a fungus commonly found in soil, dead leaves, moldy grain, compost piles, or in other decaying vegetation.
Test results from University of Idaho's Caine Veterinary Teaching Center in Caldwell confirmed the presence of the fungus in tissue samples taken from the ducks this week. The results confirm preliminary diagnoses at two other wildlife health labs in Washington and Wisconsin.
The fungus can cause respiratory tract infections in birds that inhale the spores. The most likely source of the spores for these ducks is moldy grain, but no specific site has been found as the source.
Waterfowl die-offs are common and many happen in the United States every year. During the past six months, 16 events each involving more than 1,000 birds occurred. Testing for diseases is a routine part of the investigation of waterfowl die-offs.
The first dead ducks were found by a hunter Friday, December 8, along Land Creek Springs near Oakley. Idaho Department of Fish and Game was notified, and conservation officers found 10 dead ducks near the spring and along the stream's edge.
Officers returned to the area on December 10 to find more than 500 dead ducks. By the end of clean-up operations Thursday morning, the number had grown to about 2,500. Though a small proportion of the duck population in Idaho or the United States, the number of dead birds in this die-off is unusual for Idaho.
Officials initially considered it unlikely that avian influenza was the cause of this die-off. Widespread testing of waterfowl in fall of 2006 has not found the highly pathogenic avian influenza strain H5N1 in the United States.
Tissue samples from dead birds were not consistent with avian influenza, but as a precaution samples were sent to U.S. Geological Survey's National Wildlife Health Center in Wisconsin for testing.
Results from the first two groups of ducks tested confirmed that they did not have the highly pathogenic avian influenza strain H5N1 that is currently of concern in Asia, Europe, the Middle East and Africa. Results from additional tests are pending.
The Idaho Department of Environmental Quality, Department of Agriculture and the U.S. Fish and Wildlife Service helped with the investigation of this outbreak. Hunters are advised not to kill any obviously sick animals, including ducks and other waterfowl."
---
Interview:
David Parrish, Magic Valley Regional Supervisor, Idaho Department of Fish and Game (employed for 26 years), Jerome, Idaho:  "We first got a report of waterfowl mortality on the site back on Friday, December 8, 2006. We had a conservation officer dispatched to the area and he found 10 dead ducks. We cleaned those up.
We got another call from a hunter on Sunday afternoon, Dec. 10, about dead ducks in the same general area. We dispatched an officer again. At that point in time, he found about 500 mallard ducks that were dead.
By Monday morning, December 11, we sent staff out on site. We found roughly 1500 dead mallards and by yesterday afternoon after we picked up all of the carcasses, the count was up to about 2500 mallard ducks.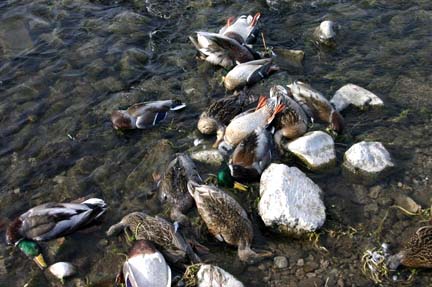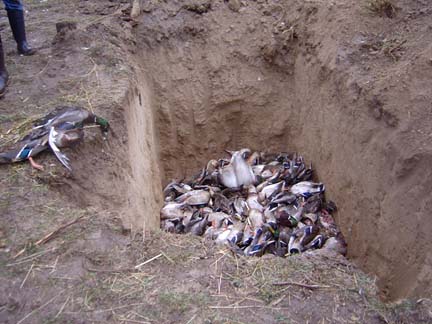 COULD YOU ADDRESS WHETHER THIS IS SOMETHING YOU ALL HAVE EVER SEEN BEFORE AND THE NATURE OF WHAT YOU ARE LOOKING AT IN THESE DUCKS?
We have never seen a die-off like this before in Idaho. In doing some research, we can't find any other die-offs of this magnitude with mallard ducks in the United States. We have a number of agencies that are investigating the cause of death and looking at potential mortality factors. We have our Dept. of Environmental Quality (DEQ), the South Central District Health Office, the Idaho Dept. of Agriculture. At the federal level, we have the Dept. of Homeland Security involved. There are a number of agencies and they are all looking at a number of potential factors. DEQ has taken water and soil samples from the area. The Dept. of Agriculture has taken pesticide samples. Our agency is taking tissue samples and has sent them off to a number of labs.
WHAT ABOUT THE ISSUE OF H5N1 AVIAN INFLUENZA?
Chances are very remote, but we did some samples off to a U. S. Fish and Wildlife lab in Wisconsin to look at that potential.
IS IT TRUE THAT SOME OF THE MALLARD DUCKS STILL ALIVE WERE SUFFERING RESPIRATORY PROBLEMS?
That is correct. But the ducks that we've done necropsies on have shown abscesses on the lungs, which could be causing the respiratory distress. According to our veterinarian, Dr. Mark Drew, at our health lab, he said that the ducks he has looked at have not shown the classical signs of a virus or influenza type outbreak.
WHAT IS HE SAYING THE ABSCESSES COULD BE CAUSED BY?
They could be caused by a bacterial infection or a fungal disease. That's his best guess at this point in time, but he has not received results back from the laboratory yet.
WHY WOULD A FUNGUS OR BACTERIA AFTER ALL THESE YEARS SUDDENLY CAUSE SUCH A LARGE DIE-OFF IF IT HAS NOT HAPPENED BEFORE?
It could be that these ducks got into some moldy grain of some type or a grain that was treated with some type of chemical that caused the mold to become toxic and the ducks picked it up. We're not sure.
IF THIS WERE H5N1 THAT DOES TEND TO KILL DUCKS AND MIGRATORY BIRDS REALLY QUICKLY IN LARGE NUMBERS, WHAT WOULD THE VETERINARIAN EXPECT TO FIND IF THE DUCKS HAD DIED FROM H5N1?
Talking with Dr. Mark Drew this morning, he said there would be physical signs when they do a necropsy. He was talking about some of the internal organs, which show signs such as being enlarged, inflamed. He said he has seen nothing of that sort in the necropsies he has done so far.
HAVE YOU HAD REPORTS OF MORE DEAD MALLADS TODAY?
No, we have not.
IS THERE ANY INDICATION THAT ANY OTHER BIRDS HAVE BEEN AFFECTED BEYOND THE MALLARDS?
We have found no other mortalities other than mallard ducks at this location, which is very unusual.
YOU WOULD THINK OTHER BIRDS WOULD BE EATING FROM THE SAME SOURCES AS THE MALLARDS?
Right. We have pintails, Canadian geese and other birds and we've seen no other mortalities. This is a very unusual situation and I don't think any of us have ever dealt with this type of mortality before.
DID YOU ASK THE VETERINARIAN TO COMMENT ON THIS VERY PRECISE FOCUS ON THE MALLARDSD WITHOUT OTHER BIRDS DYING?
Yes, and we've not had any experience with anything like this in the past. Dr. Martin finds it very unusual that it's just infecting the mallards.
WHAT IS THE SOURCE OF THE WATER THAT COMES INTO LAND CREEK SPRINGS, THE WATERWAY NEAR OAKLEY, IDAHO?
Yes. It is an artesian-type springs system. It just boils up from the ground and it drains toward the Snake River.
FOR THAT TO BE CONTAMINATED, IT WOULD MEAN CONTAMINATED GROUND WATER?
That's correct, yes.
IS THAT BEING STUDIED?
Yes, it is. The DEQ has taken water samples and submitted them to laboratories.
FROM YOUR OWN LONG EXPERIENCE IN THE IDAHO FISH AND GAME DEPARTMENT, WHAT IS YOUR OWN INTUITIVE SENSE ABOUT WHAT IS HAPPENING?
It's just a guess, but because it is a localized event, I would guess it would have to do with a contaminated grain source of some type.
IF YOU CAN FIND THAT CONTAMINATED GRAIN SOURCE, WHAT DO YOU DO?
It can be covered. Or if it's laying on the surface of a field, it can be plowed under. It can be scraped up and physically removed. There are several different options that are available to us.
IS THERE A WAY YOU GO TO FARMERS TO ASK FOR HELP TO FIND THE CONTAMINATED GRAIN?
We have been working with the Idaho Dept. of Agriculture to contact landowners in the area. We've also sent some of our conservation officers out to see if we can find the potential source of mortality here. But to date, none of us have been successful in finding the exact cause.
WHAT IS THE NEXT STEP?
Well, we're hoping to get some laboratory results back today. We have a conference call set up through our State Emergency Communications System at 4 p.m. this afternoon. At that time, the agencies will share their results and if we have a definitive cause of mortality, then we will form a plan of action to deal with whatever is causing all the deaths."
Anyone with information should contact Idaho Fish and Game in Jerome at:
208-324-4359.
This Earthfiles report will be updated when the laboratory results are in.
---
More Information:
For further information about bird die-offs, please see the Earthfiles Archives:
08/05/2005 — Scientists Puzzled by "Bizarre" Pacific Coast Die-offs in 2005
07/14/2005 — 8,000 White Pelican Chicks Mysteriously Died At Chase Lake, North Dakota
08/27/2004 — Global Warming Impact On Birds – More Extinctions Expected
08/01/2004 — Sixth Straight Year Hundreds of Birds Die at Roestler Lake, North Dakota.
07/24/2004 — What's Happening to Birds? – More Reports
07/22/2004 — What Is Happening to Birds? Updated With Viewer Reports
06/29/2004 — Four White Pelicans from Missing 29,000 Tracked by Satellite
06/17/2004 — Updated – 29,000 American White Pelicans Have Disappeared from North Dakota Wildlife Refuge
01/18/2003 — California Brown Pelicans Mutilated in Long Beach Harbor, California
---
Website:

© 1998 - 2023 by Linda Moulton Howe.
All Rights Reserved.